The current time in Athens is 21:45 on September 23, 2023
Olympic Cycling News for August 17, 2004
Edited by Chris Henry & John Stevenson
Wind likely factor in Olympic time trial
The road races were all about surviving the heat. Tomorrow's time trials will likely add strong winds lashing the riders on the coastal course - and for many riders the time trial is a chance to make up for otherwise lacklustre seasons.
Germany's Jan Ullrich is under immense pressure from the German media to salvage something after his fourth place in the Tour de France and 19th place in Saturday's men's road race. Women's defending champion Leontien Zijlaard-Van Moorsel of the Netherlands will seek to get back to winning ways after crashing in Sunday's road race.
The absence of Lance Armstrong - arguably the best time trialist in the world this year after his performances in the Tour time trials - has improved the chances of Ullrich to go one better than in Sydney, where he finished runner-up to Russia's Viatcheslav Ekimov. At 38, the defending champion is not expected to be the factor he once was.
Ullrich believes the wind on the course by the Saronic Gulf could be a big factor in the 48 kilometre test. "The wind is really blowing here," he said on his team's web site. "We'll have to be prepared for this."
Even in Armstrong's absence, a US rider could still be Ullrich's toughest challenger. Tyler Hamilton, who abandoned the Tour midway through with an injured back, has spent most of the time since working on his time trial. He's hopeful of being among medal contenders and took confidence from his 18th place showing in Saturday's road race through downtown Athens.
"I felt like a fish out of water because it was my first race in a month since the Tour. But I feel good for Wednesday," Hamilton said.
Zijlaard-Van Moorsel: "everything hurts"
Van Moorsel crashes out
Photo ©: AFP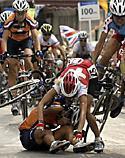 Leontien Zijlaard-Van Moorsel was the most successful cyclist in Sydney four years ago, but a repeat of her triple-gold performance is already impossible after she fell badly in Sunday's road race, the first of her three events.
She heavily bruised her arms, shoulder and hip in the high-speed crash and had a brief blackout minutes after hitting the road. But the pain won't matter on Wednesday. "In a time trial everything hurts anyway so that won't make that much of a difference," she said.
Zijlaard-van Moorsel was racing at high speed with almost 27 kilometres to go when she looked behind her, touched the bike of the rider in front of her and went down, dragging three other riders with her.
"I should not have done that," she joked.
Zijlaard-van Moorsel spent 45 minutes training Monday and planned to explore the time trial course along the scenic, jagged coastline of Vouliagmeni on the outskirts of Athens on Tuesday.
She is looking forward to the time trial, which, along with the 3000m pursuit, is one of her two main goals in these olympics. The largely flat, straight course should suit the style of the one-hour world record holder. "It is beautiful and tough. A power course," she said. "What a luxury."
One thing is sure, the 34-year-old has vowed it will be her last Olympic road event and plans to retire as soon as the games end.
In all likelihood, it will also be the last chance to see the greatest woman cyclist of all time, France's Jeannie Longo-Ciprelli, under the Olympic sun.
The 45-year-old finished 10th in Sunday's road race but rode conservatively throughout, making sure not to crash on the twisting, dangerous course. Even though she has lost some of her endurance - highlighted by a rare defeat in the French national championships - Longo-Ciprelli has such mental strength that it would be unwise to count her out.
Among the favourites, Judith Arndt already knows what it is to win a medal. The German finished second behind Australia's Sara Carrigan in the road race on Sunday. She immediately stirred controversy, insisting that bad tactical planning made Germany lose the gold, and it remains to be seen whether this will fire her up even more for Wednesday's race.
© AAP
No TT replacement for Bäckstedt
Sweden will not replace Magnus Bäckstedt in the Olympic time trial on Wednesday. The big Swede, who featured in a long solo breakaway in the early going of Saturday's men's road race, decided to call it a season, citing recurring back pain, and will not contest the time trial as originally planned.
Gustav Larsson was entered as reserve but his time trial bike wasn't brought to Athens. Thomas Lövkvist, Swedish national time trial champion, will ride as planned.
Pitel suffers fracture
French road rider Edwige Pitel suffered a fractured thumb after her crash in the women's road race in Athens Sunday, but the reigning national time trial champion will be back in action Wednesday for the women's individual time trial.
Hoy crashes in Athens
British track sprinter Chris Hoy nearly saw his Olympic hopes dashed with a crash in training in Athens this week. After posting a new personal best in the velodrome while training for the standing 500m, Hoy and the British track team opted to finish the day's work with a spin around the Olympic village.
A simple ride turned complicated, however, when Hoy slipped on melting tar on the hot roads and fell heavily on his thigh and elbow, losing plenty of skin in the process. Luckily, the first aid headquarters was just around the corner and Hoy was bandaged and on his way quickly.
It seems pre-race injuries are becoming something of a pattern for Hoy, as his personal website (www.chrishoy.com) notes. A broken wrist before Hoy's first U23 world championships didn't stop him from taking silver in the team sprint. A severed tendon in his foot prior to the Commonwealth Games came before gold in the kilometre (and record time), while being hit by a police van prior to this year's world championships in Manchester did nothing to prevent Hoy from taking the world's kilometre crown.
(All rights reserved/Copyright Knapp Communications Pty Limited 2004)