The current time in Athens is 20:28 on September 23, 2023
Olympic Cycling News for August 18, 2004
Edited by John Stevenson
Men's time trial wide open
Dark horse Honchar threatens conventional wisdom
By Tim Maloney, European Editor
Jan Ullrich (R) and Erik Zabel
Photo ©: AFP Photo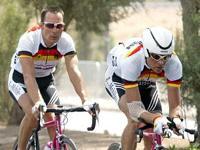 The Athens Olympic time trial course is an out and back 24km run that starts in the coastal town of Vouliagmeni in Attica. The race starts and finishes in front of town hall on Athinas Avenue, then heads south to the coastal road, past Variza beach and east to the turnaround at the Agia Marina. The parcours runs along the Aegean Sea and will be blown by the South-Southwest Meltemia winds that will increase as Wednesday afternoon continues. The men will ride two laps of the course.
Conventional wisdom says this time trial will see Jan 'The Man' Ullrich battle Tyler 'The Man From Marblehead' Hamilton for the gold medal. But lurking in the wings is the most ambitious and perhaps the strongest TT man on Planet Earth: Serguy Honchar (Ukraine).
Click here for full preview
Women's field small but elite
Power course favours the tough
By Kristy Scymgeour
Jeannie Longo Ciprelli
Photo ©: AFP Photo

Following undoubtedly the most exciting women's road race in Olympic history on Sunday, when attack after attack culminated in Australian Sara Carrigan taking the win in a two up sprint against Judith Arndt of Germany, the women will line up again tomorrow for the individual time trial.
Only 25 riders are on the start list with the majority of nations having two start spots and a few having just one, but the field is packed with riders who have strong medal chances. The women will complete one lap of the 24km course, which hugs the seafront between Vouliagmeni and Agia Marina. It is an out and back route that presents a couple of small climbs but the major obstacle will be the wind. Riders training on the course yesterday reported strong winds and conditions are expected to be the same today.
Click here for full preview
Favourites tip each other for time trial
Pena & Botero
Photo ©: AFP Photo

As the riders took the chance of a final's day's practice on the time trial course Tuesday, Rob Jones caught up with a some of the favourites to get their thoughts on the course and the competition.
Christophe Moreau (France): "The wind, it is from all directions."
Victor Hugo Pena (Colombia): "Everyone can have a chance here."
Michael Rich (Germany): "if we have what I call a 'chocolade day', then it is possible [for Ullrich and me to medal]. I need a chocolade day."
Michael Rogers (Australia): "The harder, the better."
Lyne Bessette (Canada): "The rollers [hills] will crush legs. I think it is harder on the way out, but the wind is coming at you in both directions."
Leontien van Moorsel (Netherlands): " It is a good course for Arndt, Zabirova, Somarriba and Carrigan and, hopefully, me."
Dede Barry (USA): "There's no question that the strongest rider will win."
Oenone Wood (Australia): "I'll just give it everything... I think I couldn't really be in a better position."
Click here for the full feature.
Julich rides in Grewal's wheel-tracks
Bobby Julich is following the Olympic trail blazed by his boyhood cycling hero Alexi Grewal, whom he got to meet last winter - and even had the chance to handle the gold medal Grewal won in the 1984 Olympic road race.
"The reason I got into cycling was watching Alexi win that gold medal," Julich told AP yesterday after training on the time trial course. "When I got to hold it, I don't know, it was like my career has gone full circle. And now I have the chance to win it for myself. Enough said. I don't need any more motivation than that."
However, Julich is still nursing the damaged wrist that he sustained in a crash in the Tour de France last month. While initial x-rays seemed t show that all was well, and Julich had just suffered extensive bruising, a subsequent examination revealed a non-displaced fracture. The injury will probably require a cast to allow it to heal fully.
But not yet. "This is it. This is what I've waited four years for," Julich said. "This [injury] is not going to affect my race at all."
Julich concedes the competition at this Olympic time trial will be fierce. "It's a pretty star-studded lineup," he said. "You don't see this many great riders on form at a world championships. The Olympics is really lucky they got such a great field."
Reed likely to skip 500m
American Jennie Reed says she is unlikely to ride the 500m time trial when the Olympic track program starts on Friday, preferring to concentrate on her preparation for the sprint.
"I'm pretty sure I won't be riding it," Reed told AP. "I might change my mind, but I doubt it. It's just not my forte. I could go out there and do it to get the nerves out of the way, but it's just not something I'm focusing on."
Instead, Reed will take a complete rest day on Friday to be ready for the three days of the sprint contest which starts Monday August 22 with qualifiers and culminates in finals on tehevening of Tuesday, August 24.
Reed won't be replaced in the 500m start list. "We didn't do any preparation for the 500 this year, and the way the competition is scheduled it really doesn't fit our plan," said U.S. sprint cycling coach Andrzej Bek. "It would distract our pattern. And sometimes, when you try to get two things, you can come away with nothing."
(All rights reserved/Copyright Knapp Communications Pty Limited 2004)