The current time in Athens is 16:34 on October 31, 2020 - For current weather, click here
28th Olympic Games - JO
Athens, Greece, August 14-28, 2004
Map and profile Start list Live coverage Results
August 18: Women's time trial, 24km
Small but elite field in women's road race
Power course favours the tough
By Kristy Scymgeour
Jeannie Longo Ciprelli
Photo ©: AFP Photo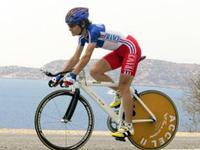 Following undoubtedly the most exciting women's road race in Olympic history on Sunday, when attack after attack culminated in Australian Sara Carrigan taking the win in a two up sprint against Judith Arndt of Germany, the women will line up again tomorrow for the individual time trial.
Only 25 riders are on the start list with the majority of nations having two start spots and a few having just one, but the field is packed with riders who have strong medal chances. The women will complete one lap of the 24km course, which hugs the seafront between Vouliagmeni and Agia Marina. It is an out and back route that presents a couple of small climbs but the major obstacle will be the wind. Riders training on the course yesterday reported strong winds and conditions are expected to be the same today.
Race favourite prior to the road race was Leontien Zijlaard-Van Moorsel (Netherlands), who is defending champion after her gold medal ride in Sydney. However her crash in the road race has caused her a lot of pain and could detract from her performance tomorrow, although she is confident that the pain of her injuries won't penetrate the pain of riding flat-out for 24km! Zoulfia Zabirova (Russia), who is also a former Olympic time trial champion, will also be one to watch. She kept fairly quiet in the road race and is in great form this season. On a course that is perfect for her, she will be hard to beat.
Australian Oenone Wood, who placed fourth in the road race and helped her teammate Carrigan to win the race, is now putting all of her efforts into the time trial. She is Australian national time trial champion and although has not had the opportunity to compete in a lot of time trials this year, is considered a favourite after a her very successful season.
Certainly her team-mate, women's road race gold medallist Sara Carrigan, thinks so. "Oenone's lined up in two time trials this year and won both of them," Carrigan told The Age. "I think she has a really strong chance. She's been so consistent throughout the whole year and I would love nothing more than to see her wearing a gold medal around her neck."
Riding for Germany are Judith Arndt and Trixi Worrack. Arndt proved on Sunday that she has very good legs this week and her history as a good time trialer puts her right up there in the medal favourites. Just across the border in Switzerland, Karen Thurig is a time trial specialist with a background in duathlons. She always puts in good performances in time trials and just a couple of weeks ago won a 17km time trial in Thuringen Rundfahrt in front of Zabirova.
The US also has a good chance of a medal with Dede Barry or Christine Thorburn. Barry has had recent success, winning both time trials at Tour de l'Aude and Thorburn comes to the Olympics as US national champion. North of the border, Canada has Lyne Bessette who is a strong time trailer and Sue Palmer who beat out Bessette at the Canadian nationals recently.
Finally, the three riders we can never leave off the list of contenders, Jeannie Longo (France), Nicole Cooke (Great Britain) and Joane Somarriba (Spain). Longo medalled at the Sydney Olympics and is consistently strong in the time trial. Cooke is former junior world time trial champion and was not happy with her performance in the road race on Sunday. She will be back tomorrow to do better. Somarriba is current world time trial champion who can't be counted out, but the course is not hilly and not entirely suited to her.
The women's time trial starts at 13:00 local time (20:00 Australia east; 03:00 US west; 06:00 US east; 11:00 UK). Riders will start at 90 second intervals..