The current time in Athens is 09:59 on October 19, 2021 - For current weather, click here
28th Olympic Games - JO
Athens, Greece, August 14-28, 2004
Results Men's road race Women's road race Men's time trial Women's time trial
Start list Live report Preview Map
August 18: Women's Time Trial, 24km
Leontien bounces back
Zijlaard-Van Moorsel (Netherlands)
Photo ©: AFP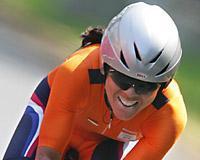 Triple Olympic gold medallist Leontien Zijlaard-van Moorsel (Netherlands) has added a fourth gold medal to her impressive collection, winning the 24 kilometre women's time trial today in Vouliagmeni. Putting a nasty crash in Sunday's road race behind her, Zijlaard-van Moorsel powered to the finish in a time of 31'11.53, 24 seconds faster than American Dede Demet-Barry and 44 seconds better than Karin Thürig (Switzerland).
"I have pain all over my body. I have a terrible headache, but I'm so happy," Zijlaard-Van Moorsel told Dutch television after the finish.
"After my crash, I told myself I didn't want to end my career like this," she added. "I've worked really hard since last year and I thought this morning I had to at least get a medal because I knew I was in shape. I had some doubts in the early part of the course and I was really suffering after the 10km mark. I was at my limit."
The Americans had a strong showing with Demet-Barry taking silver and Christine Thorburn finishing just outside the medals in fourth. It was Thorburn who set one of the early markers, getting the better of notables such as Jeannie Longo of France, who failed to finish in the medals in either the road race or time trial this year. Demet-Barry set the fastest time at both the intermediate check and at the finish, but would have to wait for favourites such as Joane Somarriba (Spain), Thürig, Van Moorsel, road race silver medallist Judith Arndt (Germany), and Zoulfia Zabirova of Russia to finish.
The women's podium
Photo ©: AFP

"I kept a little in reserve during the first half because I wanted to save some strength for the finish," Demet-Barry explained, referring to the headwind which greeted the riders for their return. "I'm very happy to be here. I've had an incredible week. I have family here, my grandfather is originally from Greece, so for me it's like coming back to my roots."
Thürig was content with her bronze medal, which despite her classification as an outsider for the podium came as a surprise. "The level of competition was very high and I didn't think I'd be able to get a medal," she admitted. "The Games have been a great experience."
Demet-Barry was able to hold the Swiss specialist Thürig at bay, but there was no stopping Van Moorsel, who stormed through the first time check nearly 30 seconds faster than the American and looked set to repeat her gold medal from the Sydney time trial four years ago. Arndt and Zabirova failed to make an impact on the fast rolling course, and thus Van Moorsel's victory was practically assured once she crossed the line with what remained the fastest time.
Photography
For a thumbnail gallery of these images click here
Images by www.epicimages.us
Images by Rob Jones/www.canadiancyclist.com
Images by AFP Photo
Results
1 Leontien Zijlaard-Van Moorsel (Netherlands)        31.11.50
2 Deirdre Demet-Barry (USA)                           0.24.09
3 Karin Thuerig (Switzerland)                         0.43.36
4 Christine Thorburn (USA)                            1.03.29
5 Lada Kozlikova (Czech Republic)                     1.03.88
6 Oenone Wood (Australia)                             1.04.47
7 Joane Somarriba Arrola (Spain)                      1.14.40
8 Zoulfia Zabirova (Russia)                           1.18.55
9 Priska Doppmann (Switzerland)                       1.28.94
10 Edita Pucinskaite (Lithuania)                      1.30.59
11 Judith Arndt (Germany)                             1.35.41
12 Olga Slyusareva (Russia)                           1.39.53
13 Mirjam Melchers (Netherlands)                      1.50.05
14 Jeannie Longo Ciprelli (France)                    1.53.78
15 Trixi Worrack (Germany)                            1.54.19
16 Lyne Bessette (Canada)                             2.12.66
17 Susan Palmer-Komar (Canada)                        2.14.48
18 Dori Ruano Sanchon (Spain)                         2.18.10
19 Nicole Cooke (Great Britain)                       2.33.69
20 Edwige Pitel (France)                              2.50.82
21 Tatiana Guderzo (Italy)                            3.02.94
22 Anita Valen (Norway)                               3.20.41
23 Rasa Polikeviciute (Lithuania)                     3.22.95
24 Nataliya Kachalka (Ukraine)                        3.49.52
25 Susanne Ljungskog (Sweden)                         4.05.72
 
Standings after first time check (km 12)
 
1 Leontien Zijlaard-Van Moorsel (Netherlands)        15.08.98
2 Deirdre Demet-Barry (USA)                          15.32.85
3 Karin Thuerig (Switzerland)                        15.43.12
4 Lada Kozlikova (Czech Republic)                    15.47.99
5 Oenone Wood (Australia)                            15.50.43
6 Joane Somarriba Arrola (Spain)                     15.50.61
7 Zoulfia Zabirova (Russia)                          15.54.84
8 Christine Thorburn (USA)                           16.00.14
9 Priska Doppmann (Switzerland)                      16.02.14
10 Judith Arndt (Germany)                            16.07.80
11 Mirjam Melchers (Netherlands)                     16.07.95
12 Olga Slyusareva (Russia)                          16.09.29
13 Edita Pucinskaite (Lithuania)                     16.10.54
14 Trixi Worrack (Germany)                           16.17.43
15 Susan Palmer-Komar (Canada)                       16.17.87
16 Lyne Bessette (Canada)                            16.18.76
17 Nicole Cooke (Great Britain)                      16.19.57
18 Jeannie Longo Ciprelli (France)                   16.31.29
19 Dori Ruano Sanchon (Spain)                        16.34.43
20 Tatiana Guderzo (Italy)                           16.41.37
21 Edwige Pitel (France)                             16.44.21
22 Anita Valen (Norway)                              16.45.67
23 Rasa Polikeviciute (Lithuania)                    16.50.16
24 Susanne Ljungskog (Sweden)                        16.59.55
25 Nataliya Kachalka (Ukraine)                       17.09.99