The current time in Athens is 20:14 on September 23, 2023
Olympic Cycling News for August 13, 2004
Edited by Jeff Jones
Professionals make Olympic cycling "more visible"
More comments from the US road squad
By Rob Jones in Athens
Jim Ochowicz
Photo ©: epicimages.us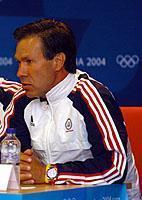 At a press conference in Athens on Thursday, the US men's and women's road teams were grilled about the upcoming Olympic events, where they are expected to do well. US men's road coach Jim Ochowicz commented that, "We have great expectations for the men's race - I expect us to be one of the teams that sets the tone for the race."
Ochowicz also commented on the difference in the Olympic road race since the IOC began allowing professionals in at the Atlanta Games (1996). "Since the pros were allowed in, we have seen an increase in the visibility of cycling at the Olympics. Now you have athletes at the highest level, like Ullrich, Klöden, Ekimov and Lance Armstrong. Contrast that to before 1996 - we never had a chance to see Eddy Merckx or Bernard Hinault at the Olympics during the height of their careers."
Ochowicz addressed the issue of security for the high profile American riders. "We've had dialogue with security, and have security with us when we go training. But remember that these guys are used to racing with large crowds, and the course will be much more controlled than something like l'Alpe d'Huez."
Women's captain Dede Demet-Barry revealed that they were under constant security supervision. "I think they are Secret Service or Homeland Security, and they stay in the room right next to us. There are security cameras all over the Village."
Click here for the full feature
Also see: US road team confident
Virenque dreams of a medal
The 2004 Games will mark Richard Virenque's third Olympic participation, and the feisty Frenchman is again looking forward to the experience. "It is a completely different race to the ones we normally take part in and for this reason we are stimulated to do well," he said. "Riding wearing my country's national colours is an honour. My dream is that of returning to France with a medal. Our team is certainly very good."
Rogers rates TT as tough
Australian Michael Rogers, the effective World Time Trial Champion, is a favourite for the men's TT next Wednesday. Rogers is familiar with the parcours, having ridden it last year, and rates it as tough. "Last August I was in Athens along with some of the National team's technical staff to view the race route," he said. "It is a difficult route that could have some surprises in store. Even the non-specialists will stand a chance of winning a medal. The wind along the sea front could also be a determining factor. The main opponents will be Jan Ullrich, Jens Voigt and Ivan Gutierrez but I am sure, as always happens, some of the others will come to the forefront after having meticulously prepared themselves for the Olympics.
"I am in good condition at the moment. I did well at the Tour. I've been training along with the Australian National Team in Reggio Emilia. I am quite confident," concluded Rogers.
McGee celebrates Games early
Whilst the rest of his teammates put the finishing touches to their preparation for the Athens Olympic Games, cyclist Bradley McGee was hopping back on a plane to be with his wife Sharni for the birth of their second child. But Sharni was too quick - even for Brad - as she gave birth to the couple's first son, Rory John McGee before Brad had even taken off from his Büttgen base.
Rory McGee was very keen to join his mum and dad, taking just two and a half hours in labour and coming in at a very healthy 4.210kgs. Born at 8.35am on the 11th August local Monaco time, the McGees now have two children with eldest daughter Tahlia now 3 years of age.
The happy father said "whilst I was disappointed I did not make it to the hospital in time for the birth, I was delighted that everything had gone well and that both Sharni and Rory were doing extremely well. I'm not sure who he looks like yet but to me he is just one handsome little boy - I think Sharni has produced the first gold medal of these Games. Knowing what Sharni went through I think it makes riding the Alpe d'Huez a little less daunting.
"It's a huge relief. I can now go to the Olympics knowing I have a new baby boy. I will be more at peace knowing the baby has come and Sharni and Tahlia have her parents at home to help out whilst I'm at the Games." McGee hopes to rejoin his wife and family immediately following the conclusion of the track cycling events in Athens.
(All rights reserved/Copyright Knapp Communications Pty Limited 2004)