The current time in Athens is 21:17 on September 23, 2023
Olympic Cycling News for August 14, 2004
Edited by Chris Henry
Hamilton seeks redemption in Athens
By Anthony Tan
Tyler's target: the Olympic Time Trial
Photo: © Luc Claessen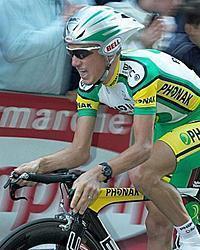 A mass pile-up just a week into this year's Tour de France effectively ended the chances of one rider who had a realistic chance of seriously challenging Lance Armstrong in his bid for a record sixth victory. Despite catapulting over his bars and landing square on his spine, cutting off power to his legs like the flick of a switch, he endured another six days before he could ride no further.
However, this rider is no ordinary bike rider. In fact, he is no ordinary man. Tyler Hamilton is arguably the toughest in the business, and is now in Athens, ready for redemption.
"I feel pretty good. [After the Tour], I took the first week home off the bike to give my back some time to rest," said an upbeat Hamilton to Cyclingnews, less than 48 hours away from the start of the Athens Olympic road race. "Since then, I've been training hard and doing a lot of physical therapy. I feel better but we won't know how well things have progressed until I start racing."
Asked whether he knew his chances of a podium place at the Tour were gone as soon as he crashed at the end of the sixth stage in Angers, the 33 year-old simply replied, "Yes", going on to say that he displayed some very uncharacteristic behaviour shortly afterwards, violently throwing his helmet to the back of the team bus. "In that moment I felt like I had been robbed," he said.
"I would have taken the pain of ten broken collarbones over what happened this year. It takes a lot to force me off my bike. I have had to listen to my body first in this situation. Rest was important initially, but I was also motivated to get back to work to get ready for the Olympics."
Which is where he finds himself now, ready to do battle once more.
"I'm not taking the opportunity to represent the United States in Athens for granted. So the Games have been my priority since I was able to get back on my bike. I've been working hard the last couple of weeks, so I think I'll be ready to give it a go," he said.
On Wednesday, the officials opened up the course for Saturday's Olympic road race for two hours, which Hamilton described as "stressful", adding that riders were already slipping on the marbled road surface while training. With five strong riders - namely Bobby Julich, George Hincapie, Levi Leipheimer, Jason McCartney and himself - the team bearing the stars and stripes will do their utmost to have at least one of the quintet in the winning move, but for Hamilton, his main focus will be four days later.
"My big focus is the Time Trial," Hamilton acknowledged. "I'll have a couple of days after [the road race] to refocus on the Time Trial, which is going to be held outside the city along the coast. I'll spend the days between events studying the course and training on my TT bike. I'll see the Time Trial course after the Road Race, which I hear, is a little more straightforward."
Look for the full interview on Cyclingnews, to be posted later today.
An interview with Michael Barry
"Positioning is crucial"
With only three riders in tomorrow's men's road race - Michael Barry, Gord Fraser and Eric Wohlberg - the Canadian team will be playing a watching game, hoping to position their riders in the right spot if a decisive break happens. One of them is Michael Barry, who spoke to Rob Jones in Athens about the team's tactics on Saturday.
Michael Barry and George Hincapie
Photo ©: USA Cycling
Cyclingnews: First of all Michael: what about this opportunity to race at the Olympics with your wife (Dede Demet-Barry, of the U.S. team who will race the women's road race on Sunday, and the time trial next Wednesday)?
Michael Barry: We obviously train and ride a lot together at home (in Colorado), but this is awesome to be here together. In Atlanta (his first Olympics) I was pretty young, and overwhelmed by everything, so I couldn't take a lot of it in. Now, it is definitely good to come back and share it with my wife, especially since it is her first time at the Olympics.
We spend a lot of time apart (Michael races mainly in Europe for U.S. Postal and Demet-Barry in North America for T-Mobile), so it is pretty neat to be able to call her up in the morning, talk and have breakfast together.
CN: How about the course? Some of the U.S. pros and French riders have been calling it dangerous.
MB: There are definitely a few technical sections, and some off-camber corners, but it is nothing worse than some other stuff we have raced. We were taking about it yesterday while training, and some of us agreed that it was similar to Lancaster (Wachovia Classic in Pennsylvania).
Click here for the full interview
Stephens: Three Aussies with a chance
O'Grady's morale high
By Chris Henry
Former Australian professional Neil Stephens, who will serve as directeur sportif for the Athens road race, is full of confidence in his Aussie team. Stephens knows that the small Olympic teams present a different challenge when compared to normal road races or other national events such as the world championships. Australia's road team for 2004 includes Stuart O'Grady, Robbie McEwen, Baden Cooke, Michael Rogers, and Matt White.
"We have two riders- Robbie McEwen and Stuart O'Grady- who have very good chances," Stephens told Cyclingnews before departing for Athens. "And I wouldn't write off Baden Cooke too quickly. He didn't have a great Tour, but he's been training well since then. Cookie can do some amazing things in a small group sprint or a breakaway."
For Stephens, the Tour de France is critical for honing fitness prior to the Games. O'Grady and McEwen both won stages in the Tour, and O'Grady's World Cup success in Hamburg the following week, not to mention the opening stage win at the Tour of Denmark, have kept him in peak condition.
"We've seen it in the past with guys coming off the Tour," Stephens explained. "If you put the race in April or May, I would have doubts about riders I've mentioned... But coming out of Tour and healthy as all three have been, all three can have a chance."
Cycling drug tests fall foul of security
By Raf Casert, AAP
A pre-Olympics blood doping test on top cyclists had to be cancelled because the doping inspector was not allowed into the Olympic Village, according to the UCI.
"We had everything ready - the commissioner and the doctor and the riders were there but the inspector was not allowed to go in," said UCI spokesman Enrico Carpani.
The inspector was refused entry because of a problem with his credentials, he said.
"We were very disappointed. We invest a lot of time and money in the controls," Carpani said. "Between him and the riders there was a door and he could not go through it."
It was too late to administer the tests later because such blood samples have to be taken early in the morning. Friday's test had been planned well in advance and was not an unannounced out-of-competition control. A similar test could now be held in the days leading up to Wednesday's time trial.
"We were standing there with our five riders, but after 20 minutes still no one had shown up," said Dutch team doctor Tjeert de Vries. Riders from the Italian, French and Belgian teams were also waiting in vain.
Carpani stressed the incident did not affect the overall cooperation with the IOC, which he called "very good."
(All rights reserved/Copyright Knapp Communications Pty Limited 2004)