The current time in Athens is 03:56 on October 4, 2023 - For current weather, click here
28th Olympic Games - JO
Athens, Greece, August 14-28, 2004
Friday, August 13, 2004
Professionals make Olympic cycling "more visible"
More comments from the US road squad
By Rob Jones in Athens
Jim Ochowicz
Photo ©: epicimages.us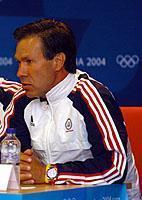 At a press conference in Athens on Thursday, the US men's and women's road teams were grilled about the upcoming Olympic events, where they are expected to do well. US men's road coach Jim Ochowicz commented that, "We have great expectations for the men's race - I expect us to be one of the teams that sets the tone for the race."
Ochowicz also commented on the difference in the Olympic road race since the IOC began allowing professionals in at the Atlanta Games (1996). "Since the pros were allowed in, we have seen an increase in the visibility of cycling at the Olympics. Now you have athletes at the highest level, like Ullrich, Klöden, Ekimov and Lance Armstrong. Contrast that to before 1996 - we never had a chance to see Eddy Merckx or Bernard Hinault at the Olympics during the height of their careers."
Ochowicz addressed the issue of security for the high profile American riders. "We've had dialogue with security, and have security with us when we go training. But remember that these guys are used to racing with large crowds, and the course will be much more controlled than something like l'Alpe d'Huez."
Women's captain Dede Demet-Barry revealed that they were under constant security supervision. "I think they are Secret Service or Homeland Security, and they stay in the room right next to us. There are security cameras all over the Village."
Leipheimer: Not a replacement for Lance
The talk then turned to the absence of Lance Armstrong, who declined his spot on the U.S. squad, and was replaced by Levi Leipheimer, who noted, "I certainly don't consider myself a replacement for Lance Armstrong. I was next in line behind Tyler, George and Bobby. I will just try to be aggressive and ride for the team."
Leipheimer spoke about whom he considered the favourites. "Eric Dekker is normally my teammate, and I know that on a technical course like this one, he's one to watch. Of course, Paolo Bettini is a favourite, and I think any of the Spanish riders could do well here."
Barry and Barry
The US women's road team (L to R):
Photo ©: Rob Jones

In the women's 9 lap, 118 kilometre race, Dede Demet-Barry said she expects that, "It will be a hard race to control with only three riders per team. The course is so selective, and the heat will be a huge factor. I don't think it will be a big group at the end."
For favourites, she unhesitatingly named former Olympic gold medalist Leontien Van Moorsel of the Netherlands. "She is the biggest favourite - she can do it all; climb, descend, sprint and bike handle. Plus, her team mate Mirjam Melchers and (world champion) Susanne Ljungskog. Lyne (Bessette - Canada) is looking fitter than I have ever seen her before."
Finally, Barry spoke about her unique opportunity to race at the same Games and in the same event as her husband Michael Barry (Canada), a pro with US Postal. "It's been really neat to experience the Olympics together. We are able to have lunch and dinner together, ride together, and spend time with each other. Our mums are both coming (to Athens) to watch the races together, plus brothers and sisters - it's a big family thing!"
Also see: US road team confident
Photography
Images by www.epicimages.us
Images by Rob Jones