The current time in Athens is 15:04 on September 30, 2023 - For current weather, click here
28th Olympic Games - JO
Athens, Greece, August 14-28, 2004
Friday, August 13, 2004
US road team confident
Lack of Armstrong still leaves powerful men's road squad
By Kristy Scrymgeour
George Hincapie (USA)
Photo ©: AFP Photo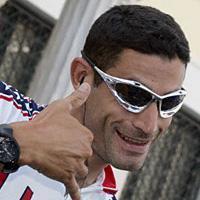 The US men's road team of Tyler Hamilton, Bobby Julich, George Hincapie, Levi Leipheimer and Jason McCartney are confident that they will be a force to be reckoned with this weekend in the very first medal event for cycling at the 2004 Olympics Games, the men's road race.
According to team director Jim Ochowicz, the men's team is going to be "very competitive," despite the decision of Lance Armstrong to pull out of the team a few weeks ago. "They're going to be setting the tempo and the racing strategy. We have great expectations," he said at the pre-race press conference in Athens yesterday.
Bobby Julich & Tyler Hamilton
Photo ©: USA Cycling

Like so many other starters this weekend, three of the five riders - Julich, Hincapie and Leipheimer - come to the race with only a couple of weeks rest after the Tour de France. Tyler Hamilton has spent a few weeks recovering from a crash in the first week of the Tour and the fifth rider, Jason McCartney, who qualified by winning Olympic trials in Redlands in June, has been able to prepare specifically for the Games.
After taking a week off the bike after pulling out of the Tour Hamilton said his back is "about 95 percent healed" and he has been training hard. As for the course he explained that it is very different from Sydney. "[It] is more technical," he said, "with many sharp turns and steep hills."
George Hincapie (USA) & Levi Leipheimer
Photo ©: AFP Photo

Julich agreed with the verdict that the course is technical. "The course is very slick, especially if it rains," he explained "and even if it doesn't there are going to be a lot of crashes. After riding the course [Wednesday], it is more technical than I thought."
Hamilton explained the team's plan for the race. "Without Lance Armstrong we don't have a clear team leader. If he were here, we'd be supporting him 100 percent. The advantage is that we have five strong riders. That's the kind of team you need to win."
Jason McCartney & Michael Barry (Canada)
Photo ©: USA Cycling

With the course lending itself to a small breakaway Leipheimer added, "We'll increase our chances of winning by staying in the key breakaways."
Hincapie said that he has been resting since the Tour and "feels great."
The women's team of Dede Barry, Christine Thorburn and Kristin Armstrong are also feeling confident. "It is an incredible experience to be at the Olympics," said Barry who is the most experienced rider out of the three, but nevertheless lines up with the other two in her first ever Olympic Games. "Kristin and Christine are huge motors," she added. "It feels great to be a part of such a strong team."
Dede Barry
Photo ©: USA Cycling

As for the course and what she thinks will happen out there, Barry said, "It's hard to predict. The hills aren't crazy hard, but I think the heat could be pretty selective in our race. We start right in the heat of the day and it's only three-rider teams, so it's going to be hard to control."
Being at the Games is "a dream come true" for Armstrong, who said, "The road race is going to be really hard. It's a really technical course, and since we're in Europe where the width of the roads are cut in half, it's going to feel even more technical. I heard that there is a lot of marble in the mountains; so all the pavement has this deceivingly wet look that looks and feels a little bit slippery. It's definitely going to be a race of attrition," she added. "The cobbles will make it very hard."
As for the time trial on Wednesday, the US selectors faced a tough decision as to which two of the three riders to pick. Barry got the first spot after much success this year in international time trials including winning both the time trials at Tour de l'Aude. The second spot was given to Christine Thorburn, who gained her Olympic selection by winning the National Time Trial Championships in June. Armstrong, who has also recently been successful in time trials, was left out.
"To be honest, I was pretty disappointed," she explained. "It's been something that's been on my mind for almost two years now and I think I have my biggest chance for a medal in that event. I was third in Tour de l'Aude, third in Thuringen, so I thought I had a pretty good chance."
As for the course, Barry explained, "It is pretty straightforward. It's a simple out and back course, and it's going to be all about speed. There might be a little bit of wind, but that's a little bit unpredictable. I was here last year training on the course for a few days and there was hardly ever any wind, but yesterday, there was a little bit. "[Leontein] Van Moorsel, and [Zoulfia] Zabirova are probably going to be the ones to watch, she added. "Also, Karen Thurig. I was really impressed with her over the last month. Judith Arndt will be strong too."
Photography: Team USA in training
Images by Damien Meyer/AFP Photo
Images by Andy Lee/

Men's road team roster
George Hincapie: US Postal
Age: 31
Career pro wins: 14
Olympic record: Three participations
Levi Leipheimer: Rabobank
Age: 30
Career pro wins: 11
Olympic record:
Jason McCartney: Health Net
Age: 31
Career pro wins: 15
Olympic record: None
Tyler Hamilton: Phonak
Age: 33
Career pro wins: 18
Olympic record: One participation
Bobby Julich: CSC
Age: 32
Career pro wins: 7
Olympic record: None
Women's road team roster
Dede Barry
Age: 32
Career wins: 11
Olympic record: None
Christine Thorburn
Age: 35
Career wins: 7
Olympic record: None
Kristin Armstrong
Age: 31
Career wins: 4
Olympic record: None