Recently on Cyclingnews.com
86th Giro d'Italia - Grand Tour
Italy, May 10-June 1, 2003
Main Page Live Report Results Previous Stage Next Stage
Stage 20 - May 31: Canobio-Cantu, 133 km
Lombardi, take a bow
By Jeff Jones
Deserved win for Lombardi
Photo: © Sirotti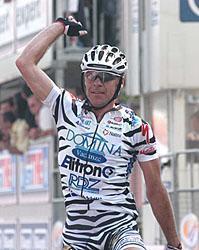 Normally riding in the service of his zebra-striped teammates, Domina Vacanze's Giovanni Lombardi finally got a chance to shine in the last road stage of the Giro d'Italia. After a very attacking stage, Lombardi beat a strong Eddy Mazzoleni (Vini Caldirola), Giuliano Figueras (Panaria) and Marco Velo (Fassa Bortolo) in a four man sprint, making good use of his speed and excellent tactical sense.
"The sprint was the easiest thing in this stage," said Lombardi after the finish. "I had good physcial condition, the legs were perfect. I knew that Svorada would be hard to beat in a sprint, and it was for this reason that I decided to try and escape to anticipate the sprint. We raced hard and Colombo was funademntal. It's an important victory, I looked for it and went after it."
Lombardi also added his voice to the Tour selection debate: "I hope that Leblanc will invite us to the Tour, as today we showed we were a competitive squad. I will meet with Cipollini tomorrow, and we'll talk about our programs and the future. I want to ride another two years, I have a lot of desire to do well and I hope to keep winning."
Although today's stage looked like an ideal opportunity for the other remaining sprinters, such as Jan Svorada, Lombardi had other ideas and took off in the company of his teammate Gabriele Colombo with around 45 km to go. His move resulted in 27 riders getting clear of the Saeco controlled peloton, including Marco Pantani who was also keen to try and win a stage. Pantani failed, while a very attentive Lombardi covered all the right moves and ended up with three others in front of the chasing group, having no problems winning the sprint in Cantu.
Gilberto Simoni was led home by his Saeco teammates 1'42 behind, and will look forward to the final stage in tomorrow when he can claim the 86th Giro d'Italia as his own.
How it unfolded
The Treno Rosso
Photo: © Sirotti

It was a fast start to the final road stage of the Giro, as with just 133 km between Canobio and Cantu to cover, the peloton was keen to get it over quickly. 49 kilometres were covered in the first hour, after several attacks forced the speed up. Then the red jerseys of Saeco positioned themselves on the front to try and control the tempo, managing to keep a lid on things until the 75 kilometre point.
It was then that the attacks began anew, with Colombia-Selle Italia's Raffaele Illiano going clear on a small climb, followed by a handful of others, including Julian Winn and Michele Gobbi. Gobbi tried solo for a few kilometres, but was recaptured by the peloton, which was now led by Lampre and Domina Vacanze.
Pantani animates
Photo: © Sirotti

As the Intergiro approached at kilometre 96, Giovanni Lombardi (Domina Vacanze) followed his teammate Gabriele Colombo's attack, prompting a new round of aggression with several groups peeling off the front of the peloton in pursuit. Eventually 27 riders established themselves in front of the peloton just before the Intergiro, including Lombardi and Colombo, Marco Pantani and three teammates (Mario Manzoni, Cristian Gasperoni and Massimo Codol), Eddy Mazzoleni (Vini Caldirola), Julian Winn and Scott Sunderland (fakta-Pata Chips), Marco Velo (Fassa Bortolo), Giuliano Figueras and Paolo Lanfranchi (Panaria), Constantino Zaballa (Kelme), Sandy Casar (FDJeux.com), Denis Lunghi and Vladimir Miholievic (Alessio), Rinaldo Nocentini and Fortunato Baliani (Formaggi), Sergio Barbero (Lampre), Lorenzo Bernucci, Vladimir Duma and Volodomir Bileka (Landbouwkrediet-Colnago), Michele Gobbi (De Nardi), Oscar Pozzi (Tenax), Luca De Angeli (Colombia-Selle Italia), Radoslaw Romanik (CCC-Polsat) and Gianni Faresin (Gerolsteiner).
The composition of the group (over a quarter of the peloton) was such that there was no real incentive to chase behind. Only Lampre was interested in bringing it together for Jan Svorada, while Simoni's Saeco train was content to just sit on the front and let the group get two minutes lead. Lampre wasn't strong enough to close it down, and despite an almost complete lack of cooperation in the lead group, it stayed away.
Lombardi and Velo
Photo: © Sirotti

It was too big to stay together however, and several riders, including Pantani, tried to escape before Marco Velo (Fassa Bortolo) went clear with 28 km to go. Ever watchful, Giovanni Lombardi saw his chance and took off after the Fassa Bortolo rider, who waited for him so that the two could work effectively together. The pair built up a 30" lead on the chasing group, which was still very disorganised with small groups and individual riders trying to bridge the gap. Eventually on the Cat. 3 climb of Cucciago with 16 km to go, Eddy Mazzoleni and Giuliano Figueras attacked to try and bridge the gap. Scott Sunderland followed them at a distance, but it was too late and he was recaptured by the group on the descent.
Mazzoleni goes
Photo: © Sirotti

Figueras and Mazzoleni worked to close the gap to Lombardi and Velo, succeeding with 6 km to go, while Pantani's group followed at 32". Mazzoleni immediately counter-attacked in an attempt to take the stage solo. However it was Lombardi himself who chased him down, and once Mazzoleni was caught he had no interest in working with Lombardi to the finish, as the latter would certainly beat him in a two man sprint. That gave Velo and Figueras another chance to get back on, and the four leaders entered the final kilometre together, with Pantani's chasing group now at 15" and closing.
The leaders realised that they couldn't waste time, and it was Marco Velo who started the sprint, only to be overhauled by Lombardi who took his first stage win in the Giro ahead of Mazzoleni and Figueras. Pantani's group was led home by Mercatone's Mario Manzoni, while the peloton with the maglia rosa crossed 1'42 behind, with Simoni now just one step away from overall victory in the Giro.
Lombardi wins
Photo: © Sirotti

Simoni really only has to stay on his bike in tomorrow's dead flat 33 km time trial in Milan, which will close this edition of the Giro. Simoni's eight minute lead on the general classification will not be endangered by the likes of Garzelli and Popovych, who will be involved in their own duel to see who gets the second spot on the podium.
Photography
Images by Fotoreporter Sirotti
Results
1 Giovanni Lombardi (Ita) Domina Vacanze-Elitron        3.05.30 (43.018 km/h)
2 Eddy Mazzoleni (Ita) Vini Caldirola-SO.DI
3 Giuliano Figueras (Ita) Ceramiche Panaria-Fiordo
4 Marco Velo (Ita) Fassa Bortolo
5 Mario Manzoni (Ita) Mercatone Uno - Scanavino            0.04
6 Paolo Lanfranchi (Ita) Ceramiche Panaria-Fiordo
7 Michele Gobbi (Ita) De Nardi-Colpack
8 Constantino Zaballa Gutierez (Spa) Kelme-Costa Blanca
9 Fortunato Baliani (Ita) Formaggi Pinzolo Fiave
10 Vladimir Duma (Ukr) Landbouwkrediet-Colnago
11 Vladimir Miholievic (Cro) Alessio
12 Sergio Barbero (Ita) Lampre
13 Juilian Winn (GBr) Team fakta-Pata Chips
14 Oscar Pozzi (Ita) Tenax
15 Marco Pantani (Ita) Mercatone Uno - Scanavino
16 Luca De Angeli (Ita) Colombia-Selle Italia
17 Denis Lunghi (Ita) Alessio
18 Sandy Casar (Fra) FDJeux.com
19 Gianni Faresin (Ita) Gerolsteiner
20 Volodimir Bileka (Ukr) Landbouwkrediet-Colnago
21 Radoslaw Romanik (Pol) CCC-Polsat
22 Scott Sunderland (Aus) Team fakta-Pata Chips
23 Rinaldo Nocentini (Ita) Formaggi Pinzolo Fiave
24 Gabriele Colombo (Ita) Domina Vacanze-Elitron
25 Massimo Codol (Ita) Mercatone Uno - Scanavino           0.12
26 Cristian Gasperoni (Ita) Mercatone Uno - Scanavino
27 Lorenzo Bernucci (Ita) Landbouwkrediet-Colnago          0.25
28 Tom Stremersch (Bel) Landbouwkrediet-Colnago            1.42
29 Andrea Tonti (Ita) Team Saeco
30 Paolo Fornaciari (Ita) Team Saeco
31 Leonardo Bertagnolli (Ita) Team Saeco
32 Alessandro Spezialetti (Ita) Team Saeco
33 Jordi Riera Valls (Spa) Kelme-Costa Blanca
34 Raffaele Illiano (Ita) Colombia-Selle Italia
35 Marius Sabaliauskas (Ltu) Team Saeco
36 Johan Verstrepen (Bel) Landbouwkrediet-Colnago
37 Yaroslav Popovych (Ukr) Landbouwkrediet-Colnago
38 Gilberto Simoni (Ita) Team Saeco
39 Damiano Cunego (Ita) Team Saeco
40 Andrea Noe' (Ita) Alessio
41 Stefano Garzelli (Ita) Vini Caldirola-SO.DI
42 Georg Totschnig (Aut) Gerolsteiner
43 Raimondas Rumsas (Ltu) Lampre
44 Mauro Gerosa (Ita) Vini Caldirola-SO.DI
45 Gerhard Trampusch (Aut) Gerolsteiner
46 Uwe Hardter (Ger) Gerolsteiner
47 Aitor Gonzalez Jimenez (Spa) Fassa Bortolo
48 Dario Andriotto (Ita) Vini Caldirola-SO.DI
49 Adolfo Garcia Quesada (Spa) Kelme-Costa Blanca
50 Gianluca Tonetti (Ita) Tenax
51 Fredy Gonzalez (Col) Colombia-Selle Italia
52 Graziano Gasparre (Ita) De Nardi-Colpack
53 Salvatore Scamardella (Ita) Landbouwkrediet-Colnago
54 Cristiano Frattini (Ita) Tenax
55 Carlos Dacruz (Fra) FDJeux.com
56 Sergiy Adyeyev (Ukr) Landbouwkrediet-Colnago
57 Serguei Gontchar (Ukr) De Nardi-Colpack
58 Dario Frigo (Ita) Fassa Bortolo
59 Daniele Pietropolli (Ita) Tenax
60 Dariusz Baranowski (Pol) CCC-Polsat
61 Franco Pellizotti (Ita) Alessio
62 Piotr Chmielewski (Pol) CCC-Polsat
63 Wladimir Belli (Ita) Lampre
64 Thomas Brozyna (Pol) CCC-Polsat
65 Luis F. Laverde Jimenez (Col) Formaggi Pinzolo Fiave
66 Francesco Vila Errandonea (Spa) Lampre
67 Hernan D. Munoz (Col) Colombia-Selle Italia
68 Jan Svorada (Cze) Lampre
69 Steve Zampieri (Swi) Vini Caldirola-SO.DI
70 Koos Moerenhout (Ned) Lotto-Domo
71 Bo Hamburger (Den) Formaggi Pinzolo Fiave
72 Rene' Joergensen (Den) Team fakta-Pata Chips
73 Julian Usano Martinez (Spa) Kelme-Costa Blanca
74 Bernhard Eisel (Aut) FDJeux.com
75 Marzio Bruseghin (Ita) Fassa Bortolo
76 Leonardo Zanotti (Ita) De Nardi-Colpack
77 Sylvester Szmyd (Pol) Mercatone Uno - Scanavino
78 Francesco Secchiari (Ita) Domina Vacanze-Elitron
79 Kim Kirchen (Lux) Fassa Bortolo
80 Charles Wegelius (GBr) De Nardi-Colpack
81 Gian Paolo Cheula (Ita) Vini Caldirola-SO.DI
82 Joaquim Castelblanco (Col) Colombia-Selle Italia
83 Mario Scirea (Ita) Domina Vacanze-Elitron
84 Pietro Caucchioli (Ita) Alessio
85 Michele Scarponi (Ita) Domina Vacanze-Elitron
86 Fabio Baldato (Ita) Alessio
87 Ruber Alverio Marin (Col) Colombia-Selle Italia
88 Ignacio Gutierrez Cataluna (Spa) Kelme-Costa Blanca
89 Magnus Backstedt (Swe) Team fakta-Pata Chips
90 Daniel Clavero (Spa) Mercatone Uno - Scanavino
91 Rodolfo Massi (Ita) Colombia-Selle Italia
92 Roberto Conti (Ita) Mercatone Uno - Scanavino
93 Manuel Quinziato (Ita) Lampre
94 Fabiano Fontanelli (Ita) Mercatone Uno - Scanavino
95 Hector O. Mesa Mesa (Col) Formaggi Pinzolo Fiave
96 Leonardo Giordani (Ita) De Nardi-Colpack                3.09
97 Simone Bertoletti (Ita) Lampre                          4.46
 
Points
 
1 Eddy Mazzoleni (Ita) Vini Caldirola-SO.DI                  28 pts
2 Giovanni Lombardi (Ita) Domina Vacanze-Elitron             25
3 Giuliano Figueras (Ita) Ceramiche Panaria-Fiordo           16
4 Marco Velo (Ita) Fassa Bortolo                             14
5 Mario Manzoni (Ita) Mercatone Uno - Scanavino              12
6 Constantino Zaballa Gutierez (Spa) Kelme-Costa Blanca      12
7 Michele Gobbi (Ita) De Nardi-Colpack                       11
8 Paolo Lanfranchi (Ita) Ceramiche Panaria-Fiordo            10
9 Fortunato Baliani (Ita) Formaggi Pinzolo Fiave             10
10 Vladimir Duma (Ukr) Landbouwkrediet-Colnago                6
11 Sandy Casar (Fra) FDJeux.com                               6
12 Vladimir Miholievic (Cro) Alessio                          5
13 Sergio Barbero (Ita) Lampre                                4
14 Juilian Winn (GBr) Team fakta-Pata Chips                   3
15 Oscar Pozzi (Ita) Tenax                                    2
16 Marco Pantani (Ita) Mercatone Uno - Scanavino              1
17 Gianni Faresin (Ita) Gerolsteiner                          1
 
Mountains
 
Piazza Garibaldi - km 120.1
 
1 Giovanni Lombardi (Ita) Domina Vacanze-Elitron              3 pts
2 Marco Velo (Ita) Fassa Bortolo                              2
3 Eddy Mazzoleni (Ita) Vini Caldirola-SO.DI                   1
 
Intergiro
 
1 Eddy Mazzoleni (Ita) Vini Caldirola-SO.DI             2.18.09
2 Sandy Casar (Fra) FDJeux.com
3 Constantino Zaballa Gutierez (Spa) Kelme-Costa Blanca
4 Fortunato Baliani (Ita) Formaggi Pinzolo Fiave
5 Michele Gobbi (Ita) De Nardi-Colpack
6 Gianni Faresin (Ita) Gerolsteiner
7 Vladimir Duma (Ukr) Landbouwkrediet-Colnago
8 Oscar Pozzi (Ita) Tenax
9 Scott Sunderland (Aus) Team fakta-Pata Chips
10 Radoslaw Romanik (Pol) CCC-Polsat
11 Paolo Lanfranchi (Ita) Ceramiche Panaria-Fiordo
12 Sergio Barbero (Ita) Lampre
13 Giuliano Figueras (Ita) Ceramiche Panaria-Fiordo
14 Massimo Codol (Ita) Mercatone Uno - Scanavino
15 Marco Velo (Ita) Fassa Bortolo
16 Gabriele Colombo (Ita) Domina Vacanze-Elitron
17 Lorenzo Bernucci (Ita) Landbouwkrediet-Colnago
18 Luca De Angeli (Ita) Colombia-Selle Italia
19 Juilian Winn (GBr) Team fakta-Pata Chips
20 Vladimir Miholievic (Cro) Alessio
 
Most combative
 
1 Eddy Mazzoleni (Ita) Vini Caldirola-SO.DI                  10 pts
2 Giovanni Lombardi (Ita) Domina Vacanze-Elitron              8
3 Giuliano Figueras (Ita) Ceramiche Panaria-Fiordo            4
4 Marco Velo (Ita) Fassa Bortolo                              4
5 Sandy Casar (Fra) FDJeux.com                                4
6 Constantino Zaballa Gutierez (Spa) Kelme-Costa Blanca       3
7 Mario Manzoni (Ita) Mercatone Uno - Scanavino               2
8 Fortunato Baliani (Ita) Formaggi Pinzolo Fiave              2
9 Paolo Lanfranchi (Ita) Ceramiche Panaria-Fiordo             1
10 Michele Gobbi (Ita) De Nardi-Colpack                       1
 
Azzurri d'Italia
 
1 Giovanni Lombardi (Ita) Domina Vacanze-Elitron              4 pts
2 Eddy Mazzoleni (Ita) Vini Caldirola-SO.DI                   2
3 Giuliano Figueras (Ita) Ceramiche Panaria-Fiordo            1
 
Trofeo Fast Team
 
1 Mercatone Uno-Scanavino                               9.16.50
2 Landbouwkrediet-Colnago                                  0.13
3 Domina Vacanze-Elitron                                   1.26
4 Alessio                                                  1.30
5 Formaggi Pinzolo Fiave'-Ciarrocchi
6 Team fakta-Pata Chips
7 Vini Caldirola-SO.DI                                     3.04
8 Fassa Bortolo
9 Kelme-Costa Blanca                                       3.08
10 Colombia-Selle Italia
11 Gerolsteiner
12 De Nardi-Colpack
13 Lampre
14 Tenax
15 CCC Polsat
16 FDJeux.com
17 Team Saeco                                              4.46
 
Trofeo Super Team
 
1 Ceramiche Panaria-Fiordo                                   33 pts
2 Mercatone Uno-Scanavino                                    22
3 Domina Vacanze-Elitron                                     20
4 Vini Caldirola-SO.DI                                       19
5 Fassa Bortolo                                              17
6 De Nardi-Colpack                                           14
7 Alessio                                                    14
8 Kelme-Costa Blanca                                         13
9 Formaggi Pinzolo Fiave'-Ciarrocchi                         12
10 Landbouwkrediet-Colnago                                   12
11 Lampre                                                     9
12 Team fakta-Pata Chips                                      8
13 Tenax                                                      7
14 Colombia-Selle Italia                                      5
15 FDJeux.com                                                 3
16 Gerolsteiner                                               2
17 CCC Polsat                                                 0
18 Team Saeco                                                 0
19 Lotto-Domo                                                 0
 
General classification after stage 20
 
1 Gilberto Simoni (Ita) Team Saeco                     88.51.51
2 Stefano Garzelli (Ita) Vini Caldirola-SO.DI              8.04
3 Yaroslav Popovych (Ukr) Landbouwkrediet-Colnago          8.06
4 Andrea Noe' (Ita) Alessio                                9.49
5 Georg Totschnig (Aut) Gerolsteiner                      10.35
6 Raimondas Rumsas (Ltu) Lampre                           11.01
7 Dario Frigo (Ita) Fassa Bortolo                         12.38
8 Franco Pellizotti (Ita) Alessio                         14.21
9 Serguei Gontchar (Ukr) De Nardi-Colpack                 16.28
10 Eddy Mazzoleni (Ita) Vini Caldirola-SO.DI              19.45
11 Wladimir Belli (Ita) Lampre                            20.17
12 Dariusz Baranowski (Pol) CCC-Polsat                    22.31
13 Marco Pantani (Ita) Mercatone Uno - Scanavino          25.38
14 Sandy Casar (Fra) FDJeux.com                           25.59
15 Massimo Codol (Ita) Mercatone Uno - Scanavino          28.23
16 Michele Scarponi (Ita) Domina Vacanze-Elitron          28.41
17 Gianni Faresin (Ita) Gerolsteiner                      33.59
18 Adolfo Garcia Quesada (Spa) Kelme-Costa Blanca         39.51
19 Paolo Lanfranchi (Ita) Ceramiche Panaria-Fiordo        41.42
20 Aitor Gonzalez Jimenez (Spa) Fassa Bortolo             43.23
21 Marco Velo (Ita) Fassa Bortolo                         45.05
22 Marzio Bruseghin (Ita) Fassa Bortolo                   48.06
23 Scott Sunderland (Aus) Team fakta-Pata Chips           48.51
24 Sylvester Szmyd (Pol) Mercatone Uno - Scanavino        50.30
25 Pietro Caucchioli (Ita) Alessio                        53.42
26 Constantino Zaballa Gutierez (Spa) Kelme-Costa Blanc   54.22
27 Leonardo Bertagnolli (Ita) Team Saeco                  54.58
28 Giuliano Figueras (Ita) Ceramiche Panaria-Fiordo       55.36
29 Kim Kirchen (Lux) Fassa Bortolo                        57.58
30 Luis F. Laverde Jimenez (Col) Formaggi Pinzolo Fiave   59.01
31 Fredy Gonzalez (Col) Colombia-Selle Italia           1.02.04
32 Graziano Gasparre (Ita) De Nardi-Colpack             1.02.50
33 Thomas Brozyna (Pol) CCC-Polsat                      1.02.53
34 Damiano Cunego (Ita) Team Saeco                      1.03.26
35 Steve Zampieri (Swi) Vini Caldirola-SO.DI
36 Radoslaw Romanik (Pol) CCC-Polsat                    1.03.50
37 Joaquim Castelblanco (Col) Colombia-Selle Italia     1.05.09
38 Denis Lunghi (Ita) Alessio                           1.08.30
39 Ignacio Gutierrez Cataluna (Spa) Kelme-Costa Blanca  1.09.46
40 Vladimir Miholievic (Cro) Alessio                    1.10.24
41 Daniel Clavero (Spa) Mercatone Uno - Scanavino       1.12.25
42 Gerhard Trampusch (Aut) Gerolsteiner                 1.12.46
43 Vladimir Duma (Ukr) Landbouwkrediet-Colnago          1.13.06
44 Francesco Vila Errandonea (Spa) Lampre               1.13.39
45 Cristian Gasperoni (Ita) Mercatone Uno - Scanavino   1.18.16
46 Hernan D. Munoz (Col) Colombia-Selle Italia          1.18.33
47 Alessandro Spezialetti (Ita) Team Saeco              1.18.41
48 Marius Sabaliauskas (Ltu) Team Saeco                 1.21.58
49 Piotr Chmielewski (Pol) CCC-Polsat                   1.36.19
50 Sergiy Adyeyev (Ukr) Landbouwkrediet-Colnago         1.36.38
51 Fortunato Baliani (Ita) Formaggi Pinzolo Fiave       1.37.15
52 Charles Wegelius (GBr) De Nardi-Colpack              1.37.36
53 Koos Moerenhout (Ned) Lotto-Domo                     1.40.36
54 Andrea Tonti (Ita) Team Saeco                        1.40.50
55 Bo Hamburger (Den) Formaggi Pinzolo Fiave            1.41.01
56 Roberto Conti (Ita) Mercatone Uno - Scanavino        1.42.58
57 Leonardo Zanotti (Ita) De Nardi-Colpack              1.49.06
58 Volodimir Bileka (Ukr) Landbouwkrediet-Colnago       1.49.36
59 Sergio Barbero (Ita) Lampre                          1.51.56
60 Rinaldo Nocentini (Ita) Formaggi Pinzolo Fiave       1.53.06
61 Gian Paolo Cheula (Ita) Vini Caldirola-SO.DI         1.54.09
62 Carlos Dacruz (Fra) FDJeux.com                       1.55.35
63 Gabriele Colombo (Ita) Domina Vacanze-Elitron        1.58.10
64 Uwe Hardter (Ger) Gerolsteiner                       2.02.31
65 Bernhard Eisel (Aut) FDJeux.com                      2.02.48
66 Raffaele Illiano (Ita) Colombia-Selle Italia         2.04.21
67 Rodolfo Massi (Ita) Colombia-Selle Italia            2.05.02
68 Daniele Pietropolli (Ita) Tenax                      2.06.36
69 Tom Stremersch (Bel) Landbouwkrediet-Colnago         2.09.46
70 Giovanni Lombardi (Ita) Domina Vacanze-Elitron       2.11.05
71 Cristiano Frattini (Ita) Tenax                       2.14.35
72 Lorenzo Bernucci (Ita) Landbouwkrediet-Colnago       2.14.42
73 Magnus Backstedt (Swe) Team fakta-Pata Chips         2.16.53
74 Michele Gobbi (Ita) De Nardi-Colpack                 2.17.43
75 Oscar Pozzi (Ita) Tenax                              2.17.53
76 Hector O. Mesa Mesa (Col) Formaggi Pinzolo Fiave     2.18.47
77 Gianluca Tonetti (Ita) Tenax                         2.19.50
78 Fabio Baldato (Ita) Alessio                          2.20.29
79 Mario Manzoni (Ita) Mercatone Uno - Scanavino        2.27.31
80 Paolo Fornaciari (Ita) Team Saeco                    2.28.18
81 Mauro Gerosa (Ita) Vini Caldirola-SO.DI              2.28.34
82 Juilian Winn (GBr) Team fakta-Pata Chips             2.29.08
83 Ruber Alverio Marin (Col) Colombia-Selle Italia      2.30.41
84 Mario Scirea (Ita) Domina Vacanze-Elitron            2.31.23
85 Dario Andriotto (Ita) Vini Caldirola-SO.DI           2.31.39
86 Julian Usano Martinez (Spa) Kelme-Costa Blanca       2.34.23
87 Manuel Quinziato (Ita) Lampre                        2.36.43
88 Simone Bertoletti (Ita) Lampre                       2.37.10
89 Jan Svorada (Cze) Lampre                             2.44.16
90 Leonardo Giordani (Ita) De Nardi-Colpack             2.45.03
91 Fabiano Fontanelli (Ita) Mercatone Uno - Scanavino   2.45.04
92 Rene' Joergensen (Den) Team fakta-Pata Chips         2.48.42
93 Jordi Riera Valls (Spa) Kelme-Costa Blanca           2.49.39
94 Johan Verstrepen (Bel) Landbouwkrediet-Colnago       2.55.21
95 Luca De Angeli (Ita) Colombia-Selle Italia           2.57.25
96 Francesco Secchiari (Ita) Domina Vacanze-Elitron     3.01.50
97 Salvatore Scamardella (Ita) Landbouwkrediet-Colnago  3.03.00
 
Points classification
 
1 Gilberto Simoni (Ita) Team Saeco                          154 pts
2 Stefano Garzelli (Ita) Vini Caldirola-SO.DI               145
3 Jan Svorada (Cze) Lampre                                  137
4 Magnus Backstedt (Swe) Team fakta-Pata Chips              112
5 Eddy Mazzoleni (Ita) Vini Caldirola-SO.DI                  91
6 Giovanni Lombardi (Ita) Domina Vacanze-Elitron             81
7 Yaroslav Popovych (Ukr) Landbouwkrediet-Colnago            81
8 Dario Frigo (Ita) Fassa Bortolo                            70
9 Andrea Noe' (Ita) Alessio                                  66
10 Bernhard Eisel (Aut) FDJeux.com                           64
11 Aitor Gonzalez Jimenez (Spa) Fassa Bortolo                51
12 Raimondas Rumsas (Ltu) Lampre                             49
13 Franco Pellizotti (Ita) Alessio                           48
14 Giuliano Figueras (Ita) Ceramiche Panaria-Fiordo          46
15 Graziano Gasparre (Ita) De Nardi-Colpack                  46
16 Georg Totschnig (Aut) Gerolsteiner                        45
17 Constantino Zaballa Gutierez (Spa) Kelme-Costa Blanc      44
18 Paolo Lanfranchi (Ita) Ceramiche Panaria-Fiordo           38
19 Marco Pantani (Ita) Mercatone Uno - Scanavino             37
20 Serguei Gontchar (Ukr) De Nardi-Colpack                   36
21 Marco Velo (Ita) Fassa Bortolo                            36
22 Vladimir Duma (Ukr) Landbouwkrediet-Colnago               35
23 Sandy Casar (Fra) FDJeux.com                              34
24 Gabriele Colombo (Ita) Domina Vacanze-Elitron             32
25 Fabio Baldato (Ita) Alessio                               29
26 Fortunato Baliani (Ita) Formaggi Pinzolo Fiave            27
27 Wladimir Belli (Ita) Lampre                               24
28 Kim Kirchen (Lux) Fassa Bortolo                           24
29 Michele Scarponi (Ita) Domina Vacanze-Elitron             22
30 Gerhard Trampusch (Aut) Gerolsteiner                      22
31 Lorenzo Bernucci (Ita) Landbouwkrediet-Colnago            20
32 Bo Hamburger (Den) Formaggi Pinzolo Fiave                 17
33 Fredy Gonzalez (Col) Colombia-Selle Italia                16
34 Fabiano Fontanelli (Ita) Mercatone Uno - Scanavino        16
35 Leonardo Bertagnolli (Ita) Team Saeco                     15
36 Michele Gobbi (Ita) De Nardi-Colpack                      15
37 Mario Manzoni (Ita) Mercatone Uno - Scanavino             13
38 Ignacio Gutierrez Cataluna (Spa) Kelme-Costa Blanca       12
39 Raffaele Illiano (Ita) Colombia-Selle Italia              12
40 Juilian Winn (GBr) Team fakta-Pata Chips                  11
41 Vladimir Miholievic (Cro) Alessio                         11
42 Marius Sabaliauskas (Ltu) Team Saeco                      10
43 Gianni Faresin (Ita) Gerolsteiner                          9
44 Piotr Chmielewski (Pol) CCC-Polsat                         9
45 Dariusz Baranowski (Pol) CCC-Polsat                        8
46 Manuel Quinziato (Ita) Lampre                              7
47 Massimo Codol (Ita) Mercatone Uno - Scanavino              6
48 Scott Sunderland (Aus) Team fakta-Pata Chips               6
49 Denis Lunghi (Ita) Alessio                                 6
50 Rinaldo Nocentini (Ita) Formaggi Pinzolo Fiave             6
51 Julian Usano Martinez (Spa) Kelme-Costa Blanca             6
52 Luis F. Laverde Jimenez (Col) Formaggi Pinzolo Fiave       5
53 Cristian Gasperoni (Ita) Mercatone Uno - Scanavino         5
54 Cristiano Frattini (Ita) Tenax                             5
55 Oscar Pozzi (Ita) Tenax                                    5
56 Sergio Barbero (Ita) Lampre                                4
57 Mauro Gerosa (Ita) Vini Caldirola-SO.DI                    4
58 Luca De Angeli (Ita) Colombia-Selle Italia                 4
59 Thomas Brozyna (Pol) CCC-Polsat                            3
60 Sergiy Adyeyev (Ukr) Landbouwkrediet-Colnago               3
61 Adolfo Garcia Quesada (Spa) Kelme-Costa Blanca             2
62 Francesco Vila Errandonea (Spa) Lampre                     2
63 Carlos Dacruz (Fra) FDJeux.com                             2
64 Marzio Bruseghin (Ita) Fassa Bortolo                       1
 
Mountains classification
 
1 Fredy Gonzalez (Col) Colombia-Selle Italia                100 pts
2 Gilberto Simoni (Ita) Team Saeco                           78
3 Constantino Zaballa Gutierez (Spa) Kelme-Costa Blanca      65
4 Stefano Garzelli (Ita) Vini Caldirola-SO.DI                36
5 Dario Frigo (Ita) Fassa Bortolo                            29
6 Paolo Lanfranchi (Ita) Ceramiche Panaria-Fiordo            24
7 Marzio Bruseghin (Ita) Fassa Bortolo                       15
8 Yaroslav Popovych (Ukr) Landbouwkrediet-Colnago            12
9 Georg Totschnig (Aut) Gerolsteiner                         12
10 Andrea Noe' (Ita) Alessio                                 10
11 Eddy Mazzoleni (Ita) Vini Caldirola-SO.DI                  9
12 Raimondas Rumsas (Ltu) Lampre                              8
13 Dariusz Baranowski (Pol) CCC-Polsat                        6
14 Denis Lunghi (Ita) Alessio                                 6
15 Michele Gobbi (Ita) De Nardi-Colpack                       6
16 Fortunato Baliani (Ita) Formaggi Pinzolo Fiave             5
17 Scott Sunderland (Aus) Team fakta-Pata Chips               4
18 Magnus Backstedt (Swe) Team fakta-Pata Chips               4
19 Aitor Gonzalez Jimenez (Spa) Fassa Bortolo                 3
20 Giovanni Lombardi (Ita) Domina Vacanze-Elitron             3
21 Luis F. Laverde Jimenez (Col) Formaggi Pinzolo Fiave       3
22 Franco Pellizotti (Ita) Alessio                            2
23 Marco Pantani (Ita) Mercatone Uno - Scanavino              2
24 Gianni Faresin (Ita) Gerolsteiner                          2
25 Marco Velo (Ita) Fassa Bortolo                             2
26 Pietro Caucchioli (Ita) Alessio                            2
27 Oscar Pozzi (Ita) Tenax                                    2
28 Wladimir Belli (Ita) Lampre                                1
29 Adolfo Garcia Quesada (Spa) Kelme-Costa Blanca             1
30 Alessandro Spezialetti (Ita) Team Saeco                    1
31 Roberto Conti (Ita) Mercatone Uno - Scanavino              1
32 Volodimir Bileka (Ukr) Landbouwkrediet-Colnago             1
33 Rinaldo Nocentini (Ita) Formaggi Pinzolo Fiave             1
 
Intergiro classification
 
1 Magnus Backstedt (Swe) Team fakta-Pata Chips         49.57.18
2 Jan Svorada (Cze) Lampre                                 1.50
3 Constantino Zaballa Gutierez (Spa) Kelme-Costa Blanca    2.14
4 Fortunato Baliani (Ita) Formaggi Pinzolo Fiave           2.54
5 Aitor Gonzalez Jimenez (Spa) Fassa Bortolo               3.14
6 Sandy Casar (Fra) FDJeux.com                             3.18
7 Ignacio Gutierrez Cataluna (Spa) Kelme-Costa Blanca      3.24
8 Eddy Mazzoleni (Ita) Vini Caldirola-SO.DI                3.42
9 Juilian Winn (GBr) Team fakta-Pata Chips
10 Fredy Gonzalez (Col) Colombia-Selle Italia
11 Michele Gobbi (Ita) De Nardi-Colpack                    3.45
12 Fabiano Fontanelli (Ita) Mercatone Uno - Scanavino
13 Bo Hamburger (Den) Formaggi Pinzolo Fiave
14 Gianni Faresin (Ita) Gerolsteiner                       3.46
15 Scott Sunderland (Aus) Team fakta-Pata Chips            3.48
16 Vladimir Miholievic (Cro) Alessio
17 Rinaldo Nocentini (Ita) Formaggi Pinzolo Fiave
18 Julian Usano Martinez (Spa) Kelme-Costa Blanca
19 Serguei Gontchar (Ukr) De Nardi-Colpack
20 Cristiano Frattini (Ita) Tenax                          3.49
 
Most combative classification
 
1 Fredy Gonzalez (Col) Colombia-Selle Italia                 51 pts
2 Constantino Zaballa Gutierez (Spa) Kelme-Costa Blanca      50
3 Magnus Backstedt (Swe) Team fakta-Pata Chips               49
4 Jan Svorada (Cze) Lampre                                   40
5 Gilberto Simoni (Ita) Team Saeco                           38
6 Stefano Garzelli (Ita) Vini Caldirola-SO.DI                28
7 Eddy Mazzoleni (Ita) Vini Caldirola-SO.DI                  19
8 Dario Frigo (Ita) Fassa Bortolo                            16
9 Giovanni Lombardi (Ita) Domina Vacanze-Elitron             16
10 Fortunato Baliani (Ita) Formaggi Pinzolo Fiave            15
11 Aitor Gonzalez Jimenez (Spa) Fassa Bortolo                13
12 Paolo Lanfranchi (Ita) Ceramiche Panaria-Fiordo           13
13 Bernhard Eisel (Aut) FDJeux.com                           13
14 Yaroslav Popovych (Ukr) Landbouwkrediet-Colnago           10
15 Giuliano Figueras (Ita) Ceramiche Panaria-Fiordo          10
16 Sandy Casar (Fra) FDJeux.com                               9
17 Andrea Noe' (Ita) Alessio                                  9
18 Ignacio Gutierrez Cataluna (Spa) Kelme-Costa Blanca        8
19 Georg Totschnig (Aut) Gerolsteiner                         7
20 Marco Velo (Ita) Fassa Bortolo                             7
21 Marzio Bruseghin (Ita) Fassa Bortolo                       7
22 Gabriele Colombo (Ita) Domina Vacanze-Elitron              7
23 Fabio Baldato (Ita) Alessio                                6
24 Raimondas Rumsas (Ltu) Lampre                              6
25 Serguei Gontchar (Ukr) De Nardi-Colpack                    6
26 Michele Gobbi (Ita) De Nardi-Colpack                       6
27 Juilian Winn (GBr) Team fakta-Pata Chips                   5
28 Franco Pellizotti (Ita) Alessio                            5
29 Rinaldo Nocentini (Ita) Formaggi Pinzolo Fiave             5
30 Scott Sunderland (Aus) Team fakta-Pata Chips               4
31 Vladimir Miholievic (Cro) Alessio                          4
32 Bo Hamburger (Den) Formaggi Pinzolo Fiave                  4
33 Julian Usano Martinez (Spa) Kelme-Costa Blanca             4
34 Fabiano Fontanelli (Ita) Mercatone Uno - Scanavino         4
35 Gianni Faresin (Ita) Gerolsteiner                          3
36 Leonardo Bertagnolli (Ita) Team Saeco                      3
37 Cristiano Frattini (Ita) Tenax                             3
38 Oscar Pozzi (Ita) Tenax                                    3
39 Marco Pantani (Ita) Mercatone Uno - Scanavino              2
40 Luis F. Laverde Jimenez (Col) Formaggi Pinzolo Fiave       2
41 Graziano Gasparre (Ita) De Nardi-Colpack                   2
42 Thomas Brozyna (Pol) CCC-Polsat                            2
43 Denis Lunghi (Ita) Alessio                                 2
44 Sergiy Adyeyev (Ukr) Landbouwkrediet-Colnago               2
45 Raffaele Illiano (Ita) Colombia-Selle Italia               2
46 Lorenzo Bernucci (Ita) Landbouwkrediet-Colnago             2
47 Mario Manzoni (Ita) Mercatone Uno - Scanavino              2
48 Manuel Quinziato (Ita) Lampre                              2
49 Wladimir Belli (Ita) Lampre                                1
50 Dariusz Baranowski (Pol) CCC-Polsat                        1
51 Michele Scarponi (Ita) Domina Vacanze-Elitron              1
52 Adolfo Garcia Quesada (Spa) Kelme-Costa Blanca             1
53 Pietro Caucchioli (Ita) Alessio                            1
54 Vladimir Duma (Ukr) Landbouwkrediet-Colnago                1
55 Francesco Vila Errandonea (Spa) Lampre                     1
56 Marius Sabaliauskas (Ltu) Team Saeco                       1
57 Mauro Gerosa (Ita) Vini Caldirola-SO.DI                    1
 
Azzurri d'Italia classification
 
1 Gilberto Simoni (Ita) Team Saeco                           17 pts
2 Stefano Garzelli (Ita) Vini Caldirola-SO.DI                13
3 Dario Frigo (Ita) Fassa Bortolo                             6
4 Giovanni Lombardi (Ita) Domina Vacanze-Elitron              5
5 Aitor Gonzalez Jimenez (Spa) Fassa Bortolo                  4
6 Fabio Baldato (Ita) Alessio                                 4
7 Jan Svorada (Cze) Lampre                                    4
8 Eddy Mazzoleni (Ita) Vini Caldirola-SO.DI                   3
9 Magnus Backstedt (Swe) Team fakta-Pata Chips                2
10 Giuliano Figueras (Ita) Ceramiche Panaria-Fiordo           2
11 Gabriele Colombo (Ita) Domina Vacanze-Elitron              2
12 Bernhard Eisel (Aut) FDJeux.com                            2
13 Andrea Noe' (Ita) Alessio                                  1
14 Georg Totschnig (Aut) Gerolsteiner                         1
15 Raimondas Rumsas (Ltu) Lampre                              1
16 Serguei Gontchar (Ukr) De Nardi-Colpack                    1
 
Trofeo Fast Team classification
 
1 Team Saeco                                          267.37.29
2 Lampre                                                   0.44
3 Alessio                                                  4.33
4 Vini Caldirola-SO.DI                                    20.19
5 Fassa Bortolo                                           23.30
6 Mercatone Uno-Scanavino                                 30.18
7 Gerolsteiner                                            51.45
8 CCC Polsat                                              54.21
9 Kelme-Costa Blanca                                    1.12.34
10 De Nardi-Colpack                                     1.13.28
11 Landbouwkrediet-Colnago                              1.18.18
12 Colombia-Selle Italia                                1.56.48
13 Formaggi Pinzolo Fiave'-Ciarrocchi                   2.36.44
14 FDJeux.com                                           2.37.29
15 Team fakta-Pata Chips                                2.45.22
16 Domina Vacanze-Elitron                               2.59.29
17 Tenax                                                4.14.12
 
Trofeo Super Team classification
 
1 Fassa Bortolo                                             500 pts
2 Lampre                                                    370
3 Alessio                                                   346
4 Domina Vacanze-Elitron                                    343
5 Team Saeco                                                296
6 Vini Caldirola-SO.DI                                      296
7 Ceramiche Panaria-Fiordo                                  247
8 Landbouwkrediet-Colnago                                   239
9 De Nardi-Colpack                                          238
10 Team fakta-Pata Chips                                    215
11 Gerolsteiner                                             202
12 FDJeux.com                                               174
13 Mercatone Uno-Scanavino                                  173
14 Kelme-Costa Blanca                                       133
15 Lotto-Domo                                               114
16 CCC Polsat                                               109
17 Colombia-Selle Italia                                     81
18 Formaggi Pinzolo Fiave'-Ciarrocchi                        66
19 Tenax                                                     58