An interview with Robbie McEwen
Relaxed and ready for the 2003 Tour
By Tim Maloney, European Editor in Marostica, Italy
We'd be happy too, Robbie!
Photo: © Sirotti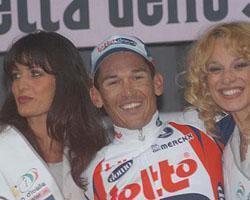 Cyclingnews sat down with Lotto-Domo's super-sprinter Robbie McEwen after Stage 13 of this year's Giro d'Italia to catch up on his Giro and preparation for the Tour de France come July. This was McEwen's third participation in the Italian Grand Tour and his best ever showing in the Giro.
Cyclingnews: How would you evaluate your Giro so far, Robbie?
Robbie McEwen: It's gone really well this time; I was able to win two stages and was able to cross the line first three times, which is pretty good. Not quite the note I was able to finish off on today though - they went pretty fast on the last climb and I couldn't follow 'em... [smiles] Oh well.
CN: So as you head home to your European home in Brakel, Belgium, you feel like you've accomplished a lot at this Giro?
RM: Yeah, yeah... it really put things back on track for me as I'd had a difficult early season with a knee injury and with some sickness and then a big crash in the Scheldeprijs, so those three things through the early part of the season, made things pretty difficult.
Now, I've got back on track, won a couple of Giro stages and for this part of the season, I've accomplished the goals that I'd set. That was to win one stage in the Giro, and I've been able to win two and been up there in a few others; I've also scored some good (UCI) points, but the most important thing is the stage wins.
It's important for me and important for the team, so I'm going away (from the Giro) happy. It's almost like I'm not totally empty yet; I could stay and ride a couple more stages but I've decided to stick to the plan of going home after 13 stages like I said in the beginning (of the Giro) and start to concentrate on the Tour.
No drinking until after the Tour
Photo: © Sirotti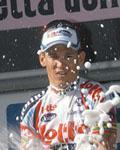 CN: What's your program going forward until the Tour de France start in Paris?
RM: A little bit of rest, first, then just keep training, maintain the condition. The plan isn't to reach a big peak (of condition) just yet, but to sort of keep everything on the backburner a little bit, probably until Tour de Suisse.
Before then, I might ride a criterium or two, or a couple of kermesses in Belgium, and then go to the Tour de Suisse, where I'll probably continue my pattern of starting and not finishing [smiles].
This year it's like a package; you've got to ride Gippingen and then Tour de Suisse and it turns into a 10 or 11 day stage race, and since I've got a couple of weeks of the Giro in (my legs), it will be too much before the Tour. Last year, I did Catalunya and that was seven days which was perfect, so I'll do something similar this time. I'll just go by how I feel a little bit, too.
CN: It seems to me that you've been working on your language skills, too. I heard you speaking Italian on TV a bit and understand that you got an award for the government your Flemish skills in Belgium.
RM: I was awarded the key to the city of Brakel; they call it the "Golden Book" of the city, which I've now got a couple of pages in. Yeah, I speak Flemish, I can communicate a little bit in French if it's about cycling, and I understand in Italian about food and if someone's pissed off at me!
CN: What about your RAI-TV interview?
RM: Oh yeah; that was about five words... I had been practicing in my head for a while because I basically knew what they were going to ask me. I was already sitting there (in the studio) figuring out my response. (Saeco rider) Paolo Forniciari came up to me in the bunch the next day and said: "Hey you speak good Italian... good on ya".
Great start to the season
Photo: © Sirotti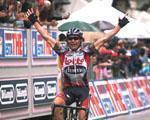 CN: Your RAI-TV interview was about Cipo's non-invite to the Tour; what are your thought on this?
RM: The non-invitation of Cipo to the Tour is a double edged sword for me; it's easier if he's not there, because you don't have to beat him, but then it's harder because there's one less team to keep things together for a bunch sprint. Last year, (Lotto) did a helluva lot of work and I think we would have gotten maybe three more bunch sprints if there was more cooperation between the teams.
It was getting sort of tactical at points for the Green (Points) jersey; Telekom didn't always want to ride, since it didn't suit the tactic of the day... you're pretty much guaranteed that if Cipo's there, (Domina Vacanze) is going ride for the sprint, so that's good.
When (Cipo's) not (at TdF), there's a little less organization in the sprint, which also makes it slightly easier, because if Domina Vacanze's pulling the sprint, there's only one place you can be and that's on Cipo's wheel. Otherwise you're not gonna win. So it opens things up a bit more.
CN: I'm hearing rumors that Fassa Bortolo may send Alessandro Petacchi to the Tour instead of the Vuelta.
RM: I haven't heard; I don't know what his plan is. I know he rode two years ago... it's up to him and if (Petacchi) goes, there's definitely another contender for the bunch sprints and also for the green jersey. I'll just try and concentrate on myself.
CN: What's the vibe like on Lotto-Domo this year?
RM: Yeah, it's really good... I suppose when you're winning, it's always better. It keeps the roll going in the team; there was a lot of criticism of (Lotto-Domo) early in the season, because we weren't winning that much; we got practically ridden off the road in Het Volk, and then it started coming good.
I won in Waregem and then Van Petegem obviously won two World Cups, so basically for a team like ours, nothing could kill our season any more; it had already been fantastic with the two World Cups. Now I've got the two Giro stages, so we can head to the Tour relaxed (in the knowledge) that were having a good season and still have a lot of racing in front of us... we're confident!
CN: How do you like having fellow Aussie Nick Gates on Lotto-Domo this year?
RM: Nick's been my best mate for a number of years; we rode in the national team together and been training partners for years and we live in the same area (Gold Coast) of Australia in the off-season. He's new to the team this year and the last few weeks, he's really started to find his legs.
At this Giro, Nick's starting to ride well and he's been a big help to me... a really huge help to me the other day in San Dona' di Piave where I won in the rain. Yeah, it's good fun to have one of your best mates on the team.