May 22, 2003
Giro just the way we hoped
Guido suffering in the service of the team
Photo: © Sirotti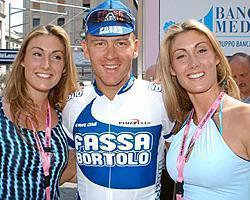 Hi Cyclingnews readers! Since I didn't bring my computer on the Giro d'Italia, I asked the Cyclingnews guys to come and see me for a quick interview so I could update you on my experiences at this years Giro:
CN: Alessandro Petacchi just told us that you've done a good job for him at this years Giro.
GT: Yeah, I've been doing a good job so far I think; I was hoping to be a little sharper in the sprints but since I've been up front doing my job for Petacchi since the beginning of the year, I'm not as sharp as I was. San Remo and Flanders went really well and now, at the Giro, I'm still hoping for some good results.
CN: What's it like to be Petacchi lead out man?
GT: The first day of the Giro, when we got the Maglia Rosa it was beautiful! We beat Cipo, who was my boss last year, so it was a good satisfaction. Then to work for the Maglia Rosa is a special experience. What can I say? I'm hoping that the good vibes at the Giro this year continue!
CN: Have you heard from your family & friends during the Giro?
GT: Yeah a lot of people call during the Giro that you don't hear from during the year...my Dad and Mom are proud of me too! I changed teams this year and it's been a good move for me.
CN: What's it really like to get Cipo's wheel for the final sprint at the Giro?
With Petacchi
Photo: © Sirotti

GT: You can't tell on TV, but sometimes the tension is incredible. Domina has 6 guys who just lead out Cipollini; at Fassa Bortolo, it's only me and Marco Velo, so we have to work extra hard. For us, it's already like a win to put Petacchi on Cipo's wheel in the last few kilometers. We can't even think about trying to go head to head with Domina with 2 of us against 6 of theirs! But we have already managed to do good things at the Giro and we're happy about the results.
CN: What about the problems between Petacchi and Naudusz?
GT: From the beginning of the Giro, there was a lot of elbowing going on, things you didn't see on TV, with (Naudusz) and others like McEwen. This year, there is a lot of tension in the sprints; everybody wants to win and the final part of the races are sketchy.
CN: How so?
GT: A lot of the finishes in this years Giro have been narrow, with curves close to the finish line, and we can't figure out why! Like today (in San Dona') it was inevitable that there would be a crash on the final corner in the rain. It's useless that they have mandatory use of helmets, then have dangerous finishes like that in the race!
CN: So after the Zoncolan stage, Friday's stage finishes in your backyard in Marostica. (Guido lives in Mussolente, 10km from Marostica)
GT: Yes, that's going to be nice to go by my house in the Giro. We have three climbs of the Rosina climb, a fairly tough climb that I always ride in training so I hope to do well... it's kind of a tough final for me but you never know! But Petacchi could do well on the Marostica stage since he's in great form. After that, there are at least two more stages for sprinters in Pavia and Cantu so we're looking to do our best to get some more wins for Petacchi.
Thanks for reading!
Guido
Photography
Images by Fotoreporter Sirotti