Results and Reports from Australia
Promoters wishing to submit results should send them to Cyclingnews
Trevallyn Hill Climb TT #3
Launceston, Tasmania, November 19, 2003
By Matt Conn
Matt Rice (Geard Cycles/Doherty Hotels)
Photo ©: Shane Goss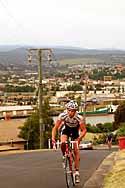 Round 3 of the Trevallyn Hill Climb Time Trial series was down on numbers from previous weeks due to the TIS training camp being conducted on Tasmania's East Coast.
Launceston's Matt Rice was the victor, managing to edge out team mate Paul Turner by just five seconds. The two Geards Cycles riders are having a personal challenge over the six race series and the rivalry pushed them to the top of the leaderboard this week.
Novice rider Hudson Parker overcame a mid race fall to finish in 15th position in a time of 17.07, which was nearly 5 minutes quicker than his effort over the same course last week.
Last week's winning time of Caleb Manion (11.51) still stands as the course record.
Course Profile: www.tas.cycling.org.au/trevallyn profile.jpg
Photography
Images by Shane Goss/licoricegallery.com
Results
1 Matt Rice (Geards Cycles/Doherty Hotels)       12.50
2 Paul Turner (Geards Cycles/Doherty Hotels)      0.05
3 Matt Conn (Cycle Torque /Trek)                  0.12
4 Dale Woolston (Geards Cycles/Doherty Hotels)    0.18
4 Will Robinson (LCCC)                            0.23
6 Tim Walker (WTCC)                               0.43
7 Tom Robinson (LCCC)                             1.10
8 Michael Wilson (LCCC)                           1.15
9 Tom Sawyer (Geards Cycles/Doherty Hotels)       2.43
10 Robert Wrigley                                 2.55
11 G Bell                                         3.33
12 Tiffany Manion (WTCC)                          3.39
13 T Bell                                         3.41
14 Andrew Dolan                                   4.15
15 Hudson Parker                                  4.17
16 Glenn Creely (Glennroys Coffee)                5.11
17 Adrian Clark (Cycle Torque & Coffee)           6.01
18 K Field                                        6.03
19 Ali Sawyer (Geards Cycles/Doherty Hotels)     12.15