Latest Cycling News, May 28, 2009
Edited by Laura Weislo
Sastre empty handed following Blockhaus charge
By Gregor Brown in Blockhaus, Italy
Carlos Sastre (Cervélo)
Photo ©: Sirotti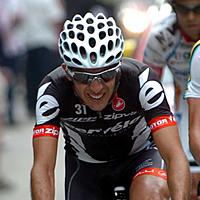 After a day of glory and promise following his stage win on Monte Petrano, Spaniard Carlos Sastre sent his Cervélo team to the front of the Giro d'Italia at the base of the Blockhaus climb with the intention of putting pressure on overall leader Denis Menchov. Instead, it was Sastre who lost time and slid from third to fifth in the overall rankings.
"I thought I could make a difference today, but I didn't make a difference – I lost," Sastre told Cyclingnews.
Cervélo TestTeam led the race with all of its men in the final kilometres of the short 83-kilometre stage, positioning Sastre well for the fight to the top of the mountain. Yet when Italian Franco Pellizotti attacked, he was able to put nearly two minutes into Sastre en route to the stage win.
"We played our cards and the team did a fantastic job," said Sastre. "All the riders were stronger than I was, they played their cards better than I did and they did really well. I was suffering after the attacks."
Pellizotti started the day 49 seconds behind Sastre in the overall classification, but at the end of the day he was 1:30 ahead of the 2008 Tour de France champion, and had taken over his place as third in the general classification.
In the chase, Sastre also lost more than a minute to Danilo Di Luca, Menchov and Ivan Basso over the final 10 kilometres, and slid to fifth overall after suffering to the finish in a chase group with Lance Armstrong, Gilberto Simoni and Sylvester Szmyd.
Sastre's podium hopes are not over yet. He still has four stages to make up the deficit to Pellizotti to regain third overall. Yet the dream of adding a Giro d'Italia title to his name is much more unlikely considering the 3:30 lead Menchov enjoys on the Spaniard. The race finishes Sunday in Rome with a 14.4-kilometre time trial, but the most decisive stage should be Friday's stage that finishes on top of the Vesuvio volcano.
"We have to be happy with our two wins, there are still two stages to go and I am sure he has not give up hope yet on the top three," said Sastre's teammate Simon Gerrans, winner of the stage to Bologna Sunday.
The bad luck for the Cervélo team started before the final climb as the squad was setting a furious pace to bring back an early breakaway. Ireland's Philip Deignan slid out at high speed on a tight right bend and crashed off the road.
"I was about three behind him when he lost his front wheel," Gerrans told Cyclingnews. Deignan got going again to finish the stage 16 minutes back with a group of about 70 riders.
Martin likely for Tour after strong Catalunya
By Shane Stokes
Dan Martin took second to Alejandro Valverde in the Volta a Catalunya
Photo ©: AFP

Following an impressive second place overall in the Volta a Catalunya, Irish road race champion Daniel Martin is almost certain to be part of the Garmin-Slipstream team for the Tour de France. Although he is just 22 years of age and is yet to ride a Grand Tour, performances this season such as third overall in the Tour of the Mediterranean and fifth on a stage of the Tour de Romandie, plus last week's performances in Catalunya have reinforced the team's belief that he deserves his place on the squad.
General manager Jonathan Vaughters confirmed that Martin should be heading to France in July, all going to plan. "I think he will be in the Tour, although with all the crashes and horrible injuries we've had as a team this year, I don't take that for granted," he told Cyclingnews on Wednesday.
Martin won the Route du Sud last year, then followed up his first pro victory with a dominant display in the Irish national championships. He took a number of other good results in what was an impressive first season in the professional ranks. This year has confirmed that talent, even if he missed some races due to illness.
Catalunya is the high point thus far. He was third and second on mountain stages, attacking race leader Alejandro Valverde on the summit finish in Andorra and closing to within six seconds of stage winner Julian Sanchez (Contentpolis-AMPO). That moved him to 15 seconds off Valverde's white jersey of GC leader. He hoped to take more time out of him but the flatter nature of the final three stages made that impossible.
"I am very happy with second in what is a very old prestigious bike race in my adopted home region," Martin said afterwards. "But I am [also] a racer and my initial thoughts were of course disappointment. It was not really for the general classification, as I never expected to be so competitive, but to miss out on a stage win was a blow as the team worked so hard for me."
Nevertheless, he took several positives from the race. "We managed to mix aggressive tactics in every stage with a strong collective that helped me stay fresh as possible as the other teams attacked to gain time. Team work was especially important with the super-hot conditions, as I drank about a dozen bottles the day I got second.
"For me, it was just fun to be racing hard again. By racing, I mean attacking for the win, and that only gives me confidence for the next few races."
Coming up on
Cyclingnews will cover the 60th edition of the Dauphiné Libéré live as of stage 4 on Wednesday, June 10, at approximately 15:00 local Europe time (CEST)/ 23:00 Australian time (CDT)/ 9:00 (USA East).

WAP-enabled mobile devices: http://live.cyclingnews.com/wap/

Vaughters has long heralded Martin's talent, chasing him when he was an amateur rider and making sure he made his pro debut with the American team. He's delighted with the Catalunya performance.

"Obviously, I'm super happy," he said. "It shows how well Dan is progressing in our program. He's a rider I made a firm bet on a few years ago, so anytime he does well, I feel very happy for him.

"However, I think his performance is simply in line with his talent and work ethic. And I imagine he'll be showing us quite a bit more in the next few months."

The Birmingham-born Irishman will now concentrate on training for the Tour. The only race scheduled for him by the team prior to that race is the Dauphinè Libèrè, although Irish supporters will hope that he will travel back to defend his national road race title.

Vaughters is uncertain what is possible for his Grande Boucle debut, as the team are still discovering what he is capable of. "If everything goes just right for Dan in the Tour, he could be a white jersey contender," he said, before clarifying that it was too soon to make big predictions. "But we don't know, really, as he's never done a three week race before."
Fracture for Horner
Chris Horner (Astana)
Photo ©: Mitch Clinton
What was previously believed to be a muscle injury has turned out to be more serious for American Chris Horner. Imaging tests have revealed a hairline crack in a bone in his left leg, the Astana team announced Thursday.
The fracture, more specifically in the "lateral tibia plateau" will require the Oregon resident to take two weeks off the bike, but he is still hopeful that he will be able to ride in the Tour de France in July.
Horner crashed in early in stage 10 of the Giro d'Italia when two riders went down in front of him. He finished the 262km stage, but abandoned the race the next morning when he had difficulty walking. His doctors reported that he does not have any injury to the cartilage in his knee and his injury should heal quickly.
It is the second time this season Horner has been put out of commission due to a broken bone. He fractured his collarbone and a rib in the Tour of the Basque Country on April 9.
Seeldraeyers wins more than jersey
Kevin Seeldraeyers and his new fiancee in 2007
Photo ©: Stijn Vercaemer

When Quick Step's Kevin Seeldraeyers took over the best young rider classification in the Giro d'Italia on Tuesday, he won more than just the white jersey – he also won a fiancee. After the stage he made a public proposal to Ellen Joos, who accepted.
"I didn't know what happened. At seven in the morning I started receiving congratulatory text messages from friends. At the same time Kevin called to ask whether I had seen the newspaper," Joos told Sportwereld.be.
She was pleased by the form of the proposal, saying she found it "very original" and "typical of Kevin. I don't think any other rider would do it that way."
Seeldraeyers and Joos plan to visit a jeweller on Monday to pick out an engagement ring, and he plans to repeat the proposal "officially".
Meanwhile, the 22-year-old still has four more Giro stages to face. He was happy with his Blockhaus stage, even though second-ranked Francesco Masciarelli made up over two minutes on him.
"I handled the race as well as I could without panic, trying to leverage the advantage I have in the standings over Masciarelli," the Belgian said. "I think with him it's going to be a race to the very last stage to see who will win the white jersey.
"However, I'm quite satisfied. Today was another positive step towards the final finish line in Rome."
Bookwalter represents in Belgium
American Brent Bookwalter featured at the front of the Tour of Belgium's first stage on Wednesday, making the three-man breakaway which stayed clear for the better part of 100km.
An early move with 17 riders was the first break to go clear, but an intense chase by the Katusha team brought the leaders back quickly. The BMC rider then went on the attack with Sep Vanmarcke (Jong Vlaanderen-Bauknecht) and Federico Canuti (CSF Group-Navigare). "The course changed direction at around the halfway point which meant that we got away just as we were fighting into a headwind," Bookwalter said.
"It was tough with only three of us, but after such a fast start, the pack sort of collectively cracked and decided to let something fairly non-threatening slip away."
The break gained upwards of seven minutes at one point, but an aggressive chase ended the trio's chances with 20km to go. Bookwalter stayed with a large group which had split from the peloton and placed 14th on the stage.
"I could hear from the race radio that the teams were riding very aggressively, so even though I still worked to keep the break going, I managed to save a little energy for when we were caught," Bookwalter explained. "I had to grit my teeth because once we were caught, it really was a take-no-prisoners pace, but I did my best to keep up front with the leaders."
Milram and team doctor consider parting
Team Milram and its doctor Marc Schmidt are considering ending their relationship. The team has indicated it wants to end its association with Schmidt, and he has said the step would probably be better for both him and the team.
Schmidt, who was the team doctor for the Gerolsteiner squad during the 2008 Tour de France, was put in an uncomfortable situation earlier this week when Bernhard Kohl made statements that indicated the team's doctor should have known his performances were not natural.
Milram team manager Gerry van Gerwen noted that Schmidt has been temporarily relieved of his duties. "We are trying to separate ourselves from him on the grounds of possible damage to our image," he told the dpa news agency.
Schmidt also said that it would better for both the team and him "if we go our separate ways."
In a press conference on Monday, Kohl gave further information about his doping practices and said, "If a doctor can add one and one together, then he knows that this performance didn't happen honestly." When asked on German television whether a team doctor was present at the illegal blood transfusions he received during the Tour or knew about them, Kohl hesitated and finally answered, "No comment."
Kohl announced that he would retire instead of returning to the sport after serving his two-year ban for doping during last year's Tour de France.
Schmidt denied any participation in any form of doping. "I did not provide doping materials, pass them on or administer them," he told the Thüringer Allgemein.
Court passes judgment on VDB
Belgian Frank Vandenbroucke was given a one-year suspended jail sentence on Wednesday by the Court of Appeals in Antwerp for a case which dates back to 2002.
In February, 2002, a police raid on the home of 'VDB' uncovered a variety of illegal products, including morphine, clenbuterol, and EPO. He was given a six month suspension by sporting authorities for possession, but his legal woes were not finished then.
In 2005, he was ordered to pay a fine of €250,000, but got out of performing 200 hours of community service for breaking Belgium's drug laws. His six-month suspension was also watered down, and was reduced to merely a ban on racing in Flanders.
Seven years, nine criminal hearings, two disciplinary hearings and two sporting procedures later, the long saga of Vandenbroucke's case may finally be over.
His lawyers argued this week that Vandenbroucke has already been punished by the suspension and should not be subjected multiple penalties for the same offense. The Constitutional Court of Belgium decided that a rider can be suspended for both for doping and for criminal penalties for possession of banned products.
Vandenbroucke's suspended sentence means that he has escaped jail time for his offense, but should be be caught again during the next year he would have to serve the year in jail plus whatever sentence he might receive for a second incident.
Tour of Utah confirms 16 teams
By BikeRadar
The 5th annual Larry H. Miller Tour of Utah, running August 18 - 23, has confirmed the initial lineup of professional and amateur cycling teams for 2009 all competing for a share of the US$45,000 purse and valuable National Racing Calendar points.
The 2009 Tour of Utah will cover Salt Lake City, Ogden, Park City, Thanksgiving Point, Mt. Nebo, Tooele, and Snowbird.
Of the 16 teams that have thus far committed to compete in the 2009 Tour of Utah, eight are professional: BMC Racing; Team Garmin, OUCH Pro Cycling, Bissell, Team Type 1, Land Rover-ORBEA, Fly V Australia, and Colavita/Sutter Home.
In addition, eight amateur teams have also accepted an invitation to compete: Trek-Livestrong, Cal Giant, Bob's, Rio Grande, Waste Management, Ciclismo Racing, ZteaM Cycling, and Team RideClean. The Tour of Utah will announce the rosters of the two Utah teams in the coming weeks.
For more information, visit www.tourofutah.com.
Celebrate with Cyclingnews' Giro Sweepstakes
The centenary edition of the Giro d'Italia has started off with exciting finishes, beautiful terrain and great performances by the superstars of cycling. We're celebrating the Giro in the best way we know how – working the race to bring you daily race reports, photos, features and live coverage.
Thanks to our friends at BMC, you can share in the celebration – simply enter our BMC-Cyclingnews Giro d'Italia Sweepstakes for a chance to win.
One lucky Grand Prize winner will receive a BMC SLC01 Pro Machine road bike frame – the same frame ridden by the riders on the US-based BMC Racing Team – as well as an Assos-made BMC team jersey, cap and socks.
Enter the contest at http://contests.cyclingnews.com/BMCGiroDItalia.php. All you have to do is answer two questions and complete the entry form – you don't have to buy anything! Please only enter once and good luck!
Entries close May 31, 2009, at 11:59PM Pacific time.
(All rights reserved/Copyright Future Publishing (Overseas) Limited 2009)