First Edition Cycling News, May 28, 2009
Edited by Peter Hymas
Giro leader Menchov denies Vienna blood bank rumours
By Gregor Brown in Blockhaus, Italy
Denis Menchov remains the race leader
Photo ©: Roberto Bettini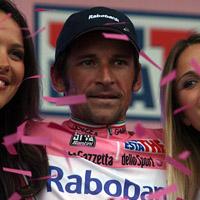 Giro d'Italia race leader Denis Menchov denied seeking treatment at a Vienna blood bank, Humanplasma. Un-named reports associated the team Rabobank Russian with an ongoing Austrian investigation Wednesday, four days prior to the end of the Giro d'Italia.
"I gave explanations last year, I have nothing to do with it - I don't want to speak about it again," Menchov said after the Giro d'Italia stage to Blockhaus. "We're in a race now, I'd rather speak of the race."
Menchov leads Italy's three-week stage race by 26 seconds over Danilo Di Luca after Wednesday's mountaintop finish at Blockhaus.
Austrian authorities have not named Menchov in any investigation. They are investigating his former teammate, Michael Rasmussen, and Bernard Kohl for an alleged role in buying a centrifuge used for blood doping. Both cyclists are currently serving suspensions, Rasmussen for missed doping controls and Kohl for blood doping.
Coming up on
Cyclingnews will cover the 60th edition of the Dauphiné Libéré live as of stage 4 on Wednesday, June 10, at approximately 15:00 local Europe time (CEST)/ 23:00 Australian time (CDT)/ 9:00 (USA East).

WAP-enabled mobile devices: http://live.cyclingnews.com/wap/
Menchov indicated Austrian investigators have not contacted him. "I don't have any problem with it [with the blood bank story]. If someone wants to get some information from me, I have no problem to give it."
Rabobank pulled Rasmussen from the 2007 Tour de France after reports came out that he missed doping controls. He was leading the race by over three minutes with four days to race. Di Luca does not expect something similar at the Giro d'Italia.
"It is easy to mention names now when a rider is winning the Giro d'Italia. I heard Kohl has announced his retirement, so at this point it is easy for him to say."
Menchov's team, Rabobank, announced it would offer its full cooperation with any investigation Wednesday evening.
Pellizotti rules Giro's "strange" stages
By Gregor Brown in Blockhaus, Italy
Franco Pellizotti (Liquigas)
Photo ©: Roberto Bettini

Franco Pellizotti took another magical win in the Giro d'Italia one year after his triumph on Plan de Corones. The Italian successfully attacked solo on Blockhaus Wednesday, the climb where cycling legend Eddy Merckx won his first mountaintop stage.
"I am happy because it is a very important stage, a very strange stage, like Plan de Corones stage last year," he said. "I'm proud to be the winner of these particular stages of 2008 and 2009."
Pellizotti won the time trial up Plan de Corones last year. It was the first time the Giro d'Italia used the climb that included sections of 24-percent gradient on dirt and gravel roads. He went on to finish the race fourth overall.
This year he won on an equally epic climb, one that organiser RCS Sport has only used four other times. Merckx signalled his future greatness as a stage racer when the climb first debuted in 1967. He went on to win five editions of the Giro d'Italia and Tour de France.
Pellizotti made his move at the base of Blockhaus, an 18-kilometre climb and the only climb in the 83-kilometre stage. He followed the move of Liquigas teammate Sylvester Szmyd and successfully held off a subsequent charge by Lance Armstrong.
"This climb was not really steep, but I showed to be going well. I had good condition, which was important for today."
Pellizotti's condition helped him held off a group containing race leader Denis Menchov, Danilo Di Luca, Ivan Basso and Stefano Garzelli. As Pellizotti moved up the mist-covered climb, he maintained a consistent advantage of around 30 seconds.
Pellizotti arrived with 42 seconds on second place Garzelli and with a 20-second winner's bonus he moved from fourth to third overall. He is 2:00 behind Menchov and 1:34 behind Di Luca with four days left to race in the three-week race. His teammate Ivan Basso is fourth overall at 3:28.
"I started with the idea to win the Giro. It was always going to be hard to win, especially this year with the level as high as it is. To win a stage and finish third in the classification is a step ahead from last year. If I was only fourth or fifth then would not be very satisfied.
"Ivan and I started with the idea to win the Giro. We have shown strong, even if we are not winning the race, and so this stage win is something for the team."
Pellizotti faces two more days where he will have to be on alert to defend his third place overall: The mountaintop stage to Vesuvio on Friday and the 14.4-kilometre time trial in Rome on Sunday, the race's last day.
Sastre sits behind the Liquigas duo in fifth, 1:30 behind Pellizotti and two seconds Behind Basso, but Pellizotti believes he will gain more time on Vesuvio. "I think Vesuvio will be similar and it will suit my abilities."
Di Luca: Menchov is "suffering"
By Gregor Brown in Blockhaus, Italy
Danilo Di Luca and Denis Menchov
Photo ©: Roberto Bettini

Danilo Di Luca charged up the Blockhaus on home Abruzzese roads Wednesday in the Giro d'Italia to test race leader Denis Menchov four days prior to the end.
"I was able to see Menchov's face, not necessarily his pedalling, and I could see for the first time that he was suffering. I delivered a little bit, but it was not enough," said Di Luca of team LPR Brakes-Farnese Vini.
Di Luca gained 13 seconds on his rival at the end of the 83-kilometre stage from Chieti to Blockhaus. He now sits second overall at 26 seconds back with one more mountain stage and time trial likely to decide the Giro d'Italia.
"I am still behind, but I tried in every way I could today. I am happy because the finale went well."
Di Luca created a group with Menchov, Ivan Basso and Stefano Garzelli when he attacked at 10 kilometres remaining up the 18-kilometre finishing climb. Tactics forced him to lead the group while Franco Pellizotti fought for the stage win ahead.
Di Luca accelerated at 2300 metres remaining and distanced Garzelli and Basso. He tried to dislodge Menchov with another attack at 1600 metres remaining, but was again unsuccessful in distancing his rival. Pellizotti won the stage, Di Luca lost second place to Garzelli, but gained ground on Menchov in the final metres.
"It is a good sign for Vesuvio. The Vesuvio climb is different: not as long but the gradients are tougher."
Di Luca believes he needs more than 40 seconds of an advantage heading into the final 14.4-kilometre time trial. If he does not gain enough on Vesuvio, he may fight for bonus seconds on the penultimate day to Anagni.
"It is something I have never talked about until now, but it is an arrival that I like a lot. If we have to we will take control of the race and I will have [sprinter] Alessandro Petacchi at my side. I can go for a great stage result, but first I need to deal with Vesuvio."
Di Luca gained the race leader's maglia rosa in the first week thanks to smart riding and bonus seconds awarded to the top three finishers. He held the lead for seven days, until Menchov won the Cinque Terre time trial last week.
The centennial edition of the race ends Sunday in Rome.
The Belgian Italians couldn't resist - Eddy Merckx
Eddy Merckx went on to win the 1974 Tour de France
Photo ©: AFP

Italians endear their 'champion of champions' with the term Campionissimo. A recent book capturing Belgian legend Eddy Merckx's career in photographs has been titled 'Merckxissimo'; very apt indeed given his achievements in Italy. Cyclingnews' Les Clarke discovers how Merckx became the only non-Italian ever to dominate the event.
Five overall victories in the Giro d'Italia - 1968, '70, '72, '73 and '74 - would have been the definitive results on the palmares of most riders in history. In Merckx's case however, they were just part of the list that included five Tour de France wins, a Vuelta crown, plus at least two wins in each of cycling's five monuments - Milan-Sanremo, Ronde Van Vlaanderen, Paris-Roubaix, Liège-Bastogne-Liège and Giro di Lombardia.
While most fans associate his name with the Tour and the Classics, Merckx enjoyed a record 78 days in the maglia rosa, more than any other rider in the event's history. We'll look at his first and last Giro titles - 1968 and 1974 - because each typifies the type of rider he was and why he was embraced by the Italian cycling public.
Read the full feature
UCI defends biological passport
The International Cycling Union (UCI) has affirmed the efficacy of its biological passport program, recently called into question by Austrian cyclist Bernhard Kohl, the rider suspended for two years after testing positive for CERA at the 2008 Tour de France.
"Any questioning of the effectiveness of the biological passport makes no sense as the rider's individual profile had not yet been fully drawn up," the UCI said. "It was thus not possible for Bernhard Kohl to draw any valid conclusions on the effectiveness of the biological passport at that stage. For this reason, his statements are completely incorrect.
"While awaiting any information from the rider that would be genuinely constructive in fighting against ever more sophisticated doping, the UCI must nevertheless state that the blood values communicated to Bernhard Kohl's team - in accordance with the established procedure and with the athlete's consent - date back to the initial data collection stage of setting up the biological passport."
The UCI claims that it's biological passport program has proven effective in discovering riders who are doping. "The analyses of riders' profiles, which during recent months have indicated a certain number of anomalies and confirmed the results of several traditional anti-doping controls, have now reached the final stage and will very soon allow disciplinary proceedings to be initiated."
Greipel wins stage, assumes lead at Bayern Rundfahrt
Andre Greipel (Team Columbia - Highroad)
Photo ©: Isabelle Duchesne

André Greipel of Team Columbia-Highroad sprinted to victory in the opening stage of Germany's Bayern Rundfahrt stage race, covering 196.3 kilometres from Kelheim to Mühldorf am Inn. Garmin-Slipstream's Christopher Sutton finished second while Fabian Wegmann (Team Milram) placed third. The win also earned Greipel the first leader's jersey of the five-day stage race.
"I'm pleased because this is my first-ever participation in the Bayern Rundfahrt, it's part of my comeback from being injured this Spring and it's all going really well," said Greipel. "It was a tricky finish with a bit of a climb in the final kilometre, around 10 to 12 percent, but I came through fine."
Greipel paid tribute to his teammates who were instrumental in Greipel taking his third win of the season.
"It was a real group effort that helped me win today. We saved a lot of energy by letting the other teams go after the break of the day, and then we went all out to get me in position for the bunch sprint," said Greipel. "In the last 600 metres, where it flattened out, [teammates] Marcel Sieberg and Tony Martin gave me a great lead-out. With 250 metres to go I could start my own sprint and I went for it. I wanted to come back in top condition, winning from the moment I started racing again, and that's exactly what I've done."
Greipel isn't too optimistic about defending his race lead in Thursday's hilly 173.6-kilometre stage from Mühldorf am Inn to Ruhpolding. "It is probably too hilly for me. However, we've got a lot of good all-rounders and climbers here in the team, and I'm sure that they'll be able to be in the thick of the action on the big climbs."
Taylor Phinney diary: Flèche du Sud - from high to low
Taylor Phinney dons the leader's jersey
Photo ©: Taylor Phinney

We all come tumbling off of our high horse eventually. This seems to be a common trend not only in cycling, but in any other professional sport. Take two steps forward, and sooner or later you'll step back. As we scale the mountain of life - particularly in sport - crashing is inevitable. Especially in cycling.
Our Trek-Livestrong team arrived in Europe on Sunday, May 17, ready to begin our first European campaign as a team. We had a couple of days to get adjusted and situated before our first race - the UCI Cat. 2.2 Flèche du Sud in Luxembourg. Flèche du Sud has seen some very strong riders atop the podium including Andy Schleck, Kim Kirchen, and Bradley Wiggins.
I'll start with the prologue.
I was especially excited because the prologue was only 4.2 kilometers and very technical with many sharp turns. Knowing that no one in the world can beat me at a distance like that, I was very confident in not only my performance, but in the whole team. It also might've helped that I have been doing cornering clinics at my parents' bike camps since as long as I can remember.
I prepared for the prologue as if it were an individual pursuit. That is, after all, what I have proved to be best at. I studied the course many times in training both with the team and by myself until it was second nature. I knew that winning was the only option - it is what was expected of me by others and what I expected from myself. The distance was perfect, the course was perfect, my legs were fine. I had to win... Anything else would be a big disappointment.
Read the full diary entry
Devil Takes the Hindmost circuit race at BikeRadar Live
"The Devil Takes The Hindmost" is an elimination race where riders will set off in a staggered start, based on British Cycling race category or ability.
The first groups will need to work together to ensure they're not caught by the faster riders. After an hour, the 'Devil' will pick off the backmarkers at the start-finish line of every lap.
The objective is to stay in the main pack to avoid being eliminated by the 'Devil' on each lap after the one-hour mark - and to keep enough energy in reserve for the sprint on the final lap at the two-hour mark. This is a high-octane race requiring great skill, strength and endurance.
"The Devil" is brought to you by HotChillee, producers of the London-Paris Cycle Tour, the professional event for amateurs. This is your chance to rub shoulders and turn pedals with pros and celebrities.
The event will take place from 2-4 p.m. on Sunday, May 31. Sign-on and number collection will be from 9 a.m.-1.30 p.m. on Sunday, May 31, at the registration tent.
Entry costs £35 per person, which includes a weekend ticket for BikeRadar Live.
About BikeRadar Live
BikeRadar Live is the biggest ever mass-participation cycling event to hit the UK, and will take place on the weekend of 30–31 May 2009 at Donington Park in Leicestershire.
The weekend will be packed full of races and challenges, with something for everyone, whether you want to compete, watch your friends and family or just check out some of the world's best riders.
For more information, visit the BikeRadar Live site.
Celebrate with Cyclingnews' Giro Sweepstakes
The centenary edition of the Giro d'Italia has started off with exciting finishes, beautiful terrain and great performances by the superstars of cycling. We're celebrating the Giro in the best way we know how – working the race to bring you daily race reports, photos, features and live coverage.
Thanks to our friends at BMC, you can share in the celebration – simply enter our BMC-Cyclingnews Giro d'Italia Sweepstakes for a chance to win.
One lucky Grand Prize winner will receive a BMC SLC01 Pro Machine road bike frame – the same frame ridden by the riders on the US-based BMC Racing Team – as well as an Assos-made BMC team jersey, cap and socks.
Enter the contest at http://contests.cyclingnews.com/BMCGiroDItalia.php. All you have to do is answer two questions and complete the entry form – you don't have to buy anything! Please only enter once and good luck!
Entries close May 31, 2009, at 11:59PM Pacific time.
(All rights reserved/Copyright Future Publishing (Overseas) Limited 2009)