Latest Cycling News, May 27, 2009
Edited by Greg Johnson and Laura Weislo
Blockhaus is Di Luca's turf
By Gregor Brown in Pescara, Italy
Danilo Di Luca (LPR Brakes) hopes to return to wearing pink today.
Photo ©: Sirotti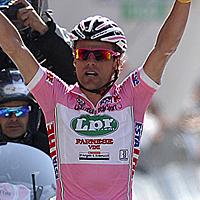 Danilo Di Luca may well have a home court advantage when it comes to the finish of today's Giro d'Italia finish at Blockhaus. The LPR Brakes rider lives just 50 kilometres from the climb and knows it better than just about anyone in the peloton. It will be his best day to strike at current leader Denis Menchov, who has just a 39 second advantage over Di Luca after 70 hours of racing.
"I have done it hundreds and hundreds of times. It is my reference point and the place where I train when I need to include a long climb. So, I know it by heart," Di Luca told Cyclingnews yesterday in his hometown of Pescara.
The 18-kilometre climb could decide the Giro d'Italia, which is essentially a two-man race between 2007 champion Di Luca (Team LPR Brakes) and Russian Menchov (Rabobank). Third overall is Carlos Sastre (Cervélo TestTeam), but he trails Menchov by 2:19.
"Clearly, I have to see how Menchov is going because if he is the Menchov of Monday it will be impossible to drop him and I think it will be a stage finish decided amongst two – me and him."
The 83-kilometre stage inspires Di Luca because of its proximity to his home in Pescara, where the stage passes at kilometre 12. It is only the fifth time the Giro d'Italia has ever used it, with the last time being when Moreno Argentin won in 1984. This time there should be thousands of fans for local hero Di Luca.
"I know the points that are the hardest and most crucial, and at those points I have to try to attack. The most important parts come halfway through and then in the finale, you leave the forest and the road is very wide and very windy.
"There will not be a moment to catch your breath from the fifth kilometre onwards."
Di Luca will have one last chance to gain time before the race ends in Rome on Sunday. Friday's 164-kilometre stage ends with a 13-kilometre climb up the Vesuvio volcano.
"I saw it over the winter at our training camp. It has some hard gradients that will be even harder when you consider it comes at the end of three weeks of racing."
Di Luca explained he likely lose 30 to 40 seconds in the final day's 14.4-kilometre time trial in Rome. If he can win the Giro d'Italia, he has to use Blockhaus and Vesuvio to gain enough time in the overall classification.
Lefevere ready for Tour showdown over Boonen
Patrick Lefevere (Quick Step manager)
Photo ©: Brecht Decaluwé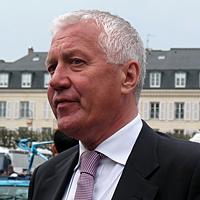 Quick Step team boss Patrick Lefevere has indicated he will take legal action if the Tour de France's organiser Amaury Sport Organisation moves to stop Tom Boonen competing in this year's race. Boonen has already been given permission to contest next month's Dauphiné Libéré, which will be his first race since his positive out-of-competition test for cocaine.
As Boonen hasn't been banned by the International Cycling Union (UCI), Quick Step has the right to field him in its Tour team. In identical circumstances last year, ASO told Quick Step Boonen wasn't welcome to compete, a charge the team accepted while the race was operated under French Cycling Federation (FFC) rules.
With the Grand Tour back under the UCI's guidance and Lefevere not willing to have his star sprinter miss out on more valuable television time, the matter may have to be resolved in court. Race director Christian Prudhomme has already indicated the rider will not be allowed to start, but Boonen has also said he will pursue the matter legally.
"[ASO] may be counting on home advantage there. I hope that if it gets to this, there will be, somewhere in Paris, a just judge," Lefevere told VRT.
Boonen's latest positive cocaine test is the third occasion the rider has tested positive to the recreational drug. His team is subjecting him the physiological help and strict testing after the rider admitted he has trouble dealing with the lack of pressure in between his major goals.
UCI refuses to comment on Kohl
Coming up on
Cyclingnews will cover the 60th edition of the Dauphiné Libéré live as of stage 4 on Wednesday, June 10, at approximately 15:00 local Europe time (CEST)/ 23:00 Australian time (CDT)/ 9:00 (USA East).

WAP-enabled mobile devices: http://live.cyclingnews.com/wap/

The recent admission of Austrian cyclist Bernhard Kohl to doping throughout his career has raised questions about the effectiveness of the International Cycling Union's anti-doping programs, but the organisation's president, Pat McQuaid, has refused to comment on the matter.

Kohl admitted this week that he began doping at age 19, and continued with the illicit practices until he tested positive for EPO CERA after taking third overall at the 2008 Tour de France. In addition to doping with EPO, Kohl also said he used autologous blood transfusions during the 2008 Tour.

The practices went on despite the UCI's biological passport programme, which was conceived in order to detect doping with drugs like CERA for which tests had not been developed.

Ironically, Kohl said the passport system was beneficial to him, and estimated that he passed 198 out of some 200 doping controls. "I had the blood passport for a year and a half, and my blood values were A-1. That's why I got my super contract with Silence-Lotto."

McQuaid, reached by AFP, said that the rider cheated and he refused to discuss the UCI's anti-doping programs in light of Kohl's admissions.
Van Hummel leads UCI rankings
Kenny van Hummel (Skil - Shimano) enjoys the spoils of victory
Photo ©: Bert Geerts

Skil-Shimano's Kenny Van Hummel rocketed to the top of the UCI's Europe Tour rankings this month. The 27-year-old Dutch rider had his coming of age over the past few weeks, scoring victories in the 4 Jours de Dunkerque, Ronde van Overijssel, the Batavus Pro Race, Tour de Rijke and Dutch Food Valley Classic. He overtook the previous leader, Jimmy Casper (Besson Chaussures). LPR Brakes' Alessandro Petacchi is in third.
Despite his recent successes, Van Hummel will not take part in this week's Tour of Belgium. He will get a well deserved rest period before a possible start in the Tour de France. His team earned a wild-card invitation to the race.
The World Rankings were unchanged in the top two spots with German/Australian Heinrich Haussler staying at the top after his successful spring campaign. Davide Rebellin remains in second despite having a pending doping case against him. Alejandro Valverde blasted up from 32nd to third overall with his victory in the Volta a Catalunya. The UCI is still awaiting his dossier from the Italian anti-doping tribunal to decide if he will be sanctioned for his involvement in Operación Puerto.
Iranian Ghader Mizbani Iranagh leads the Asian Tour after winning the Tour of Iran and Tour de Singarak, and taking third in the Jelajah Malaysia. The top of the Africa, Americas and Oceania rankings remain unchanged.
Martin looking for strong return at Rundfahrt
Tony Martin (Columbia)
Photo ©: Roberto Bettini

Tony Martin is hoping the Bayern Rundfahrt route in his German homeland, which starts today, will allow him to contest for the overall classification. Martin is returning to racing this week following a three week break.
"It's my first ever Bayern Rundfahrt and after a long break like the one I've had you never know exactly how you'll go when you get back into racing. But on paper it could suit me," Martin said. "Hopefully I can get through the hilly stage without losing too much time. The main climb looks like it's not too tough, we gain about 600 metres in altitude each time we go over it."
Martin has marked Saturday's 26-kilometre time trial as the place where he could challenge for the leader's jersey. "The time trial is my kind of distance, and I've been told that it's not too technical, with just a couple of short climbs, so that will be good for me and [World time trial champion and Columbia-Highroad teammate] Bert Grabsch," he said. "We'll go and check it out in the morning before the stage starts."
Joining Martin in Columbia-Highroad's roster is George Hincapie, who has been training in the United States of America following his Spring Classics campaign. Andre Greipel will also feature in the squad's lineup, having recovered from injuries sustained after hitting a motorbike at January's Tour Down Under.
Martin says he's very motivated to ride on home soil. "That also means I'm under a little bit more pressure. This is Germany's biggest stage race," he said. "But my break went well. I had a week doing almost no riding, and since then I've been building up steadily, including a lot of work on the time trial bike.
"Bayern is the first phase of my racing for the summer, and although I really want to be hitting top form by the Tour of Switzerland, it'll be a very important indication of how well I'm going right now," he added.
Read the full Bayern Rundfahrt preview and start list here.
Marchante recons Tour's mountains
Cervélo Test Team's José Angel Gomez Marchante has headed to France's Pyrenees, where he's completing reconnaissance of the Tour de France's early mountain stages. The Spanish rider was joined by team-mates Iñigo Cuesta, Xavier Florencio and sports director Alex Sans.
"Taking advantage of the proximity and good weather, today we traveled to Andorra to visit several ports in the first week of the Tour, including: Arcalis, Envalira, Agnès and Tourmalet," said Marchante. "The purpose of this is to know the path to perfection over the first mountain stages, to avoid any surprises."
Marchante is expected to remain in the region for the majority of this week. His next race is June's Tour of Switzerland.
German track rider seriously injured
Vogel (C) won gold in the Junior Worlds keirin
Photo ©: alliancephoto.com

German track rider Kristina Vogel is in serious condition in hospital in Erfurt, Germany, after being hit by a car last Wednesday. The 18 year-old was put into an induced coma, from which she awakened on Saturday. The news of the accident was first announced Tuesday evening.
Vogel is still in the intensive care unit. No permanent damage is expected, although she has multiple fractures in her spine. She also broke both her upper and lower jaw and had a collapsed lung. Doctors credit her helmet with preventing potentially fatal head injuries.
NRC standings stagnate after Somerville
USA Cycling's National Racing Calendar standings have remained largely unchanged following the series' latest round, the Tour of Somerville. Colavita/Sutter Home dominated the weekend's NRC event, but Bissell and Team Type 1 still lead the men's and women's team standings respectively.
Australia's Rory Sutherland (OUCH-Maxxis) continues to lead the men's individual standings, while his Somerville win bumped Sebastian Haedo unto second place. Alison Powers (Team Type 1) continues to hold a commanding lead in the women's individual standings, more than 200 points ahead of second placed Katheryn Mattis (Webcor).
Men's Individual Standings
1 Rory Sutherland (OUCH-Maxxis)              415
2 Sebastian Haedo (Colavita-Sutter Home)     370
3 Tom Zirbel (Bissell)                       357
4 Ben Jacques-Maynes (Bissell)               323
5 Jeff Louder (BMC)                          286

Men's Team Standings
1 Bissell Pro Cycling                       1052
2 Colavita-Sutter Home                       815
3 Ouch presented by Maxxis                   655
4 Kelly Benefit Strategies                   547
5 Team Type 1                                495

Women's Individual Standings
1 Alison Powers (Team Type 1)                663
2 Katheryn Mattis (Webcor)                   429
3 Kristin Armstrong (Cervelo-Lifeforce)      425
4 Ina-Yoko Teutenberg (Columbia-Highroad)    314
5 Laura Van Gilder (Mellow Mushroom Racing)  276

Women's Team Standings
1 Team Type 1                                954
2 Webcor Builders                            937
3 Team Tibco                                 763
4 Columbia-Highroad                          660
5 Valuact Capitol Cycling Team               660

South Africa's Trzebiatowsky killed in training accident
Veteran South African cyclist Kim Trzebiatowsky was killed in a training accident on Sunday afternoon. The mother of three was struck by a vehicle while on a training ride and died of her injuries.
The accident occurred in Port Elizabeth, South Africa, the hometown of road professional John-Lee Augustyn. The 47-year-old had been successful in both road and track cycling throughout her life, including winning the 2007 Masters World Championship 45+ 10km Points Race held in Sydney, Australia.
Celebrate with Cyclingnews' Giro Sweepstakes
The centenary edition of the Giro d'Italia has started off with exciting finishes, beautiful terrain and great performances by the superstars of cycling. We're celebrating the Giro in the best way we know how – working the race to bring you daily race reports, photos, features and live coverage.
Thanks to our friends at BMC, you can share in the celebration – simply enter our BMC-Cyclingnews Giro d'Italia Sweepstakes for a chance to win.
One lucky Grand Prize winner will receive a BMC SLC01 Pro Machine road bike frame – the same frame ridden by the riders on the US-based BMC Racing Team – as well as an Assos-made BMC team jersey, cap and socks.
Enter the contest at http://contests.cyclingnews.com/BMCGiroDItalia.php. All you have to do is answer two questions and complete the entry form – you don't have to buy anything! Please only enter once and good luck!
Entries close May 31, 2009, at 11:59PM Pacific time.
(All rights reserved/Copyright Future Publishing (Overseas) Limited 2009)