First Edition Cycling News, May 17, 2009
Edited by Peter Hymas
Horner's potential is nothing new, says his long-term DS
By Jean-François Quénet in Bergamo, Italy
Chris Horner (Astana)
Photo ©: Mark Johnson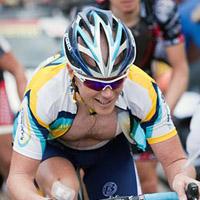 The most impressive rider of stage eight, apart from Bergamo's stage winner Kanstantsin Siutsou, was Astana's Chris Horner. The Californian put the hammer down on the Colle del Gallo and created a break that could have been the decisive one for Levi Leipheimer to move up for good on the general classification of the Giro d'Italia.
"It could have been the good breakaway but it all depended on how the chase would be organised behind them," said Astana's Directeur Sportif Alain Gallopin. "Chris rode very well but [race leader Danilo] Di Luca had enough teammates to bring the bunch across so there wasn't much to do."
If anyone was not surprised about Horner's capacities it's Gallopin, who travelled to the United States in 1996 to recruit Horner for the newly born Française des Jeux team. When Horner first moved to France a room was ready for him at Gallopin's home in Etampes in the south of Paris.
Horner wasn't a stranger to the Frenchman's change of course at the end of 2000 as Gallopin left Française des Jeux to become the directeur sportif of the ill-fated Mercury team. In 2001, Horner and Gallopin already faced financial problems in the running of their team, that's probably why they are not too emotional about what's happening at Astana this year. That move actually boosted Gallopin's career as he became in international traveller of the world of cycling, working successively for Team Coast, Bianchi, CSC and Astana where his intuition for racing was always highly appreciated.
Coming up on
Cyclingnews will cover the 60th edition of the Dauphiné Libéré live as of stage 4 on Wednesday, June 10, at approximately 15:00 local Europe time (CEST)/ 23:00 Australian time (CDT)/ 9:00 (USA East).

WAP-enabled mobile devices: http://live.cyclingnews.com/wap/
"In 2004, Mauro Gianetti asked me if I knew a good American rider who was available for Saunier Duval and I advised him to sign Horner," Gallopin said. "Two weeks later he came in eighth at the world championship in Verona. Two years ago he finished fifteenth in the Tour de France after working like a mad dog for Cadel Evans – I doubt that Evans has been happy to see him leave his team."
From his third place at the 1998 GP Plouay to the superb work he did for Alberto Contador, Gallopin is unstoppable when he talks about the winner of the 2000 Le Tour de Langkawi. "He's a very strong man, we missed him a lot at Paris-Nice since he was tired from the Tour of California," said Gallopin. "I'm very happy to see him riding so well now. The potential is something that never fades away."
Born in 1971 only a month after Lance Armstrong, Horner hasn't burned his engine during the years he rode on the US circuit for Mercury, Prime Alliance, Saturn and Webcor. "Riding with Lance now, he's super motivated," said Gallopin. "In my family, we love him."
Siutsou delivers third Giro stage win for Columbia-Highroad
Kanstantsin Siutsou (Team Columbia - Highroad)
Photo ©: Sirotti
Team Columbia-Highroad's Kanstantsin Siutsou powered to the most important win of his professional career on Saturday when soloed to victory in stage eight of the Giro d'Italia. A former U23 world champion in 2004, Siutsou said that on a personal level Saturday's victory was even more important for him than taking a world title.
"I think this is the best win of my career, better than the world championship and better than my victory in the Tour of Georgia last year, too. Both of those are great races to win, but here, for the first time, I won with my wife watching me. I got to hug her afterwards and that made it the best win of my career so far."
Local knowledge helped the rider born in Belarus, but now a resident of Italy.
"I know the roads because I've lived here for a few years. I knew the last 15 kilometres and attacked at the right moment. When [Stefano] Garzelli won here in another race, he proved that whoever gets over the top of the final climb with a few seconds advantage can win. [Directeur Sportif Valerio] Piva told me I had 20 seconds on the bunch at the top, so I took it steady on the descent and stayed away to win."
Analysing Columbia-Highroad's level of success in the Giro d'Italia, Siutsou said, "We've got a strong, well-rounded team and all the riders get the chance to ride for themselves and do something: Mark [Cavendish] in the sprint, Thomas [Lövkvist] and Michael [Rogers] overall, and Edvald [Boasson Hagen] in stages like yesterday. Today I won, but perhaps another of my teammates will win again later in the race."
Team manager Bob Stapleton discussed the success of Team Columbia-Highroad in this year's Giro d'Italia.
"The guys learned how to win together last year and our goal this year was to be competitive in all the big races," said Stapleton. "We showed it by winning Milan-San Remo, we've been good throughout the Classics and we've been competitive in all the major races. In the Grand Tours the eyes of the world are on cycling and for the future of the team we need to show we can do well here and well in the Tour de France, too.
"The guys were particularly motivated to do well in Bergamo because a few of them live near here," continued Stapleton. "Siutsou lives just outside the town and his wife was at the finish. They're expecting a baby in a few months as well, so it was a nice reward for him."
Looking ahead to Sunday's stage, Stapleton was optimistic about a chances of a third straight victory for the team - this time with Mark Cavendish.
"We hope that Mark can come out to play tomorrow and shows again that he's the fastest sprinter in the world. The course suits him for sure and we'll try to win another stage and keep the run of success going."
Horrillo suffers dramatic crash down ravine
By Jean-François Quénet in Bergamo, Italy
Pedro Horrillo (Rabobank)
Photo ©: Sirotti
Pedro Horrillo has had a few bad crashes during his professional career, started in 1998 with Vitalicio Seguros after completing his studies in philosophy at university, but he's never fallen 60 metres down a ravine before. His dramatic accident happened on a curve while descending the Culmine di San Pietro 65 kilometres into stage eight. His bike was found by the rescue team before his body.
"He was unconscious when he was transported by helicopter to the hospital of Bergamo," Rabobank's doctor Gert Leinders said. "When he woke up, my colleagues put him artificially in a coma for 24 hours. His situation is very serious but stable. We have to be careful of the complications that can occur."
Fractures of his upper leg, a knee and vertebrae were reported as well as a "very complicated trauma at his thorax," Dr Leinders said. "The most difficult problem to treat is his respiration."
Horrillo's wife is expected to arrive in Bergamo on Sunday. The 34-year-old Rabobank rider is a father of two. He's known a writer since he has had a column in Spanish daily El Pais for many years. He was a stage winner at the 2004 Paris-Nice and at the 2005 Volta a Catalunya. Fluent in Spanish, Basque, Italian and English, he's also one of the best domestiques and strategists in modern cycling.
Boonen ready to challenge Tour exclusion in court
Tom Boonen
Photo ©: Tim Van Wichelen

The Tour de France doesn't want Tom Boonen, but the Quick Step rider is willing to go to court to force the race to accept him. The team, however, has said that it assumes Boonen would not start in the Tour.
Boonen recently tested positive for cocaine in an out-of-competition control.
"We will file a complaint before the court in Paris," Boonen's attorney, Luc Deleu told the Belgian newspaper Het Laatste Nieuws. He said that his client has not yet heard anything official from the Tour organizers.
"Cocaine use outside of competition is not doping, no matter how you look at it," Deleu said. "If he is excluded then Boonen would be denied his right to work, based on an arbitrary decision by the Tour organiser ASO."
Boonen's team seems willing to accept the exclusion. The head of the ASO, Christian Prudhomme, "has excluded him. So as things now stand he won't start," Quick Step spokesman Alessandro Tegner said, according to the dpa news agency. (SW)
Hunter remains in search of first Giro stage win
By Jean-François Quénet in Chiavenna, Italy
Robert Hunter (Barloworld)
Photo ©: Roberto Bettini

Although he knows there wasn't much to do against super-talent Edvald Boasson Hagen who beat him in the sprint in stage seven of the Giro d'Italia, South Africa's Robert Hunter remained bitter over the missed opportunity. It was Hunter taking the initiative to split the bunch in the dangerous downhill finale, which resulted in a five-man breakaway.
"I knew that I could have a go at a win and I tried my luck," Hunter said. "I took the opportunity during the descent. Of course I'm a bit disappointed since I was fighting for the win but I'm happy with my condition."
Hunter prepared for the Giro d'Italia at the Presidential Tour of Turkey where a crash in a slippery downhill forced him to pull out, but he didn't feel any particular fear on his way to Chiavenna.
"I never give up and I will try to achieve the victory we, as Team Barloworld, deserve before the end of the Giro," Hunter said. He was happy to return to the race he rode only once before, in 2002 with Mapei, and from which he kept the sad memory of his captain Stefano Garzelli's doping violation. This was for him a taste of an even bigger disappointment on the same subject when he gave every ounce of energy he had at Phonak to help Floyd Landis win the 2006 Tour de France.
The following year, Hunter became the first African to win a stage in the Tour de France. He might not always be up there to compete against the world's fastest men but he remains able to win stages at the Grand Tours 10 years after the first time he scored as a professional, at the 1999 Vuelta a España. He has another two weeks at the Giro d'Italia to enter the elite club of current riders who have a stage win at each Grand Tour.
Euser injured while training is Spain
Lucas Euser
Photo ©: Anthony Skorochod

Team Garmin-Slipstream's Lucas Euser was involved in an accident with a car while riding in Carretera de Amer, Spain, on Thursday. The 25-year-old California native sustained two broken ribs and a shattered patella.
Euser underwent surgery on Friday for his patella and is currently recovering at a local hospital. The accident is under investigation by local police.
Euser had an injury-plagued 2008 season in which he broke his shoulder blade and scapula, but recovered to take his first professional win later last year at the Univest Grand Prix Road Race.
Chacón makes pro debut with Contentpolis-AMPO
Javier Chacón
Photo ©: Antonio Salmerón Ato

Javier Chacón will soon join the professional ranks for Contentpolis-AMPO, the Spanish Professional Continental team, according to Directuer Sportif Jose Antonio Ortuño.
"We have informed our main sponsors, so that more or less immediately Chacón will join the team for the remainder of this season and also with the intention of continuing for the 2010 season," said Ortuño. "Chacón will not be the only addition, there will be two more selections to the team in the last third of the season."
The 24-year-old Chacón rode as a stagiere in the latter portion of the 2008 season and his riding impressed Ortuño. "He had an exceptional performance in the Regio Tour and this season earned a very important victory in the Trofeo Guerrita-Copa de España."
Chacón will compete in the upcoming Memorial Mariano Rojas on June 9 and then the Spanish national championships.
Cyclingnews podcast: Episode 11
Taking the Giro by the horns
The Giro d'Italia is go, and already there has been a lot to talk about in the first week. We give it our best shot in the Cyclingnews weekly podcast episode 11. Get it now while stocks last.
This week, Cyclingnews' Daniel Benson and BikeRadar's Jeff Jones show no mercy as they dissect the winners and losers in the first four stages. From Mark Cavendish's dig at 'disrespectful' Garmin, to his failure to beat Alessandro Petacchi, to Danilo Di Luca continuing the amazing success of Team LPR, to the enigma that is Tom Danielson. Outside Italy, we also cover Tom Boonen's latest flirtation with Bolivian marching powder, Alejandro Valverde's Italian ban and what lies ahead for Team Astana.
You can subscribe to the podcasts via iTunes (or just go to iTunes and search for 'cyclingnews') or via this XML feed: http://video.cyclingnews.com/podcasts/cn_podcast.xml
You can also download the podcasts directly by clicking on these links:
(Additional editorial assistance from Susan Westemeyer and Antonio Salmerón Ato
(All rights reserved/Copyright Future Publishing (Overseas) Limited 2009)