First Edition Cycling News, May 29, 2009
Edited by Peter Hymas
Savio takes three with Scarponi's second
By Gregor Brown in Benevento, Italy
Michele Scarponi (Diquigiovanni - Androni)
Photo ©: Roberto Bettini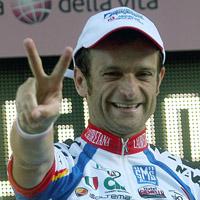 Gianni Savio guided his Diquigiovanni team to win number three in this year's Giro d'Italia via Michele Scarponi on Thursday in Benevento. It was the second win for Italy's Scarponi, adding to teammate Leonardo Bertagnolli's victory on Sunday.
"I think [team manager] Savio and [directeur sportif] Marco Baliani have put together a good group. I think they helped us always get into the groups," Scarponi told Cyclingnews.
Scarponi's first win came in the Giro d'Italia's visit to Austria on day six thanks to a long solo escape after he was part of an early breakaway. Bertagnolli won thanks to a successful escape in Faenza.
Only 12 days later, now deep in Italy's south, Scarponi positioned himself for his second stage win. He entered an escape group that formed early on in the 182-kilometre stage.
"It is very important for the team, even to race in the Giro is good for us, and I was able to win this year. The first in Austria and then now in Italy, which is even more important. It is an indescribable emotion."
Savio explained that the important moments come via good team management and planning. He and Marco Baliani talk to the riders each morning about how they should interpret the stage.
Coming up on
Cyclingnews will cover the 60th edition of the Dauphiné Libéré live as of stage 4 on Wednesday, June 10, at approximately 15:00 local Europe time (CEST)/ 23:00 Australian time (CDT)/ 9:00 (USA East).

WAP-enabled mobile devices: http://live.cyclingnews.com/wap/
"We figure out the best way for our riders to enter the escape," said Savio. "Everyone wants to be in the moves. The first attack of the day was our very own Gilberto Simoni - the first attack. I heard, "Uomo al commando, numero 151, Gilberto Simoni."
The day started with the Piano della Cinque Miglia climb. Simoni attacked as soon as the climb began, at kilometre three. He failed to stay clear, but Scarponi represented the team by joining the eventual 25-man escape group and then winning the stage.
The win made for the seven by Professional Continental Teams (three for Diquigiovanni and four for LPR Brakes) in the Giro d'Italia. Cycling's highest level teams, ProTour, account for the 11 other stage wins.
Pate falls short of Giro's Benevento stage
By Gregor Brown in Benevento, Italy
Danny Pate (Garmin - Slipstream)
Photo ©: Edward Madden

Danny Pate battled to bring Garmin-Slipstream its first win in the 2009 Giro d'Italia on Thursday. The American joined a key escape move early in the stage and made the final attacks in the closing metres, but had to be content with third.
"No one remembers who's second. It is unfortunate, it is all about the win, but we tried," he told Cyclingnews after the stage.
Pate was disappointed in what looked to be a promising day for the US-based team. He and teammate Julian Dean joined an escape move of 25 men. They went clear after the Piano della Cinque Miglia climb, at kilometre 45 of the 182-kilometre day in southern Italy.
The 25-man group lost its harmony near the finish town of Benevento. Dmitry Grabovskiy (ISD) attacked the move to form a group of eight men, which included Pate.
"'JD' [Julian Dean - ed.] was one of the best sprinters in there, probably the best sprinter, and I knew that I had to cover as many moves as I could. I could take some soft pulls in my group while 'JD' was in the group behind."
Pate heard through race radio that Dean's group was not returning and switched to focus on his own stage win. He launched a move of his own at eight kilometres out and then followed an attack by Lars Bak (Team Saxo Bank) and Félix Rafael Cárdenas (Barloworld) at six kilometres remaining.
"I only attacked once for real, the other times I was following. For a while we did not have Scarponi, they came up from behind and he was just strongest up the hill."
Bak's teammate Jason McCartney, Dries Devenyns (Quick Step) and Michele Scarponi (Diquigiovanni) complicated Pate's chances when they joined the front group. Pate followed Bak's sprint and a push by Cárdenas, but ran out of power right before Scarponi took over for the win.
Garmin has had three second places and two third places in this year's Giro d'Italia. Last year, it won the opening time trial and held the leader's jersey one day with Christian Vande Velde.
McCartney and Bak make break, miss win
By Gregor Brown in Benevento, Italy
Lars Bak (Team Saxo Bank)
Photo ©: Christophe Mury

Team Saxo Bank held the upper hand in Thursday's Giro d'Italia stage to Benevento with one extra rider in the final escape group, but the team's Jason McCartney and Lars Bak were unable to respond to the sprint of Michele Scarponi.
"We should have done better. We were both strong, but maybe we were too aggressive," Denmark's Bak told Cyclingnews.
The two made an escape group of 25 soon after the stage left Sulmona. Other teams had more than one rider, but Team Saxo Bank was the only team to have two in the final split with 18 kilometres remaining.
"It was perfect, we broke the move down from 25 to eight," USA's McCartney told Cyclingnews. "I just did not have the strength, the Quick Step rider [Dries Devenyns] and Danny Pate were just too strong."
Bak and Félix Rafael Cárdenas rode free in the final six kilometres. Danny Pate, McCartney, Devenyns, Dmitry Grabovskiy and eventual winner Michele Scarponi joined them.
"I tried to lead it out for Bak since he is the better sprinter," said McCartney.
Cárdenas and then Pate passed the duo, and then Scarponi came by for the win. Bak finished fourth and McCartney seventh.
"I am a little disappointed," Bak said, "because now I have been in the finale two times, but without the win. Today, I felt like Jason or I could have won."
There are three teams who have dominated Giro d'Italia's wins: Diquigiovanni, Team Columbia-Highroad and LPR Brakes. Team Saxo Bank has zero, but the pressure is not getting to its riders.
"I was not thinking about my sponsor today, honestly, I was thinking about winning the race," Bak said.
"Everyone has their own personal pressure and everyone wants to win," McCartney said. "That is why you put a number on your back, to win a race."
The team's sprinters, Juan José Haedo and Matthew Goss, will have a chance to win with Saturday's stage to Anagni. McCartney hopes to have another chance on the last day, a 14.4-kilometere time trial in Rome.
Arndt returns to racing at Montreal World Cup
By Kirsten Robbins in Montreal, Quebec
Judith Arndt will be back to defend her 2008 Montreal win
Photo ©: CJ Farquharson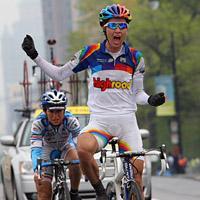 Montreal, Quebec is ready to host the only women's World Cup held in North America on Saturday May 30 for the 12th edition of the Montreal World Cup. The event will showcase twenty-two international teams vying for the prestigious win and valuable points toward the UCI Women's World Cup series ranking.
At noon, the world-class women's field will start 12 laps of a 10-kilometre circuit, totaling a 120-kilometre race of attrition. The race will start and finish on Park Avenue, at the base of the event's significant two-kilometre ascent to the top of Mont Royal.
Following the decisive climb, riders will descend through the technical twists and turns of Montreal's city streets and around Jeanne-Mance park before their arrival back to Park Avenue. Once on Park Avenue, the race is not over, the riders will pass through a flat and fast section of the course, taking a hairpin turn into the final 400 meters to the finish line.
From the twenty-two teams, notable riders include the defending champion Judith Arndt racing for her Columbia-HighRoad squad. The German all-rounder won the previous year's event by out-sprinting Fabiana Luperini after the duo escaped from a small but threatening front group on the last lap. A double winner, in 2006 and 2008, she returns to the peloton fully recovered from a broken collar bone and wrist suffered nearly eight months ago.
Continue to full Women's World Cup preview
McEwen's Tour de France in doubt after Tour of Belgium crash
Robbie McEwen (Katusha) at the Tour of Belgium
Photo ©: Tom De Meyer

Australian Robbie McEwen (Team Katusha) suffered a serious knee injury in a crash two kilometres from the finish during stage two of the Tour of Belgium. The extent of the 36-year-old sprinter's injuries will likely force McEwen to miss the 2009 Tour de France.
Bart Leysen, Team Katusha directeur sportif, commented on the severity of the injury to McEwen's left knee.
"Robbie is now in the hospital. His knee joint is okay, but he cut ligaments under his left knee and the doctor's rebuilding it. It's almost impossible for him to participate in the Tour de France and he fears for the rest of his career."
AFP has reported that McEwen suffered a fracture of his tibia in addition to the tendon and ligament damage.
According to Leysen, doctors have advised McEwen that a recovery may take one to four months.
McEwen was forced to miss the Giro d'Italia due to injuries sustained in a crash at last month's Scheldeprijs Vlaanderen. The Australian was using the Tour of Belgium and June's Tour de Suisse to prepare for the 2009 Tour de France.
Fleeman recovering after Bayern Rundfahrt crash
Dan Fleeman of Cervelo TestTeam was forced to abandon the Bayern Rundfahrt after seriously injuring a finger during an incident involving a stray car on the course during Thursday's second stage. The British rider, who had high hopes for stage two, spent most of the day in the hospital after almost completely severing the tendons in his finger.
"A car had found its way onto the course, I came through a corner and there were guys everywhere," said Fleeman. "I was weaving my way through when all of a sudden a police motorbike just stopped in front of me. I hit it and it then toppled over on me.
"When I got to the hospital the doctors told me I was millimeters from severing the tendons, it's my index finger as well, so the one you break and shift gears with.
"I am definitely counting my blessings tonight, but I'm gutted to be out of the race."
Fleeman will be unable to use his hand for a week and hopes to recover in time for the GP Triberg Schwarzwald in Germany and GP Gippingen in Switzerland.
Cyclingnews is changing
Last year we surveyed our readers and asked what they wanted to see on Cyclingnews. You replied in your thousands and along with fantastic editorial ideas, two areas you wanted to see improved were the usability and design of the website. We spent the subsequent months working on a strategy to make those dreams a reality and split it into two phases.
We completed the first phase earlier this year, which saw the launch of our popular new forum as well as the amount of adverts reduced. Our second phase, which will see the most exciting changes, is almost complete and over the coming week we'll be revealing exactly what those changes are!
All we'll say for now is that you can expect some vast improvements to the look and feel of the site, as well as some new features that will make Cyclingnews even better than ever - we promise you won't be disappointed!
Be sure to check back daily for sneak previews.
Daniel Benson and the Cyclingnews team
Cyclingnews podcast: Episode 13
How much Giro d'Italia is too much?
The Giro d'Italia is almost done, but how did it get that way? Cyclingnews' Daniel Benson and BikeRadar's Jeff Jones give their views in the 13th Cyclingnews podcast.
This week, they take you from stage 11 through 16. From the sprinting genius of Mark Cavendish to Denis Menchov's gritty resolve to the mystery tactics of Cervelo. All the while respecting Lance Armstrong's Media Boycott (mostly). It's 20 minutes of audio blancmange but without the substance.
You can subscribe to the podcasts via iTunes (or just go to iTunes and search for 'cyclingnews') or via this XML feed: http://video.cyclingnews.com/podcasts/cn_podcast.xml
You can also download the podcasts directly by clicking on these links:
(All rights reserved/Copyright Future Publishing (Overseas) Limited 2009)