Latest Edition Cycling News, May 25, 2009
Edited by Laura Weislo
Cervélo's tactics questioned
Serge Pauwels (Cervélo) in the breakaway
Photo ©: Sirotti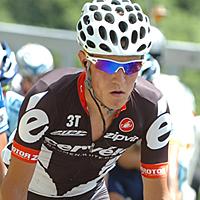 The Cervélo TestTeam had a strong chance at taking a second stage win in the Giro d'Italia on stage 15, and they threw it all away. The team had placed its eager young rider Serge Pauwels in the day's breakaway, and the Belgian was the lone survivor with eventual stage winner Leonardo Bertagnolli after the crest of the Monte Trebbio, the day's last climb.
Pauwels and Bertagnolli had ridden away from the remnants of the day's breakaway after the top, and the next chasing group was more than two minutes behind. The probability that the pair would stay clear to contest the stage win was high, so why did the Cervélo director Jean-Paul Van Poppel draw alongside his rider and order him back to the peloton to assist Carlos Sastre?
"It was bad timing for us," said Van Poppel, whose team leader Sastre was isolated in the group of the overall leader Denis Menchov and had been under attack. "It's not easy for a small team like ours to try and put a rider on the final podium in the Giro. Sacrifices have to be made to make that happen, but everybody agreed that was our goal at the start.
"Of course it is easy to say that Serge deserves the chance to go for the victory, but it is also fair to say that over the past 10 years, Carlos has earned the right to have the team support him when he feels he needs it."
Pauwels understood his role and graciously accepted his fate. But he never was caught by the group with Sastre, instead finishing out the stage in a chasing group with the very same riders who he had dropped from the breakaway.
Carlos Sastre (Cervélo) was threatened by the attack
Photo ©: Roberto Bettini

"I was so torn," said Pauwels, who said he thought he could have out-sprinted Bertagnolli, but now he will never know.
"I know that my job is to help Carlos, that's what I signed up for when I started this Giro. So I know that I should drop back to help him immediately when he asks, that's part of the game. But it was so difficult, because I could see that I had a chance to win this stage, and that would have been so amazing. By delaying the moment where I waited, we look pretty stupid. Lesson learned."
Even Van Poppel admitted that the tactic wasn't the best idea in retrospect. "The whole team would have loved to see Serge win a stage, and if the final information about the Sastre group catching Basso had reached the front team car a few seconds earlier, it might all have ended differently. But that shows the highs and lows of the sport, yesterday we get a brilliant victory by Simon Gerrans, today we're the losers of the day."
Discuss the Cervélo team's decision in our forum.
Quick Step rejects Petacchi for Tour
Coming up on
Cyclingnews will cover the 60th edition of the Dauphiné Libéré live as of stage 4 on Wednesday, June 10, at approximately 15:00 local Europe time (CEST)/ 23:00 Australian time (CDT)/ 9:00 (USA East).

WAP-enabled mobile devices: http://live.cyclingnews.com/wap/

Alessandro Petacchi has reportedly been trying to make a mid-season leap from his LPR Brakes-Farnese Vini team in order to have a chance to ride the Tour de France. His team did not receive a wild-card invitation, and he has so far been unsuccessful in finding a team to take him on.

Most recently he inquired with Quick Step. The Belgian ProTour team is set up to handle a top sprinter, but star Tom Boonen has been informed that he would not be welcome by the Tour organisers after he once again tested positive out of competition for cocaine. That would seem to leave a door open for the speedy Italian, but Quick Step manager Patrick Lefevere firmly closed it.

"It is true that I have talked to his manager," Lefevere admitted to Nieuwsblad.be. "But he costs too much money for us."

The Italian's manager has also offered him to Team Katusha, and last week Silence-Lotto also turned him down.
Horrillo breathing better, planning for transport
Pedro Horrillo is now breathing on his own, more than one week after his bad crash in the Giro d'Italia. It is now expected that he can be transported to a hospital in Spain the middle of the week.
The Rabobank rider will be taken to hospital in Pamplona, where he will undergo another operation on his broken femur.
Team doctor Geert Leinders said that the breathing tube had been removed, allowing the Spaniard to breathe independently. He praised the care that the hospital in Bergamo had provided for Horrillo. "The quality of care here that Pedro has received is very good. The care for his wife Lorena was also very well arranged."
The 1999 Giro - a Pantani retrospective
Ten years ago, Pantani was ejected from the Giro d'Italia
Photo ©: AFP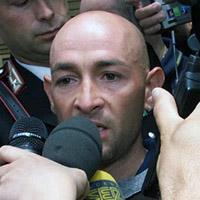 As the Giro d'Italia celebrates its centenary edition, events that took place during the race a decade ago formed one of the most tumultuous chapters in the event's history. Marco Pantani's ejection for a high haematocrit level would have greater ramifications for the Italian climbing legend and cycling in general. Cyclingnews' Les Clarke takes a look at why the wounds of that Giro are still raw despite the passing of 10 years.
In the hearts of many fans, Marco Pantani won the 1999 Giro d'Italia. That he didn't make it to Milan after being forced to exit the race by officials makes little difference to those who witnessed his feats that year. The most significant impact of events in June 1999 was Pantani's spiral into the depths of depression and the subsequent loss of an enigmatic champion.
'Il Pirata' had taken the Giro-Tour double the year before and was in ominous form heading into the '99 edition of Italy's Grand Tour. Looking good was Banesto's José Maria Jimenez and Kelme-Costa Blanca rider Roberto Heras, while Lampre rider Oscar Camenzind came into the event as a dark horse.
Read the full feature.
Kohl rules out return to cycling
Bernhard Kohl will not return to cycling after his doping-related suspension ends. "I don't want to continue leading a double life which is based on lies," he said at a press conference Monday morning in Vienna.
The 27-year-old tested positive for the EPO derivative CERA during the Tour de France and later confessed to having used illegal doping products and methods for most of his career. He was given a two-year suspension.
"Without doping there is no equal opportunity in the top international field," Kohl said, according to nachrichten.at. "This is absolutely the end."
The former Gerolsteiner rider acknowledged, "I have voluntarily doped – in a system in which you can't win without doping. Talent, training and iron discipline just aren't enough at some point. Doping becomes the rule. A clean sport is unfortunately an exception."
Kohl said that he would now dedicate himself to doping prevention, by speaking on the subject and organising cycling camps. He is currently still under investigation for his part in purchasing a blood centrifuge.
Vienna blood bank a cartoon affair
Cartoon characters hung out at a McDonald's restaurant in Vienna, Austria, before going across the street to receive illegal blood transfusions. As bizarre as it sounds, that is apparently how the Humanplasma blood centre worked with its athletic customers.
Athletes were assigned the names of animated characters such as Shrek, Lucky Luke, or Onkel Dagobert (Scrooge McDuck) to hide their identities. They met at the McDonald's on Sundays, according to kurier.at, and were led every hour on the hour, in groups of three or four, across the street to the clinic.
It wasn't cheap They were expected to hand over 2000 euro in cash for each transfusion. Bernhard Kohl, whose blood bags bore the name "Shrek", is said to have paid 2500 euro on his third and last visit to the clinic.
Jalabert named French national selector
Laurent Jalabert
Photo ©: Bjorn Haake

Cycling legend Laurent Jalabert has been named as the new selector for the French World Championship team. His new employers made the announcement on Sunday on Radio RTL. He will succeed Frederic Moncassin in the role.
His first goal will be to choose the riders for this year's championships which will be held in September in Mendrisio, Switzerland, with an eye on the 2012 Olympics in London.
"The French team means a lot to me," said Jalabert. "This is the jersey in which I finished my cycling career," said Jalabert, who retired from racing in 2002 as the French national champion.
Jalabert's career spanned 14 seasons, during which he claimed many important victories including the Vuelta a España, the points classification in all three Grand Tours, a time trial world championship as well as numerous Classics - Milan-Sanremo, La Flèche Wallonne, Clásica de San Sebastián and the Giro di Lombardia.
Capecchi abandons with knee pain
The Fuji-Servetto team was reduced to six riders on Monday. The team lost 22-year-old Eros Capecchi, who suffered from tendonitis in his right knee and could not start the stage.
"The pain was unbearable," Capecchi told tuttobiciweb. "Now I hope that with a few days of rest and therapy, the problem will be resolved, especially since my program includes the Tour of Switzerland."
The team also lost Spaniard Ricardo Serrano, who abandoned mid-stage.
Cycling USADA's second most tested sport
The United States Anti-Doping Agency has tested cyclists 303 times out of competition and 21 times in competition, second in numbers only to track and field in the first quarter of 2009.
The agency performed a total of 1887 controls across all sports, with 70% of the tests overall coming out of competition. In cycling, only 6% of the domestic tests were performed at competitions.
The agency also announced an initiative, called "Game Plan 2012", which aims to "preserve, inspire, and protect true sport". The initiative will direct the agency's efforts over the next four years leading up to the London Olympic Games.
The four major goals of this plan are to foster leadership, support anti-doping research, improve client services and to "impart and inspire a commitment to the core principles of true sport".
Onza demo team to wow the crowds at BikeRadar Live
By BikeRadar
Onza distributors Moore Large & Co are bringing their trials demo team to BikeRadar Live at Donington Park next weekend.
The squad features some of the UK's top young talents, and riders confirmed for the show include UK elite champion Ben Savage, 2007 elite champ Joe Seddon and new signing Jack Meek.
Andrei Burton, who finished sixth in last season's UCI world rankings, will be on the mic rather than performing due to a torn ligament.
Onza's Joe Poyzer said: "It'll be a great introduction to trials. Drei does what's almost a tutorial, with Joe riding and him on the mic. He explains what trials is, how to do it, how to get into the sport, etc.
"We'll be doing displays throughout the weekend – whenever there's enough of a crowd by the Moore Large stand. We'll have one 20in and one 26in rider each day. They'll be doing the typical stuff, like dropping off 8ft high obstacles. Jack can do front flips on his trials bike now too."
Trials fans can also check out the Animal Relentless Bike Tour at BikeRadar Live, which will feature trials legend Martyn Ashton, street riding sensation Danny MacAskill and dirt jump star Sam Pilgrim.
About BikeRadar Live
BikeRadar Live is the biggest ever mass-participation cycling event to hit the UK, and will take place on the weekend of 30–31 May 2009 at Donington Park in Leicestershire.
The weekend will be packed full of races and challenges, with something for everyone, whether you want to compete, watch your friends and family or just check out some of the world's best riders.
For more information, visit the BikeRadar Live site.
Nashville's Soto Classic to serve as Junior Road Worlds Trials
The Soto Classic, May 30-31 in Nashville, Tennessee will serve as official US trials for the 2009 UCI Junior Road and Time Trial World Championship. The event's male and female winner for both the road race and time trial event will secure an automatic bid to the 2009 UCI Road and Time Trial World Championships set for August 7-15 in Moscow, Russia.
For more information on the Soto Classic visit the event's website at www.sotoclassic.com.
Close call for London mayor
London's mayor Boris Johnson learned first hand last week why bike paths are so important and riding in traffic so dangerous. While out riding with a group looking to establish bike paths, a truck hit and dragged a parked car, nearly tossing it into the group of cyclists. No one was hurt.
On the appropriately named Narrow Street, the truck's back doors swung open, caught a car and pulled it across the road for several yards before the truck came to a stop.
The mayor was underway on a regular scouting expedition for a possible "Cycle Super Highway" in the British capital. According to the London newspaper The Wharf, he said, "I am relieved that no-one was hurt, but this incident reinforces the need for us to make London's roads safer for cyclists, which I am determined to do and to make London the best city for cyclists in Europe."
The day's incident may still well have been on his mind when he added, "Cycle Super Highways, which are part of our record investment in cycling, will play a central role in this, providing clearly demarcated routes for cyclists that lorry drivers and others will be aware of."
Celebrate with Cyclingnews' Giro Sweepstakes
The centenary edition of the Giro d'Italia has started off with exciting finishes, beautiful terrain and great performances by the superstars of cycling. We're celebrating the Giro in the best way we know how - working the race to bring you daily race reports, photos, features and live coverage.
Thanks to our friends at BMC, you can share in the celebration - simply enter our BMC-Cyclingnews Giro d'Italia Sweepstakes for a chance to win.
One lucky Grand Prize winner will receive a BMC SLC01 Pro Machine road bike frame - the same frame ridden by the riders on the US-based BMC Racing Team - as well as an Assos-made BMC team jersey, cap and socks.
Enter the contest at http://contests.cyclingnews.com/BMCGiroDItalia.php. All you have to do is answer two questions and complete the entry form - you don't have to buy anything! Please only enter once and good luck!
Entries close May 31, 2009, at 11:59PM Pacific time.
Additional editorial assistance by Susan Westemeyer.
(All rights reserved/Copyright Future Publishing (Overseas) Limited 2009)