Latest Cycling News, May 20, 2009
Edited by Laura Weislo
Rogers limits losses before Giro time trial
By Gregor Brown in Pinerolo, Italy
Michael Rogers (Columbia-Highroad)
Photo ©: Mitch Clinton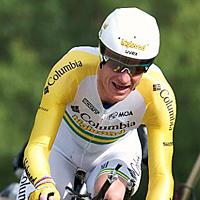 Australia's Michael Rogers lost precious time in the tense final kilometres of the Giro d'Italia's tenth stage on Tuesday. With a long time trial, his specialty, coming up on Thursday, Rogers hopes to turn those losses around.
On the 262-kilometre stage from Cuneo to Pinerolo, riders faced a steep climb followed by a tricky descent in the final 15 kilometres. Rogers ended up in a chase group 29 seconds behind stage winner and overall leader, Danilo Di Luca.
The Team Columbia-Highroad rider lost ground on the Pra' Martino climb, most importantly on Di Luca and Rabobank's Denis Menchov, who jumped ahead of Rogers on the general classification.
"Those guys just went full peg over the climb and the gap started to open up heading towards the finish," Rogers told Cyclingnews after the stage.
A strong chase with Lance Armstrong (Astana) pulled Rogers back to the group of Ivan Basso (Liquigas) and Levi Leipheimer (Astana), but they were not able to close the distance to Menchov, Carlos Sastre (Cervélo TestTeam) and Liquigas' Franco Pellizotti.
"It is hard to bring back such a gap once those guys started to work together," said Rogers. He finished 19 seconds behind Menchov's group and a further 10 seconds behind Di Luca.
With his 20 seconds in time bonuses for the stage win, Di Luca now leads the overall by 1:20 on Menchov and 1:33 on Rogers.
Rogers will have a chance to take back time and possibly take the overall leader's maglia rosa Thursday. Riders face a 60.6-kilometre time trial over Cinque Terre's technical roads.
Vande Velde's doctors find more fractures
Doctors of Garmin-Slipstream's Christian Vande Velde have uncovered more fractures caused by his crash in last week's Giro d'Italia stage three. What was thought to be a sprain in his back turned out to be three fractured vertebrae.
The breaks were found with additional imaging tests which uncovered the fractures on three "spinous processes" - the attachment point for muscles and ligaments in the back. Tests also revealed a cracked pelvis in addition to the two broken ribs which were revealed the day of the crash.
"Christian sustained a significant impact and the additional imaging results uncovered more fractures, which is not uncommon," said team physician Prentice Steffen. "The good news is, we now know the extent of his injuries and are working with him on his recovery. He just needs to take it day by day."
Vande Velde, who is targeting the Tour de France after coming close to a podium finish last year, is upbeat about his recuperation. "I feel better every day," he said. "I understand that it is going to take a lot of work to come back from this, but I'm feeling positive. It is too soon to say when I'll be racing again but I am incredibly motivated by my family, my team and our supporters."
Horner abandons after epic stage
Horner (R) has been at the side of his Astana teammate Levi Leipheimer
Photo ©: Roberto Bettini

American Chris Horner has featured in the finale of every mountain stage in the Giro d'Italia until Tuesday's tenth stage when a crash early in the race robbed him of his chance to continue the race. He did not start stage 11 due to a leg injury sustained in the fall the previous day.
The team's spokesman Philippe Maertens said that Horner could barely walk on the injured leg and did not want to jeopardize the rest of the season by attempting to race on it. He was diagnosed with a tear in the muscle on the back of leg below his knee, the tibialis, and will return to his home in Bend, Oregon.
Horner was 11th overall, 1:39 down on race leader Danilo Di Luca. He described the crash on his blog entry for Oregonlive.com before he decided to abandon.
"I was having a great day at that point. My legs felt great after the rest day, and I was excited to be part of such a cool stage. Things soon changed for me, unfortunately."
Two riders crashed in front of him on the descent after the first climb, and Horner ran into the hillside on the same shoulder he broke in the Vuelta a País Vasco in April.
"Since it has only been five and a half weeks since I broke it, it definitely hurt more than a little. I also hit my left knee when I went down."
Horner made the lead group as they began the final climb, but succumbed to the surge created by the attack of Franco Pellizotti and finished 25th on the stage.
"If I had hit any harder, I probably would be on my way home with another broken shoulder. So while it is easy to be frustrated at how unfair life can be at times, I am also grateful for the opportunity to race again tomorrow."
Team Columbia pays off for sponsors
By Gregor Brown in Pinerolo, Italy
Coming up on
Cyclingnews will cover the 60th edition of the Dauphiné Libéré live as of stage 4 on Wednesday, June 10, at approximately 15:00 local Europe time (CEST)/ 23:00 Australian time (CDT)/ 9:00 (USA East).

WAP-enabled mobile devices: http://live.cyclingnews.com/wap/

Team Columbia-Highroad's domination of the first week of this year's Giro d'Italia has provided the team's sponsors with valuable brand visibility. In the first 10 days of racing the team garnered four stage wins and three days in the race leader's maglia rosa. Coupled with the added attention to the race due to centenary edition and the presence of Lance Armstrong, the value on the team's press is staggering.

"This race has much bigger coverage than it did last year, I would say in the [leader's] jersey is worth around a million euro in advertising a day," the team's general manager, Bob Stapleton, told Cyclingnews.

The leader's jersey went to Columbia-Highroad after the opening day's stage on Venice's Lido. Columbia's Mark Cavendish led over the line in the team time trial and wore the maglia rosa for the following two days.

"It also worked at the Tour de France, we had all the jerseys at one point and we won six stages. That is the formula that fits the athletes we have and that is the game plan we have here, get the jersey early and do it whenever you can."

A second spell in the leader's jersey came at the top of San Martino di Castrozza, when Thomas Lövkvist finished seventh but gained enough time to move to the top of the classification standings.

Lövkvist lost time to the other classification favourites the next day, but Columbia went on to score three straight stage wins: Edvald Boasson Hagen (in Chiavenna), Kanstantsin Siutsou (Bergamo) and Cavendish (Milano).

"The team is built around these young talents, of 25 riders we have 16 that are 26 and under. The goal is to have bright new fresh faces and the future stars who come out of this team. We are stocked with the young talent of the sport."

Next on the team's radar is a win and the race leader's jersey in the time trial stage on Thursday. Michael Rogers is in striking distance to race leader Danilo Di Luca ahead of the 60.6-kilometre stage. Rogers is a triple world time trial champion and only 1:33 seconds behind in the classification.
Kirsipuu still winning
By Shane Stokes
Jaan Kirsipuu (Giant-Veolia) receives
Photo ©: Stephen McMahon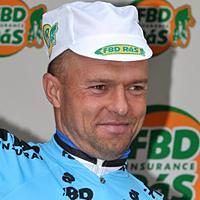 Five years after taking the last of his four Tour de France stage wins, Estonian rider Jaan Kirsipuu proved his passion for cycling is still alive when he grabbed victory on stage three of the FBD Rás in Cahirciveen.
Telling Cyclingnews after the stage that he is still racing for enjoyment, the 39-year-old bested far younger riders to snag the win on the hilly 188-kilometre stage. He rode strongly throughout the stage, bridging across to a dangerous breakaway and then pushing on ahead with seven others before the day's final climb.
At the finish, Kirsipuu beat former world track champion and Olympic medallist Chris Newton (Britain Rapha Condor), David McCann (Ireland National Team) and Brian Kenneally (Meath Engraveit.ie/BDBC) in a gallop to the to the line.
"I'm very happy to have the opportunity to race here again," said Kirsipuu. "I competed in the Tour de France when it started in Ireland in 1998 but didn't have a chance to see much of it then. I'm not racing with ProTour teams any more as I got tired of the constant pressure to win. Now I am enjoying the sport a lot more and travelling to countries that I didn't get to see much before."
Read the full report from the FBD Rás stage three.
Australians take two in Japan
Australian Leigh Howard (Team AIS )
Photo ©: Miwako Sasaki

The Australian Team AIS scored back-to-back stage wins at the Tour of Japan. Leigh Howard sprinted to his second win of the race on the 160.7km third stage in Mino, north of Nagoya. Jack Bobridge followed on the fourth stage with a victory from a small breakaway.
Howard's win moved him back into the lead of the points competition with 40 points. Kazakhstan's Valentin Iglinskiy pulled himself to within one point of Howard on stage four.
"I'm really going for the sprint jersey but realistically the next stage that will suit me is the final stage circuit in Tokyo," said Howard. "The job until then is to look after the boys (Matthews and Meyer) and stay out of trouble."
South Australia's Bobridge won a four-up sprint on stage four after being in a break away for more than 90 kilometres. Bobridge and Croatian Matija Kvasina (Amica Chips - Knauf) initiated the move and gained a maximum lead of almost five minutes before the Kazakhstan National Team nearly closed the gap down on the last climb. The chase allowed Spaniard Sergio Bellon Pardilla (Carmiooro - A Style) and Dmitriy Fofonov (Kazakhstan) to bridge across and pull the break clear again.
"It was pretty hard circuit," said Bobridge of the loop they covered 12 times. "The climb was in two parts, you went up for around a kilometre and then a little descent before the second half of the climb which was pretty steep.
"We could see from the time board that they (Fofonov and Pardilla) were coming but I just nailed it to get to the top before they caught us and then I just sat on them to recover a bit," said Bobridge. "I didn't have to work as I'd been away all day and both Fofonov and Pardilla were pretty keen to work hard to try and improve their overall standing.
"Pardilla went early to try and get the win and I jumped on him," said Bobridge. "The Amica guy (Kvasina) was on my wheel but I got around Pardilla and won fairly comfortably."
Team Director, Brian Stephens, says he didn't expect Jack to deliver the win. "He was away for more than 90 kilometres on a really, really hard course and I didn't think he'd have the legs to do the job on the line," said Stephens. "But if Jack gets a sniff of a win he seems to grow another leg."
"I think I picked right day to flog myself since tomorrow's a rest day," said a happy but exhausted Bobridge.
Young racers shine in Boulder
By Bruce Hildenbrand
A bit of history met the next generation at the Excel Sports Boulder North Boulder Park Criterium held Sunday May 18th. Back in the 1970s and 1980s the Red Zinger and Coors Classic used the North Boulder Park venue to showcase and launch the careers of such racing icons as Davis Phinney, Andy Hampsten and Steve Bauer. While Ian MacGregor (Team Type 1) and Gina Grain (Webcor Builders) won the professional events, it was the youngsters who stole the show at the 2009 edition of the race.
13-year old Michael Dessau of Jonathan Vaughters' Team 5280 development squad was clearly the class of the field in the Men's Category 4 event grabbing a number of primes and ultimately outsprinting riders over twice his age to take the victory. Not to be outdone, 15-year old Yannick Eckmann (Team 5280) soloed off the front halfway into the 60-minute Men's Category 3 race and held off the entire field for a very convincing win. Yannick's 17-year old brother, Robin (also with Team 5280), finished 6th in the Senior 1/2/Pro race.
On the women's side, 16-year-old Maddie Godby (Rocky Mounts/Izze Racing) won the Category 4 race. Her 14-year old brother, Zane (Team 5280), was third in the Men's Category 4 race behind Dessau.
Boulder and the Colorado Front Range has had a long history of producing 'Senior Slayers'. Current phenomena Taylor Phinney, Peter Stetina and Danny Summerhill have all recently distinguished themselves on the world and national stage. It appears the supply chain is well-stocked with a fresh crop of riders to keep the flow of talent going strong.
Celebrate with Cyclingnews' Giro Sweepstakes
The centenary edition of the Giro d'Italia has started off with exciting finishes, beautiful terrain and great performances by the superstars of cycling. We're celebrating the Giro in the best way we know how - working the race to bring you daily race reports, photos, features and live coverage.
Thanks to our friends at BMC, you can share in the celebration - simply enter our BMC-Cyclingnews Giro d'Italia Sweepstakes for a chance to win.
One lucky Grand Prize winner will receive a BMC SLC01 Pro Machine road bike frame - the same frame ridden by the riders on the US-based BMC Racing Team - as well as an Assos-made BMC team jersey, cap and socks.
Enter the contest at http://contests.cyclingnews.com/BMCGiroDItalia.php. All you have to do is answer two questions and complete the entry form - you don't have to buy anything! Please only enter once and good luck!
Entries close May 31, 2009 at 11:59PM Pacific time.
(All rights reserved/Copyright Future Publishing (Overseas) Limited 2009)