First Edition Cycling News, April 20, 2009
Edited by Peter Hymas
Pound: Armstrong was wrong
By Shane Stokes
Richard Pound weighs in on Armstrong
Photo ©: AFP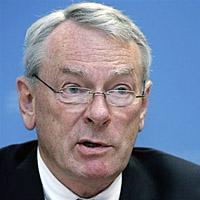 Former World Anti-Doping Agency (WADA) Chairman Richard Pound has given his opinion on the Lance Armstrong - AFLD situation, saying that the American is aware of the rules and that he was wrong to disappear from the tester's sight for a period of time.
"I think it is pretty clear. If you are selected for testing, you have to be chaperoned from the time you are notified until the time you provide the sample," he told Cyclingnews in recent days. "Lance, who calls himself the world's most tested athlete, certainly knows that. Yet on some kind of pretext that they didn't recognise the tester - or whatever it was - his manager stays down with him while Lance disappears for half an hour. That is totally contrary to the rules."
The test was taken on March 17th in the South of France. The AFLD announced on April 9th that it was considering sanctioning Armstrong, and will announce the outcome next month.
Since the situation was made public, certain elements of the media - plus a large proportion of Armstrong's fans - have said that the incident was blown out of all proportion. The Texan has furthered the notion that this is much ado about nothing, playing on anti-French sentiment which built up in the US before the second Gulf War, and suggesting that this is simply sour grapes on the part of that nation.
Pound doesn't agree. Leaving the sight of a tester [or appointed chaperone] once an athlete has been notified of a test runs contrary to article 5.4.1 of the World Anti-Doping Agency's International Standard of Testing. He is clear that if an athlete wanted to defraud an anti-doping examination, half an hour would provide ample opportunity to do so.
"You can catherise [using clean urine - ed.], you can drink tons and tons of water, you can do all sorts of things to spoil or affect the test. So that is exactly why you have this rule," he said.
"There are just too many things that can happen that can affect the integrity of the test. That is why the rule is very clear - you must be chaperoned. And anybody who has been tested before knows that.
"So to still leave the proximity of the tester knowing that point....well, I can see why the AFLD is saying 'hey, wait a minute, that's either a missed test or a refusal or something.' You can't trust the test [results] in that case."
In terms of a possible sanction, Pound said that it depends on what charge the AFLD levies against the rider. "If it counts as a refusal, that is the same as a positive test. If it just counts as a missed test, then three of them in the space of 18 months would count as a positive as well.
"Initially it is the AFLD which makes that distinction. If they see it as a refusal and call for sanctions, then I guess there would be an appeal process triggered. We will see what happens in that case."
Cyclingnews will feature an extensive interview this week with Richard Pound. Come back soon for his thoughts on Armstrong's return, the biological passport, Operación Puerto plus the general anti-doping fight.
Cunego sees Amstel slip away
By Gregor Brown in Valkenburg, The Netherlands
Damiano Cunego was unable to repeat at Amstel
Photo ©: Elmar Krings

The Amstel Gold Race slipped out of Damiano Cunego's hands just 10 kilometres prior to the arrival in Valkenburg, Netherlands. The defending champion was present throughout the 257.8-kilometre race Sunday, but the winning move of Serguei Ivanov (Katusha) surprised him.
"Ivanov made the move with Karsten Kroon and Robert Gesink and we waited too long to bring them back. We were going hard, I thought for a moment we were going to get them at the base of the Cauberg, but things slowed for a minute and we lost precious seconds," Cunego said after the race.
Gesink (Rabobank) went clear after the top of Keutenberg, joined by Katusha's Ivanov and Saxo Bank's Kroon. The move was touch and go, gaining up to 20 seconds on the favourites' group. It reached the final climb to the finish, the Cauberg, with the favourites in sight.
"It is too bad because I was there in case they pulled him back. I was ready to go.
"With these races, like Amstel, if a group attacks in one way maybe they get caught, but if they go in another way, like today, maybe they get away."
Cunego won the race last year - his first time racing Amstel - after he made the elite nine-man winning move 12 kilometres from the finish. He out-sprinted Fränk Schleck for the win.
Lampre signed ace Enrico Gasparotto over the winter to help Cunego this year. Cunego's new Italian teammate fought impressively with the favourites and made an elite move of six in the final 25 kilometres.
"I was happy, but I wish there were some of my teammates to do the work I was doing so I could stay in the group and then help Damiano better," Gasparotto told Cyclingnews.
Cunego will re-focus and re-group his men for the following two of three Ardennes Classics: Flèche Wallonne on Wednesday and Liège-Bastogne-Liège on Sunday. He misses wins at both races in his palmarès, but has already placed third in each of the two.
"Liège is the most beautiful and not very difficult to interpret. It is so hard with its longer climbs, which makes the selection naturally. I need to take it with calmness because when I race that way I win."
For more on Cunego read Cunego returns for Ardennes rush.
Amstel: Gerrans shines on Keutenberg
By Gregor Brown in Valkenburg, The Netherlands
Simon Gerrans (Cervélo TestTeam)
Photo ©: Gregor Brown
Cervélo TestTeam's Simon Gerrans shined for all to see in the finale of the Amstel Gold Race on Sunday in The Netherlands. The Aussie led the charge in response to Roman Kreuziger's on the Keutenberg, the penultimate climb of the 257.8-kilometre race, but missed the winning move by Serguei Ivanov.
"I could have done much more than what I did in the finish. It is always a bit of gamble whether or not you try to follow some of those late moves," Gerrans told Cyclingnews.
A six-man move animated the race until the Geulhemmerweg climb at 185 kilometres. Gerrans played a bit of poker by marking the favourites over the following climbs and a series of counter attacks. He showed his cards when he led the chase of Kreuziger (Liquigas) on the Keutenberg.
Gerrans made the elite selection of some 20 men, but did not have a response to Robert Gesink (Rabobank). He fired off after the top of Keutenberg to form the winning move with Ivanov (Katusha) and Karsten Kroon (Saxo Bank).
"I did what I could and I am happy with the race. ... I just missed the move with Ivanov, but you can't cover them all."
Gerrans closed the day in seventh behind Ivanov, Kroon, Gesink, Philippe Gilbert (Silence-Lotto), 2008 winner Damiano Cunego (Lampre-NGC) and Alexandr Kolobnev (Saxo Bank). It was his best place in the Dutch one-day classic. He finished 12th in 2008 and 37th in 2007.
The Tour de France stage winner now hopes for success in the following two of the three Ardennes Classics: Flèche Wallonne on Wednesday and Liège-Bastogne-Liège on Sunday.
Schleck and Lloyd seriously injured in Amstel crash
By Brecht Decaluwé in Valkenburg, The Netherlands
Fränk Schleck's Amstel didn't go as planned
Photo ©: Elmar Krings

The Ardennes offensive of Luxemburger Fränk Schleck (Saxo Bank), winner of the Amstel Gold Race in 2006, and Australian Matthew Lloyd (Silence-Lotto) was abruptly stopped due to a crash 73 kilometres from the finish line in Valkenburg. Both riders received treatment on location and were then brought to the hospital in Maastricht.
While Oscar Freire was attacking the peloton when riding up the Geulhemmerweg, the 22nd climb of the day on the bumpy, twisting and turning course, a crash occurred at the back of the peloton. Followers in the cars barely managed to avoid running into Johnny Hoogerland, Schleck and Lloyd who were lying on the road.
Hoogerland could continue the race but the two other riders were seriously injured. Lloyd was clearly in a lot of pain, lying on the right hand side of the road while Schleck wasn't moving, lying in an unnatural position with his leg through his frame and blood on his head.
Medical assistance quickly arrived and Bjarne Riis - the Saxo Bank general manager - quickly ran towards his rider and checked on him. "It looks bad but he's ok. He hit his head on the ground. They're not taking any risks now," Riis said to the Dutch TV.
The team's PR man later said Schleck had been unconscious at first. "He has at least a minor concussion and we're doing more scans tonight," Brian Nygaard told Cyclingnews.
Schleck himself called Karsten Kroon on the phone after the race congratulating him with his performance. "He told me he was ok but he didn't sound well; at least he's still alive. We missed him in the finale and hopefully he'll be back in Flèche Wallonne and Liège-Bastogne-Liège," Kroon said.
The doctor of the Silence-Lotto team said that Matthew Lloyd's sacrum and pelvis were affected by the crash. "If it's only his sacrum it'll still take a couple of weeks, but I still have to see the scans to be sure about that," the team's doctor said. "We haven't been spared from bad luck recently and I just heard that Gorik Gardeyn - who just returned from injury - crashed and hurt his knee at the sprint in the Tour of Turkey today."
Theo Bos enjoys Turkish landscapes and road racing
By Jean-François Quénet in Antalya
Theo Bos talked about his switch to road racing
Photo ©: JF Quenet
Former track champion Theo Bos hasn't put pressure on himself for results at every road race he takes part in this year. Therefore, he's not disappointed at not having made a podium finish in seven stages at the Presidential Tour of Turkey, unlike two weeks before at the Settimana Lombarda.
"For me it's a period to gain experience," he said. "I've given myself one year to see what I can do and what I can't do on the road."
The Dutchman is on a one-year contract with the Rabobank Continental team. His aim is to become a sprinter at the Tour de France but he rules out the idea of competing against the likes of Mark Cavendish and Tom Boonen at the 300-kilometre long Milano-Sanremo one day. "Compared to these guys, I've lost seven years of endurance training," he reckoned.
Since he decided to switch to road racing after failing to become the Olympic champion for the individual sprint in Beijing, the 25-year-old has lost eight kilos. "But I'm still pretty fast," he suggested. "Last week I went training on the track with my former teammates of the Dutch national team and I was happy with my times. In the flying sprint, I was at the same level as before."
Shall he struggle to become a star on the road as he was on the velodrome, Bos intends to go back to his former specialty for the 2012 Olympics in London. The challenge he set for himself is huge as the efforts are totally different.
"Track cycling is actually very difficult for the head," Bos explained while watching the blue Mediterranean Sea under the Turkish sun. "You have periods of two or three months without any competition and twice a day you have to go training indoors and you don't meet anybody else other than the same five people you work with," he described. "I didn't see myself doing that for another four years before the next Olympics. I'm very happy to do what I'm doing now. Racing for one week in Turkey is a breath of fresh air."
He was on the offensive during stage one in Istanbul and has been more discreet after that. "It's a pretty difficult race," he said. "Even the flat stages aren't totally flat. I'm very happy with my efforts here. I've improved a lot. I recover very well. I've been in difficulty sometimes but never alone at the back of the bunch.
"It comes perfectly in my plans. Maybe I'll do too many races this year but along the way I'm confident that I'll prove myself as a road cyclist," said Bos. If not, he won't be lost from cycling as the track still appeals to him as well.
Andy Schleck prevails despite brother's serious crash
By Gregor Brown in Valkenburg, the Netherlands
Andy Schleck rode to his best ever finish at Amstel
Photo ©: Elmar Krings

Andy Schleck kept cool under the pressure of attacks and the news of his brother's serious crash to fight for the win in the Amstel Gold Race on Sunday in The Netherlands. The Team Saxo Bank Luxemburger formed a key escape group in the final 28 kilometres and remained with the favourites to finish 10th for the day.
"I heard that he crashed and that he went to the hospital. It was on my mind, of course, but I tried to be professional to the end of the race for the best result possible," he told Cyclingnews.
Schleck's older brother and 2006 race winner, Fränk, crashed at kilometre 184. Medics took the Luxembourg Champion away on a stretcher in what fortunately looked more serious than early results indicate.
"I think he will be fine and back in the hotel tonight, so it's not too bad. I heard he is doing well."
Andy Schleck went on to animate the race on the Gulperberg, number 26 of the day's 31 climbs. He pulled in Dries Devenyns (Quick Step) to form a six-man move that included Roman Kreuziger (Liquigas) and Enrico Gasparotto (Lampre-NGC).
"I was the first one who attacked on the top of the Gulperberg. I almost went away later, but Philippe Gilbert closed it down behind me. Then Serguei Ivanov went with Karsten [Saxo Bank's Karsten Kroon], which was a good move. There was no question for us behind: our team had to break the rhythm so they could make it to the end."
Kroon stayed clear over the following 8.5 kilometres with Ivanov (Katusha) and Robert Gesink (Rabobank). Kroon and Ivanov dropped Gesink midway up the Cauberg, but Kroon lacked a response to the Russian's winning surge.
Schleck's 10th-place finish was his best ever in Amstel. He finished 73rd and 93rd in the last two years, respectively. He will help lead the team in the next two Ardennes Classics, Flèche Wallonne and Liège-Bastogne-Liège.
Tour of Turkey champion seriously injured
Patrick Calcagni helped Darryl Impey reach the finish line.
Photo ©: Presidential Cycling Tour
Daryl Impey won the 45th Presidential Tour of Turkey but he didn't enjoy the post-race celebrations due to injuries suffered in a crash with 800 metres to go of the final stage. Impey remained on the ground for 20 minutes before getting back on his bike to cross the finish line.
He was taken to the hospital in Alanya where the doctors reported a fracture of the third disc of his lumbar vertebra, a micro-fracture of his neck, facial trauma, a few broken teeth and a deep cut in his lips.
Impey will remain in the hospital under observation for 24 hours.
"We were hoping for a different kind of victory celebration and Daryl's crash has left us stunned," said Barloworld Directeur Sportif Alberto Volpi.
Impey's remaining four teammates Paolo Longo Borghini, Diego Caccia, Giampaolo Cheula and Patrick Calcagni and his directeur sportif Alberto Volpi went on stage to receive the yellow and green jerseys on his behalf.
"It was a nasty sprint," Longo Borghini explained. "There wasn't any respect for anybody. Some riders tried to pass where there was no space for it.
"We're really sorry for Daryl," continued Longo Borghini. "He deserved to climb on the winner's podium and celebrate with us. The important thing is that he managed to finish the race and win."
Leipheimer to race Gila?
By Kirsten Robbins
Will Levi Leipheimer race the Tour of the Gila?
Photo ©: Mitch Clinton

Talk of Astana's participation in America's Tour of the Gila might become a reality. The five-day stage race is scheduled to begin on Tuesday, April 29 in Silver City, New Mexico. Levi Leipheimer told Cyclingnews regarding his own appearance, "It's possible, but not for sure."
Talk about Astana's marquee American riders Lance Armstrong, Chris Horner and Levi Leipheimer making an appearance at the Tour of the Gila began circulating last month. The event conflicts with the team's scheduled European event at the Tour of Romandie, of which the three Americans are not registered.
"It would be cool to ride Gila," said Leipheimer, who recently won local California races Sea Otter Classic and Copperopolis. "I've done it before once and I love the desert. I'm not sure if we can do it, there are other races in Europe we might ride to prepare for the Giro d'Italia."
Although the Tour of the Gila is promising, Astana Press Officer Philippe Maertens could not confirm their attendance. "Lance has not made any decision on his plans between Castilla y León and the Giro d' Italia. We, too, have to wait. Chris Horner is scheduled for the Classics so it would surprise me if he will fly to New Mexico."
Tour of the Gila's event director Jack Brennan increased the men's field limit to 175 competitors, the biggest field in the history of the event. Brennan noted that while Astana has not registered yet, he would love to have them.
Tour of the Gila bigger than ever
By Kirsten Robbins
Two months ago the 23rd Tour of the Gila was about to be cancelled, now it is bigger than ever. According to Jack Brennan, event director, the event has grown ten-fold thanks to public donations and a new title sponsor in SRAM.
"It will be the biggest year we've ever seen and the strongest," Brennan said. "We were literally two days away form canceling the event and it turned around so quickly. I've never seen something turn a a dime like this did. I don't know if we are blessed or if all the stars lined up, but this is amazing."
The event started to receive public donations in February when word of it's cancellation got out. SRAM signed on board as the event's title sponsor shortly after. "We raised money locally and people in and outside the state have donated money," Brennan said. "People have followed our race for a number of years. SRAM said it was a quality race and they wanted to come on board. I was really surprised to see people stepping forward and helping, especially in the hard economic times. You don't really appreciate how good it is until you think it might not be around."
USA Cycling permitted Brennan to increase the professional men's field limit to 175 riders. Confirmed teams include Bissell, BMC, Colavita-Sutter Home, California Giant Berry Farms, Ciclismo Racing, Fly V Australia, Garmin-Holoweski Partners-Felt, Kelly Benefit Strategies, Landover Orbea, Planet Energy, Ride Clean, Rock Racing, Team Type 1, Rio Grand, Ten Speed Drive, Trek Livestrong, Warp Nine Bikes and DLP.
On the women's side, former world time trial champion Kristin Armstrong will compete under the support of Michael Engleman's and the US Women's Cycling Development Program. Armstrong will no doubt want to capture another Tour of the Gila title. Confirmed teams include Colavita-Sutter Home, Colorado Bike Law, DRT p/b Treads, Specialized DFW, Team Lip Smackers, Touchstone Climbing, Value Act Capital and Webcor-Builders.
Rock Racing downsizing
By Kirsten Robbins
Michael Ball is feeling the economic pinch
Photo ©: Roberto Bettini

Michael Creed, Chris Baldwin and Cesar Grajales were recently let go from the Rock Racing team due to financial cut backs. According to team owner Michael Ball, "those three riders had the highest paid salaries on the amateur team and I could not afford to keep them. It's not personal."
Creed, Baldwin and Grajales already had their contracts reduced from Rock Racing's professional team to its amateur counterpart in January.
Creed cited being fired due to a lack of performance. "There must be a misunderstanding," Ball said. "This is a company and we do things by the book within our human resources. I have not gone against any of their contracts. We are within all our rights to do what we are doing."
Ball stated he would like to bring all three back should the team find a new sponsor. "This was a hard decision to make and I have the utmost respect for those riders because they are all talented," Ball said. "It's not something they wanted to hear but it's reality. These are tough economic conditions."
"Short of eliminating the entire team, I had to make this tough decision," he continued. "It was a priority choice as to where the money was going every month. I'm trying to give the A-team the most support possible."
According to Ball, the team needed to tighten the belt while they search for a new sponsor. He would not comment further on the details of a new sponsor except to say that he has had some success. "Prospects for a sponsor is a yes," Ball said. "Hopefully we can announce something in a month or two. Let's just say the conversations are ongoing and very positive."
Lange accepts two-year suspension for positive test
The U.S. Anti-Doping Agency (USADA) has announced that Michael Lange has accepted a two-year suspension due to a positive drug test while competing at the 2008 Tour of Qinghai Lake in China. Lange tested positive for strychnine, a stimulant, as a result of a urine test carried out on July 15, 2008 during the Tour of Qinghai Lake.
While the 25-year-old Lange tested positive and has accepted the penalty for the violation, no facts were revealed that he intentionally ingested strychnine, according to a statement from USADA.
Lange's suspension began on August 4, 2008 in accordance with the rules for a first offense. He is also disqualified from all competitive results obtained on and since July 15, 2008, the day the sample was collected, including forfeiture of any medals, points and prizes.
Lange competed for the Jelly Belly Cycling Team in 2008, his fifth year of racing professionally.
(All rights reserved/Copyright Future Publishing (Overseas) Limited 2009)