First Edition Cycling News, April 19, 2009
Edited by Peter Hymas
Schleck banks on Amstel experience
By Gregor Brown Maastricht, The Netherlands
Fränk Schleck (Team Saxo Bank) is confident
Photo ©: Brecht Decaluwé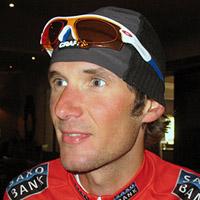 Fränk Schleck expects the experience gained in racing the Amstel Gold Race will pay dividends when he attempts a second win in the Dutch one-day Classic on Sunday. The Saxo Bank Luxembourger finished in the top 10 in the last three years, including a near miss to Italy's Damiano Cunego last year.
"You need to do this race two or three times before you can win, despite what Cunego showed us last year: winning in his first try," Schleck said to Cyclingnews.
Schleck finished 100th in 2003, 66th in 2004 and 97th in 2005 before he secured a win in the beer company-sponsored race in 2006. That year, under heavy fog and mist, he attacked solo 10 kilometres before the finish in Valkenburg.
"I prefer to finish the race like I did three years ago, it is better and you have more time to enjoy it. Especially for me, I am always in trouble when it comes to a sprint."
Cunego provided trouble for Schleck last year. He easily out-sprinted his rival on the final ascent of the Cauberg. However, this year Schleck wants to strike back. His stage win in the Tour of California and second overall in Paris-Nice indicated that he has had a good winter's preparation.
Coming up on
Cyclingnews will cover the 60th edition of the Dauphiné Libéré live as of stage 4 on Wednesday, June 10, at approximately 15:00 local Europe time (CEST)/ 23:00 Australian time (CDT)/ 9:00 (USA East).

WAP-enabled mobile devices: http://live.cyclingnews.com/wap/

"It is going to be hard, this race is really tactical. It is hard to win it as soon as the others know you are the strongest, which I was last year. It will be the same problem tomorrow, if I am the strongest."
Schleck polished off his form earlier this month in Spain. He rode the País Vasco stage race (but pulled out before stage five due to a slight flu) and finished 11th in the Klasika Primavera.
"I felt really good there [in Klasika Primavera]: I attacked on the last climb, I dropped everyone and they only caught me at one kilometre to go."
Schleck will have strong Saxo Bank support over the 258.6 kilometres of Amstel Gold from younger bother Andy and Dutch teammate Karsten Kroon.
Wegmann finally in the role of leader
By Brecht Decaluwé in Maastricht, The Netherlands
Fabian Wegmann is aiming for an Amstel Gold Race podium finish.
Photo ©: Gregor Brown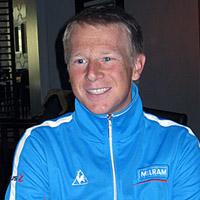 At the start of the 44th edition of the Amstel Gold Race the Milram team holds one of the dark horses for the win, German champion Fabian Wegmann. The 28-year-old German often had a good run during the Ardennes Classics and on Saturday he expressed his desire to finally crack the podium at the Amstel Gold Race to Cyclingnews.
Wegmann has been building up a lot of experience during previous editions of the Amstel Gold Race and he believes he's now ready to take a step up. "I've ridden this race about seven times now and I know you have to be at the front of the race during the last 50 kilometers," Wegmann said.
During previous editions he never came close to victory in the Amstel Gold Race. "In the past I often rode in support of Stefan Schumacher and Davide Rebellin which helped to make up for the lack of a top result; I never really lost the race as I often was part of the winning team," Wegmann said to Cyclingnews while talking at the Milram team's hotel in Lanaken, Belgium.
With Schumacher not being allowed to race after his Tour de Farce in 2008, and Rebellin having moved to another team, Wegmann finally has the opportunity to race for the win himself. "That's true, this year I am the team's leader and I'll be supported by a strong team. We have Linus [Gerdemann], but also Johannes Fröhlinger, and Christian Knees who's going really well this year. Their job is to save energy so they can still be present in the finale, and of course we need to have somebody in the early breakaway if there's one. I'm not supposed to be there as recent years showed that breakaways seldom make it to the finish," Wegmann said.
Despite featuring at the front several times this season the blond German hasn't been able to capture a win so far. The German explained he's not giving up on that quest yet. "This year I already had some good races. I cracked the top-3 three times this season. I finished second in [Montepaschi] Eroica, third in the GP Indurain and third in the Brabantse Pijl where I led out the sprint and maybe I shouldn't have done that," Wegmann related.
When asked whether he should rely on his sprint capabilities for an uphill sprint on the Cauberg or in a breakaway attempt, Wegmann showed confidence. "If I arrive in a group on the Cauberg I'm capable of beating guys like Cunego, Rebellin and Schleck but much depends on my form on the day. You also have to look at the faces of the other riders but some can fake well; I'm good at it too but hey, you have to try," Wegmann - who often is spotted looking desperate - said.
The man from Freiburg no longer wants to be the rider who opens the race with a good attack, but falls short at the finish line. "The last few years have taught me that I can battle along for the win over here but I'm lacking a good result. This season I'm targeting the podium at one of these three races. I prefer a top-3 over a good race without result. Then again, I prefer to battle hard for the win rather than finishing fifth in a group sprint," Wegmann said.
When asked which Ardennes race he prefers the likable rider opted for Liège-Bastogne-Liège, although it was clear he wouldn't be too picky should the opportunity arise in the Amstel Gold Race or Flèche Wallonne. "Liège is obviously the biggest one. Then again, I came close in the Flèche [Wallonne] last year and was only caught back in the final kilometer, and I can come close in Amstel as well..."
Nibali wants Schleck-styled Amstel win
By Gregor Brown Maastricht, The Netherlands
Vincenzo Nibali (Liquigas)
Photo ©: Roberto Bettini

Vincenzo Nibali believes his chance to win Amstel Gold on Sunday is to launch a long solo attack from far out. The Liquigas Italian comes to the Dutch one-day Classic as a top favourite after racing in Spain last week.
"To win is very difficult, it would be good to make a nice attack like Fränk Schleck did three years ago, something like 20 kilometres out," he said to Cyclingnews.
Nibali, 24 years old, is one of the new faces in cycling, but he proved he can battle with the big-named riders in last year's Tour de France. He is once again building for the Tour de France, but with a focus on this week's Ardennes Classics: Amstel Gold, Flèche Wallonne and Liège-Bastogne-Liège.
He just finished a week's worth of racing in Spain with the six-stage País Vasco and the one-day Klasika Primavera. In País Vasco, he finished ninth overall and in the top 10 on two stages.
"It would have been better to win, for sure, but I am always up front and I am going strong. This is important, to be at the front for the battle.
"I have raced Amstel and Flèche two times, whereas Liège I have done almost every year, five times. I know the roads pretty well, plus many times I have done the Benelux Tour, which uses a lot of the same roads."
Nibali will be up against riders with many more years of experience and some with past wins in their palmarès, like Davide Rebellin (Diquigiovanni), Alejandro Valverde (Caisse d'Epargne), Damiano Cunego (Lampre-NGC) and Schleck.
"Don't forget Cadel Evans, he is very strong, also Samuel Sánchez looked very good in País Vasco. Valverde did not race País Vasco and won Klasika Primavera, but he was not his normal brilliant self. They are strong adversaries, though, and if I arrive in a sprint with Valverde or Rebellin then I am in trouble. I have to try to anticipate the others."
Nibali will have help from co-captain Roman Kreuziger for Amstel and Wednesday's Flèche Wallonne. Ivan Basso and Franco Pellizotti arrive for next Sunday's Liège-Bastogne-Liège, but Nibali hopes to still have his chances in the most famous of the three Ardennes Classics.
Versatile Van Summeren in the spotlight
By Brecht Decaluwé in Maastricht, The Netherlands
Johan Van Summeren (Silence-Lotto) in action at Paris-Roubaix
Photo ©: ISPA

Belgian giant Johan Van Summeren stepped into the spotlight one week ago during Paris-Roubaix when he featured in the elite group of six riders that hit the cobbles of the Carrefour de l'Arbre. The Silence-Lotto rider barely avoided crashing into Juan Antonio Flecha by pulling off a slick 180° slide that ruined his chances since compatriot Tom Boonen was pulling away in the meantime.
While Belgians have mostly been absent from the front of the Amstel Gold Race during recent editions, Van Summeren always performed well in The Netherlands: winning the combativity prize Herman Krott in 2005 for spending 185km at the front, finishing 18th in 2007 and last year he even attacked the favorites on the famous Eyserbosweg climb.
"The Eyserbosweg is the place where Boogerd usually attacked and last year I was the one who did it there," Van Summeren said.
"A few moments later on the Keutenberg I was at the wrong end of the group when the decisive attack was launched. I waited for Schumacher to respond to the attack but he didn't have it in him that day. It was too late for me because if I'm not directly following those guys I'm lost. I'm big and very skinny so I don't have that explosive ability some others have," Van Summeren explained.
Few riders are tackling both Paris-Roubaix and the Amstel Gold Race like Van Summeren. Sylvain Chavanel - another top performer in Paris-Roubaix - is trying the same thing and it will be interesting to see how both riders perform on Sunday. Van Summeren realizes that thanks to his versatility he is capable of having a good shot at both races. "I'm an all-round rider. I can battle along in almost every Spring Classic and I'm also going well uphill. There's a downside to that versatility as well since I'm not the top specialist for one specific type of racing," Van Summeren said.
The 28 year-old rider won the U23 Liège-Bastogne-Liège in 2003 and so he knew he could do well in the Ardennes. However, after finishing Paris-Roubaix eighth in 2008 and fifth this year, it becomes clear that Van Summeren is also a man for the cobbles.
"I never rode the U23 Paris-Roubaix so I didn't know how good I was at it. After going well in 2008 I was super motivated to do well in Paris-Roubaix this year and that's why I was so nervous at the start," Van Summeren said, referring to last week when Cyclingnews spotted an extremely nervous Belgian at the start in Compiègne. "You can't live up to every race in that way.
"I was also highly motivated for the Ronde van Vlaanderen but we didn't have much luck there. In Paris-Roubaix I was going well and it pleased me that I could show I'm one of the top guys for this race. The outcome was unlucky but Tom was extremely strong anyway. Even if we would've stayed together I don't have the weapon of a good sprint that he has," Van Summeren said.
The Silence-Lotto rider is still in search of a weapon that can lead him to victory in one of the Spring Classics. "For instance in Amstel I need to come up with a plan that allows me to win the race. Then again, during the race you're nothing with a thousand plans if you don't have the intuition to go at the right moment," Van Summeren said.
Look out for the strong Belgian - riding his last race before taking a break - who will be joining an impressive Silence-Lotto line-up that includes Philippe Gilbert, Jurgen Van Den Broeck, Cadel Evans, Matthew Lloyd and local favorite Thomas Dekker who will all be hunting for the spark that's been missing out at the Belgian team so far this season.
Davis targets Amstel
By Gregor Brown Maastricht, The Netherlands
Allan Davis (Quick Step)
Photo ©: Tom De Meyer
Aussie fast man Allan Davis is aiming for what would be the biggest one-day race win of his career, the Amstel Gold Race this Sunday. He is one of three Quick Step riders who will have his chance over the 258.6 kilometres of racing near Maastricht, Netherlands.
"I am targeting this race. It is one of the Ardennes Classics where I have a chance. Usually I am in there with the small groups that make it over the type of small climbs that we will face tomorrow," he said to Cyclingnews.
Davis has had a great start to his 2009 season thanks to three stage wins and the overall victory of the Tour Down Under. He continued his run of good form in Milano-Sanremo last month with a fourth place behind winner Mark Cavendish (Columbia-Highroad).
The only hitch came in a crash towards the end of the Belgian Classic Scheldeprijs Wednesday. Davis was part of a mass pile up on the 1700-metre Broekstraat cobble sector.
"My hand and wrist seem to be doing okay after my crash. I guess I was lucky I went down in that crash or I would have been involved in the crash with Tom [Boonen] in the finale."
Davis is one of Quick Step's three cards to play with Frenchmen Sylvain Chavanel and Jérôme Pineau. They will be joined by Carlos Barredo, Dario Cataldo, Dries Devenyns, Addy Engels and Francesco Reda.
Meares nominated for Laureus World Sports Award
Anna Meares overcame a broken neck to win an Olympic medal in Beijing.
Photo ©: Casey Gibson

Australian Anna Meares has been nominated for a 2009 Laureus World Sports Award in the category of World Comeback of the Year.
Meares, a multiple world champion and Olympic medalist on the track, suffered a life-threatening injury at the 2008 UCI Track World Cup in Los Angeles, but returned later in the year to earn a silver medal at the Beijing Olympics in the women's sprint.
The Laureus World Sports Awards is the premier global sports awards honouring the greatest sportsmen and women across all sports each year, according to the event's website. A selection panel of the world's leading sports editors, writers and broadcasters vote to create a shortlist of six nominations in each of five categories: World Sportsman of the Year, World Sportswoman of the Year, World Team of the Year, World Breakthrough of the Year and World Comeback of the Year.
The five other athletes nominated in the World Comeback of the Year category include Ukrainian boxer Vitali Klitschko, Australian golfer Greg Norman, German weightlifter Matthias Steiner, Dutch open water swimmer Maarten van der Weijden and American golfer Tiger Woods.
Omnium returns to Sea Otter
By Sue George in Monterey, California
Omnium racing is returning to Sea Otter this weekend with the endurance mountain bike events. US Cup series organizer Sho/Air Specialized is offering the "Dash for Cash Omnium" which will be determined from a combination of the short track on Saturday and the cross country on Sunday. The Super D, held Friday, is not included.
"We've weighted cross country a little more heavily than the short track," said US Cup and ProXCT Marketing Director Ty Kady. "For example, the cross country win is worth 20 points while the short track win is worth 15 points."
Each of the men's and women's winners will win US$500. The winner will be based on the combined scores from the two races.
"It's a winner-take-all scenario," said Kady. "We got some feedback from the racers here about this weekend, and so we put this omnium together thanks to some on-site sponsorship from Specialized.
"This will add something for the spectators to watch and follow for the weekend," said Kady.
The Sea Otter Classic, which this year is serving as round four (of six) of the US Cup West, a western US regional series, and round two (of seven) of the US ProXCT, a US National Series, has in some past years hosted stage races and omniums including variously super Ds, marathons, cross country races and short tracks.
US national short track series expands
By Sue George in Monterey, California
The US national short track series held in conjunction with some rounds of the US Professional Cross Country Tour (ProXCT) mountain bike series is being expanded from three to five events.
Round one of the TrailWatch.net USA Cycling Pro XCT Short Track Series kicked off Saturday at the Sea Otter Classic in Monterey, California. Other contests to follow will include the Sand Creek International Classic in Colorado, the Mount Snow Shoot Out in Vermont, the Yankee Clipper at Windham Mountain, New York, and the Pro XCT Finals in Las Vegas, Nevada. The Mount Snow and Sand Creek venues are the two additions to the original three-race series.
Rankings will be compiled for the short track separately from the US ProXCT cross country race series. In addition, the most aggressive riders at each individual round of the short tracks will be awarded US$200, and finally, a US$50 prime will be awarded on the third lap of each round. Both the men's and the women's races will benefit from these prizes, which should also serve to heat up the action in the already spectator-friendly type of multi-lap cross country event.
USA Cycling will furnish jerseys for the leaders to wear at each round.
(All rights reserved/Copyright Future Publishing (Overseas) Limited 2009)