Latest Cycling News, April 20, 2009
Edited by Bjorn Haake
Ivanov grabs his Amstel
By Brecht Decaluwé in Valkenburg, the Netherlands
Let the celebrations begin: Sergei Ivanov
Photo ©: Brecht Decaluwé/Cyclingnews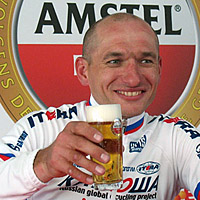 It took 12 attempts but Serguei Ivanov (Katusha) has finally managed to capture a Spring Classic victory, bringing home Holland's most prestigious cycling event: the Amstel Gold Race. Before Sunday's win the 34-year-old was regarded as a rider who was always in the mix during the finale, but fell short when it really mattered.
The Russian - who resides in Belgium - was one of the most experienced riders at the start in Maastricht, besides Davide Rebellin. Ivanov had finished the race 10 times and cracked the top 10 on four occasions, with 2002 being his best result as he finished second to teammate Michele Bartoli.
This time Ivanov left no doubt over his intentions as he broke away late with Karsten Kroon (Team Saxo Bank) and captured the win on the Cauberg. At his post-race press conference the usually introverted Ivanov was already kicking off the night's party.
"First of all I want to thank all of my teammates," said Ivanov. "All the Russian riders helped me a lot, and although before we've had wins from [Filippo] Pozzato and others, now we have captured the first true Russian victory of the year, and also the first one over here [in Europe]."
Read the full Amstel winner's feature.
Amstel: Kreuziger strikes early
By Gregor Brown in Valkenburg, the Netherlands
Roman Kreuziger (Liquigas) on the attack Sunday
Photo ©: Sirotti

Roman Kreuziger marked the finale of the Amstel Gold Race Sunday with a brave solo move. The favourites caught up with the Liquigas rider with 12.5 kilometres to go in the 257.8-kilometre Dutch classic, but his performance has laid the groundwork for future wins.
"I tried to attack before the Keutenberg because in the last two years I was dropped at the same point," the 22-year-old told Cyclingnews.
Kreuziger responded to a move by eventual race winner Serguei Ivanov (Katusha) at the top of the Eyserbosweg, 20 kilometres before the finish. He gained around 10 seconds, which he held over the Fromberg and on to the Keutenberg.
"I found myself riding solo and it worked to help me stay with the favourites on the Keutenberg. They caught me more or less at the top of the climb."
For such a young rider, his 18th place was an impressive leap up from 53rd and 59th in the last two years.
Kreuziger will have another shot on Wednesday in the shorter Flčche Wallonne. He will co-captain the team with Italian Vincenzo Nibali in the 195.5-kilometre Belgian Classic.
"I'm not yet someone who can win a Classic, but I think that in the future I can be a protagonist and have my chance."
He will skip the third of three Ardennes Classics, Ličge-Bastogne-Ličge, when the team will bring in fresh resources, Ivan Basso and Franco Pellizotti. Kreuziger's next race will be the Tour de Romandie, April 28 to May 3, and then a build-up to the Tour de France, July 4 to 26.
Julich chronicles: Crashing is the cyclist's curse
By Bobby Julich
Bobby Julich
Photo ©: AFP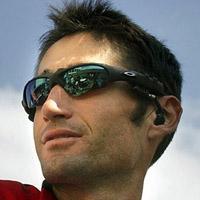 After another serious spill in the Amstel Gold Race, it seems that 2009 is quickly becoming the year of big crashes and severe injuries to top riders in the peloton. With accidents taking out so many riders - guys like Kim Kirchen, Oscar Freire, Tyler Farrar, David Millar, Chris Horner, Stuart O'Grady and Lance Armstrong, the question has to be asked: what's going on?
Crashing is just part of cycling and it can happen to anyone at any time. It's a dangerous sport under the best conditions, but factor in bad weather, bad roads, fatigue, unruly fans and pressure, and it's amazing accidents don't happen more often.
It's sad to see a pro rider's form and plans go down the drain because of a crash and early season injuries can severely truncate the programme of a rider who was targeting the Classics. Others with goals later in the season are a little more 'fortunate' as an accident can be considered another bump in the road.
Continue to Bobby's full chronicle.
Bos brings down Impey
By Bjorn Haake
Daryl Impey (Barloworld, l) finished the race thanks to teammate Patrick Calcagni
Photo ©: Presidential Cycling Tour
Dutch rider Theo Bos (Rabobank) brought down race leader Daryl Impey (Barloworld) in the final stage of the Presidential Tour of Turkey on Sunday.
Bos immediately denied the accusations that the crash was deliberately caused. "I didn't pull Impey down, I am not crazy," he said on Rabobank's website. "At that speed and that position I would have torpedoed myself. No way [that I would have done that]."
Bos didn't remember all the details, as things happened in a split second. "But I know for a fact that I just wanted to defend myself against him [Impey]. He came over to my side and I was as good as in the barrier." The barriers, which were not put in a straight line, eventually caused the crash. "I touched a foot of one the barriers and that way brought down Impey," Bos said.
Impey had a different account on his website. "I got taken down deliberately ... only one word for him [Bos] and that is a true chop head. He doesn't deserve to race anymore and I am thinking about going to the UCI about his dangerous riding. He tried to pass me 700m to go in the bunch sprint but there was no-where to go and all of a sudden I felt a hand on my shoulder pulling me into the barriers. We both crashed."
Impey was able to ride over the finish line but had to skip the podium ceremony for further examinations. Impey is still in Alanya, Turkey, where he has to stay in bed. "He has a micro fracture on his first vertebrae in the lower back," Barloworld's PR person Claudio Masnata told Cyclingnews. "It is a big trauma," Masnata said, but added that the recovery process is looking good. "He also lost a tooth."
The incident, which was barely caught by the TV cameras, was a hot topic on twitter as well. Lance Armstrong (Astana) was quite surprised the judges didn't issue a ruling against the Dutchman. "Bos doesn't even get disqualified. Pitiful. He deserves a long suspension," Armstrong said via twitter.
Robbie McEwen (Katusha) initially had the same sentiments, stating that "there goes Theo Bos' "Best + Fairest Award Nomination." But McEwen corrected himself after thorough study of the images. "You have to watch the Bos thing 30 times - in slow motion. I don't think he did it on purpose," McEwen posted a few hours later.
Chime in on the discussion in our forum.
Hondo looks to Ullrich and Klöden for new team
Danilo Hondo (PSK Whirlpool) in white celebrated, but Finetto came around in Turkey
Photo ©: Presidential Cycling Tour

Danilo Hondo is planning to establish his own cycling team when he retires, and would like to have Jan Ullrich and Andreas Klöden as advisors.
"When I no longer ride I could imagine leading a team, and Jan could help me in a team management role," Hondo told the dpa press agency. "We have casually spoken about it. But there is not yet anything concrete."
Hondo said that he was interested in signing young German riders and finding German sponsors. He didn't know how soon it might happen. "I am still interested in riding for another three or four years, but when everything comes together, it might be sooner."
Hondo, 35, currently rides for the Continental team PSK Whirlpool. He rode for Team Telekom from 2001 to 2003, and joined Team Gerolsteiner the following year. In 2005 he tested positive for Carphedon. After serving his suspension, he rode for Team Lamonta (2006, Tinkoff Credit Systems (2007), and Serramenti PVC Diquigiovanni (2008).
Ullrich, who retired in 2007 after being linked to Operación Puerto, and Klöden, who rides for Team Astana, rode together with Hondo at Team Telekom.(SW)
Successful Living parts ways with Fly V Australia
By Greg Johnson in Sydney, Australia
Successful Living will part ways with Fly V Australia as a presenting sponsor, as the company looks to conserve cash during the economic downturn which has battered the United States of America economy. The company has informed team management it won't be committing to the remainder of its program in North America.
"Under the current economic crisis and all the tough times that are out there, Successful Living has recently advised that they've got no further funds to continue the program," said Fly V Australia's director Chris White. "It's not that there's a split or something, there's certainly no split, Successful Living has been great."
White admitted that the loss of Successful Living for the remainder of 2009 could see the outfit's campaign in North America cut short. The outfit has committed to its North American campaign through to Canada's Tour de Beauce, June 9-14, but is uncertain if it will be able to find the additional funds to stay through to September's Tour of Missouri.
"That leaves us short for 2009 but it's business as usual for the team," said White. "Look, we'll have to be a bit more resourceful, we'll have to get a little bit lighter on our feet. We were always a little uncertain about how long we'd stay in the States, this might have the affect of curtailing our stay in the States by four to six weeks, but out program is going to be pretty much business as usual."
White doesn't expect the loss of Successful Living will require the outfit to reduce its rider roster. While discussions are ongoing, White said it's unlikely his association with Steve Hegg and Ryan Yee will continue, given the reduced resource levels the team will now need to operate from. Hegg and Yee acted as agents in bringing their existing relationship with Successful Living to the squad at the end of 2008, having previously run their own outfit by the same name.
"We are negotiating with riders, but no, there's no plans to cut riders," said White. "But it's early days yet. The reality is everybody is tightening their belts, but we've got very good support from the riders and we've got very good support from all the staff.
"This is not great news that we're receiving, but it's not going to have a material, adverse impact on the team," he added.
Fly V Australia's campaign in Australia is expected to be unaffected by the loss of Successful Living, with the outfit planning on contesting all National Racing Series rounds in addition to major events like the Sun Tour. The outfit has enjoyed a successful season thus far, with highlights including Ben Day's San Dimas Stage Race victory and junior rider Michael Hepburn setting a three-kilometre U19 men's individual pursuit world record at the Australian Track Cycling Championships in February.
Additional editorial assistance by Susan Westemeyer
Previous News Next News
(All rights reserved/Copyright Future Publishing (Overseas) Limited 2009)