An interview with Damiano Cunego, April 18, 2009
Cunego returns for Ardennes rush
Damiano Cunego takes win number two for the year in the Coppi e Bartali, this time in the leader's jersey
Photo ©: Sirotti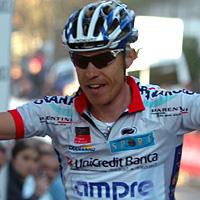 Damiano Cunego returns to Northern Europe this week to defend his Amstel Gold title and fight for the other two prestigious Ardennes Classics missing from his race palmarès: Flèche Wallonne and Liège-Bastogne-Liège. The Lampre-NGC rider spoke with Cyclingnews' Gregor Brown about the favourites for these three one-day races and why he's one.
Damiano Cunego has been more of a one-day rider than Grand Tour rider in recent years, thanks to his third victory in the Giro di Lombardia and his first Amstel Gold win last year. Add in a silver medal behind teammate Alessandro Ballan's gold at the World Championship and you start to think that the Lampre-NGC rider's call is at the one-day, high-pressure battles.
The Italian grabbed his first and only Grand Tour win in 2004 at the Giro d'Italia. After several years focusing on a repeat, he concentrated on the Tour de France last year. This year he returns to race his home tour, and an Ardennes Classic win could provide the mental boost he needs.
Italy's Damiano Cunego reflects on last year's Amstel Gold win
Photo ©: Roberto Bettini

Cyclingnews: You face a bit of a double-edged sword: If you win a Classic this week they will say you are not cut out for the Grand Tours and if you lose, well, you lose.
Damiano Cunego: I leave it to the critics to say what they want. If I win Liège, for example, that is the best response I can give in any case. I will go and ride the Grand Tours and if I win one it is great, but if not then I am calm all the same. Many times the critics will say their peace, but I just let it slide, I don't have any issues.
This year I've decided to skip the Tour de France to focus on the Classics, Giro and then the World Championship.
CN: You finished racing at the País Vasco stage race last weekend, what have you done this last week for training?
DC: I needed to recover a little bit Monday, Tuesday and Wednesday. I did a big ride Thursday and Friday I rode for three hours, with a little bit of motor pacing to finish it off. I have really done all that needs to be done for training and I am ready for the Classics.
"Alberto Contador, Luis León Sánchez, Antonio Colom would create huge problems if they came over for the Classics."
- Damiano Cunego is happy these riders focus on stage races for now
CN: It is your eighth year as a professional. How is this Spring going compared to the others?
DC: Everything is good: I have done my training, I had a good programme and now I just need a little bit of luck and the big win. Coppi e Bartali served well for my morale, but the Classics you have to have patience and we will see what happens.
CN: Last year going into the Classics you took a stage win in País Vasco. Did you need a win there for your confidence this year?
DC: I tried to get at least one stage in País Vasco, but every year is different and this year I was not able to get a win. However I was a protagonist and had good sensations, I just lacked the victory. Clearly if I won a stage it would have been all the better.
Damiano Cunego (Lampre) tops the 2008 Amstel Gold podium
Photo ©: Elmar Krings

CN: What did you learn in Spain that you can apply to the Ardennes Classics?
DC: I got a good look at my advisories and I can tell that I am going well. Above all it was the last important step towards the Ardennes Classics.
The other riders are going strong, from Fränk Schleck to Cadel Evans. I can tell you that they will be some dangerous rivals. I saw that they are motivated and I know that I will have some strong rivals trying to hold me back from my win.
CN: You saw first-hand the strength of Alberto Contador. Do you consider yourself lucky that he is not racing in the Ardennes and that he does not focus on one-day races?
DC: Luckily he is not a one-day racer. Contador, [Luis León] Sánchez, [Antonio] Colom would create huge problems if they came over for the Classics.
Cunego on the Ardennes
Amstel Gold Race: "It is a race full of steep and short climbs, and it is a very nervous race."
Flèche Wallonne: "Of the three, in terms of kilometres, it is the easiest. In other words, it is not 250 kilometres, it is 198, but the Mur de Huy is a beast."
Liège-Bastogne-Liège: "Liège does not need an introduction. It is one of the oldest and has the most name recognition.
"It is the hardest of the three in terms of climbing and it is the most prestigious of the three. Amstel has shorter climbs, but Liège has climbs from one kilometre to a maximum of two kilometres."
CN: What are your goals for the Ardennes?
DC: To win! If I can I want to win at least one of the three Classics, that will do. I know it is going to be very hard, but I am going to give it my best shot. There is not one over the other that I want to win. I want to give the highest concentration to all three. Certainly though Liège-Bastogne-Liège is the most prestigious of them all.
CN: You have only raced Amstel Gold once and won, but how familiar are you with these northern races?
DC: My first year as a professional I did Liège, in 2002. I did it again in 2005, 2006, 2007 and 2008. Whereas Amstel I have only done one time, and I won it.
I will approach them more or less the same as last year in terms of preparation, but this year I am doing the Giro d'Italia and not the Tour de France. I don't believe that since I did not win last year in Flèche and Liège that I need to do something different this year. If one can win Amstel, then they are near the target for the others.
Maybe I paid in Liège last year due to the heat, but who knows. I hope not to make any of the errors I made last year.
Cunego races towards his first win of the year in Coppi e Bartali
Photo ©: Sirotti
CN: You mentioned Schleck and Evans were going strong in Spain. Can we expect them to be favourites? Who will be the other strong riders for these Classics?
DC: They are typically the same for all three races: Schleck, [Alejandro] Valverde, Evans, [Davide] Rebellin. Valverde just won the Klasika Primavera.
They are always at the front every year and there to battle for the win, above all for Amstel and Liège. We saw Kim Kirchen going strong last year in Flèche, but this year he is suffering from a little bit of bad luck. There are always a few outsiders for Flèche, maybe a rider like Vincenzo Nibali."
CN: The Italian Olympic Committee (CONI) investigated Valverde and he might face a two-year ban in Italy, which will be decided on May 11. Is it right that he is racing in these races?
DC: Unfortunately the entities of cycling should have already decided this and we riders can't have our own say in the matter. If he wins Liège, I have already seen this scenario before, this would sadly just be another instance.
Damiano Cunego's Ardennes palmarès

Amstel Gold Race: 1st in 2008
Flèche Wallonne: 3rd in 2008, 14th 2005, 122nd 2002
Liège-Bastogne-Liège: 30th in 2008, 7th 2007, 3rd 2006, 9th 2005, 124th 2002

Damiano Cunego's 2009 palmarès

6th Klasika Primavera
6th Vuelta al País Vasco
1st and two stage wins Coppi e Bartali
11th GP di Lugano
50th GP dell'Insubria
35th Volta ao Algarve
67th GP Etruschi

Can Cunego claim another Classic?

Let us know your thoughts on Cunego's Classic hopes on the Cyclingnews forum.

Related articles:
Photography
For a thumbnail gallery of these images, click here
Images by Sirotti/www.sirotti.it
Images by Elmar Krings
Images by Roberto Bettini/www.bettiniphoto.net