First Edition Cycling News, April 17, 2009
Edited by Laura Weislo and Peter Hymas
Kaisen delivers for Silence-Lotto
By Jean-François Quénet in Fethiye, Turkey
Olivier Kaisen (Silence - Lotto) won the Tour of Turkey's fifth stage
Photo ©: Presidential Cycling Tour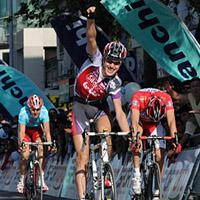 It's not usual these days to see a bike rider winning a sprint while sitting on his saddle but Belgian Olivier Kaisen did just that in stage five of the Presidential Tour of Turkey. Kaisen out-sprinted Alessandro Fantini (Acqua e Sapone) and Diego Caccia (Barloworld) to score Silence-Lotto's second win of the 2009. The team's last victory came courtesy of Cadel Evans at the Coppi e Bartali last month in Italy.
It was a well deserved win for Kaisen who went away early with nine other riders. "As I felt good already yesterday, I knew this day was the right one for me to go on the offensive," said the Namur-born Walloon who is known as a time trial specialist and a dedicated domestique. He did most of the work in the break, but kept some energy for the final sprint. He wasn't afraid that Caccia was glued to his wheel for the last three kilometres.
Coming up on
Cyclingnews will cover the 60th edition of the Dauphiné Libéré live as of stage 4 on Wednesday, June 10, at approximately 15:00 local Europe time (CEST)/ 23:00 Australian time (CDT)/ 9:00 (USA East).

WAP-enabled mobile devices: http://live.cyclingnews.com/wap/

"I was fresh and I hadn't given away all my energy," the Belgian winner explained. "It was by chance that we got caught in the last kilometre [by Fantini, Filippo Savini and Hvorje Miohjlevic, ed], otherwise I'm not sure how I would have done it against Caccia. However, I was confident because I was feeling good, even very good. I hadn't given everything before the final sprint. It was new to me to experience such a high level of adrenaline at the end of a race. In the past, when I won, it was solo. This one is great."
Continue to full coverage of the Presidential Tour of Turkey
McEwen escapes serious injury, Boonen suffering
Robbie McEwen a bit worse for wear
Photo ©: ISPA

Australian Robbie McEwen vowed Thursday to be on the start line of the Giro d'Italia after finding out he had escaped any serious injuries in the dramatic crash at the Scheldeprijs. He was cleared of any fractures or perforated lungs, and considers himself lucky.
"I'm OK. The concussion is gone," he said. "My body feels surprisingly OK. I have a lot of bruises and I'm a bit stiff, but otherwise I think I will make a quick recovery and train again on the weekend. My osteopath Victor Popov will help me through this recovery period so I can train well and arrive at the Giro in top condition".
Paris-Roubaix winner Tom Boonen also went down in the wreck during the race's final sprint, and suffered contusions to his right wrist and foot. His Quick Step team announced that the pain and swelling of his injury has increased overnight.
"The team's medical staff and I have agreed to see what happens in the next few days," Boonen said. "If the pain persists on Monday I will undergo further tests".
Casper clears another coup in France
Jimmy Casper sprinted to his fifth win of 2009
Photo ©: AFP
Frenchman Jimmy Casper took his second victory in the Coupe de France on Thursday, winning a bunch sprint in the Grand Prix de Denain ahead of Saxo Bank's Matthew Goss. It was the second series win in a row for the former Agritubel rider who now races for Besson Chaussures-Sojasun. He also won the Paris-Camembert last week.
It was the fifth win of the season for Casper, who last year suffered the embarrassment of being announced as the Tour de France's fifth positive doping test. He was later cleared by the French federation, who agreed that an expired Therapeutic Use Exemption for the asthma medications found in his system did not warrant a suspension.
Casper also took two stage wins in the Etoile de Bessèges, and a stage in the Critérium International.
Taking second was Saxo Bank's Matthew Goss, who has made great strides this season in his third year with the team of Bjarne Riis. The 22-year-old also finished third in Gent-Wevelgem.
"The riders did a fantastic job out there today and again they showed powerful team spirit," said Saxo Bank director Torsten Schmidt. "Matthew has really shown increasingly good shape lately and he is as close to winning as he can come".
Giro confirms Armstrong's start
Lance is definitely Giro bound
Photo ©: Sirotti

Giro d'Italia organisers confirmed that Lance Armstrong will be present at the start in Venice on May 9. According to La Gazzetta dello Sport, Armstrong gave the thumbs up to his first start in the Italian Grand Tour on Thursday.
Armstrong's presence in the centennial edition of the race was in doubt after he crashed in the first stage of the Vuelta a Castilla y León and shattered his collarbone.
The seven-time Tour de France champion had a successful surgery to repair the break, and was quickly back on the bike. He has been training in Aspen, Colorado, and indicated in a video message to his fans last week that he felt confident he would start the Giro.
(For more read Armstrong talks Giro, Twitter and Tour or talk about this article on our forum.)
Mayor blasts ASO for Carrefour chaos
The mayor of small French town Camphin en Pévèle, home of the famed Carrefour de l'Arbre sector of pave of Paris-Roubaix, criticized the race organiser for failing to prevent the widespread chaos created by the 'hooligans' who spat on riders and attacked team cars during the northern Classic last Sunday.
Regional newspaper La Voix du Nord reported that mayor Michel Dufermont filed a complaint with the Amaury Sport Organisation (ASO), threatening to prevent the race from passing over the critical sector if they cannot do something to better control the massive, drunken crowds from laying waste to the countryside.
Fans began camping along the race route's fourth sector on Wednesday before the Easter Sunday event. Along with public drunkenness and abuse of riders and caravan vehicles, the masses of humanity left behind piles of refuse. Dufermont said the "beer flows like water" and expressed concern that if crowds cannot be better controlled in the future there could be serious accidents.
Race director Christian Prudhomme condemned the action of the rowdy fans to AFP, and said the race had worked closely with the local officials. He promised to work with the authorities and elected officials to "find solutions for the next edition of this great event that is Paris-Roubaix."
Astana hit by global money woes
Salary worries for Contador?
Photo ©: Susanne Goetze

The Astana cycling team has found that winning races does not make it immune to the global economic crisis. The Kazakh cycling federation which backs the team announced Thursday that it would pay the salaries owed to riders and staff which had been delayed while it awaited payment from sponsors.
The team of three-time Grand Tour winner Alberto Contador has not been paid since March, according to the Associated Press. News of the delayed payments was kept quiet until the announcement, but has not allayed fears that the team is standing on sound financial footing.
Air Astana withdrew its sponsorship of the team run by Belgian Johan Bruyneel, but the government has said it would continue to support the team.
The squad was initially conceived as a way to raise the profile of the former Soviet state, and was built around the team's former stars, Alexander Vinokourov and Andrei Kashechkin, who are now out of competition on doping suspensions. Bruyneel assumed control of the team after his former outfit, the Discovery Channel team, disbanded after giving up on a sponsorship hunt.
Seven-time Tour de France winner Lance Armstrong does not receive a paycheck from the Astana team. He agreed to race for free when making his comeback in order to raise awareness of his global cancer fight.
Austrians announce new anti-doping campaign
Christiane Soeder is the ACAD's first volunteer
Photo ©: Roberto Bettini

The Austrian Cycling Federation introduced a program for voluntary drug testing, Austrian Cycling Against Doping (ACAD), in an effort to restore the reputation of a sport sullied by positive tests, most notably that of Bernhard Kohl at the 2008 Tour de France.
Cyclists will perform two blood tests per month for the ACAD and the results will be published on a website, according to the AFP. The tests performed through the ACAD are an additional level of testing on top of controls carried out during and outside competition.
"Together with our partners we want to specifically work to eliminate doping from our sport," said Otto Flum, Austrian Cycling Federation president. "In addition to the health of athletes, the survival of Austrian cycling itself is at stake. If we do nothing we will not have the financial means to train riders tomorrow because sponsors will leave."
Approximately 130 cyclists already involved in the monitoring program of the World Anti-Doping Agency (WADA) are eligible. Christiane Soeder, second place finisher in the 2008 World Championships time trial and fourth place in the 2008 Olympic road race, is the first cyclist to volunteer for the program.
"In recent times all one has ever heard is that sport without doping is not possible," said Soeder. "This I vehemently deny and that is why I will participate in the program."
The UCI Professional Continental team Elk Haus has also announced its participation in the program.
"For cycling, in its current situation, it's almost impossible to recruit enough young athletes," said Rudolf Massak, Austrian Cycling Federation secretary general. "With this pioneering program, which other sports can emulate, we want to ensure that we are not without a junior program in five or ten years.
For more information on the ACAD program visit www.against-doping.at.
Tour of America's Dairyland registration now open
Registration is now open for the inaugural Tour of America's Dairyland, a combination of criteriums and road races across eight Wisconsin cities, June 19-28, 2009. The Tour of America's Dairyland presented by Wisconsin Milk Marketing Board will feature events for professional and amateur men and women in multiple categories.
Tour of America's Dairyland Executive Director Jack Hirt has also announced the addition of a road race in Greenbush, Wisconsin.
"The Greenbush course covers an exhilarating almost 10 mile loop, starting with a gradual three mile climb into the beautiful Kettle Moraine State Forest," said Hirt. "From there, it's an awesome mixed bag of a ride with winding roads, steep uphills, fast downhills and great Wisconsin countryside scenery featuring historic dairy farms."
Races will take place in Waterloo, Greenbush, Grafton, Manitowoc, Fond du Lac, Sheboygan, Waukesha and Milwaukee.. Each venue will also offer live entertainment, family activities and a sports expo.
For additional information visit www.tourofamericasdairyland.com.
Bikeradar Live hotline now open for bookings
By BikeRadar
On the weekend of May 30-31, 2009, Britain's new Grand Prix circuit, Donington Park, will host BikeRadar Live, a massive festival of cycling including road and mountain bike rides and races, an expo of the bike industry's best gear, bike demos, and lots more.
We're pleased to announce that the BikeRadar Live hotline is now open on 0871 230 7158 to take phone bookings for entry to the races and the event. (Calls can be made from a landline at 10p per minute, mobile tariffs may vary).
(All rights reserved/Copyright Future Publishing (Overseas) Limited 2009)