29th Olympic Games - JO
Beijing, China, August 9-23, 2008
Main Page Results Live report Event Details Previous Event Next Event
August 10: Women's Road Race, 126.4 km
Britain's Cooke fulfils her Olympic destiny
Silver and bronze for Johansson and Guderzo
By Ben Atkins
Nicole Cooke (Great Britain) wins the 2008 Olympic road race over Emma Johansson (Sweden) and Tatiana Guderzo (Italy)
Photo ©: AFP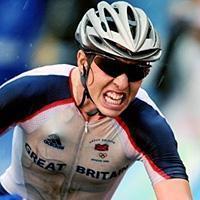 Nicole Cooke of Great Britain took victory in the women's road race in a three-woman sprint over Sweden's Emma Johansson and Italy's Tatiana Guderzo. The three of them were the strongest in a group of five that broke away from the peloton on the last of two laps of the hilly finishing circuit. Christiane Soeder of Austria and Linda Villumsen of Denmark were distanced on the final climb to the line, but held on to take fourth and fifth. Race favourite Marianne Vos of the Netherlands led in the main group to take sixth.
With this victory, the 25 year-old Welsh woman fulfilled a dream that she had eight years ago, when she was left out of the team for the Sydney Games because of her age. She crossed the line a full bike-length ahead of Johansson, but instead of raising her hands in triumph, she let out a huge almost primeval roar.
"I just came over the line and there was so much in me," explained Cooke afterwards, "so many emotions that all came out at once. I was not composed enough to take my hands off the handlebar, so much of it came out as noise because that's just the person I am."
In the early part of the final lap, Cooke's team-mate Emma Pooley was part of a three-woman move – which included Guderzo – that might well have stayed away. This move, revealed Cooke, was part of the Great Britain team's long-standing strategy for the race.
"Before the race we had a plan – a plan that went back twelve months – in terms of what we wanted to do today," she explained. "Sharon [Laws], Emma and I all knew we were good riders but our best chance of success was to ride as a team; it's an important part of the race. When Emma attacked she was going for her own glory, but it also allowed me to ride defensively, it allowed me to save myself and to put the other teams on the back foot and me in a good position.
"So I blocked for her and then she blocked for me in the end, I think as a team we rode a fantastic race."
Emma Pooley (Great Britain)
Photo ©: Rob Jones

With this victory Cooke takes Great Britain's 200th Olympic gold medal, more importantly sees the plans of her entire season fall perfectly into place as she won the one race that mattered to her this season. Great Britain's performance director David Brailsford confirmed. "She's prepared all year for this one race and it's paid off! It wasn't just her, the whole team got it spot on," he said.
"I was very surprised about the weather," said silver medallist Emma Johansson, "I wasn't expecting rain. Sometimes I felt like I was actually drowning! Coming down the climb the first time, I was just freezing and I couldn't stop shaking. When we went up again I started to get warm, and when we went down the second time I couldn't really think about it because we were all just going so hard."
Despite being up against a finisher of Cooke's calibre, Johansson was confident in herself as the approached the finish line. "I didn't really fear any of the other riders," she explained. "I just knew that it was going to be a good finish for me on a climb that was a little bit slow. Nicole has a good finish, Tatiana has a good finish, but I was mostly just focused on me and not worried about the other riders."
Third placed Guderzo, the current Italian time trial champion, was ecstatic with her bronze medal and was quick to credit her friends and family. "This year started off badly and the results were not coming," she said. "Thanks to my family and my team; those near to me. They reminded me of my grinta and determination and I have the desire to get results."
"It was a plan," she said of her attack that had been the catalyst for the formation of the winning move, "our team had discussed it. Our team wanted to make the race very hard so we attacked to make a selection among the other riders.
The women's podium
Photo ©: Rob Jones

The 23 year-old is also looking forward to next month's World Championships in Varese, Italy – especially as she took a silver medal the last time they were in her home country. "Certainly, my morale is very high for the worlds, but I want to think about what I did today. I want to have a party tonight and back home, and then I will start to think of the Worlds."
"The team was very strong today and Tatiana Guderzo did amazing work," said Italian team captain, Noemi Cantele. "It was too hard for her to stay solo, but she did well with the other four," she added.
First-placed USA rider Kristin Armstrong came in a disappointed 25th place. The team's riders had been some of the most attentive in the race, but in the end, it was bad luck that cost them the chance to compete for the medals. "A lot of people went down trying to get onto the first climb," she said, "and I went down myself.
"Unfortunately, it wasn't our day today; Christine [Thorburn] did everything she could, but [Amber Neben] dropped her chain. I'm looking forward now to [the time trial on] Wednesday."
The former USA and World Time Trial Champion can console herself that she will go into that race on Wednesday as one of the favourites for a medal.
How it unfolded
Rain dominated the women's road race
Photo ©: AFP

In stark contrast to yesterday's men's race, the women set out from central Beijing under overcast skies which quickly turned to heavy rain as the race headed out towards the Great Wall and the finishing circuit.
The early flat kilometres were largely uneventful with the front of the bunch policed by track specialists Kate Bates of Australia and Vera Carrara of Italy, World time trial an cyclo-cross champion Hanka Kupfernagel of Germany and Christine Thorburn of the USA. Jeannie Longo-Ciprelli of France – riding in her seventh Olympic games – was also, characteristically, on the front on several occasions.
The first attack of note happened with a little more than 50 kilometres to go when Alexandra Burchenkova of Russia escaped However, she was quickly pulled back by Bates, only for team-mate Natalia Boyarskaya to counter-attack.
Boyarskaya quickly built up a lead as the peloton let her go, but as aggression from riders like Amber Neben of the USA and Trixi Worrack of Germany caused the field to accelerate the gap began to come down.
Nicole Cooke (Great Britain) makes her long charge
Photo ©: AFP

An attack from Emma Pooley of Great Britain dragged Tatiana Guderzo if Italy clear and the pair worked together to catch the lone Russian soon after the bell signalling the final of two laps.
Hard work from Judith Arndt of Germany pulled the trio back before thwarting several attempts to escape from Zulfia Zabirova of Kazakhstan and Longo-Ciprelli.
Christiane Soeder of Austria tried to escape alone, but as she was captured Guderzo went again and quickly pulled out a 10 second lead. Hard riding from Soeder once again pulled Emma Johansson of Sweden, Linda Villumsen of Denmark and Nicole Cooke of Great Britain clear and the four chased down Guderzo to become five at the front.
Nicole Cooke (Great Britain) tops the podium
Photo ©: AFP

Arndt was once again to the fore, having regained the field after being dropped on the final climb, but her efforts – along with team- mate Trixi Worrack – were not enough to bring back the five who were working well together. As the leading five rounded the final corner with 500 metres remaining, Cooke seemed to have a problem and lost contact with the others. It seemed to be a brief technical issue though and she soon regained contact.
As Cooke accelerated, first Villumsen and then Soeder found the pace to hot and dropped off with 200 metres to go. Johansson and Guderzo fought hard to the line, but neither were able to make any impression on the rampaging Welshwoman who specialises in this kind of finish.
Johansson took the silver medal and Guderzo the bronze with Soeder and Villumsen taking fourth and fifth respectively. Pre-race favourite Marianne Vos of the Netherlands – who's team had hardly been seen until this point – took the bunch sprint for sixth.
Photography
For a thumbnail gallery of these images, click here
Images by AFP Photo
Images by Rob Jones/www.canadiancyclist.com
Images by Casey Gibson/www.cbgphoto.com
Results
1 Nicole Cooke (Great Britain)                    3.32.24 (35.706km/h) 
2 Emma Johansson (Sweden)                                
3 Tatiana Guderzo (Italy)                                
4 Christiane Soeder (Austria)                        0.04
5 Linda Villumsen Serup (Denmark)                    0.09
6 Marianne Vos (Netherlands)                         0.21
7 Priska Doppmann (Switzerland)                          
8 Paulina Brzezna (Poland)                               
9 Edita Pucinskaite (Lithuania)                          
10 Zulfiya Zabirova (Kazakhstan)                         
11 Jolanta Polikeviciute (Lithuania)                     
12 Julia Martisova (Russian Federation)                  
13 Christel Ferrier-Bruneau (France)                     
14 Maryline Salvetat (France)                            
15 Noemi Cantele (Italy)                                 
16 Min Gao (China)                                   0.28
17 Leigh Hobson (Canada)                                 
18 Nicole Brändli (Switzerland)                          
19 Anna Sanchis (Spain)                                  
20 Trixi Worrack (Germany)                               
21 Susanne Ljungskog (Sweden)                            
22 Yevgeniya Vysotska (Ukraine)                      0.31
23 Emma Pooley (Great Britain)                           
24 Jeannie Longo-Ciprelli (France)                   0.33
25 Kristin Armstrong (United States)                 0.43
26 Anita Valen De Vries (Norway)                     0.53
27 Modesta Vzesniauskaite (Lithuania)                    
28 Joanne Kiesanowski (New Zealand)                      
29 Oenone Wood (Australia)                               
30 Grete Treier (Estonia)                                
31 Miho Oki (Japan)                                      
32 Tatiana Stiajkina (Ukraine)                           
33 Amber Neben (United States)                           
34 Marissa Van Der Merwe (South Africa)                  
35 Sharon Laws (Great Britain)                           
36 Mirjam Melchers-Van Poppel (Netherlands)              
37 Erinne Willock (Canada)                           0.59
38 Sara Carrigan (Australia)                         1.01
39 Hanka Kupfernagel (Germany)                           
40 Natalia Boyarskaya (Russian Federation)               
41 Judith Arndt (Germany)                            1.27
42 Oksana Kashchyshyna (Ukraine)                     1.49
43 Alexandra Burchenkova (Russian Federation)            
44 Lieselot Decroix (Belgium)                        4.11
45 Alessandra Giusseppina Grassi (Mexico)                
46 Monika Schachl (Austria)                          4.13
47 Chantal Beltman (Netherlands)                     4.38
48 Lang Meng (China)                                 5.18
49 Sigrid Corneo (Slovenia)                          7.05
50 Alex Wrubleski (Canada)                           7.12
51 Clemilda Silva (Brazil)                           8.37
52 Christine Thorburn (United States)                8.44
53 Catherine Cheatley (New Zealand)                      
54 Daniely Del Valle Garcia Buitriag (Venezuela)    11.01
55 Marta Vilajosana (Spain)                              
56 Sara Mustonen (Sweden)                                
57 Angie Sabrina Gonzalez Garcia (Venezuela)             
58 Sungeun Gu (Korea)                               13.35
59 Cherise Taylor (South Africa)                    16.09
60 Yumari Gonzalez (Cuba)                           19.15
61 Chanpeng Nontasin (Thailand)                     19.27
62 Aurelie Halbwachs (Mauritius)                    19.47
DNF Heejung Son (Korea)                                  
DNF Vera Carrara (Italy)                                 
DNF Katherine Bates (Australia)                          
DNF Jennifer Hohl (Switzerland)