An interview with Nicole Cooke, August 9, 2008
Nicole Cooke: heading for the bullseye in Beijing
Nicole Cooke is one of cycling's outstanding talents, but a lack of victories in World Championships and Olympic Games leave a hole in the young Welshwoman's palmares, one that she is determined to fill. Cyclingnews' Ben Atkins has been following the British champion's progress on the way to this weekend's big showdown.
Nicole Cooke (Great Britain)
Photo ©: AFP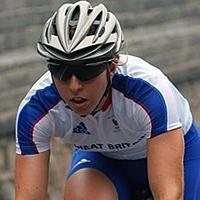 Nicole Cooke has had a plan this year: to win gold in the Olympic road race in Beijing. Balked at being denied the opportunity to go to Sydney in 2000 because of her then tender age of 17, she set out for Athens even more determined than usual. Fifth place from the group behind the winning move of Sara Carrigan and Judith Arndt could have been seen as a success by many, but it merely spurred Cooke on to make sure everything was right going into the race this time.
The plan for this season has been for Cooke to focus entirely on arriving in Beijing in her best possible condition, with the best team at her disposal. But what is it about the Olympic games that puts it so far above all the other races in the women's peloton? "Well, I think, probably as you saw at the Tour de l'Aude [where Cooke raced in May with her Great Britain team]," said Cooke, "even the prestigious stage races and races outside of the Olympics and the World Championships, they are prestigious and very competitive, but nothing in terms of the World's media that the Olympics gets.
"There's that," she continued, "and also the Olympics is the Olympics and I think definitely in women's cycling everyone wants to be on top form to try and win that race."
As well as getting Cooke's own form right, the second part of the plan has been to construct a Great Britain team that is powerful enough to support her; something that has been lacking in past championships. To this end, the Halfords-Bikehut team was created, incorporating much of the national federation in what British Cycling's performance director David Brailsford has referred to as a "Pro-Nat" set up. Because of its close ties to the national federation the team has been able to race under the Great Britain colours, drafting in Olympic team member Emma Pooley from the Specialized Designs for Women team to allow her and Cooke to race together.
"I think that's what's good about sport in general: you put the work in, and you get results and the opportunities are there for you."
-Cooke feels good about her "Pro-Nat" team.
"I think it's all about getting more experience together really," Cooke explained, "just spending time together training and racing, which we have been doing. It's not really so much them working for me, but us all working together, because as a team everyone will achieve more than if we go as individuals. I think that's really our mentality and approach. It's better to have a strong team that's united and strong tactics."
An integral part of that team has been Sharon Laws, who until earlier this year was racing at amateur level in Australia before being 'discovered' by British Cycling. "I think Sharon – on her own merits – was showing what she was capable of," said Cooke, "finishing second in the Australian championships and some strong results there. I think it's down to Sharon and the hard work she was putting in, and I think that should be good inspiration for everyone else. If you put the hard work in that you get the results, and the opportunities are there for you.
"I think that's what's good about sport in general: you put the work in, and you get results and the opportunities are there for you," she repeated.
In most professional teams, there is pressure to perform on a regular basis and get results for the sponsor. With the "Pro-Nat" Halfords-Bikehut team though – with all parties having similar aims – this pressure has been lifted from Cooke's shoulders. "[David Brailsford] really wanted to find a sponsor that had the same ambitions or desires exactly in line with the federation's," she explained, "the world class performance plan which wants results in the Olympics and the Worlds. So finding a sponsor that wants the Olympics and the Worlds means that we can concentrate on that, and if we get more results along the way in our races that's fantastic; but we all know what we're working to and it's just a case of doing our best now."
2007 winner of the Trofeo Binda,
Photo ©: WomensCycling.net

Cooke's season began with the first European World Cup race – the Trofeo Alfredo Binda in Cittiglio, Italy – a race that she won last year; she finished in 20th, at the back of the chasing group of favourites. This was followed by 16th in the Ronde van Vlaanderen – where she was also the defending champion, and 8th in Fleche Wallonne – a race that she has won three times before.
One would think that these results would have had a negative psychological impact on a rider so accustomed to success, but the British champion has had her eye on the bigger picture the whole time. On top of that, the recurrence of her previous knee problems at the end of last year that cost her overall victory in the World Cup and prevented her from riding the World championships needed to be dealt with first.
"I think this year, I started fairly quiet," she explained. "I was not at the same stage of preparation compared to other seasons because of the slower winter that I had. So not having the pressure there meant that I could get my injury treated and work steadily building up my training without having to be in form before it was right, before when my body as recovering from my knee injury. That was first of all the most important thing, that I could train at the pace that my body needed and I wasn't having to rush to try and be fit for the first race, just the all-important one."
"So that was first of all very good," she continued, "and then in terms of the results: I think the opportunity of winning big at the Olympics and the Worlds would be a dream come true and that's what I'm working towards this year. And I don't want to miss the opportunity of getting it right for the Olympics and the World championships by peaking too soon or chasing other wins. If the opportunity's there for sure I'll race hard, and do my best to try and get the best result I can – that's always the case – but I'm not going to start trying to change my training plan for other races which are just part of the build up process,"
After the World Cup races, Cooke headed for the first major stage race of her season, the Tour de l'Aude, where she took a morale-boosting first victory on stage one. This was also a chance to spend an extended period of time with both Pooley and Laws, her Beijing team-mates as well as the younger developing riders from Halfords-Bikehut. "There's a very good team spirit," she said, "and I think we all came together really well at the start of the season and we're building on it. I think there's a really good atmosphere and that makes going to the races enjoyable and we all perform better."
As well as Cooke's stage victory, team-mate Laws came close to a win in Aude: being narrowly beaten by Australian Vicki Whitelaw in a two-up sprint. "It's the best way to learn for everyone," said Cooke. "I think we all went into that race with a very – how can I say – just with a proactive approach to it. Proactive sounds a bit mechanical, I don't know..." she laughed.
Nicole Cooke (Great Britain)
Photo ©: Dion Kerckhoffs

"We all went in to it to make opportunities and create things – with that sort of ambition – and we made chances and we took our chances."
Ordinarily, Cooke would have been one of favourites in a tough stage race like the Tour de l'Aude. In the event, she finished fourth, more than four minutes behind Swedish winner Susanne Ljungskog (Menikini-Selle Italia-Master Colors) who will be one of her big rivals at the Olympic games. "I've never ridden the Tour de l'Aude before so it's hard to draw comparisons with this race compared to what I would do in the past," mused Cooke, "but as we said before, we go into races with other aims rather than being just overly results orientated."
Those results have been few and far between this year, with her only other notable victory being the almost inevitably successful defence of the red, white and blue jersey of British champion. Many of her big rivals however have taken an altogether different approach: Ljungskog has won the Tour de Berne World Cup as well as the Tour de l'Aude. Germany's Judith Arndt has a commanding lead in the World Cup as well as taking victory at the Tour du Grand Montreal and the Thuringen-Rundfahrt stage races, while Marianne Vos of the Netherlands has been racking up victories in lesser stage races as well as her own national championships and the Iurreta-Emakumeen Bira stage race.
Cooke refuses to be drawn in on this though, and remains focused on her own chosen path rather than those other riders. "Well, I think every person has to choose what's best for them," she said candidly, "so I can't really concern myself with what the others are doing. All I can do is concentrate on doing everything I can to try and be in my best form for the Olympics so that's what I'm doing."
As for the shortage of races: Cooke has what she feels is a far more scientific method of gauging her condition: "I've got my markers in training which I use and they're a very good form guide," she explained, "so I'm happy to see how those are progressing and they give me loads of information as to where my form is."
If her form is where she wants it to be, she'll definitely be one of the riders to watch this weekend – and at next month's World Championships in Varese too.