29th Olympic Games - JO
Beijing, China, August 9-23, 2008
Main Page Results Live report Event Details Previous Event Next Event
Event 3 - August 13: Women's Individual Time Trial, 23.5km
Armstrong claims gold
By Susan Westemeyer
Kristin Armstrong was on fire
Photo ©: AFP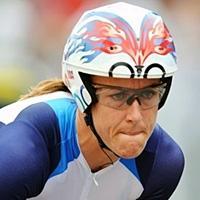 Kristin Armstrong of the USA won the women's Olympic time trial with a strong performance on the last half of the course, putting in a time of 34'51. Emma Pooley of Great Britain won silver with a time of 35'16 and Switzerland's Karin Thürig bronze (35'50).
"It's the most amazing day of my life," an emotional Armstrong said immediatelty after the race. "I've been working for this for the last eight years, especially the last four, and to time everything right on one day is an accomplishment of its own." Armstrong, who turned 35 on Monday, was not nominated to the US squad at the Athens Olympics in 2000. It was the first medal for the US cycling team in these Olympics.
"I knew this wasn't an ordinary time trial," she said immediately after the race. "It was really more of a mountain time trial."
Pooley, who had an early start time, set a seemingly unbeatable time. But Armstrong, starting sixth from last, was only three and a half seconds behind her at the intermediate time check and went on to pass two riders in front of her. She ended up finishing over half a minute ahead of Pooley, by powering her way through the second half of the course.
The 25 year-old Pooley took home Great Britain's second cycling medal and her first ever in international competition. "In the road race, I was doing my job," she said to the BBC. "Today, I just concentrated on riding as fast as I could, being absolutely smooth and enjoying myself without anyone to push me off. It helps being positive-nervous, because you've been waiting four years for this.
Emma Pooley is extremely happy after scoring silver
Photo ©: AFP

"I was enjoying going fast. It was pretty fun, I just kept saying, 'faster faster,'" she said, beaming. "I raced as well as I could. "
It looked for a long time as if Pooley would win gold here. She was the fifth of 25 riders to take the start, and set the best intermediate time of 20'46. No one was able to top that time. For a long time only Thürig was able to come close to her final time, but Pooley looked as if she knew the "big guns" were still out there.
Thürig, the Swiss rider. also put in a strong ride on the second half of the course to take third place. It was her second bronze medal in this discipline, after the Athens Olympics. It is also Switzerland's second bronze medal for cycling in this Olympics – compatriot Fabian Cancellara won the bronze in the men's road race.
Karin Thürig blasted out a great ride to score a bronze medal – the second for the Swiss cyclists after Fabian Cancellara
Photo ©: AFP

Jeannie Longo-Ciprelli of France just missed out on the podium, only two seconds behind Thürig. It would have been the fifth Olympic medal for the 49 year-old, who may go for yet another one in London in 2012.
Fifth place went to another US rider, Christine Thorburn. She has made a great come-back after breaking three ribs early in the season. Judith Arndt of Germany was disappointed with her fifth place, but team-mate Hanka Kupfernagel, World time trial champion, sat on the ground and cried bitter tears over her 11th place finish, a minute and a half behind Armstrong.
Slowest on the day was China's Lang Meng, five minutes behind the winner.
Photography
For a thumbnail gallery of these images, click here
Images by AFP Photo
Images by Casey Gibson/www.cbgphoto.com
Images by Rob Jones/www.canadiancyclist.com
Results
1 Kristin Armstrong (United States)            34.51.72 (40.459 km/h)
2 Emma Pooley (Great Britain)                   0.24.29
3 Karin Thurig (Switzerland)                    0.59.27
4 Jeannie Longo-Ciprelli (France)               1.00.90
5 Christine Thorburn (United States)            1.02.44
6 Judith Arndt (Germany)                        1.08.05
7 Christiane Soeder (Austria)                   1.29.03
8 Priska Doppmann (Switzerland)                 1.36.07
9 Zulfiya Zabirova (Kazakhstan)                 1.37.75
10 Susanne Ljungskog (Sweden)                   1.41.78
11 Hanka Kupfernagel (Germany)                  1.43.33
12 Tatiana Guderzo (ItalyItaly)                 1.46.25
13 Linda Melanie Villumsen Serup (Denmark)      1.58.90
14 Marianne Vos (Netherlands)                   2.06.95
15 Nicole Cooke (Great Britain)                 2.22.53
16 Natalia Boyarskaya (Russia)                  2.22.93
17 Min Gao (China)                              2.23.51
18 Mirjam Melchers-Van Poppel (Netherlands)     2.59.87
19 Marta Vilajosana (Spain)                     3.03.27
20 Maryline Salvetat (France)                   3.18.00
21 Emma Johansson (Sweden)                      3.37.11
22 Oenone Wood (Australia)                      4.01.73
23 Edita Pucinskaite (Lithuania)                4.03.65
24 Alexandra Wrubleski (Canada)                 4.23.70
25 Lang Meng (China)                            5.59.89


Intermediate times at km 10.8

1 Emma Pooley (Great Britain)                       20.46.99 (31.178 km/h)
2 Kristin Armstrong (United States)                  0.03.58
3 Jeannie Longo-Ciprelli (France)                    0.23.73
4 Christine Thorburn (United States)                 0.35.40
5 Karin Thurig (Switzerland)                         0.35.56
6 Tatiana Guderzo (Italy)                            0.42.78
7 Susanne Ljungskog (Sweden)                         0.46.34
8 Christiane Soeder (Austria)                        0.47.86
9 Judith Arndt (Germany)                             0.59.70
10 Priska Doppmann (Switzerland)                     1.00.28
11 Zulfiya Zabirova (Kazakhstan)                     1.01.02
12 Marianne Vos (Netherlands)                        1.02.84
13 Natalia Boyarskaya (Russia)                       1.04.18
14 Min Gao (China)                                   1.21.88
15 Linda Melanie Villumsen Serup (Denmark)           1.23.60
16 Hanka Kupfernagel (Germany)                       1.29.11
17 Maryline Salvetat (France)                        1.46.99
18 Nicole Cooke (Great Britain)                      1.49.40
19 Marta Vilajosana (Spain)                          1.54.32
20 Mirjam Melchers-Van Poppel (Netherlands)          1.56.37
21 Edita Pucinskaite (Lithuania)                     2.17.06
22 Emma Johansson (Sweden)                           2.17.60
23 Alexandra Wrubleski (Canada)                      2.48.86
24 Oenone Wood (Australia)                           3.01.93
25 Lang Meng (China)                                 4.06.27