29th Olympic Games - JO
Beijing, China, August 9-23, 2008
Main Page Results Live report Event Details Previous Event Next Event
Event 4 - August 13: Men's Individual Time Trial, 47km
Cancellara realises dream with Olympic TT gold
Larsson and Leipheimer complete podium
By Gregor Brown, with additional reporting by Rob Jones in Beijing
Fabian Cancellara gets the great feeling of celebrating his time trial win
Photo ©: AFP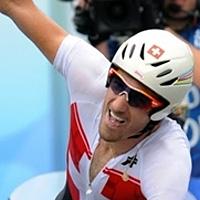 Swiss Fabian Cancellara realised his golden dreams and won the Beijing Olympics time trial, four days after the 27 year-old surprised with a bronze medal in the road race. His time of 1h02'11" on the 47-kilometre course was enough to hold off Sweden's Gustav Erik Larsson and USA's Levi Leipheimer to second and third.
"It was a perfect day. I sacrificed and prepared a lot, and today was the day to show it," said Cancellara, who started the race marked as the odd-makers' number one. "I was a favourite. To win is a hard thing when you are a favourite."
Spain's Alberto Contador – 2008 Giro d'Italia and 2007 Tour de France winner – challenged for the win in the early half of the race – two circuits of 23.5 kilometres. He lost time in the second half, finishing in fourth at 1'18". Australia's Cadel Evans closed for fifth and winner of the men's road race, Spain's Samuel Sánchez, was sixth.
Olympic gold in the time trial was always on Cancellara's checklist since turning professional in 2001 with Mapei. Over the years – riding for Giancarlo Ferretti's Team Fassa Bortolo and Bjarne Riis' Team CSC – he accumulated six national titles and two world championships titles in the discipline.
Levi Leipheimer (USA) rides to a well-earned bronze
Photo ©: Casey Gibson

Gold fell out of his reach in the 2004 Games in Athens, where he closed for tenth at 2'10". However, 2008 looked designated to be his year as early as February. He started winning in the USA with the Tour of California prologue. He continued in Europe with Monte Paschi Eroica, stage five and the overall of Tirreno-Adriatico and the Monument, Milano-Sanremo. His second place finish in Paris-Roubaix proved he was on track and even developing as a well-rounded, one-day rider.
He put those talents to good use by helping Carlos Sastre win the Tour de France title. After the three-week race, he arrived in Beijing ready to stamp his authority on the time trial. However, he could not hold himself back in the road race. He bridged solo to the chase group in the finale and finished third in the sprint.
"I am very proud to go home with two medals," Cancellara continued. He sacrificed a lot going into the race, including only a brief visit with his wife and daughter, Giuliana, between the Tour and Olympics.
Cancellara expressed how without the help of his family and team he could not have won the time trial.
"I am the guy out there on the bike alone, but there are so many behind me and this project. [Their support] helps you go so hard and deep because you can't win without a team behind you. It is how Carlos [Sastre] won the Tour – it was the team that made it and it is the same here."
His team radioed to him in the finale as he was trailing Larsson by six seconds in the final quarter of the race. Cancellara responded with a full-throttle effort. "I gave it all – I did not want to lose today."
A threat from Sweden
Gustav Erik Larsson gave Sweden a silver medal
Photo ©: AFP

Cancellara lived up to his 'favourite' billing, but Larsson surprised pundits with his threat for gold. The 27 year-old, who rides as Cancellara's CSC-Saxo Bank team-mate, was second and the first time check, third and the second and led through the final check at 12.4 kilometres remaining.
"It is the most beautiful race I have done in my entire life. I always knew it was a course for me," Larsson said. "I prepared for it all year."
Though the speeds of Cancellara and Larsson were out of reach, USA's Leipheimer battled for bronze with trade team-mate Contador and Evans. Leipheimer's early speed was enough to hold off a resurgent Evans and better Contador, who died in the latter half of the run.
"I wished I had gone stronger earlier in the race. ... I knew I was behind Contador by a few seconds in the last lap," said Leipheimer, 34 years old. "Gold, silver, bronze – it is all good, it is a fantastic feeling."
Contador opened the race with an impressive thumping. He was the only rider to go under 18 minutes at the 10.8-kilometre time check – 18 second better than Larsson. He paid for the effort in the second half of the race.
Stefan Schumacher was one of the big favourites, but was disappointed and ended in unlucky 13th
Photo ©: AFP

"I went very hard and I found it more difficult on the downhill sections than I had expected," he said. He stated the circuit is better suited to heavier riders.
Sánchez combined with Contador to make a good showing by Spain despite its problems with Maria Isabel Moreno. The winner of the men's road race held the provisional time checks before the favourites came through. He finished sixth and capped off a great trip to China.
The day in China did not go so well for others. Leipheimer's team-mate David Zabriskie still seems to be suffering from the serious crash in the Giro d'Italia. Germany's Stefan Schumacher, tipped as a pre-race favourite thanks to his two time trial wins in the Tour de France, found the Beijing weather conditions suffocating. 2002 World Champion, Colombia's Santiago Botero, showed strong in the road race (seventh), but could not live up to his potential in his discipline like Cancellara.
Photography
For a thumbnail gallery of these images, click here
Images by AFP Photo
Images by Jean-François Quénet
Images by Casey Gibson/www.cbgphoto.com
Images by Rob Jones/www.canadiancyclist.com
Images by Roberto Bettini/www.bettiniphoto.net
Results
1 Fabian Cancellara (Switzerland)    1.02.11.43 (45.350 km/h)
2 Gustav Erik Larsson (Sweden)          0.33.36
3 Levi Leipheimer (United States)       1.09.68
4 Alberto Contador (Spain)              1.18.08
5 Cadel Evans (Australia)               1.23.54
6 Samuel Sánchez (Spain)                2.25.81
7 Svein Tuft (Canada)                   2.28.01
8 Michael Rogers (Australia)            2.35.42
9 Stef Clement (Netherlands)            2.47.99
10 Robert Gesink (Netherlands)          2.51.45
11 Stephen Cummings (Great Britain)     2.56.48
12 David Zabriskie (United States)      3.06.39
13 Stefan Schumacher (Germany)          3.13.95
14 Bert Grabsch (Germany)               3.14.77
15 Vincenzo Nibali (Italy)              3.24.58
16 Ryder Hesjedal (Canada)              3.30.90
17 Rein Taaramae (Estonia)              3.35.90
18 Vladimir Karpets (Russia)            3.40.95
19 Chris Anker Sørensen (Denmark)       3.43.99
20 Denis Menchov (Russia)               3.59.11
21 Vasil Kiryienka (Belarus)            4.00.76
22 Marzio Bruseghin (Italy)             4.09.52
23 Kim Kirchen (Luxembourg)             4.18.20
24 Andrey Mizurov (Kazakhstan)          4.20.62
25 Santiago Botero (Colombia)           4.24.00
26 Maxime Monfort (Belgium)             5.01.28
27 Laszlo Bodrogi (Hungary)             5.16.06
28 Simon Spilak (Slovenia)              5.23.43
29 Matej Jurco (Slovakia)               5.41.49
30 Matias Medici (Argentina)            5.41.66
31 David George (South Africa)          5.43.78
32 Andriy Grivko (Ukraine)              5.49.82
33 Brian Bach Vandborg (Denmark)        5.58.77
34 Przemyslaw Niemiec (Poland)          6.32.00
35 Hossein Askari (IranIran)            6.34.87
36 Raivis Belohvosciks (Latvia)         6.43.53
37 Denys Kostyuk (Ukraine)              6.52.61
38 Matija Kvasina (Croatia)             6.55.06
39 Fumiyuki Beppu (Japan)               8.53.71
 
First check at km 10.8
 
1 Alberto Contador (Spain)             17.49.53 (36.370 km/h)
2 Gustav Erik Larsson (Sweden)          0.17.82
3 Fabian Cancellara (Switzerland)       0.28.88
4 Levi Leipheimer (United States)       0.30.61
5 Cadel Evans (Australia)               0.35.45
6 Samuel Sánchez (Spain)                0.42.35
7 Kim Kirchen (Luxembourg)              0.47.44
8 Stephen Cummings (Great Britain)      0.50.50
9 Robert Gesink (Netherlands)           0.53.15
10 Chris Anker Sørensen (Denmark)       0.55.32
11 Vasil Kiryienka (Belarus)            0.56.08
12 Michael Rogers (Australia)           0.57.66
13 Vladimir Karpets (Russia)            0.58.44
14 David Zabriskie (United States)      1.00.43
15 Marzio Bruseghin (Italy)             1.03.11
16 Rein Taaramae (Estonia)              1.05.88
17 Ryder Hesjedal (Canada)              1.06.35
18 Stefan Schumacher (Germany)          1.09.12
19 Maxime Monfort (Belgium)             1.15.12
20 Bert Grabsch (Germany)               1.15.50
21 Svein Tuft (Canada)                  1.15.94
22 Vincenzo Nibali (Italy)              1.16.32
23 Denis Menchov (Russia)               1.16.98
24 Przemyslaw Niemiec (Poland)          1.20.57
25 Santiago Botero (Colombia)           1.24.86
26 Simon Spilak (Slovenia)              1.25.02
27 Stef Clement (Netherlands)           1.29.44
28 Denys Kostyuk (Ukraine)              1.39.00
29 David George (South Africa)          1.42.40
30 Andriy Grivko (Ukraine)              1.44.28
31 Matias Medici (Argentina)            1.49.42
32 Andrey Mizurov (Kazakhstan)          1.49.91
33 Matija Kvasina (Croatia)             1.50.71
34 Matej Jurco (Slovakia)               2.03.58
35 Hossein Askari (IranIran)            2.05.28
36 Raivis Belohvosciks (Latvia)         2.08.32
37 Brian Bach Vandborg (Denmark)        2.11.32
38 Laszlo Bodrogi (Hungary)             2.12.04
39 Fumiyuki Beppu (Japan)               2.37.67
 
Second check at km 23.5
 
1 Fabian Cancellara (Switzerland)      30.36.62 (46.078 km/h)
2 Alberto Contador (Spain)              0.15.88
3 Gustav Erik Larsson (Sweden)          0.25.56
4 Levi Leipheimer (United States)       0.43.41
5 Cadel Evans (Australia)               1.01.47
6 Stephen Cummings (Great Britain)      1.02.61
7 Kim Kirchen (Luxembourg)              1.13.99
8 Samuel Sánchez (Spain)                1.16.25
9 David Zabriskie (United States)       1.20.06
10 Robert Gesink (Netherlands)          1.25.78
11 Bert Grabsch (Germany)               1.26.06
12 Svein Tuft (Canada)                  1.26.16
13 Michael Rogers (Australia)           1.29.81
14 Stefan Schumacher (Germany)          1.30.09
15 Vasil Kiryienka (Belarus)            1.36.42
16 Chris Anker Sørensen (Denmark)       1.45.28
17 Ryder Hesjedal (Canada)              1.48.24
18 Stef Clement (Netherlands)           1.51.95
19 Vladimir Karpets (Russia)            1.57.02
20 Denis Menchov (Russia)               2.04.66
21 Maxime Monfort (Belgium)             2.10.50
22 Rein Taaramae (Estonia)              2.11.37
23 Marzio Bruseghin (Italy)             2.14.31
24 Vincenzo Nibali (Italy)              2.21.42
25 Santiago Botero (Colombia)           2.23.55
26 Simon Spilak (Slovenia)              2.27.41
27 Andriy Grivko (Ukraine)              2.35.35
28 Andrey Mizurov (Kazakhstan)          2.37.55
29 Matias Medici (Argentina)            2.43.25
30 Laszlo Bodrogi (Hungary)             2.43.99
31 Denys Kostyuk (Ukraine)              2.54.56
32 Matej Jurco (Slovakia)               2.55.36
33 Przemyslaw Niemiec (Poland)          2.56.68
34 Raivis Belohvosciks (Latvia)         3.03.09
35 David George (South Africa)          3.06.41
36 Hossein Askari (IranIran)            3.10.92
37 Brian Bach Vandborg (Denmark)        3.20.76
38 Matija Kvasina (Croatia)             3.32.33
39 Fumiyuki Beppu (Japan)               4.12.19
 
Third check at km 34.6
 
1 Gustav Erik Larsson (Sweden)         49.52.82 (41.631 km/h)
2 Fabian Cancellara (Switzerland)       0.06.17
3 Alberto Contador (Spain)              0.19.81
4 Cadel Evans (Australia)               0.44.66
5 Levi Leipheimer (United States)       0.51.90
6 Samuel Sánchez (Spain)                1.25.14
7 Svein Tuft (Canada)                   1.47.92
8 Robert Gesink (Netherlands)           1.48.16
9 Michael Rogers (Australia)            1.54.15
10 David Zabriskie (United States)      2.10.38
11 Ryder Hesjedal (Canada)              2.18.64
12 Stef Clement (Netherlands)           2.18.77
13 Stephen Cummings (Great Britain)     2.19.48
14 Rein Taaramae (Estonia)              2.24.87
15 Vincenzo Nibali (Italy)              2.27.67
16 Stefan Schumacher (Germany)          2.33.84
17 Bert Grabsch (Germany)               2.37.61
18 Chris Anker Sørensen (Denmark)       2.41.55
19 Vasil Kiryienka (Belarus)            2.44.87
20 Vladimir Karpets (Russia)            2.49.28
21 Denis Menchov (Russia)               2.55.45
22 Marzio Bruseghin (Italy)             2.56.90
23 Kim Kirchen (Luxembourg)             3.07.82
24 Andrey Mizurov (Kazakhstan)          3.11.23
25 Santiago Botero (Colombia)           3.24.71
26 Maxime Monfort (Belgium)             3.54.19
27 Simon Spilak (Slovenia)              3.59.83
28 Przemyslaw Niemiec (Poland)          4.15.37
29 David George (South Africa)          4.19.33
30 Andriy Grivko (Ukraine)              4.20.94
31 Matias Medici (Argentina)            4.24.01
32 Laszlo Bodrogi (Hungary)             4.29.79
33 Matej Jurco (Slovakia)               4.32.56
34 Matija Kvasina (Croatia)             4.46.24
35 Brian Bach Vandborg (Denmark)        4.52.06
36 Hossein Askari (IranIran)            5.00.63
37 Raivis Belohvosciks (Latvia)         5.11.76
38 Denys Kostyuk (Ukraine)              5.16.25
39 Fumiyuki Beppu (Japan)               6.45.83