First Edition Cycling News, April 12, 2009
Edited by Laura Weislo
Prudhomme expects Armstrong at the Tour
By Gregor Brown in Compiègne, France
Coming up on
Cyclingnews will cover the 60th edition of the Dauphiné Libéré live as of stage 4 on Wednesday, June 10, at approximately 15:00 local Europe time (CEST)/ 23:00 Australian time (CDT)/ 9:00 (USA East).

WAP-enabled mobile devices: http://live.cyclingnews.com/wap/

The Tour de France's director expects to see Lance Armstrong at the Tour de France this July despite the American's own doubts that he will be allowed to race. Christian Prudhomme told Cyclingnews on Saturday that despite the American's recent trouble with the anti-doping authorities in France, he sees Armstrong participating in this year's Tour.
"I imagine he will be at the Tour de France and I imagine he will also be at the Giro d'Italia," said Prudhomme to Cyclingnews Saturday.
The seven-time winner of the race is at the mercy of the French anti-doping agency (AFLD), who reported improper behaviour by the American in a March 17th control.
The French anti-doping agency will decide next month if it will attempt to sanction Armstrong for failure to remain in the presence of the doping control officer. Should he be punished, he could be banned from racing in France.
Armstrong, who has a long history of conflict with the French media and anti-doping agency was pessimistic about his chances of racing the Tour in a video update. "I know … that my comeback hasn't been welcomed by a lot of people in France. I suspect this will escalate and we'll see a bit more antics out of the AFLD in the future, and there is a high likelihood that they will prohibit me from riding in the Tour," Armstrong said.
Prudhomme said he had not yet spoken with the anti-doping agency about the affair. "I don't want to comment on anything that doesn't depend on us."
The French anti-doping agency took Armstrong's hair, blood and urine in an out-of-competition control. He was at his home in Cap Martin, France, training for the Milano-Sanremo. According to Armstrong, all of the controls came back negative, and the tester did not note any abnormal behaviour on his part on the forms which were completed on that date.
For more information on Armstrong, read Talking Giro, Twitter and the Tour.
Armstrong in for the Giro
Lance Armstrong is back to training normally after recovering from a fractured collarbone sustained in a crash in the Castilla e León on March 23. His plans to compete in his first Giro d'Italia have gone unaltered since his surgery to repair the break, Armstrong said Friday.
"I fully anticipate being there [at the Giro], and being strong and fit and ready to race. I don't know if that means victory in the overall, but with the setback I have to reconsider things a little bit, but I can't complain. I feel strong and motivated to race there."
The 2009 Giro d'Italia route originally was to cross into France on stage 10, May 19, where Armstrong may have faced problems with French anti-doping officers. The Giro d'Italia announced on April 8, one day prior to the AFLD news, that the stage had to be altered due to snowfall.
Contador untouchable in Basque country
By Monika Prell in Zalla
The best time trialers
Photo ©: Susanne Goetze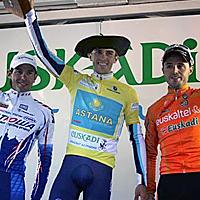 Astana's Alberto Contador proved himself to be untouchable in the Tour of the Basque country, putting in a dominant final time trial to seal his overall victory as well as the stage win. The three-time Grand Tour champion clocked in a 31:59 for the 24km distance, and only Antonio Colom (Katusha) and Samuel Sanchez (Euskaltel-Euskadi) could come within a minute of that mark. The three fastest also made up the race's final podium.
Contador, who already took home the overall title at the Vuelta ao Algarve in March, set the fastest times at the first check after five kilometres and held his lead until the end. Colom and Liquigas' Vincenzo Nibali were the next fastest at the early check, but the Italian would fade over the second half.
"It's incredible how I continue to progress in my time trial work," said Contador. "Two, three years ago this would have been impossible. I am a typical climber; in theory we are not so strong in time trial work. This gives me confidence for the next goal, the Tour de France. Maybe from now on I must concentrate on longer time trials as well."
The Astana team had its share of mishaps during the tour. It lost a valuable domestique when Chris Horner crashed out of the race, and Daniel Navarro, who went down in the same wreck, suffered trying to work for Contador on the final mass start day.
"This time I had many doubts if I would be able to win the Vuelta al País Vasco," said Contador. "I felt good but we had some difficult stages to ride, and in the end all riders are equal and everybody can have bad days." He dedicated the victory to his team, saying he was happy he could repay their hard work with a victory.
See the full results, report and photos.
Garmin's Maaskant ready for heaven and hell
By Brecht Decaluwé in Compiègne, France
Martijn Maaskant (Garmin-Slipstream)
Photo ©: Gregor Brown

The hopes of the USA-based Garmin are resting on the young shoulders of Martijn Maaskant. The 25 year-old Dutchman put in a stunning debut in Paris-Roubaix when he finished just off the podium last year.
This season Maaskant confirmed his prominence with another fourth place in another Monument of cycling, the Ronde van Vlaanderen, last week. The Dutchman, referring to himself on his own web site as 'Rocky' on the bike, understands that people see him as one of the favorites. "With the results I achieved in Flanders and Roubaix it makes sense to make me a favorite, but I don't think I belong to that list," Maaskant said.
In order to achieve a great result on the legendary vélodrome of Roubaix many puzzle pieces will have to fall into place. One of those pieces is team support and that might be one of the crucial factors for Maaskant. Compared to teams like Quick Step and Columbia the team of manager Jonathan Vaughters doesn't seem that strong on paper.
"That's true, but Bradley Wiggins is here and I have good hopes that he will be there to support me in the finale. First of all I have to make sure I'm up there. Once that is the case I'll see how I can battle the big guns," Maaskant said to Cyclingnews.
One day earlier last year's champion Tom Boonen said that he was impressed by Maaskant, although he hadn't seen grand moves from him just yet, adding that shouldn't be expected from such a young guy. One could also compare Maaskant with Boonen as they both finished fourth at their debut in the Queen of classics.
"That's nice to hear," said Maaskant, "but I'm not comparing myself with Boonen; he already had an impressive palmarés at my age while I'm only just knocking at the door. I wouldn't call him an example but of course as an amateur I did follow him."
The seemingly languid rider wasn't worrying too much about how the weather would be like on Sunday. "The only thing that it has influence on is the tyre pressure. For me, the race can start because I'm ready for it," Maaskant said before hopping back on the team bus to head to Chantilly. The Garmin team is staying there in a luxurious hotel, allowing their multiple American guests to stay in heaven before crashing into hell and maybe back to heaven on Sunday afternoon.
Haussler makes one last push
By Gregor Brown in Compiègne, France
Heinrich Haussler is making one last push in the Spring Classics prior to a well-earned beach vacation. The Cervélo TestTeam rider finished an impressive second in two of cycling's Monuments, Milano-Sanremo and Ronde van Vlaanderen, but he refuses to give up before Sunday's Paris-Roubaix.
"I had my fame and fortune, and now I am ready help the team. However, you never know because I still feel okay. If I have a really good day I can be up there," the 25-year-old said to Cyclingnews.
Haussler came close to a win in Italy's Milano-Sanremo at the end of March. He hammered off the front of the peloton with 350 metres to go, but fell 11 centimetres shy to a speedy Mark Cavendish. Two weeks later in Ronde van Vlaanderen, he jumped off the front of the group win the sprint behind Stijn Devolder's solo escape.
"I think I have been holding my form longer than any rider in the peloton. I have nothing to change for next year, just to arrive at my peak a little later."
Haussler will help Cervélo teammates Thor Hushovd, Roger Hammond and Andreas Klier. If he is still in the front group after the Arenberg section the team will likely send him up the road to allow Hammond and Hushovd the freedom to mark the favourites.
He confirmed no injuries from his crash in Gent-Wevelgem on Wednesday. In fact, he called it a blessing so that he did not have to continue racing on the dismal day and save his strength for the Roubaix cobblestones.
BMC's wild Roubaix wildcard ride
Tony Cruz landed on the podium in Redlands in 2008.
Photo ©: Kurt Jambretz

It was just one month ago that the Amaury Sport Organisation (ASO) announced the wildcard selections for the 107th edition of Paris-Roubaix, and among the eight discretionary picks was the American BMC Racing Team, the USA's sole UCI Professional Continental squad. Cyclingnews' Peter Hymas talked to three members of the team about the mad scramble to prepare for the biggest one-day race of the year.
The BMC Racing Team hasn't had the luxury of taking in the traditional buildup to Paris-Roubaix. Most teams have a steady diet of grueling European one-day classics and short stage races to fine tune fitness and acclimate the body to the demands put forth by gnarled pavé and adverse weather conditions.
Instead, the team's top competition came at the Tour of Qatar, Amgen Tour of California and Critérium International. Additionally, the team has been active this Spring in Europe, racing in Switzerland, Belgium, and the Netherlands.
Of the five American and three Swiss members of BMC Racing Team's Paris-Roubaix roster, only one, Tony Cruz, has previously started Paris-Roubaix. Veteran members of the team, however, such as Cruz and Swiss Alexandre Moos bring a wealth of European ProTour experience to the squad on the road while directeur sportif John Lelangue and the team's support staff have been feverishly at work to ensure a flawless trek from Compiègne to Roubaix.
Continue to the full feature.
Posthuma hopes to flank Flecha on podium
By Brecht Decaluwé in Compiègne, France
Joost Posthuma (Rabobank)
Photo ©: Brecht Decaluwé

While the Rabobank team usually tries to have several men in front during the Spring Classics, their tactics for the 107th edition of Paris-Roubaix are slightly different. One of their big guns, Belgium's Nick Nuyens, opted not to race on Sunday in order to be ready for the Amstel Gold Race next week.
The team will instead rely on Juan Antonio Flecha, often referred to as John Anthony Arrow, as its leader. For riders like Joost Posthuma it's an opportunity to step up into the spotlight and support Flecha as long as possible.
"During the Driedaagse De Panne – Koksijde I was already going well. Sadly enough our team ran into bad luck during the Ronde van Vlaanderen. Hopefully we can come back with a strong performance in Paris-Roubaix," Posthuma said.
The 27-year-old's record in the Queen of all Classics isn't impressive, but he has the body and the skills to have a good run on the pavé.
"If there's a big breakaway group gone early on then I should feature among them, but if the group isn't strong then I should be saving energy in the bunch; one shouldn't waste energy before the first cobbles arrive after one hundred kilometers. I firmly believe that Flecha can top the podium on Sunday and silently I'm hoping to flank him there," Posthuma said.
American success in Asia
The American Continental team Kelly Benefit Strategies continued its overseas success story this week with an overall victory in the Tour of Thailand. Andrew Bajadali took the lead on stage five from his teammate Jacob Erker, and held onto the 28 second advantage over Phuchong Sai-Udomsin (Royal Thai Air Force) on the sixth and final stage, a 76km circuit race in Udon Thani.
Performance Director Jonas Carney employed the aggressive tactics that have been the team's staple throughout the grueling six day race. Carney sent the team out to the front early and controlled the action for much of the day.
In addition to Bajadali's first place finish, Erker finished fourth overall, Zach Bell sixth and Dan Bowman seventh, giving the KBS team an impressive four of the top ten places in the general classification. The KBS team also won the team classification and finished second on points.
"We are happy with out success here in Thailand," says Jonas Carney, Performance Director. "Winning the overall GC at a UCI stage race is a big accomplishment for our team, especially since we just started our season. I didn't expect that we'd be so strong so soon."
(All rights reserved/Copyright Future Publishing (Overseas) Limited 2009)