First Edition Cycling News for April 9, 2009
Edited by Peter Hymas
Boasson Hagen: New generation with little cycling history
By Bjorn Haake in Wevelgem
Edvald Boasson Hagen (Columbia-Highroad)
Photo ©: AFP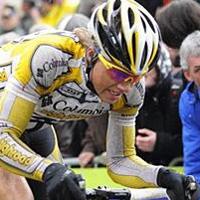 Some of the previous Gent-Wevelgem winners were very young when they took victory, such as Bernard Hinault (22), Teun van Vliet (21) or Eddy Merckx (21). This year, the list has become longer, with Edvald Boasson Hagen, also aged 21, winning the event on Wednesday. Asked about this fact, Boasson Hagen said "the win was quite special. To do it at such a young age is even better." But the Norwegian doesn't like to spend much time looking back. "Sean Kelly? Sorry, I am not so good with cycling history," he admitted. "I just want to race."
He does know Eddy Merckx, however. Boasson Hagen's team members gave him the nickname Eddy (derived from his first name Edvald) and Columbia-Highroad Manager Bob Stapleton revealed that the Norwegian knows where this name comes from. "We told him that's quite an important name to know," Stapleton said with a smile.
Boasson Hagen's own career could go in that direction. Asked if he sees himself more as a Classics rider, or a lead-out man for Cavendish or a sprinter, he had no answer. "I don't think so much about that, I just see where I am doing best. But I like to do these races [Classics]."
Coming up on
Cyclingnews will cover the 60th edition of the Dauphiné Libéré live as of stage 4 on Wednesday, June 10, at approximately 15:00 local Europe time (CEST)/ 23:00 Australian time (CDT)/ 9:00 (USA East).

WAP-enabled mobile devices: http://live.cyclingnews.com/wap/
Despite winning the Norwegian time trial championships in 2007 and 2008, he doesn't see the race against the clock as his future. "I like time trials OK, but they are really not my preference."
It was his first participation in Gent-Wevelgem and on Sunday he will race Paris-Roubaix also for the first time. "That's really exciting," he said. "I hope I can do a good job for the team. It's a long and tough race, I hope I can finish it." He added that he was not afraid of racing in the Hell of the North, even though it will be a new experience for him. "I haven't even done it in the U23 category." The big unknown lies ahead. "I don't know the cobble sections. We will do them tomorrow, I think."
Boasson Hagen continues to live in Norway, as he has strong ties to his family. The team has talked to him about moving to central Europe, but for now he stays in Norway and it prepares him well for the weather. "I am used to the cold." The advantage for him is that he can dress lighter than most of his rivals without being cold.
Boasson Hagen is often called one of the biggest talents of the new generation. The northerner stayed cool once again. "They can say what they want, I just try to race as best as I can."
Discuss Boasson Hagen's win in our forum.
Stapleton proud of team's Gent-Wevelgem performance
By Daniel Benson in Wevelgem
Markus Burghardt was part of a Columbia - Highroad team effort
Photo ©: Tim Van Wichelen

On a day of high winds, crashes and poor weather, Columbia showed their strength in depth with an all-round impressive display in Gent-Wevelgem. Edvald Boasson Hagen took the biggest win of his young career, with Marcus Burghardt finishing 7th and George Hincapie coming home in 16th.
On the finish line Columbia Team Manager Bob Stapleton said Edvald's win was one of the proudest moments in the team's short history but praised the team for their hard work and application. Earlier in the race Mark Cavendish's chances disappeared up the road after a poorly timed puncture and cross winds breaking the field.
"I would say that's Edvald's biggest win and I'm so proud that another of our young riders has come through and risen through the ranks. We've had confidence in him all throughout his time with us but I don't think even he knows just how strong he is now or can become in the future," Stapleton said.
Teammate and former winner of Gent-Wevelgem, Marcus Burghardt, who had looked strong on the Kemmelberg and marked the moves to protect Hagen's lead, echoed those sentiments. "That was great work from us. Cervélo and Rabobank had more riders in the lead group to start with but we rode a great race and I'm so happy for Edvald. I know how he must be feeling right now," said Burghardt.
The young Norwegian has been tipped for greatness from within the sport and with a cluster of impressive wins already under his belt his manager believes that more could follow. "Edvald is so strong and you should never underestimate any of the guys on team. He was sick in Flanders but I knew he could do it as soon as he turned on the power on the Kemmelberg and caught Kuschynski. When he's good, he's very, very good," Stapleton said.
After a disappointing Tour of Flanders, in which many of the team crashed – Hincapie even went down in the last 200 meters – Stapleton was pleased with how the team had reacted. "These guys want to win and this wasn't a practice race. We have great depth in the team."
Fine finish for faultless Saxo Bank pair
By Daniel Benson in Wevelgem
Matthew Goss (Saxo Bank) on the podium.
Photo ©: Sirotti

Saxo Bank's Lars Michaelsen was pleased with the performances of both Matti Breschel and Matt Goss, with the latter taking third place in his first Gent-Wevelgem.
With cross-winds and high profile punctures to Tom Boonen and Mark Cavendish playing major factors in the race, the Danish directeur sportif, and 1995 winner of the race, had stressed to his riders the importance of riding at the front in the early stages. "If you don't go into a race like this well prepared – and a lot of teams didn't go in with the right plans – then you pay the price," Michaelsen said from team bus.
"The plan from the start was to keep our riders at the front and I felt happy that we did that in the first half of the race. Unfortunately after the split Fabian Cancellara punctured when he was in front group, so we missed having one of riders out in the lead."
However, Breschel and Goss played key roles in the major escape of the day, and the duo worked for each other in helping to set the pace each time up the Kemmelberg. On the final ascent of the climb Goss moved to the front in a bid to reign in the lone leader, Aleksandr Kuschynski. The Australian was unable to bridge the gap and left the door open for eventual winner, Edvald Boasson Hagen, to charge across.
"They were both really motivated and had great ambitions to do well. You could see that and I can't fault their tactical play. Boasson Hagen was maybe too strong but there's not much you can do in that situation. There's no shame in that and I think the race had the right winner."
With Kuschynski and Boasson Hagen away, Goss was able to counter with Mathew Hayman (Rabobank) and Andreas Klier (Cervélo TestTeam), before kicking for the line and taking the final podium place.
Both Goss and Breschel will line-up for this Sunday's Paris Roubaix. It will be Goss's first attempt at the race.
Former winner Steels gives Gent-Wevelgem lowdown
By Daniel Benson in Wevelgem
Kuschynski goes on the attack on the second trip up the Kemmel.
Photo ©: Tim Van Wichelen
Two-time winner of Gent-Wevelgem and former Belgian national champion, Tom Steels, watched this year's race from the commentary box and gave Cyclingnews his expert opinion on the race and the tactical battles within it.
"It was an impressive race and very hard on the riders. I don't think I'm going out on a limb here by saying that the two riders who came first and second weren't necessarily the strongest, but were certainly the riders who made the best decisions," Steels said.
The 1996 and 1999 winner thought that the weather was crucial to the race after all but thirty riders were ruled out after a split within the opening 10 kilometres. "The weather is always a key part. This is Gent-Wevelgem we're taking about. But once the break went away we saw some teams represented very heavily."
The Belgian thought that Liquigas' Aleksandr Kuschynski's move with 39 kilometres to go wasn't a deliberate attempt to stay away until the finish. "Liquigas had good riders in that group and Kuschynski's style dictates that he's always going to try and break off the front. I think he was simply trying to make things easier for his teammate Fischer who has a good sprint. But once he was away and had a gap the situation changed."
Steels agreed that the Belarusian was almost certainly racing for second place once Boasson Hagen bridged the gap and the pair built a solid lead towards the finish. "Kuschynski's move was tactical but Boasson Hagen's was pure strength. Then Liquigas would have thought, 'Okay we can ride for second place' because if they get to finish with Boasson Hagen you're going to come off second best."
As for the teams and riders who missed the day's key break, Steels seemed to have little sympathy. "I don't think some of the riders and teams were aggressive enough. It's hard to say who could have played their cards better, but maybe Rabobank could have done something more with the riders they had."
Giro loses its top
Organisers of the Giro d'Italia were forced to make last-minute changes to one of the key mountain stages of this year's race. RCS Sport announced Wednesday that the planned route for stage 10 would now take place entirely in Italian territory rather than crossing the border into France, and will not include the planned highest peak, the Col d'Izoard.
The stage, set to take place on May 19 from Cuneo to Pinerolo, was intended to duplicate the epic stage won by legend Fausto Coppi in the 1949 edition of the race. However, the descent from the Colla della Maddalena (Col de Larche) just over the border in France, has been closed for the winter due to avalanche risks.
RCS Sport said it was unable to have the travel ban lifted despite a favorable recommendation from officials. It also cited difficulties in settling on radio frequencies to be used by the race in France as a reason to keep the stage inside Italian borders.
Heavy late winter storms dumped up to 80cm of new snow in the Southern Alps at the end of March, with many roads being closed due to avalanches.
The organisers had devised an alternative course in December in case the roads were not open for travel. That detour took the race over the Colle dell'Agnello (Col d'Agnel), but this pass, too, is closed for the winter through June.
The Tour de France was modified to skip the Col de Larche on stage 15 for similar reasons last year, and the race went over the Col d'Agnel instead.
The new route for the Giro's stage 10 will tack on an additional 10km to an already lengthy stage. Now topping out at 260km, the stage drops the number of classified climbs from five to three. The first climb will come at km 131.9, the Moncenisio (1432m), followed by the climb to Sestrières, now at kilometre 201.7 rather than 195.4.
Instead of the 55km descent from Sestrières, the race will now detour to take in an additional climb, the Pramartino. the climb is just 918m, but coming at kilometre 252, just 8km before the finish line, it could provide a more suitable finish for the contenders for the overall classification to take time out of their rivals.
Barloworld gains last Giro spot
John-Lee Augustyn will be on the Giro start line
Photo ©: Roberto Bettini

The organisers of the Giro d'Italia completed the list of the invited teams on Tuesday, adding the Barloworld team to the roster. RCS Sport released a list of 20 teams in January which was lacking four ProTour teams: Cofidis, Euskaltel-Euskadi, Française des Jeux and Fuji-Servetto.
The final list of invited teams is as follows: AG2R - La Mondiale (Fra), Astana (Kaz), BBox Bouygues Telecom (Fra), Caisse d'Epargne (Spa), Garmin-Slipstream (USA), Katusha (Rus), Lampre-N.G.C. (Ita), Liquigas (Ita), Team Milram (Ger), Quick Step (Bel), Rabobank (Ned), Saxo Bank - IT Factory (Den), Silence-Lotto (Bel) and Team Columbia (USA). Professional Continental: Acqua & Sapone - Caffè Mokambo (Ita), Barloworld (RSA), Cervélo Test Team (Swi), ISD (Ita), LPR Brakes Farnese Vini (Irl), Serramenti PVC Diquigiovanni-Androni Giocattoli (Ven) and Xacobeo Galicia (Spa).
The Barloworld team was pleased to have been given the nod. "Team Barloworld clearly have impressed RCS Sport with their commitment to their team values namely integrity, commitment, teamwork and excellence," a press release stated.
The team announced it will line up for the May race with South African Robert Hunter and John-Lee Augustyn together with Columbian climber Mauricio Soler, with the final roster to be decided in coming weeks.
"Good samaritan" arrested in Armstrong bike theft
Lance Armstrong's bike was returned to Police
Photo ©: Sacramento Police Department

Police in Sacramento, California arrested two men this week who they think were involved in stealing Lance Armstrong's time trial bike earlier this year. One of the men is the "good samaritan" who turned the bike in to police days after it vanished from the Tour of California prologue.
Dung Le, 33, turned in the custom-made 'Livestrong' Trek Equinox TTX time trial bike to police three days after it and two other Astana machines were stolen from the team service course.
Police said Le bought the bike from Lee Crider, 39, a repeat offender who has a history of stealing bikes. They did not say how much Le paid for the bike,
Le was being held on $5,000 bail for felony possessing stolen property.
Schumacher appeals to CAS
Stefan Schumacher during the 2008 Tour de France.
Photo ©: Stephen McMahon
German cyclist Stefan Schumacher has initiated proceedings before the Court of Arbitration for Sport (CAS) in Lausanne, Switzerland, to overturn his suspension from competition resulting from testing positive in last year's Tour de France.
"He made his request to us on April 1," said a representative of CAS, as reported by AFP.
In February, the French anti-doping agency (AFLD) suspended the 27-year-old Schumacher for two years after testing positive for CERA, a new generation of EPO, during the Tour de France.
The International Cycling Union UCI then confirmed the AFLD's two-year ban against Schumacher which expanded his race ban from French soil to all UCI races world-wide.
Win on the Cyclingnews forum
Here's your chance to win the latest film about the world's favourite Classic, Paris-Roubaix.
Cyclingnews has four copies of Road to Roubaix to give away to readers who love their Classics. Cyclingnews reviewed it ahead of Christmas last year and liked it so much we had the guys at Masterlink Films send us some more to share.
It's easy. Just log on to the Cyclingnews forum and tell us: Why do the Spring Classics get you going?
You can tell us about your experiences at the races (if you've been fortunate enough to be there) or whilst watching them on TV. As long as you keep it brief (no more than 200-300 words) and exciting, you'll be in the running to win a copy of the film that delivers an intimate look at Paris-Roubaix. The contest closes the day after Paris-Roubaix, on April 13.
(Additional editorial assistance provided by Laura Weislo.)
(All rights reserved/Copyright Future Publishing (Overseas) Limited 2009)