Latest Cycling News for April 10, 2009
Edited by Hedwig Kröner
Highroad-Columbia to give Hincapie Roubaix present
By Bjorn Haake
George Hincapie (Columbia-Highroad) descends
Photo ©: Jon Devich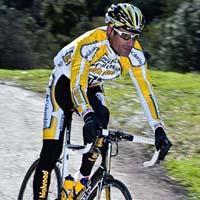 George Hincapie has come close in the major Classics many times, but has yet to win a big one. His Columbia-Highroad teammates are ready to sacrifice themselves for the 35-year-old American on Sunday in Paris-Roubaix.
Columbia-Highroad's Manager Bob Stapleton explained the unanimous support for Hincapie. "George has ridden for the team from the day he started with us," Stapleton said. "Now we really hope George can do something big towards the end of his career. All the riders are very dedicated to him."
Hincapie himself is more than motivated for what his preferred race. "There's only one objective for me and that's to win it. It's the one big thing missing from my career. I'd still keep going [and not retire if I win], but maybe I wouldn't come back to Roubaix. I'd always want to end it on that note," he said.
"Paris-Roubaix is such an epic event. It has always been a really appealing event for me because of the whole history it has. You could easily fill several coffee table books of photos from just that one race because it's so special."
In Wednesday's Gent-Wevelgem, the American once again showed his team support qualities, helping younger teammate Edvald Boasson Hagen to victory. "Hincapie was essential in Boasson Hagen's success," added Stapleton. "When Edvald went to the front, George slowed the field down and later nobody was able to get back on to the duo."
Coming up on
Cyclingnews will cover the 60th edition of the Dauphiné Libéré live as of stage 4 on Wednesday, June 10, at approximately 15:00 local Europe time (CEST)/ 23:00 Australian time (CDT)/ 9:00 (USA East).

WAP-enabled mobile devices: http://live.cyclingnews.com/wap/

Despite having scored solid wins himself, Hincapie is always a dedicated domestique. "You can see that consistently, leading out sprints in the Tour last year or the Tour Down Under and the Tour of California this year," Stapleton said. "I think his teammates all feel like they want to give George the best present they can on Sunday."
Hincapie cracked the top ten several times in l'Enfer du Nord ("hell of the north"). His best result came in 2005, when he was runner-up to Tom Boonen.
The American can often count on strong teammates, who occasionally even finish in front of him, such as Tom Boonen in 2002. Despite the team's support, the same could happen this year. "Burghardt is going to be strong too, I wouldn't underestimate him," Stapleton said. "He was really good in Flanders and obviously good [in Gent-Wevelgem]. It's his big dream, too."
Having multiple strong riders in a race like Roubaix is essential, due to the amount of luck needed in avoiding mechanicals in key sectors of the race.
When Hincapie is not the protected rider, he enjoys cheering on the young riders. "He is a huge fan of [Thomas] Lövkvist, a huge fan of Cav and obviously of Edvald," Stapleton said. Hincapie and Boasson Hagen roomed together this week, something Stapleton said was good for both. "George is a pretty quiet guy, too, and it was good that they got to talk."
Hincapie can give tactics and training advice to the younger ones, but also some essential off-road tools. "George is very professional and he knows how to take care of himself, when to rest and how to keep the distractions away from him. Those are all the little skills you learn as a professional and George is really good in demonstrating that."
The team went to ride over the critical cobbled sections of Paris-Roubaix on Thursday.
Also see: George Hincapie pre-Flanders interview.
Captain Quinziato ready for Roubaix
Manuel Quinziato (Liquigas) had a good Ronde and will lead his squad at Roubaix
Photo ©: Gregor Brown

Manuel Quinziato will lead Liquigas this Sunday in the cobbled classic, Paris-Roubaix. The Italian, 29, showed he is on hot form last weekend in Ronde van Vlaanderen by being the last man standing to Stijn Devolder's winning attack on the Kapelmuur.
"I go to bed calm knowing that I have prepared well and lived the life of a cyclist. You have to dish out the pain in the race, you don't want to not sleep the night before," said Quinziato to La Gazzetta dello Sport.
Last Sunday, Quinziato went free in an escape prior to the Koppenberg. He fought to eventually form a two-man move with Quick Step's Sylvain Chavanel, but the addition of Devolder meant trouble. Ten steep climbs later, Quinziato did not have the strength to follow Devolder's winning attack on the Kapelmuur.
Quinziato's focus now shifts to Paris-Roubaix: a flat 259 kilometres that is littered with nearly 55 kilometres of dangerous cobbles. Despite mechanicals and working for Filippo Pozzato, he had a great ride there in 2008. Liquigas will drive from its Belgian base to France to preview the pavé sectors today.
"You have to hit the pavé sectors at full force or you will not make it out. In training I don't have the grit to confront the pavé. I know that I will be the last of my team at the exit of every sector.
"I know that if the Belgians go down to preview the sectors it must be the right thing to do. Even Alessandro Ballan called me up to convince me the importance of reconnaissance."
Defending champion Tom Boonen (Quick Step) and Pozzato are the top favourites for Sunday. However, Quinziato is a danger man and won't go unnoticed if he makes it in the front group past the Arenberg sector.
"You need to pay attention to the experience of [George] Hincapie. Boonen and 'Pippo' cancelled each other out in Flanders, but it will be difficult to have that happen again. They will be looking for redemption."
Quinziato will be backed by Daniel Oss, Jacopo Guarnieri, Enrico Franzoi, Murilo Fischer, Aleksandr Kuschynski, Francesco Chicchi and Maciej Bodnar. The team is subject to change before tomorrow. (GB)
Dean injured, out of Roubaix
New Zealander Julian Dean will have to skip Paris-Roubaix next Sunday due to an injury. The 34-year-old crashed in Gent-Wevelgem and wounded his quadriceps, which needed stitches.
Dean had a major fright at the time, but in the end the injury ended up looking worse than it actually was. "A couple of riders skidded out on the wet road as we went through a roundabout," he recalled. "I became part of the mess going down also. Although I thought I was fine, when I went to get up it looked like I had been struck by an axe through the quadricep just above the left knee! After almost passing out at the sight I immediately lay back down and waited for help. I could not look at it again."
Fortunately, subsequent surgery was fast. "I was out and awake in time to watch the finish of the race and I made it back to the hotel before the boys were back from the race," he added.
Dean, who should be starting to train on a bike again in "a minimum of one week, maximum two", will be replaced by Hans Dekkers in Roubaix. "I am bummed that I am not going to be there for Martijn [Maaskant] on Sunday but you can bet I will be watching him go to work on the telly," said Dean, who has high hopes for his team's leader. "I really believe that if he has the luck (which you need a lot of in Roubaix) he will do something special!"
AFLD decision expected in May
French Anti-Doping Agency AFLD is currently deciding whether or not to open a disciplinary procedure against Lance Armstrong. According to L'Equipe, it will take several weeks before the cycling world will know if the seven-time Tour de France winner will be sanctioned for delaying an anti-doping control some three weeks ago.
The decision to open or not to open disciplinary proceedings should be taken in "early May" according to the paper.
On March 17, Armstrong was visited by an anti-doping control officer in the South of France and asked to provide urine, blood and hair samples (read the full version of the incident by Armstrong). However, the American took a shower before providing the samples - taking some 20 minutes, during which the identity of the anti-doping officer was checked - and this infringes International anti-doping rules, according to which the athlete has to remain in sight of the doping control officer between notification of the test and the collection of the samples.
The incident could put Armstrong's Tour de France participation in jeopardy, if the AFLD decides to pursue the case.
No pressure for Giro-bound Boasson Hagen
By Bjorn Haake
Boasson Hagen, a "diamond in the rough"
Photo ©: AFP

The 21-year-old Edvald Boasson Hagen (Columbia-Highroad) gets no pressure from his squad, but his good results have him already earned a spot on the Giro d'Italia roster. General Manager Bob Stapleton talked about the diamond in the rough after the Norwegian won Gent-Wevelgem last Wednesday.
Boasson Hagen will not do the Ardennes Classics this year. "We wanted to get him into a Grand Tour and we thought the Giro was a pretty special race," Stapleton said. "It's a huge frontloaded schedule." Stapleton emphasised that there is no pressure from the team. "It's the plan for now, unless something changes with his health."
Stapleton pointed out that teammate Tony Martin did the same in 2008. "You saw Tony Martin do really well in the Giro last year. He came second in the last time trial and you'll see him do well in a Grand Tour this year." Martin was 23 when he finished the Giro in 2008.
Boasson Hagen is also scheduled to arrive at the final day in Rome. "The plan is for him to ride through. We want all the young kids to ride a Grand Tour at a high level."
A three-week race could have even come earlier for the Norwegian. "If we would have been in the Vuelta last year he would have raced that, but the Giro suits him quite well. It will get the youngsters growing and survive a race like that in reasonable shape."
Boasson Hagen already showed he has the ability to fight through tough times. "He got sick in the Tour of Flanders, stopped to go to the bathroom and still caught back on."
Part of the toughness comes from still living in the northern part of Europe, according to Stapleton. "He and Lövkvist are tough kids. They train in the winter up there, they ride on their mountain bikes in the snow, it's pretty impressive.
"You see him out here [racing in Belgium], no vest, no leg warmers, no problem."
The team tried to get Boasson Hagen to use Mallorca as a base, where coach Erik Zabel and teammate Vicente Reynes live. "But he does prefer his family and that makes sense, especially for a young kid," said the team manager.
The road ahead for the young prodigy isn't clear yet, and the Giro may provide a better answer for Stapleton. "For now we think he excels at these hard one-day races, but he is still very young so who knows what it could become long term."
Tour of Turkey with Bos
Theo Bos on the road.
Photo ©: Roberto Bettini

The Presidential Tour of Turkey, taking place from April 12-19, will see Dutch cyclist Theo Bos at the start, along with 160 riders lining up in Istanbul. A five-time world champion on the track, the 25 year-old from the Netherlands is switching to road cycling this season and rides for the Rabobank team's Continental squad.
Bos' failure at the Beijing Olympics last August triggered his decision to ride the road, which was however on the back of his mind beforehand. "My dream has always been to be a sprinter of the Tour de France," Bos said. "Right after the Olympics in Beijing, I said to myself that it was time to give it a try. I've already done Athens and Beijing, London looks far ahead and I wasn't prepared to focus for four more years on the same goal."
Bos then entered the Rabobank Continental team, having an intense race programme but staying away from media pressure. His first win on the road came on February 15 at the RTP Algarve Trophy in Portugal.
"It's a completely different job", he added. "In the past, a race was lasting only 30 to 40 seconds for me. Nowadays, it's 200 kilometres long and I have to sprint for the last 50 kilometres for positioning. Only after that it's a real sprint for the win. The change is a difficult but very motivating challenge. I give myself one year to see how it goes. If I realise I can become a great rider, I'll definitely opt for road racing. Otherwise, I'll keep the Olympics in mind. It's in three years time."
And Bos is already making significant progress within the pro peloton. "Last week at the Lombardian Week I finished third behind Alessandro Petacchi and it was a very tough stage," he continued. "It's very encouraging. I'm looking forward to the Tour of Turkey because there are many opportunities for sprinters. To win a stage is my real goal."
At the Presidential Tour of Turkey, the Rabobank Continental team will consist of Theo Bos, Boy Van Poppel (the son of former Tour de France stage winner Jean-Paul Van Poppel), Tejay Van Garderen, Joeri Adams, Martijn Keizer, Mats Boeve, Thomas Rabou and Michaël Van Staeyen.
Other teams participating in the race are: Fuji - Servetto, Team Milram, Silence - Lotto, Lampre - NGC, Quick Step, Contentpolis - Ampo, ELK Haus, CSF Group - Navigare, A & S - Caffè Mokambo, PSK Whirlpool - Author, Barloworld - Bianchi, Vorarlberg - Corratec, Xacobeo - Galicia, ISD Cycling Team, Team Neotel, Loborika, Cycling Club Bourgas, German National Team, Türkiye National Team.
Sainz appeal postponed
The appeal trial of Bernard Sainz ("Doctor Mabuse") has been postponed to November 5, 2009, by an appeal court in Paris yesterday. Sainz had been convicted to three years imprisonment by a criminal court in 2008 - a sentence he is currently serving.
Sainz, a former horse breeder turned cycling soigneur, was found guilty of practicing medicine illegally and administering banned substances. He appealed the decision in hopes of gaining a shorter sentence.
Roche at The Devil
Cycling legend and Tour de France winner Stephen Roche will compete in The Devil Takes The Hindmost race at Donington Park - the British Formula One Grand Prix - on Sunday, May 31. Cyclists of all levels are being invited to line up with Roche and former England and Crystal Palace footballer Geoff Thomas, who is also riding in the race.
"I'm really looking forward to getting back on the bike and taking part in a competitive race," said Roche, who won the Tour, the World Championship and the Giro d'Italia in 1987. "The Devil Takes The Hindmost is a great opportunity for cyclists to experience a top class race."
The Devil Takes The Hindmost is an elimination circuit race. Riders will set off in a staggered start, based on British Cycling race category or ability. After an hour's riding, the 'Devil' will pick off the back-markers on the start/finish line of every lap.
The idea is for riders to keep up with the main pack to avoid being eliminated. But cyclists will have to keep enough energy in reserve for the sprint on the final lap which comes on the two hour mark.
Entry costs £35 per person, which includes a weekend ticket for BikeRadar Live. Click here to enter.
(All rights reserved/Copyright Future Publishing (Overseas) Limited 2009)