An interview with George Hincapie, April 4, 2009
Hincapie out for Ronde win
When it comes to winning one of the major Classics, George Hincapie has been America's eternal hope for the last decade and despite numerous near-misses he'll start this weekend's Tour of Flanders aiming for the win. Having finished 10th, seventh, fifth, fourth and even third in the Ronde van Vlaanderen, Hincapie is still a believer, and more importantly, still a contender.
On the eve of Ronde van Vlaanderen, Cyclingnews' Gregor Brown spoke with the 35-year-old veteran about his preparation and his chances of claiming one the races he's desperate to add to his palmarès.
Starting the season on fire
George Hincapie (Columbia-Highroad) speaks prior to Ronde van Vlaanderen
Photo ©: Gregor Brown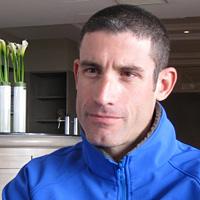 Hincapie's season to date has been a tale of two parts, or rather two roles – that of dutiful domestique in the early races and now as team leader as the cobbled Classics start. In the Tour of California, he helped teammate and sprinting sensation Mark Cavendish to two stages and ably assisted Michael Rogers towards third place overall.
From there be travelled from his home in South Carolina to Italy's Tirreno-Adriatico to aid Thomas Lövkvist. Hincapie led the peloton on the race's key mountaintop finish on Montelupone. Tall, and built more like a sprinter than a climber, he led the likes of Gilberto Simoni and Danilo Di Luca up the 21 percent slopes. Lövkvist was outside the top runners but Hincapie had made his mark. He was coming into form at just the right time.
He kept his domestique hat on the next stage, this time working on the flats for Mark Cavendish. He single-handedly closed the final escape and led his British rider to victory, four days before the sprinters' slugfest at Milano-Sanremo. In Sanremo, with the stakes much higher, he took over from his teammates' work to guide Cavendish over the closing climbs and on to the finishing straight – it worked and Cavendish took the biggest win of his young career.
"Roubaix is more popular in the USA, but on a personal level they are both just as epic. It would mean as much to me to win at Flanders."
-George Hincapie speaks on the eve of the Tour of Flanders
He proved he was on form when he arrived in Belgium for the E3 Prijs. In the race that features Ronde's climbs he held his own with the favourites despite chain problems. He finished a credible eighth, behind Tom Boonen and Filippo Pozzato, two of the favourites he will compete with on Sunday.
"I watched the first stage of De Panne on television, but I did not see the last two," he said "There was really only Pozzato and some of the Lotto guys. Pozzato is clearly strong and a big favourite for Sunday."
In the past Hincapie would line up for De Panne as preparation for the Ronde van Vlaanderen, but this year he headed back to Girona, Spain, with the idea of avoiding crashes and getting in some warm weather training prior to his big objective. "The weather wasn't great and I was expecting it to be better. However, there were a lot of crashes in De Panne and I am glad I was not a part of that. It was the main concern of mine.
The new Hincapie?
Who are the young riders capable of filling the Hincapie-shaped void once the gentle giant finally hangs up his wheels?
"There's Cole House, who just won that under 23 race, G.P. Waregem. That is a top race to win as a young rider.
"And there is Taylor Phinney. If he starts to focus on the road then he could be that type of rider. It doesn't always translate if you have that type of power in the time trials that you can ride those races, though he is a huge talent."
Hincapie returned to Gent, Belgium, two days prior to Ronde van Vlaanderen. "In Spain I did three hours on Monday, about the same on Tuesday, six hours on Wednesday and three on Thursday. It wasn't anything too crazy; I was just trying to keep the engine going."
Though he missed De Panne he did familiarise himself with the key climbs of Ronde. He previewed many of the climbs in the E3 Prijs Saturday and what he missed in the race he covered the next day. He rode the final 100 kilometres of Ronde – including the climbs of Paterberg, Koppenberg and Taaienberg.
"It is a big week and for me it is one of the biggest of the year. I only hope that my legs are going to be as good as they have been feeling in the last races and if so I will be right up there.
"Brugge is a beautiful start and it's always a big show. It is a great sign for the health of the sport to see so many people out there. If it is a nice day there will probably be over a million people on the roads watching. It is truly one of the best races we do all year as far as spectators and the route go.
"Roubaix is more popular in the USA, but on a personal level they are both just as epic. It would mean as much to me to win at Flanders."
Close to the cigar
George Hincapie (Columbia-Highroad) leads the bunch
Photo ©: Sirotti

Hincapie finished in the chase group behind Tafi's solo move in 2002, taking fourth; he saw the three-man escape move clear from him, with eventual winner Steffen Wesemann, in 2004; and he finished seventh behind the "Tornado" [Tom Boonen] that blew through 2005. In 2006, when Boonen repeated, he finally stepped on to Flander's podium to finish third.

"Everything has to be firing for the win: your mentality, your physical condition... It all has to be 100 percent and on the day. I feel like I have had the right preparation and that I have done everything right this year, but you can never predict how it is going to go.

"You always have to be aware of your position in Flanders and fight to be at the front. You have to know where the wind is coming from. Even the guys who don't win are some of the strongest guys in the peloton, who can handle their bike and ride in the mud and rain.

"Once you get to the Kwaremont [with 76 kilometres to go in 2009 - ed.] it is just relentless. Once you are there it is just full focus and you can't let yourself out of the top ten."

Do you need a race like Flanders or Roubaix in your palmarès before you retire? "I definitely need one of those. In my opinion they are the hardest races we do all year and there isn't anything that comes close. I have not won one and it feels like something is missing."

George Hincapie's Northern Classics' palmarés:
Ronde van Vlaanderen: 13th (1997), 13th (2001), 4th (2002), 10th (2004), 7th (2005), 3rd (2006), 5th (2008)
Gent-Wevelgem: 4th (1999), 1st (2001), 3rd (2002), 4th (2004), 5th (2006)
Paris-Roubaix: 4th (1999), 6th (2000), 4th (2001), 6th (2001), 8th (2004), 2nd (2005), 9th (2008)

George Hincapie's Teams: Motorola (1994-1996), US Postal Service (1997-2004), Discovery Channel (2005-2007), Highroad/Columbia (2008-2009)
Photography
For a thumbnail gallery of these images, click here
Images by Gregor Brown/Cyclingnews
Images by Sirotti/www.sirotti.it
Related articles:
Hincapie and Rogers fit for California
Hincapie skips De Panne for Flanders/Roubaix
Hincapie Interview (April 2008)
Participate in a Cyclingnews forum discussion about George Hincapie.