First Edition Cycling News, March 29, 2009
Edited by Peter Hymas
Pozzato marks 2009's first win on eve of Flanders
By Gregor Brown in Harelbeke, Belgium
Filippo Pozzato (Team Katusha) won his first race
Photo ©: AFP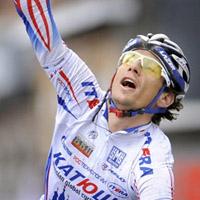 Filippo Pozzato moved himself onto the list of top favourites for the upcoming Ronde van Vlaanderen with a strong sprint win in the E3 Prijs in Harelbeke, Belgium this weekend. He took the victory over the race's number one favourite, Tom Boonen, after 208 kilometres of racing. As his first win in over a year, it is a sign of good things to come for the Italian of Team Katusha.
Pozzato's victory came after he followed an attack by Boonen on the Knokteberg climb at 25km to go, and along with Maxim Iglinsky (Astana) formed a three-man breakaway that made it all the way to the finish line.
Pozzato manoeuvred Boonen to the front in the final 500 metres to position for the sprint and then out-gunned his rival on the Gentsestraat finishing straight to mark his first win since the Giro della Provincia di Grosseto in February 2008.
E3 Prijs, March 28
Q: What is the meaning of this race win, two years since your Het Volk victory in Belgium?
FP: "I am happy, but I am sorry for Boonen because we are great friends. I know that in this period am going well, but I have not been able to win. Today was hard too, to ride against the teams like Cervélo, Rabobank and Quick Step.
"It was good when Tom went on the Knokteberg, that gave me a chance and I went with him. I know that I could win. I know I am one of the favourites, but sometimes I make mistakes."
Read the full feature with Filippo Pozzato and have your say about the E3 Prijs on the Cyclingnews forum.
Boonen brushes off Sanremo for Northern Classics
By Gregor Brown in Harelbeke, Belgium
Boonen's ready to defend his 2008 Roubaix victory
Photo ©: Roberto Bettini

Tom Boonen (Quick Step) is ready to put Milano-Sanremo and E3 Prijs behind him for his 'home' Classics of Ronde van Vlaanderen and Paris-Roubaix. The Belgium, second in a tight sprint with Filippo Pozzato (Katusha) in Saturday's E3 Prijs in Harelbeke, Belgium, is ready for next week's big ones.
"For me they are different races so it does not matter - Sanremo is Sanremo," said the 2005 World Champion to Cyclingnews. "It is so different here, and this is what I like."
Boonen wanted to take Milano-Sanremo to add to an already rich palmarès that includes two editions each of the Ronde (2005 and 2006) and Roubaix (2005 and 2008). He blamed his 15th place on his failure to drink and eat enough in cycling's longest one-day Classic.
"My condition was good in Sanremo, but I probably lost the race due to my own fault. I was so nervous and I did not drink enough. You don't feel it, but when you do feel it, that is when your race is over.
"Wednesday's Dwars door Vlaanderen was a good test. My condition is increasing, like every year, right on time."
Boonen formed the winning move of three in the E3 Prijs with 25 kilometres remaining. The three men entered the final two kilometres with 54 seconds, but Pozzato out-smarted his former teammate.
"My condition is good for Flanders. The only thing is that I lack a little bit of explosiveness. When it is cold I have the power, but not the explosiveness."
Boonen is a four-time winner of E3 Prijs. He is the only rider to have four consecutive wins and ties with Rik van Looy as the rider with the most wins in the race's history.
Hincapie skips De Panne for Flanders/Roubaix
By Gregor Brown in Harelbeke, Belgium
George Hincapie at the start of Paris-Roubaix in 2008
Photo ©: Brecht Decaluwé

George Hincapie will skip Driedaagse De Panne this week for one of the few times in his 16-year career to be ready for his season objectives at the Ronde van Vlaanderen and Paris-Roubaix. The American of Columbia-Highroad, 2004 winner of De Panne, will pass a week at his European base in Spain.
"I think it is a bit too dangerous and there are too many risks there, I want to limit those chances," he said to Cyclingnews. "I have had a lot of racing and I have trained super hard this year. I prefer to go back to Spain and train in nice weather to be a little fresher for Flanders."
Hincapie finished eighth in the E3 Prijs Saturday. The race was won by Italian Filippo Pozzato (Katusha) after the winning move was formed by Hincapie's ex-teammate Tom Boonen (Quick Step).
Hincapie credits his strong 2009 season to his first ever season debut in the Tour Down Under in Australia. It appears to have paid off: he helped Thomas Lövkvist win Eroica Toscana, showed extremely well in both mountain and flat stages of the Tirreno-Adriatico and hand-delivered mark Cavendish to the win in Milano-Sanremo.
Though the rider from South Carolina has won in the Tour de France, he prefers the one-day Classics of Northern France and Belgium. He has battled with the sport's biggest names over the pavé in the past to earn third in Ronde van Vlaanderen, a win in Gent-Wevelgem and a second and two fourths in Paris-Roubaix.
"It feels good to be back in Belgium. These next races are obviously very important to me. I feel good and probably better than ever, so I would like to take advantage of that form to be at my top in Flanders and Roubaix."
He will ride the final 100 kilometres of the 260-kilometre Ronde van Vlaanderen Sunday. After scouting 14 of the 16 climbs, he will board a plane for Girona, Spain.
Nardello ends career: "emotions are high"
By Gregor Brown in Harelbeke, Belgium
Italian Daniele Nardello's emotions are at a high as he faces the last races of his 16-year career. The Fuji-Servetto rider will turn directeur sportif after next Wednesday's Gent-Wevelgem.
"My emotions are high because I have a lot of good memories of these races. I hope to finish my career with some special results even if the condition is not at its maximum," said Nardello to Cyclingnews.
Nardello closed out Saturday's E3 Prijs in Harelbeke, Belgium, early. He will continue to race through the next week, which includes some of cycling's hardest one-day races: De Panne, Ronde van Vlaanderen and Gent-Wevelgem.
"I like the races in Belgium. They are races where you have to work from the first to the last kilometre. Also, there are so many fans here and they are very appreciative of the work you are doing or the results you have accomplished."
He has accomplished a lot in his career since turning professional with Mapei in 1994. The 36-year-old is the winner of the 2001 national championships, 2003 Championship of Zürich, two stages of the Vuelta a España and one at the Tour de France.
Louder training for Paris-Roubaix
By Kirsten Robbins in Redlands, California
Jeff Louder (BMC) won the first stage at Redlands
Photo ©: Jon Devich

Jeff Louder moved into the overall lead of the Redlands Bicycle Classic after he won stage one held in Beaumont, California. According to the BMC rider, his victory is a testament to the heavy training required to compete in Paris-Roubaix next month.
The BMC squad received an invitation to compete in this year's esteemed cobbled-Classic after the UCI granted the US-based Professional Continental team a wild card status in February. The upgrade allows BMC to accept invitations to the Grand Tours and ProTour level events.
"I got a call for Paris-Roubaix and that really lit a fire under me," said Louder, who won the 2008 Tour of Utah and played a key role in several of the Tour of California's lengthy breakaways. "I realized that I needed to start training really hard and I want to honor that race and do my best. I've put in a lot of miles towards this big objective. We have some big races coming and I'm on a long road trip, not home until May."
Louder hopes to add his name to the list of winners at the Redlands Classic after the final stage held on the infamous Sunset circuit on Sunday. "We have very high expectations and every race we enter is a chance to win," Louder said. "This may not be the biggest objective on our list but any win is a win and the competition here is very tough."
This is the first time, outside of the Tour of California, that all of the North American teams have been assembled in competition. "Its very important to our program to do well here," he continued. "We are a California team and we are a team that has worked very hard to have the status that we have. This is a race that will be hard to win but our expectations are to win it."
BMC's European spring campaign includes the Criterium International set to start this weekend followed by the Circuit de la Sarthe, Paris-Roubaix and Rund um Koln in April and the Tour of Romandie held in May.
Untimely mechanicals eliminate Landis from Redlands
By Kirsten Robbins in Redlands, California
Floyd Landis (OUCH) during the prologue
Photo ©: Jon Devich

Floyd Landis (OUCH p/b Maxxis) started the Redlands Bicycle Classic as one of the event's marquee riders but was forced to pull out of the stage one circuit race held in Beaumont due to a series of untimely mechanicals. According to team directeur Mike Tamayo, despite Landis' absence the team is still focused on an overall victory.
"I think this impacts us," said Tamayo. "But we still have seven riders who are talented. We are still fully charged for racing with the guys that we have and we know we have riders who can win NRC races in stages, sprints and overall."
The wind blew through Beaumont at nearly 40 km/hour making it difficult for riders with mishaps to rejoin the main field. "He had a series of mechanicals that happened at an unfortunate time," Tamayo said. "There were three, all on the first lap. He had a wheel change in the first half a lap followed by a flat tire after the feed zone and a third wheel change into the first climb. It was issues that everyone was having. But for Floyd it was a perfect series of mishaps."
According to Tamayo, the Redlands Bicycle Classic was not Landis' main focus and the team has an undetermined schedule prepared for the former ProTour contender.
Columbia-Highroad women ready for World Cup opener
Team Columbia-Highroad will take a small but strong team to the Trofeo Alfredo Binda, the first round of the 2009 World Cup being held in Cittiglio, Italy on March 29.
"We've only got four riders taking part because we've got a lot of commitments world-wide, Ellen [Van Dijk] is taking part in the Track World's and another group of our riders is at the Redlands Classic in the USA," commented sports director Ronny Lauke.
"Both Luise [Keller] and Linda [Villumsen] are both in good shape and Kate [Bates] and Chantal [Beltman] will be there to back them up," continued Lauke. "Form-wise I'd say they're at 90 percent of their top form, but that's logical at this point in the season.
"We've had a good training camp here in Italy, we won a race last weekend with Linda, and we're ready to go."
Kate Bates commented on the upcoming World Cup event. "This is a race where anything could happen, it's always very unpredictable and tends only to be decided right at the dying end of the event. As a smaller, team we'll be going in as underdogs, so for us it'll come down to being patient and making the right move."
Columbia-Highroad for Trofeo Alfredo Binda: Kate Bates, Chantal Beltman, Luise Keller, Linda Villumsen.
Management change for Katusha
Team Katusha general manager Stefano Feltrin and Katusha Management S.A., the managing entity of the team, have decided to part their professional ways. After two years at the head of a professional team and its contribution to the creation of the first Russian ProTour squad, Feltrin will return full-time to his profession of business attorney. All managing powers of the team will be transferred as of April 1 to the team's president ` Tchmil.
"We are proud and happy for the work done together for the creation of the team and for its victories. Following this start up process Team Katusha shall continue its great project with the support of a whole nation," said Feltrin and Tchmil in a press release.
(All rights reserved/Copyright Future Publishing (Overseas) Limited 2009)