Latest Cycling News, February 12, 2009
Edited by Gregor Brown
Hincapie and Rogers fit for California
By Kirsten Robbins in Solvang, California
George Hincapie (Columbia-Highroad) descends
Photo ©: Jon Devich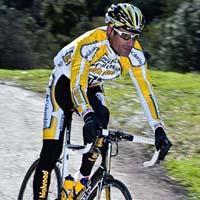 Columbia-Highroad teammates George Hincapie and Michael Rogers set the bar high for the Tour of California, February 14 to 22. The pair arrived at the team's Solvang, California, training camp in tiptop condition, just prior to their first objective of the season.

"I've never been this fit in January," said Hincapie. "This race has become very important for all of us. Especially for the American riders and teams."

Riders use events like the Tour Down Under and the Tour of California as tools to condition themselves for their spring objectives. However, the races are also a focus of many teams. The Tour of California rates high because of the growth of American companies investing in ProTour level teams and sponsoring International Cycling Union level events.

"It's a great event and easier to get motivated when you're racing in your own country. We don't get to race here that often so this event is becoming more and more important to me and my American sponsors. I'm motivated and I'd like to at least win a stage and help the team win a stage."

Rogers proved he was in top-notch shape in January when he won the Australian national time trial championships. He broke Nathan O'Neil's course record by more than forty seconds.
Coming up on
Cyclingnews will cover the 60th edition of the Dauphiné Libéré live as of stage 4 on Wednesday, June 10, at approximately 15:00 local Europe time (CEST)/ 23:00 Australian time (CDT)/ 9:00 (USA East).

WAP-enabled mobile devices: http://live.cyclingnews.com/wap/
"Cycling has changed a lot in terms of how many months the riders need to be in shape," said Rogers, who would like to see the racing season end in August. "Our season is much more international and most of these additional events are in the winter months.
"I'd really like to see the season end after the true summer months are over. I think it's just too much for everyone to race twelve months of the year."
Rogers tailored his training to peak in California. He will follow the event with some down time during March.
"I'll take a month of no racing after this and build my fitness back up again for the Giro d'Italia and the Tour de France," Rogers said. He has not raced a major tour since his crash in the 2007 Tour de France.
"I think it's a tall order for me to say that I want to win the Tour. I think a top five position would be a great ride for me. I decided to race the Giro this year because I think I need a big race like that under my belt before July."
Photography
For a thumbnail gallery of these images, click here
Images by Jonathan Devich/

Kirchen has Tour podium in sight
By Shane Stokes
Kim Kirchen (Columbia-Highroad)
Photo ©: Jon Devich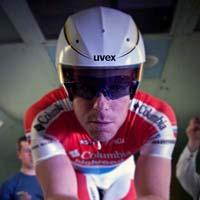 Team Columbia-Highroad rider Kim Kirchen will get his season underway in the Tour of California on Saturday. The 30-year-old Luxembourg national time trial champion finished seventh and eighth in the past two Tours de France and wants to aim for the podium this year, telling Cyclingnews in an upcoming feature interview that he considers a top three possible if everything goes exactly right.

"I will start in California, helping guys like Michael Rogers and George Hincapie," he said recently. "I will be coming from winter training and so won't be under much pressure. California is a good race to start, to do work for somebody else. Then I will come back to do Murcia in Spain, go to Tirreno-Adriatico, then Milano-Sanremo."

Kirchen won Flèche-Wallonne last year and wants another strong showing in the Classics this time round. He has been debating whether to do the Vuelta a País Vasco or the Tour of Flanders, saying that he really likes the latter but that the stage race has its benefits.

"It is really bad that these two races are in one period, it makes it really hard to decide," he stated. "I really like the Tour of Flanders, I really want to do it, but to prepare for the Classics later on such as Amstel, Flèche and Liège, you really need the uphills in País Vasco [as training]."

Following the Classics, Kirchen will consider doing the Critérium International. He'll then ride more stage races before the big one in July.

"I might do Bayern, like last year, and then Dauphiné or the Tour de Suisse. I think I lean more towards the Tour de Suisse because it is a little bit closer to the Tour, and I felt good [doing that] the past two years."

As was the case last year, Kirchen will compete in Team Columbia colours. The actual look of the kit has changed quite a lot since last year, but he said that the atmosphere is as before. "The mood is perfect. Last year we had a great team. We took all those victories, and everybody is super motivated.

"I also think we have the best young riders. Edvald [Boasson Hagen] and Tony [Martin] rode very well last year, and we have other really, really good guys. Mark [Cavendish] is one of those and he is one of the best sprinters in the world."
Lance Armstrong's test results posted online
By Gary Boulanger, BikeRadar US editor
Lance Armstrong, 37, races in Australia
Photo ©: Roberto Bettini

In the wake of anti-doping expert Don Catlin parting ways with Lance Armstrong, word has come from the Armstrong camp that the seven-time winner of the Tour de France has enlisted Rasmus Damsgaard to oversee his testing program for 2009.
Detailed blood test results from seven International Cycling Union (UCI) and Damsgaard out-of-competition tests are now posted on www.livestrong.com.
"After a thorough review of the efficiency of a separate testing program the decision has been made to transfer the comprehensive programme we had planned to do with Don Catlin to Rasmus Damsgaard, a renowned anti-doping expert who runs the Astana team's internal testing program," said Bill Stapleton, Armstrong's long-time agent and lawyer.
Armstrong will continue to be tested by the United States Anti-Doping Agency (USADA), UCI, and the World Anti-Doping Agency (WADA). Requests have been made to USADA and WADA to release their results so they can be posted as well.
| | | | | | |
| --- | --- | --- | --- | --- | --- |
| Sample Date | Hemoglobin | Hematocrit (%) | OFF-score | Hb z-score | OFF z-score |
| Oct 6, 2008 | 15.5 | 43.7 | | | |
| Oct 16, 2008 | 14.3 | 39.3 | 83.3 | | |
| Nov 26, 2008 | 15 | 42.8 | 87.6 | 0.7 | 0.27 |
| Dec 3, 2008 | 14.4 | 41.9 | 89.3 | -0.3 | 0.28 |
| Dec 11, 2008 | 14.3 | 39.4 | 74.9 | -0.3 | -0.91 |
| Dec 18, 2008 | 15.4 | 42.1 | 83.3 | 1.2 | -0.04 |
| Feb 4, 2009 | 15.2 | 45.8 | | | |
Samai sizzles in Langkawi sprint spectacular
By Greg Johnson in Kuala Lumpur, Malaysia
Indonesian cyclist Samai became just the fifth Asian cyclist to win a Tour de Langkawi stage today. The Team Letua rider pulled an upset victory over race leader Mattia Gavazzi (Diquigiovanni-Androni).
The little-known rider was short but exuded confidence after his big victory. "I think that this is the best day for me in the Tour of Langkawi this year," he said. "I've been here for one month training, so I wanted to prove that I'm the best in Asia here today."
Today's victory isn't Samai's only win on Malaysian soil. The 28-year-old won three stages of Jelajah Malaysia in 2003, but today's win is by far the biggest of his career.
Samai's narrow victory earned the rider praise from rival team boss Gianni Savio. While Samai prevented Savio's rider from claiming four consecutive stage wins, the Diquigiovanni-Androni manager said it was a great day for Asian cycling.
"Many compliments to the winner," said Savio. "I think it is a happy day for Asia sport and for Asia cycling that one Asian rider won one stage of one of the most important races in Asia's UCI calendar."
Samai isn't going to rest on his laurels, however, with the rider already looking towards Saturday's penultimate stage.
"This is not a route for a sprinter today, but I proved that for a little team I'm the best in Asia," he said. "I don't have confidence for Genting but I'll try to do it for stage six."
In addition to his Malaysian success, Samai has won three stages of the Tour of East Java in his homeland and also claimed a victory at the Tour of Sunraysia in Australia five years ago. At the Cape Town B Track World Championships in 2007 Samai claimed the one kilometre track world title.
"This is the best day for me, I've proved that an Asian can win a stage at the Tour of Langkawi," he said.
"Tomorrow is for Jeremy Yates, Tonton Susanto and Yong Li Ng to do the work. We'll try to prove that Tonton can take the blue jersey. I'm betting that Tonton will win the blue jersey."
Samai currently holds the blue Best Asian Rider jersey heading into tomorrow's tough stage to Genting Highlands.
Dekker feels at home with Silence-Lotto "family"
By Bjorn Haake
Thomas Dekker at home with Silence-Lotto
Photo ©: Bert Geerts

Thomas Dekker feels very well with his new team, Silence-Lotto. The Dutchman joined the Belgian team over the off-season after two years with Dutch professional team Rabobank.
"The atmosphere here is really good and I feel very comfortable on this team," Dekker said to Cyclingnews. "Rabobank is more business. Here at Silence, it feels like a family."
Rabobank released Dekker mid-season last year. He signed a two-year contract with Silence-Lotto a month later.
Dekker is happy to finally be able to think about racing again. "Last year, it was not so easy. I didn't have a second part of the season."
He named two highlights for his season without any hesitation: "The Classics and the Tour." In the Classics, he will have his own chances to shine, to improve on his good placings in races like the Amstel Gold Race, Flèche Wallonne or Liège-Bastogne-Liège.
Dekker will race the Tour de France to help Cadel Evans win the overall classification, but expects his job to be an easy one. "I think this Tour will not be so difficult [in terms of controlling it] with the big Team Astana block."
He met his new teammates for the first time one day in November. The team met again in December during a training camp in Spain. The atmosphere of the meetings has helped to bring back his motivation.
"When you sign with a new team, you have new opportunities."
Gent hopes for 2010 Giro stage
The city of Gent, Belgium, hopes to get the official word today that it will host the finish of the fourth stage of the 2010 Giro d'Italia.
The 2010 Giro d'Italia will start in Amsterdam, Netherlands. The organisers will hold the first three stages in The Netherlands before moving south to Belgium.
"We still have no official confirmation," Christophe Peeters, head of Sport in Gent, said to Sporza.be. He discussed the proposal late last year at the Gent Six Day.
The finish would be on the Charles De Kerchovelaan, where the second stage of the 2007 Tour de France finished. (SW)
Sella: World Anti-Doping Agency drops appeal
The World Anti-Doping Agency (WADA) dropped its appeal against the suspension length of Italian Emanuele Sella, according to La Gazzetta dello Sport. Last month, it appealed to the Court of Arbitration for Sport (CAS) the one-year suspension issued by the Italian anti-doping tribunal in December.
Sella tested positive for blood booster Erythropoietin in an International Cycling Union (UCI) out-of-competition test on July 23. The Italian Olympic Committee (CONI) called for a one-year ban after its investigation.
He won three stages and the maglia verde of best climber at the Giro d'Italia last May.
Pollack to concentrate on track racing
Olaf Pollack will concentrate on track racing this year since he was unable to get a contract with a road team for the 2009 season. Negotiations with Team Vorarlberg-Corratec and the American team Rock Racing came to nothing.
The German sprinter rode for the Austrian Professional Continental Vorarlberg-Corratec team last year, but said that they were unable to meet his financial requirements for this season.
He came into contact with Rock Racing through that team's new Directeur Sportif, Rudy Pevenage, whom he knew from their days at T-Mobile Team. "But the transfer didn't come about because of the UCI age limits," he said in an interview on Radsport-News.com.
Rock Racing received only a Continental licence this season, limiting it to 16 riders, of whom only a specific number may be older than 27 years old. That left no room for the 35-year-old Pollack.
Pollack turns his full attention to the track, where he has always competed along with road races. His first goal is the World Championships the end of March. "I want to stand on the podium," he said.
His more distant goal is the London 2012 Olympics. He and partner Roger Kluge finished fifth in the Madison at the Beijing Olympics.
Pollack became professional in 1997 with Team Agro-Adler Brandenburg. He rode with Teams Gerolsteiner, T-Mobile, Wiesenhof-Felt and Volksbank. In the 2004 Giro d'Italia, he wore the leader's jersey for one day. (SW)
(Additional editorial assistance from Susan Westemeyer)
(All rights reserved/Copyright Future Publishing (Overseas) Limited 2009)