Cycling News Flash, February 12, 2009
Edited by Les Clarke
Armstrong parts with Catlin
Armstrong and Catlin last September.
Photo ©: Jon Devich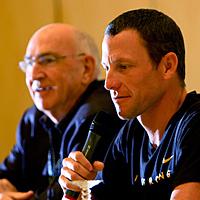 Lance Armstrong has decided to part company with Don Catlin, the doctor intended to conduct an individual anti-doping programme with him during 2009. Consequently, the proposed comprehensive, individual programme will proceed under the guidance of Rasmus Damsgaard, the man responsible for Astana's internal anti-doping efforts.
Bill Stapleton, Armstrong's long-time agent and lawyer, announced in a statement that, "After a thorough review of the efficiency of a separate testing programme the decision has been made to transfer the comprehensive programme we had planned to do with Don Catlin to Rasmus Damsgaard, a renowned anti-doping expert who runs the Astana team's internal testing program."
Stapleton reiterated that, "Lance is the most tested athlete in sports history and he is certainly the most tested cyclist in the world since his return to the sport last year evidenced by no fewer than 16 unannounced out-of-competition tests since August all over the world.
"We will continue to do everything we can do to ensure transparency and honesty in his testing results," he added.
One of the cornerstones of Armstrong's comeback was his determination to conduct an open, transparent and comprehensive testing program, to be undertaken on an individual basis with Dr Catlin.
"I really try to seek out the most credible and well respected anti-doping crusader, especially here in the United States," Armstrong said about choosing Dr. Catlin last September at a press conference at Interbike. "It's a level of transparency that I didn't want to leave that box unchecked. So I signed with Don and he has a job to do. It is his job and not my job – I will subject myself to whatever he wants."
Fast forward almost five months and Stapleton's statement explained that, "We have the utmost respect for Don and all he is doing in the fight against doping in sport but we faced a myriad of problems relating to administration, coordination and cost."
Armstrong will continue to be tested by the United States Anti-Doping Agency (USADA), International Cycling Union (UCI) and World Anti-Doping Agency (WADA), and detailed blood test results from seven UCI and Damsgaard out-of-competition tests are now posted on LIVESTRONG.com. Requests have been made to USADA and WADA to release their results so they can be posted as well.
(All rights reserved/Copyright Future Publishing (Overseas) Limited 2009)