2003 MTB World championships - CM
Lugano, Switzerland, August 30 - September 7, 2003
Results Marathon Team Relay Cross Country Downhill Four Cross Other events
September 7 - Women's Cross Country - Preview
Sabine Spitz comes home strong
By Kristy Scrymgeour
Sabine Spitz
Photo ©: Kristy Scrymgeour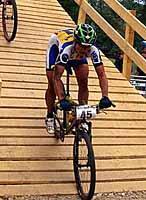 Sabine Spitz (Germany) came from behind today to take the gold medal in the women's cross country race. Spitz being one of the favourites for the race, caught leader Alison Sydor (Canada) with two laps remaining and managed to keep her lead till the finish, despite a small run in with one of the course barriers.
The women completed six laps of the 6.2km course and once again the pace was fast from the get go. Marga Fullana (Spain) set the tempo in the first lap with only Sydor able to go with her. After a couple of laps, Fullana began suffering technical problems with her rear derailleur and fell off the pace, eventually being disqualified for receiving outside assistance. This left Sydor in the lead, with Spitz chasing and Russian, Irina Kalentieva not far behind.
Gradually Spitz was making up time on the three time MTB World Champion, Sydor and caught her on the fifth lap. Sydor stayed with her for a while but eventually dropped off the pace and had to eventually settle for second place as the German took the Gold. Behind, Kalentieva held on to her third position with Ivonne Kraft (Germany) taking fourth place in front of Marie-Helene Premont (Canada) and Sue Haywood (USA).
The big upset of the day was that of defending champion, Gunn-Rita Dahle (Norway), who double flatted early in the race and was never able to make up the ground. Dahle was outright favourite for the event this year, having won all of the four World Cup events and arriving in Lugano in great form. Other's who suffered problems were Chrissie Redden (Canada), who was taken to the hospital to have surgery on her wrist after an early crash, and Barbara Blatter (Switzerland) who also taken to hospital after hitting her head in a fall. Word is that she is OK.
Spitz was excited after the race. "I knew Sydor was a threat and also Fullana, so when they got the lead early I was nervous. I tried to go my own pace and when I saw Alison (Sydor) on the climb with two laps to go I could tell she didn't have the same speed as before, so I was more determined to close the gap. I wanted to pass her before the technical section so that I could try to gain some more time on the flat. Even after I passed her I was scared that she would catch me again, especially after I got caught up in the tape."
Spitz' teammate Kraft, was all smiles and just as excited with the win and her own fourth place. "We worked together and we had a plan at the beginning of the race. My job was to Sprint away in the first lap and take Sabine into a good position. We knew we wanted to work for one medal and make it the gold medal, and we knew we had to do it together. I am also really happy with my race. Maybe I worked too hard in the first lap and it cost me in the last lap but I am happy."
A disappointed Sydor, was as usual a gracious in her loss and had a lot to say. "Every year I come to the World Championships to try to win and it is my favourite race of the year. To win the rainbow jersey is such a special thing and that's the way I approach this race. Today it was a good start for me. It was good to have Fullana to pace off. After a couple of laps she was having technical problems on the descents and she disappeared leaving me out there alone way too early. It's a windy course where you can see where you are in a lot of places compared to the other riders. With about two laps to go there were a few moments where I wasn't feeling all that good and I started to become concerned about what was going to happen. It was a very, very hard course and I think that the lack of a really long climb made it harder because there was no real descent to recover on. For the whole race you had to push. After Sabine caught me I started to push harder and when you go those few heartbeats harder on a course like this you start making technical mistakes. Whilst Sabine was thinking she was making the mistakes, I was making them behind her as well. A rider like Sabine has pretty balanced strengths. She won at Grouse Mountain which is very technical so I couldn't really expect to take any time back on her."
Photography
Images by Kristy Scrymgeour
More pics
Images by Kristy Scrymgeour/Cyclingnews
Results - 36.9 km
1 Sabine Spitz (Germany)                                2.07.59 (17.3 km/h)
2 Alison Sydor (Canada)                                    0.16
3 Irina Kalentieva (Russia)                                1.59
4 Ivonne Kraft (Germany)                                   2.58
5 Marie-Helene Premont (Canada)                            4.15
6 Susan Haywood (USA)                                      5.48
7 Maja Wloszczowska (Poland)                               5.53
8 Elsbeth Van Rooy-Vink (Netherlands)                      6.30
9 Magdalena Sadlecka (Poland)                              7.50
10 Petra Henzi (Switzerland)                               8.28
11 Nina Gohl (Germany)                                     8.54
12 Kerry Barnholt (USA)                                    9.30
13 Nadja Walker (Switzerland)                             10.32
14 Janet Puiggros Miranda (Spain)                         10.58
15 Silvia Rovira Planas (Spain)                           11.28
16 Willow Koerber (USA)                                   11.55
17 Mary Grigson (Australia)                               12.16
18 Mary Mcconneloug (USA)                                 12.20
19 Kiara Bisaro (Canada)                                  12.49
20 Shonny Vanlandingham (USA)                             14.07
21 Laura Turpijn (Netherlands)                            14.28
22 Anna Enocsson (Sweden)                                 14.28
23 Gunn-Rita Dahle (Norway)                               14.35
24 Adelheid Morath (Germany)                              16.02
25 Katerina Hanusova (Czech Republic)                     16.21
26 Anna Baylis (Australia)                                16.28
27 Alexandra Hober (Italy)                                16.28
28 Franziska Roethlin (Switzerland)                       16.36
29 Jimena Florit (Argentina)                              17.12
30 Anke Erlank (South Africa)                             17.17
31 Severine Hansen (France)                               17.34
32 Daphny Van Den Brand (Netherlands)                     17.59
33 Karen De Wolfe (Canada)                                18.06
34 Katrin Leumann (Switzerland)                           18.17
35 Dara Marks (USA)                                       18.24
36 Regina Marunde (Germany)                               18.48
37 Hiroko Nambu (Japan)                                   19.05
38 Trish Sinclair (Canada)                                19.54
39 Sabrina Enaux (France)                                 20.18
40 Jacqueline Mourao (Brazil)                             21.13
41 Sadie Parker-Wynyard (New Zealand)                     22.24
42 Barbel Jungmeier (Austria)                             23.04
43 Petra Schorkmayer (Austria)                            24.59
44 Maroussia Rusca (Switzerland)                          25.31
45 Chrissy Redden (Canada)                              2 laps
46 Janka Stevkova (Slovakia)
47 Maaris Meier (Estonia)
48 Niki Gudex (Australia)
49 Monica Brunati (Italy)
50 Lorenza Morfin (Mexico)
51 Jenny Copnall (Great Britain)
52 Valentina Pazitova (Russia)
53 Laurie Copans (Israel)
54 Jenny Mccauley (Ireland)
55 Carina Ketonen (Finland)
56 Dellys Franke (Australia)
57 Blaza Klemencic (Slovenia)
58 Katerina Yarova (Ukraine)
59 Gretchen Reeves (USA)
60 Laurence Leboucher (France)
61 Elina Sophocleous (Cyprus)
62 Robyn Wong (New Zealand)
63 Sandra Walter (Canada)
64 Carla Zalgado Gonzalez (Mexico)                      3 laps
65 Mirjam Dieleman (Netherlands)
66 Saskia Elemans (Netherlands)
67 Yolanda Speedy (South Africa)
68 Mette Andersen (Denmark)
69 Tarja Owens (Ireland)                                5 laps
DSQ Marga Fullana (Spain)
DNF Lene Byberg (Norway)
DNF Ilona Bublova (Czech Republic)
DNF Diana Marggraff (Equador)
DNF Anna Szafraniec (Poland)
DNF Lubov Khlopovskaia (Russia)
DNF Barbara Blatter (Switzerland)
DNF Sonja Traxel (Switzerland)
DNF Maria Ostergren (Sweden)
DNS Cecile Rode (France)
DNS Katrin Schwing (Germany)
DNS Bernardine Boog Rauwerda (Netherlands)