2003 MTB World championships - CM
Lugano, Switzerland, August 30 - September 7, 2003
Results Marathon Team Relay Cross Country Downhill Four Cross Other events
September 5 - U23 Cross Country - Preview
Weber wins at home
By Kristy Scrymgeour
Balz Weber
Photo ©: Kristy Scrymgeour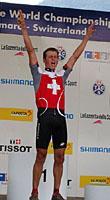 Balz Weber (Switzerland) had a very consistent race with a strong finish today to earn the World U/23 MTB Champion title today in front of a very enthusiastic home crowd. Weber's result stems from a consistent year of good results, notably his three wins in the Swiss cup series.
Following the juniors the U/23 men set of this afternoon on the technical course designed by many time cyclocross and MTB World Champion Thomas Frischknecht. To the surprise of many it was Ivan Alvarez (Spain), who was very strong as a junior but has not done a lot recently, not his teammate Carlos Coloma who set the blistering pace at the beginning of the race. Coloma was an obvious favourite in the race, currently ranked number one on UCI points, but Alvarez took the early lead and the Bronze medal in the end.
For four laps Alvarez was chased by Weber, Liam Killeen (Great Britain), Nicolas Filippi (France) and Maunuel Fumic (Germany) with the gap to him and other riders remaining convincing. After four laps however Alvarez started to slow a little and Weber moved in on him eventually going past him into first place. Killeen suffered a puncture and lost a bit of time and Fumic remained strong consistently gaining time on Alvarez. By the finish line Weber had 37 seconds on Fumic who had moved into second place with just over a lap remaining in the race. Alvarez held on to his third place to receive the Bronze medal in front of a disappointed Killeen, with Filippi taking fifth.
Weber was ecstatic after the race and was still shaking as he stepped onto the podium much later in front of a loud and jovial Swiss crowd. "I was surprised at Alvarez being out there and he was really setting a very fast pace. I was going as hard as I could and I still wasn't making any ground on him. I was very happy when he slowed a little later in the race." After he caught Alvarez, Weber still had a chasing German to think about. "It was a problem because I was cramping a lot and I had to slow down. I just rode a very steady race until the last lap when I could really ride hard. I needed to concentrate right until the very end."
Weber in action
Photo ©: Kristy Scrymgeour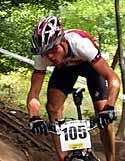 Second placed rider, Fumic, was also very pleased with his ride and also showed his surprise at Alvarez having such a quick start. "I have a lot of respect for him, because we chased very hard and we couldn't catch him for such a long time." Fumic arrived on Saturday and had only ridden about 12 laps in the days before the race. "I think that was sufficient though because the course changes every day and in training you really only go 80% anyway so it's hard to get a real feel for the course. The team relay was when I really got to know how I could ride this course."
An excited Alvarez responded to the comments of Balz and Fumic. "It tried to use the fact that I was unknown as a surprise tactic and obviously it worked well. In the European Championships I did the same thing and went very hard from the beginning. There it didn't work so well and I placed eighth, but here I felt much better and I was able to keep the pace for a lot longer."
Photography
Images by Kristy Scrymgeour/Cyclingnews.com
Results - 43.1 km
1 Balz Weber (Switzerland)             2.09.45 (19.93 km/h)
2 Manuel Fumic (Germany)                  0.37
3 Ivan Alvarez (Spain)                    1.12
4 Liam Killeen (Great Britain)            1.34
5 Nicolas Filippi (France)                4.58
6 Till Marx (Switzerland)                 5.11
7 Calle Friberg (Sweden)                  5.36
8 Michael Weiss (Austria)                 6.01
9 Lukas Flueckiger (Switzerland)          6.41
10 Maarten Wijnants (Belgium)             6.55
11 Jochen Kass (Germany)                  7.53
12 Ricky Federau (Canada)                 8.03
13 Jürg Graf (Switzerland)                8.52
14 Ruben Ruzafa Cueto (Spain)             9.22
15 Ryan Trebon (USA)                      9.43
16 Pavel Boudny (Czech Republic)         10.04
17 Inaki Lejarreta (Spain)               10.35
18 Igor Bogdan (Ukraine)                 11.18
19 Anze Bizjak (Slovenia)                11.26
20 Daniel Eriksson (Sweden)              11.44
21 Johannes Sickmueller (Germany)        11.50
22 Florian Vogel (Switzerland)           12.44
23 Carlos Coloma (Spain)                      
24 Nick Waite (USA)                      12.53
25 Michal Talavasek (Czech Republic)     13.33
26 Jelmer Pietersma (Netherlands)        14.15
27 Kris Sneddon (Canada)                 15.17
28 Emmanuel Valencia (Mexico)            16.00
29 Damien Bynens (Belgium)               16.20
30 Andrew Watson (Canada)                17.02
31 Brent Miller (Australia)              18.42
32 Iouri Trofimov (Russia)               1 lap    
33 Franz Hofer (Italy)                        
34 Gion Manetsch (Switzerland)                
35 Olegs Melehs (Latvia)                      
36 Gonçalo Brito (Portugal)                   
37 Andras Melts (Hungary)                     
38 James Van Toever (Canada)                  
39 Marco Sousa (Portugal)                     
40 Alan Obye (USA)                            
41 Tony Longo (Italy)                         
42 Simon Richardson (Great Britain)           
43 Mike Garrigan (Canada)                2 laps            
44 Gonçalo Pereira (Portugal)                 
45 Rok Grilc (Slovenia)                       
46 Walker Ferguson (USA)                      
47 Will Routley (Canada)                      
48 Aleksejs Saramotins (Latvia)               
49 Jai Crawford (Australia)                   
50 Andras Parti (Hungary)                     
51 Shaun Lewis (Australia)                    
52 Jacob Johansen (Denmark)                   
53 Maxim Gogolev (Russia)                     
54 Koos Groenewald (South Africa)             
55 Telmo Oliveira (Portugal)                  
56 Matthew Hadley (Canada)               3 laps
57 Vasileios Chortomaris (Greece)             
58 Marc Bassingthwaighte (Namibia)            
59 Konstantinidis Bardis (Greece)             
60 Ivan Seledkov (Russia)                     
61 Glen Kinning (Ireland)                4 laps     
62 Martin Pekatch (Israel)                    
63 Ondrej Zeleny (Czech Republic)             
DNF Gerald Burgsteiner (Austria)              
DNF Markus Weber (Austria)                    
DNF Javier Puschel (Chile)                    
DNF Tomas Vokrouhlik (Czech Republic)         
DNF Jacob Kjeldsen (Denmark)                  
DNF Allan Aulik (Estonia)                     
DNF Alexandre Blain (France)                  
DNF Remy Grosdidier (France)                  
DNF Tim Bohme (Germany)                       
DNF Hannes Genze (Germany)                    
DNF Marco Isonni (Italy)                      
DNF Christian Cuesta (Mexico)                 
DNF Lars Petter Nordhaug (Norway)             
DNF Piotr Formicki (Poland)                   
DNF David Low (South Africa)                  
DNF Johan Van Zyl (South Africa)              
DNF Miha Solar (Slovenia)                     
DNF Matej Zalar (Slovenia)                    
DNF Martin Gujan (Switzerland)                
DNF Barry Wicks (USA)                         
DNF Alejandro Siguer Lopez (Guatemala)        
DNS Rudy Van Houts (Netherlands)