2003 MTB World championships - CM
Lugano, Switzerland, August 30 - September 7, 2003
Results Marathon Team Relay Cross Country Downhill Four Cross Other events
September 6 - Downhill
French women dominate, One for South Africa, Hill wins juniors despite crash
Men
Happy Minaar
Photo: © CN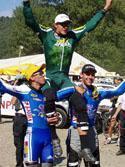 After Fabien Barel had been sitting in the "hot seat" with the fastest time for quite a while, it was the last few riders who upset his chance of Gold, forcing him back to third. When South African, Greg Minnaar came across the line to clock the fastest time by 1.5 seconds, Barel graciously jumped out of the turck handing over the hot seat to Minnaar whilst the large crowd anticipated the arrival of David Vazquez Lopez (Spain) and Mickael Pascal.
Vazquez time was not fast enough to be in the medals, but still gave him a respectable 7th place, so it was down to Pascal who came in in spectacular fashion, leaving people counting down the seconds for the win. Minnaar flew into the air when he saw that Pascal had only taken second place, knowing that he had taken the gold medal for South Africa.
"I was really nervous and excited before the race", said Minnaar, "I just wanted get down the mountain as fast as I possibly could. I knew I had the pace in training to be able to get a medal and I had my coach, Stefan, to calm me down. He made me realise that the only way to do this was to have fun out there so thats what I did."
When asked which riders he thought could have taken the win today he replied, "I was worried about Fabian Barel, Steve Peat and of course, Chris Kovarik (Australia). Chris can always pull off a result so he is always one to watch.
Taking second and third was once again the French contingent rounding off the medal tally for French downhill riders to seven (two gold, two silver and three bronze). The silver medal went to Pascal and the bronze to Barel with Peat and Kovarik both setting good times as Minnaar predicted, taking fourth and fifth overall.
Another happy spectator at the men's event was Australian junior, Sam Hill who won the junior category earlier in the day. His time would have out him in 4th place overall in the elite men's category, a thought that will give him a big confidence boost going into next year, especially taking into account the fact that a crash early in his run would probably have lost him a few seconds. "I am happy to see that my time is up there," said Hill, because I know I have a lot of time left to compete in this event."
Women
Anne-Caro Chausson
Photo: © CN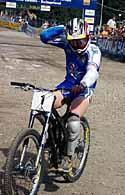 Anne-Caroline Chausson (France) easily won the women's downhill event today to take her seventh elite downhill World Title. In total she now has 13 World titles to her name including two wins as a junior, one in the 4-Cross event and two in the duel.
Chausson sped down the mountain a lot faster than she did in her qualifying round to her surprise, and had gained 12 seconds on the fastest posted time at the first time split. Making the technical turns look easy she swooped through the forest and down to the finish in a lightening time of 5'10". Her compatriots Sabrina Jonnier and Nolvenn Le Caer clocked the second and third fastest time of the day to make it an all-french podium.
Anne-Caroline was pleased to take her second World title in as many days and surprised at herself even when she spoke with Cyclingnews after the event. "I expected to go faster than my qualifying time, but not that much faster," she said. "I was very smooth today and I improved on small sections. I am really happy though because when you are an athlete you have to believe you can win, so I was confident, but in downhill anything can happen. You can crash or have a technical problem or you can just have a bad feeling on the bike for that particular five minute run."
Describing the course, she was happy. "I liked the course because it had a lot of tight turns through the forest and I prefer that to the really fast sections. My bike was also set up perfectly. You have to spend a lot of time setting up a bike for downhill racing because every course is different. This course is steep and technical so you need to make sure the front is high and that you have good tyres."
Leading the race for some time was Fionn Griffiths (Great Britain) who eventually placed fifth and was very disappointed with her day. "I rode pretty badly today. All week I am been riding faster times and making little mistakes here and there. Today I decided to ride more conservatively and I'm a little pissed off at myself. I really liked the course because I seem to ride better on the technical courses, however I don't really dislike any course. I try to have an open mind because every course is different and you need to be able to adapt to all types of courses. I am hoping that next weekend I have a better day because I can still win the World Cup series."
Second placed rider, Jonnier was also a little disappointed, hoping also, that next weekend is better for her. "I rode fast today, but not fast enough. I really like the course especially the start and the finish. Anne-Caroline likes the technical bits in the middle, but I prefer the really fast sections. Of course I am disappointed because I like to win, just like anybody, so I hope next weekend will be better for me. Next weekend is very important because three of us can still win the World Cup Series. Basically whoever wins next weekend will win overall."
Junior Women
Perhaps France had another Chausson for the future. In the junior women's event, last year's winner Emmeline Ragot, rode a very fast time of 5'41 which would have placed her 10th in the elite women's event. Ragot was only a cadet when she won last year and therefore still has another year in the junior ranks after this. She was happy when cyclingnews caught up with her. "I hope that I win next year because I want to have three Rainbow jersey's in the junior category. I really liked the course today because I like it to be technical. Maybe it was a little bit too physical, but I like that too."
Junior men
Sam Hill
Photo: © CN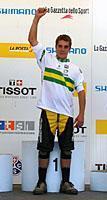 Australian Sam Hill won another Gold medal for Australia in the junior men's category today clocking a time of 4'39", a huge 11 seconds faster than second place despite crashing early in the run. His time would have put him into fourth position in the elite men. Topping off a successful year of NORBA and World Cup results Hill is pretty happy with his season. "I have been riding with Ironhorse this year and living in the US since Sea Otter in April so I've been to all the NORBA races and the World Cups."
Of his win today Hill was "...real happy.World's kind of snuck up on me this year and I haven't really been thinking about it a lot. I had a crash in Durango and landed on my hip, so I thought that was going to be the end of my season. Today when I crashed I landed on the same hip, but it's ok because I won."
Hill says he didn't do anything differently in this run compared with qualifying and practice. "I just went into some loose stuff and went a bit wide so I hit my pedals and crashed on the bitumen."
After seeing the results of the senior men, Hill was even happier, explaining that he was not disappointed at being too young to compete against the elite men this year. "This give me more confidence going into next year now, I've got a lot of time ahead of me to get results."
Hill began racing downhill in 1997 with his older brother. "I used to race BMX and motorcross and then my brother and his friend bought mountain bikes. I used to go rding with them on my BMX but I couldn't keep up. I even did my first couple of mountain bike races on my BMX and eventually bought a MTB. I love it and I want to ride for a long time yet."
Cyclingnews also caught up with Hill's mother who was worried about his new wounds. "This sport is pretty nerve racking for a mother. I used to get very worried, but I'm getting better."
Photography
Images by Kristy Scrymgeour
Men
Women
Images from the downhill qualifiers by Kristy Scrymgeour
Final results

Elite Men

1 Greg Minnaar (RSA)                              4.37.78
2 Mickael Pascal (Fra)                            4.38.70
3 Fabien Barel (Fra)                              4.39.11
4 Steve Peat (GBr)                                4.40.15
5 Christopher Kovarik (Aus)                       4.42.29
6 Joel Panozzo (Aus)                              4.44.39
7 David Vazquez Lopez (Spa)                       4.45.24
8 Cedric Gracia (Fra)                             4.46.26
9 Julien Camellini (Fra)                          4.47.83
10 Mick Hannah (Aus)                              4.47.98
11 Will Longden (GBr)                             4.50.31
12 Nathan Rennie (Aus)                            4.51.38
13 Shaums March (USA)                             4.51.71
14 Bernat Guardia Pascual (Spa)                   4.53.28
15 Claudio Caluori (Swi)                          4.53.73
16 Vincent Saut (Fra)                             4.53.85
17 Pascual Canals Flix (Spa)                      4.54.03
18 Nico Vink (Bel)                                4.54.12
19 Damien Mermoud (Swi)                           4.55.34
20 Jared Rando (Aus)                              4.56.13
21 Tomas Misser Vilaseca (Spa)                    4.56.41
22 Julien Poomans (Fra)                           4.56.84
23 Mickael Deldycke (Fra)                         4.57.88
24 Bruno Zanchi (Ita)                             4.58.08
25 Daniel Atherton (GBr)                          4.58.49
26 Justin Leov (NZl)                              4.58.61
27 Rene Wildhaber (Swi)                           4.58.63
28 Andrew Neethling (RSA)                         4.58.66
29 D. Klaassenvanoorschot (USA)                   5.00.15
30 Kris Hargreaves (GBr)                          5.00.99
31 Toni Berg (Fin)                                5.01.23
32 Andreas Steffen (Swi)                          5.01.32
33 Eric Carter (USA)                              5.02.15
34 Matti Lehikoinen (Fin)                         5.02.77
35 Frank Schneider (Ger)                          5.02.88
36 Markolf Berchtold (Bra)                        5.03.35
37 Mathieu Laurin (Can)                           5.04.01
38 Rich Houseman (USA)                            5.04.29
39 Justin Havukainen (Aus)                        5.04.71
40 Marcus Klausmann (Ger)                         5.05.59
41 Glenn Haden (NZl)                              5.05.62

Elite Women

1 Anne-Caroline Chausson (Fra)                    5.10.23
2 Sabrina Jonnier (Fra)                           5.22.64
3 Nolvenn Le Caer (Fra)                           5.27.69
4 Tracy Moseley (GBr)                             5.33.31
5 Fionn Griffiths (GBr)                           5.35.06
6 Kathy Pruitt (USA)                              5.35.65
7 Mio Suemasa (Jpn)                               5.36.81
8 Marla Streb (USA)                               5.37.08
9 Vanessa Quin (NZl)                              5.37.34
10 Amelie Thevoz (Swi)                            5.42.40
11 Marielle Saner (Swi)                           5.47.57
12 April Lawyer (USA)                             5.48.90
13 Miriam Blas (Spa)                              5.53.95
14 Danika Schroeter (Can)                         6.04.27
15 Anita Molcik (Aut)                             6.06.47
16 Petra Bernhard (Aut)                           6.07.88
17 Michelle Dumaresq (Can)                        6.11.78
18 Debra Mac Killop (Can)                         6.12.67
19 Dawn Bourque (USA)                             6.19.90
20 Sara Mologni (Ita)                             6.20.69
21 Violeta Janeiro (Spa)                          6.21.44
22 Gale Dahlager (USA)                            6.22.00
23 Claire Buchar (Can)                            6.23.90
24 Antje Kramer (Ger)                             6.29.16
25 Celine Gros (Fra)                              6.39.47
26 Holly Kuhn (USA)                               6.41.77
27 Katarina Siskova (Svk)                         6.50.31
28 Anka Martin (RSA)                              6.51.14
29 Caroline Milot (Can)                           6.52.37
30 Helena Boskova (Svk)                           8.05.65
31 Bohdana Pulpanova (Cze)                        8.09.81
32 Anneke Beerten (Ned)                           9.18.78
DNS Sheila Morris (Can)

Junior Men

1 Samuel Hill (Aus)                               4.39.49
2 George Atherton (GBr)                           4.50.49
3 Cyrille Kurtz (Fra)                             4.54.47
4 Kyle Strait (USA)                               4.57.56
5 Duncan Riffle (USA)                             4.59.57
6 Alan Beggin (Ita)                               4.59.95
7 Liam Panozzo (Aus)                              5.00.11
8 Romain Saladini (Fra)                           5.00.64
9 Fabien Cibelly (Fra)                            5.04.17
10 Yoann Barelli (Fra)                            5.04.57
11 Ben Reid (Irl)                                 5.05.99
12 Henry Odonnell (USA)                           5.06.15
13 Cody Warren (USA)                              5.06.50
14 Garrick Anderson (USA)                         5.06.57
15 Hegoi Ado Celayeta (Spa)                       5.07.89
16 Jamie Popham (Irl)                             5.09.34
17 Lindsay Klein (Aus)                            5.09.82
18 Amiel Cavalier (Aus)                           5.12.68
19 David Mclaughlin (Aus)                         5.14.79
20 Nick Beer (Swi)                                5.15.27
21 Carlo Gambirasio (Ita)                         5.15.94
22 Jukka Keinonen (Fin)                           5.16.78
23 Kamil Tatarkovic (Cze)                         5.17.15
24 Claudio Cozzi (Ita)                            5.17.70
25 Matej Charvát (Cze)                            5.18.19
26 Marcel Beer (Swi)                              5.19.29
27 Cory Gustafson (USA)                           5.19.30
28 Rémy Charrier (Fra)                            5.19.41
29 Romain Lescure (Fra)                           5.20.07
30 Jos Ortega De La Rubia (Spa)                   5.20.60
31 Jonty Neethling (RSA)                          5.20.77
32 Markus Schwab (Swi)                            5.21.73
33 Volkmar Berchtold (Bra)                        5.23.45
34 Justin Brown (Can)                             5.24.32
35 Riley Donaldson (Aus)                          5.24.61
36 Cameron Zink (USA)                             5.27.11
37 Dominic Provost (Can)                          5.27.21
38 Carlos Loureiro (Por)                          5.28.24
39 Andy Smith (Irl)                               5.28.62
40 Julius Syvänen (Fin)                           5.28.85
41 Patrik Kotrla (Cze)                            5.29.39
42 Sérgio Campos (Por)                            5.30.27
43 Pedro Salgueiro (Por)                          5.32.60
44 Thomas Schafer (Ger)                           5.32.74
45 Jamie Biluk (Can)                              5.33.04
46 Matej Drnovsek (Slo)                           5.33.55
47 Shuichiro Aoyagi (Jpn)                         5.33.90
48 Sean Brown (Can)                               5.34.36
49 Will Clifford (Aus)                            5.35.33
50 Oliver Munnik (RSA)                            5.35.66
51 Aku Hjelm (Fin)                                5.35.83
52 Mark Heritage (GBr)                            5.36.18
53 Bostjan Volf (Slo)                             5.36.79
54 Craig Pattle (NZl)                             5.40.12
55 Darryn Stow (RSA)                              5.43.32
56 Gillermo De Uslar (Mex)                        5.49.62
57 Ernest Stunzans (Pol)                          5.52.72
58 Derek Bahlo (Ger)                              5.53.34
59 Fumanetto Anderson (Bra)                       5.59.75
60 Jan Cestnik (Slo)                              6.00.87
61 Nicolas Fischer (Swi)                          6.03.07
62 Ondrei Bárta (Cze)                             6.10.85
63 Fabian Gattlen (Swi)                           6.15.50
64 Arno Verburg (RSA)                             6.16.30
65 Travis Wade (RSA)                              6.32.65
66 Damien Spagnolo (Fra)                          6.41.74
67 Petr Mašek (Cze)                               6.42.92
68 Burry Stander (RSA)                            6.54.21
69 Jack Cinciela (Pol)                            7.42.86
70 Martin Strasser (Aut)                         10.51.87
DNF Aki Färm (Fin)
DNF Simon Munnik (RSA)

Junior Women

1 Emmeline Ragot (Fra)                            5.41.07
2 Scarlett Hagen (NZl)                            5.46.58
3 Bernardita Pizarro (Chi)                        5.59.03
4 Claire Bauchet (Fra)                            6.46.34
5 Leana Gerrard (USA)                             7.29.04
6 Jenny Cornelison (USA)                          7.44.52
7 Katie Holden (USA)                              8.39.68

Qualification
Elite Men

1 Mickael Pascal (France)                         4.46.90
2 David Vazquez Lopez (Spain)                     4.48.58
3 Greg Minnaar (South Africa)                     4.51.72
4 Oscar Saiz Castane (Spain)                      4.52.64
5 Marcus Klausmann (Germany)                      4.52.69
6 Cedric Gracia (France)                          4.53.34
7 Rich Houseman (USA)                             4.55.37
8 Joel Panozzo (Australia)                        4.55.57
9 Daniel Atherton (Great Britain)                 4.55.96
10 C Carrick-Anderson (Great Britain)             4.57.22
11 Julien Camellini (France)                      4.57.75
12 Matti Lehikoinen (Finland)                     4.57.91
13 Claudio Caluori (Switzerland)                  4.58.90
14 Christopher Kovarik (Australia)                4.59.73
15 Will Longden (Great Britain)                   4.59.83
16 Bruno Zanchi (Italy)                           5.00.34
17 Tomas Misser Vilaseca (Spain)                  5.00.42
18 Bernat Guardia Pascual (Spain)                 5.00.43
19 Mick Hannah (Australia)                        5.00.87
20 Ivan Oulego Moreno (Spain)                     5.01.06
21 Kris Hargreaves (Great Britain)                5.02.48
22 Markolf Berchtold (Brazil)                     5.03.25
23 Enrico Dal Fitto (Italy)                       5.03.73
24 Julien Poomans (France)                        5.04.35
25 Fabien Barel (France)                          5.05.88
26 Nathan Rennie (Australia)                      5.06.81
27 Nico Vink (Belgium)                            5.06.91
28 Vincent Saut (France)                          5.07.64
29 Damien Mermoud (Switzerland)                   5.07.80
30 Jared Rando (Australia)                        5.08.56
31 Steve Peat (Great Britain)                     5.08.61
32 Toni Berg (Finland)                            5.10.33
33 Thomas Ryser (Switzerland)                     5.10.87
34 D Klaassenvanoorschot (USA)                    5.11.56
35 Duane Stander (South Africa)                   5.11.60
36 Michal Marosi (Czech Republic)                 5.11.87
37 Rene Wildhaber (Switzerland)                   5.12.01
38 Jens Böttner (Germany)                         5.12.24
39 John Lawlor (Ireland)                          5.12.40
40 Pascual Canals Flix (Spain)                    5.12.43
41 Andreas Steffen (Switzerland)                  5.13.88
42 Adam Vagner (Czech Republic)                   5.13.94
43 Justin Leov (New Zealand)                      5.14.04
44 Andreas Sieber (Germany)                       5.14.38
45 Mathieu Laurin (Canada)                        5.14.41
46 Nuno Duarte (Portugal)                         5.14.59
47 Stefan Kudella (Germany)                       5.15.37
48 Justin Havukainen (Australia)                  5.15.61
49 Filip Matus (Czech Republic)                   5.16.21
50 Colin Bailey (USA)                             5.16.59
51 Frank Schneider (Germany)                      5.16.91
52 Glyn O´Brien (Ireland)                         5.18.96
53 Mickael Deldycke (France)                      5.19.59
54 Luke Strom (Australia)                         5.19.62
55 William Corry (Ireland)                        5.19.79
56 Glenn Haden (New Zealand)                      5.19.87
57 Samuel Zbinden (Switzerland)                   5.20.35
58 Robin Baloochi (USA)                           5.20.96
59 Andrew Neethling (South Africa)                5.21.16
60 Eric Carter (USA)                              5.22.04
61 Tim Mackersy (New Zealand)                     5.23.68
62 Masashi Takemoto (Japan)                       5.24.44
63 Vlastimil Hyncica (Czech Republic)             5.24.46
64 Jure Logar (Slovenia)                          5.25.90
65 Aku Tuunainen (Finland)                        5.26.42
66 Maciej Jodko (Poland)                          5.27.29
67 Tom Holland (New Zealand)                      5.27.56
68 Hugo Donais (Canada)                           5.28.64
69 Trevor Porter (Canada)                         5.29.54
70 Andrew Yoong (Ireland)                         5.29.67
71 Rok Podbevsek (Slovenia)                       5.32.69
72 Reji Oshima (Japan)                            5.34.28
73 Shaums March (USA)                             5.35.15
74 Bas De Bever (Netherlands)                     5.36.59
75 Karlis Kisuro (Latvia)                         5.37.93
76 Vesa Virta (Finland)                           5.39.25
77 Kristof Lenssens (Belgium)                     5.40.29
78 Mario Schurter (Switzerland)                   5.46.91
79 Jordie Lunn (Canada)                           5.47.48
80 Rudiger Jahnel (Austria)                       5.49.11
81 Claudio Loureiro (Portugal)                    5.57.12
82 Filip Cillik (Slovakia)                        5.58.54
83 Janos Krizsak (Hungary)                        6.00.70
84 Jose Perez (Mexico)                            6.03.65
85 Shaun Keppler (South Africa)                   6.06.73
86 Mihaly Gulyas (Hungary)                        6.07.15
87 Milan Kozar (Slovakia)                         6.07.85
88 Juhana Koivisto (Finland)                      6.17.79
89 Michael Jones (Canada)                         6.19.45
90 Artem Grek (Russia)                            6.36.33
91 Marcis Scerbinins (Latvia)                     6.36.61
92 Sergey Maltsev (Russia)                        6.42.52
93 Oleg Voronin (Russia)                          6.43.74
94 George Stanila (Roumania)                      6.47.69
95 Roger Gonzalez Salvador (Spain)               10.36.11
96 Colin Ross (Ireland)                          13.03.12
97 Nino Antic (Croatia)                          15.02.00
98 Mathias Haas (Austria)                        27.49.29
99 Filip Polc (Slovakia)                         40.39.89
DNS Gerdje Tholen (Netherlands)
DNS Koen Valkenhoef (Netherlands)
DNS Visa Malinen (Finland)

Elite Women

1 Anne-Caroline Chausson (France)                 5.28.16
2 Celine Gros (France)                            5.34.60
3 Sabrina Jonnier (France)                        5.40.21
4 Nolvenn Le Caer (France)                        5.41.21
5 Amelie Thevoz (Switzerland)                     5.42.65
6 Marielle Saner (Switzerland)                    5.43.61
7 Kathy Pruitt (USA)                              5.43.79
8 Tracy Moseley (Great Britain)                   5.46.05
9 Mio Suemasa (Japan)                             5.49.17
10 Vanessa Quin (New Zealand)                     5.50.70
11 Marla Streb (USA)                              5.54.54
12 Miriam Blas (Spain)                            5.55.33
13 April Lawyer (USA)                             6.04.20
14 Anneke Beerten (Netherlands)                   6.04.39
15 Fionn Griffiths (Great Britain)                6.05.95
16 Anita Molcik (Austria)                         6.13.13
17 Debra Mac Killop (Canada)                      6.16.19
18 Michelle Dumaresq (Canada)                     6.18.47
19 Dawn Bourque (USA)                             6.20.89
20 Danika Schroeter (Canada)                      6.27.12
21 Claire Buchar (Canada)                         6.30.58
22 Sara Mologni (Italy)                           6.33.10
23 Violeta Janeiro (Spain)                        6.33.13
24 Sheila Morris (Canada)                         6.42.57
25 Gale Dahlager (USA)                            7.00.08
26 Anka Martin (South Africa)                     7.00.47
27 Katarina Siskova (Slovakia)                    7.10.59
28 Caroline Milot (Canada)                        7.28.43
29 Holly Kuhn (USA)                               7.29.73
30 Antje Kramer (Germany)                         7.37.11
31 Bohdana Pulpanova (Czech Republic)             8.50.74
32 Helena Boskova (Slovakia)                      9.28.05
33 Petra Bernhard (Austria)                      20.06.53
DNS Sandra Walker (Switzerland)
DNS Pascaline Reusser (Switzerland)
DNS Corina Bachmeier (Portugal)

Junior Men

1 George Atherton (Great Britain)                 4.49.59
2 Alan Beggin (Italy)                             4.57.38
3 Damien Spagnolo (France)                        5.03.30
4 Fabien Cibelly (France)                         5.06.60
5 Liam Panozzo (Australia)                        5.06.75
6 Marcel Beer (Switzerland)                       5.07.76
7 Carlo Gambirasio (Italy)                        5.09.21
8 Henry Odonnell (USA)                            5.09.30
9 Duncan Riffle (USA)                             5.11.08
10 Will Clifford (Australia)                      5.12.11
11 Romain Lescure (France)                        5.12.28
12 Rémy Charrier (France)                         5.12.92
13 Yoann Barelli (France)                         5.13.04
14 David Mclaughlin (Australia)                   5.13.37
15 Lindsay Klein (Australia)                      5.14.15
16 Romain Saladini (France)                       5.14.51
17 Mark Heritage (Great Britain)                  5.14.84
18 Cameron Zink (USA)                             5.16.66
19 Nick Beer (Switzerland)                        5.17.54
20 Claudio Cozzi (Italy)                          5.18.24
21 Ben Reid (Ireland)                             5.18.53
22 Derek Bahlo (Germany)                          5.19.99
23 Cyrille Kurtz (France)                         5.21.21
24 Riley Donaldson (Australia)                    5.21.26
25 Matej Charvát (Czech Republic)                 5.24.21
26 Kamil Tatarkovic (Czech Republic)              5.24.76
27 Jukka Keinonen (Finland)                       5.25.47
28 Samuel Hill (Australia)                        5.25.79
29 Amiel Cavalier (Australia)                     5.25.98
30 Hegoi Ado Celayeta (Spain)                     5.26.09
31 Oliver Munnik (South Africa)                   5.27.81
32 Jamie Popham (Ireland)                         5.28.67
33 Jos Ortega De La Rubia (Spain)                 5.28.72
34 Craig Pattle (New Zealand)                     5.29.24
35 Markus Schwab (Switzerland)                    5.29.28
36 Cory Gustafson (USA)                           5.29.40
37 Aku Hjelm (Finland)                            5.31.39
38 Jonty Neethling (South Africa)                 5.31.68
39 Aki Färm (Finland)                             5.31.93
40 Carlos Loureiro (Portugal)                     5.33.92
41 Justin Brown (Canada)                          5.34.12
42 Sérgio Campos (Portugal)                       5.34.18
43 Martin Strasser (Austria)                      5.35.46
44 Pedro Salgueiro (Portugal)                     5.35.70
45 Julius Syvänen (Finland)                       5.36.12
46 Ondrei Bárta (Czech Republic)                  5.36.93
47 Cody Warren (USA)                              5.37.19
48 Garrick Anderson (USA)                         5.38.83
49 Darryn Stow (South Africa)                     5.39.18
50 Burry Stander (South Africa)                   5.39.28
51 Volkmar Berchtold (Brazil)                     5.39.33
52 Jan Cestnik (Slovenia)                         5.41.47
53 Fumanetto Anderson (Brazil)                    5.42.06
54 Shuichiro Aoyagi (Japan)                       5.42.40
55 Andy Smith (Ireland)                           5.46.15
56 Sean Brown (Canada)                            5.46.44
57 Matej Drnovsek (Slovenia)                      5.46.47
58 Simon Munnik (South Africa)                    5.48.23
59 Petr Mašek (Czech Republic)                    5.48.44
60 Bostjan Volf (Slovenia)                        5.49.39
61 Nicolas Fischer (Switzerland)                  5.49.76
62 Kyle Strait (USA)                              5.51.90
63 Patrik Kotrla (Czech Republic)                 5.53.41
64 Ernest Stunzans (Poland)                       6.00.32
65 Jamie Biluk (Canada)                           6.08.64
66 Dominic Provost (Canada)                       6.23.45
67 Fabian Gattlen (Switzerland)                   6.42.05
68 Travis Wade (South Africa)                     6.56.55
69 Arno Verburg (South Africa)                    7.06.53
70 Jack Cinciela (Poland)                         9.13.27
DNF Thomas Schafer (Germany)
DNF Gillermo De Uslar (Mexico)
DNS Matthias Hoffmann (Switzerland)

Junior Women

1 Emmeline Ragot (France)                         5.46.06
2 Scarlett Hagen (New Zealand)                    5.59.17
3 Bernardita Pizarro (Chile)                      6.09.85
4 Claire Bauchet (France)                         6.54.44
5 Leana Gerrard (USA)                             8.05.22
6 Jenny Cornelison (USA)                          8.20.21
7 Katie Holden (USA)                              8.33.55
DNS Laetitia Le Corguille (France)
DNS Brook Baker (Canada)