2003 MTB World championships - CM
Lugano, Switzerland, August 30 - September 7, 2003
Results Marathon Team Relay Cross Country Downhill Four Cross Other events
September 5 - Four Cross
Chausson and Lopes defend
Tara Llanes (USA) qualifying fourth
Photo ©: Kristy Scrymgeour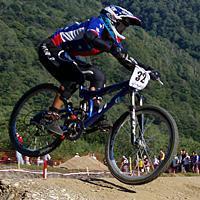 For the second year in history the four cross event will be held in the MTB World Championships in Lugano this week. Last year the duel slalom which had been running for two years was replaced by four cross and became a big success.
This year in the womenís event, undefeated champion since 2000, Anne Caroline Chausson will return to defend her reign. Chausson recently won the 4-Cross event at the European Championships and holds prime form but her winning streak will be threatened this year by riders such as Tracey Mosely (Great Britain), Katrina Miller (Australia) and Sabrina Jonnier (France) among others. Jonnier recently won the overall NORBA series in the 4-Cross event and Mosely has been successful in World Cup events this year, whilst Miller is two time runner-up to Chausson and will once again be out to break that streak.
In the menís event, two time defending champion Brian Lopes (USA) is back in action after a broken ankle during the season and will be here in Lugano to try for three. Also Cedric Gracia (France) who has placed second to Lopes for the past two years will be one of the favourite in this event and will be up against talent such as Eric Carter (USA) who recently won the NORBA 4-Cross series in the US, Wade Boots (Australia) and Greg Minaar (South Africa).