MTB index page for all MTB content
MTB News & racing round-up for October 7, 2005
Edited by Steve Medcroft
Welcome to our regular round-up of what's happening in the dirt. Feel free to send feedback, news and gossip to mtb@cyclingnews.com

Chris Sheppard: "I cheated"
Canadian mountain biker Chris Sheppard recently tested positive for recombinant erythropoietin (rEPO) after an out-of-competition test at his home in Kamloops, Canada, and was subsequently suspended by Canadian Cycling and fired from Team Haro. He was liked in the mountain-bike community but is now a pariah. Sheppard used to send a personal email to his sponsors and friends on a regular basis; a diary of sorts. The email was called the 'Shep Report'. What follows is what the outcast rider calls 'the final Shep Report.' In it, Shep, as he is known to friends, explains what led to his decision to take EPO and the consequences.
First and foremost I have to say that I cheated. Point blank. I have let down my girlfriend, family, friends, sponsors, fellow racers, and National team supporters. I have been led down a path that ends my career with question marks and lost hope especially to those who looked up to me. All I can say is I AM SORRY. There is no justification for what I have done - just a history of why I was pushed to this point. I am not trying to raise sympathy, nor have people feel sorry for me. Cycling is a tough sport and after 17 years of racing clean and pointing the finger, I gave in during hard times. I wanted what was taken away from me; that is, years of hard work culminating in a solid season that ended with an accident and my spiral into depression.

Some of you have already stopped reading and I don't blame you. It has taken months of me living every lyric from AFI's "Sing the Sorrow" for me to finally sit down and let it out. I could have drifted off into oblivion to never care again but I can't. I can't let this blow over and start a new chapter while not at least explaining myself to those that have become my family. In the end I am a cheat but I am not the guy who is saying, "I didn't" to his grave. I "did" and it has wrecked me more than my accident last year. For those listening, for those young guys I have let down, having fun has always been my claim. Doing this drug free hasn't been a battle because I loved the hard work, the miles, and the muscle pain. Ask any racer that has trained with me and they'll say I definitely over trained to the point that had to affect my results over the years. I guess that is why I have mostly kept to North American soil where the word "fun" can still be applied to our ritualistic suffering.

When I was struck by a truck last summer a few things occurred in my body that I have not been able to reverse. At first I thought things would be OK considering I didn't have to spend time in the hospital - then I raced. From leading the NORBA STXC and second in the XC series I started my descent into desperation and depression. I took almost 6 weeks off the bike while undergoing rehab for my back (which is ongoing), then started a slow build up to the season. For five months, every day felt like I had not had my morning coffee (to those who don't sip-each day felt fuzzy) while my back was always painful. I look back at my dark, days in December when I mentally started to fall apart. My therapist was working on the back pain I had while breathing as two of friends suggested over and over see a clinical psychologist. "I am a professional", I thought. "I am mentally strong and don't need help to get through it. I'll just keep on working hard and everything will be better. "

How wrong I was.

I continued body work, physio, and an hour a day rehab into the spring yet my back was still painful in the morning while driving me insane while I rode. As soon as my heart reached high aerobic zones it felt like a nail was being driven into my vertebrae. To this day I still receive a friendly reminder of that truck running the stop sign each morning and during each workout. My biggest issue would be the concussion I received. Since the accident I have not been able to raise my heart to within 10-12 beats of last years' maximum. An athlete's number one weapon is his brain. It seems that the problem that haunts me is my ability to concentrate. No matter how hard I try, I loose focus causing me to fall short of my body's maximum during training and racing. I think the worst part of this injury is that it extends past racing and into my everyday life.

Let me repeat: I have dug my own grave. These are not excuses and I will forever have a tainted reputation. I am sorry to those I have cheated.

As my poor racing and training continued I lost hope and my heart deflated. I have worked on my position, efficiency (thanks Andy, Scott and Justin in Bend) power to utilize what I have left. Clinging onto something will bring out the Devil's advocate in a hurry and that is what happened with me. Once again this does not justify cheating but my mind weighed the positives and negatives of, "It's not cheating, you're just making up for what was taken away".

Passion is a powerful drug and for a second if all of you could think of the one thing that drives your every day, that makes you smile even in the worst of times-then have it taken away. Ouch. I was blinded. I fought with these thoughts all spring pushing my girlfriend away while being drawn into self-loathing. It was at this point that I chose to do what I did. No one pushed me into it. No one told me how to do it and above all I didn't have hands on learning. I just did it. I felt cheated at the time. Can you believe that? I guess it is tough for all of you to accept and I don't blame anyone that is disappointed nor do I blame people posting on the internet or talking behind my back or thinking that I cheated to achieve past results. I can only say that I have never doped and that my results are consistent for year to year. As are my hematocrit levels, blood values, testosterone all which can be verified through past UCI test dates, out of competition testing and controls at the races.

Only after the fact you come to realize how cheating affects other people and how I didn't think about my girl, family, sponsors and supporters. I was so passionate about something I would risk my life to keep it instead of moving on. That is how the top can blind you. How a love so strong overwhelms judgment. The irony in it all was the fact that I was tested the first day I did it. My folks always preached to me that "A Sheppard should never gamble because we always loose". A bit of a weird way to be brought up but those words are so true. I kill myself every day on the mistake I made.

So now I reflect on a career that is tainted. Canada has always bred its athletes to believe that if they work hard and believe in themselves, they can lead a drug-free career. I have lived this statement for 17 years while fighting for every mile and every position. Through extremely hard training camps month after month, year after year the current crop of Canucks had a Russian mentor whom we wished to excel for. This belief in oneself was the foundation for all of us to push our limits. Now I push through one of the hardest parts of a lost career - the inability to spread my passion for cycling to others. To see the spark in a 10 year olds eyes after finishing his first race.

I have set it upon myself to open children's eyes to the world of cycling and life outside the normal boundaries. At every race I preach self-belief, and to have fun. When out with the younger National Team or American riders I repeat the same words of advice I was passed on while training with Canada's past greats. This is a mentorship I wanted to continue through my last years as a cyclist but I have jumped off a cliff with no way of stopping my fall. Now, every person I talk to - every time I open up - I feel the pain in my back twinge. It hurts me because in the end my fellow racers, who are my friends and my family, will only remember the spike I hammered into their backs.

I am sorry.

-- Shep
Interbike: A retailer's eye
By Steve Medcroft
Arizona bike shop owner Erik Angermeier's Slippery Pig One-2
Photo ©: Steve Medcroft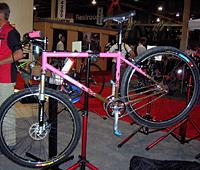 Although it is a fascinating spectacle for anyone who is in love with cycling, Interbike is primarily a business trade show for the cycling industry. Manufacturers, dealers and vendors put out their wares in an attempt to impress retailers and other buyers. During (and in the past week since), Cyclingnews has attempted to bring you inside Interbike and show you what the industry has in store for you in the coming year. Since this is really a show for the retailer though, we thought we'd corner one and get his thoughts on what Interbike had to offer. The retailer we caught was Erik Angermeier, owner of Slippery Pig Bikes in Phoenix, Arizona. As well as attending the show as a retailer, Angermeier has an unusual two-niner bike design featuring dual drivetrains (called the Slippery Pig One-2) on display at the show.
Cyclingnews: What did you want to accomplish by going to Interbike this year?
Erik Angermeier: Variety is one of the reasons I go. We had an early-season intro to Trek and Kona at their facilities so I was going to Interbike to see the second and third-tier bike companies, see what they had to offer in comparison to the larger companies. I want to can see everything that's going to be out there in one place and do the comparisons. You get to see who has the best road, mountain or commuter bike, the best $400 bike, $500 bike and $1000 bike.
CN: Did you find what you were looking for?
EA: I found that I was paying attention to the companies that had a stronger complete line; who paid attention to the commuter as much as the $5000 road bike, to kids bikes as much as women-specific bikes. Jamis impressed me; they had a complete line from low end to high end and are actively trying to become a first-tier bike company. We saw what they had to offer and this morning I did a 50-bike order with Jamis because of what I saw in the trade show.
CN: Anything else stand out in particular?
EA: The twenty-niner marketplace is increasing. When you see companies like DT create a wheelset and every major tire manufacturer offer the larger tires, you know a trend is taking hold. We're still not seeing the Specialized and Cannondale's jumping on board, though. Track bikes are poplar right now, too. It seemed like every major bike company had a singlespeed fixed gear track bike on display. Companies like Breezer had a good presence at the trade show as well; and their European-style commuter bikes sell well for us. A lot of companies are paying attention to the commuter now. Trek has the Navigator series. Lightweight road wheels in a mountain bike position with a lightweight aluminum frame; everybody's doing it.
A closer look
Photo ©: Steve Medcroft

CN: What about the traditional mountain bike?
EA: We went to Specialized, Santa Cruz and Cannonade and all of them had a six-inch travel mountain bike. And it seems like the standard cross-country suspension for a bike is now four inches. It used to be that five inch was the all-mountain bike - the Santa Cruz Heckler, the Gary Fisher Cake, Kona Dawg, Specialized Enduro. Then Fox came out with that 36 fork. It weights 5.1 pounds at 6 inches of travel and if you install it any five to six inch travel frame, the bike becomes so aggressive that you can ride it like a freeride bike. People are putting lightweight tires and cross country parts on these bikes and ending up with 30-pound bikes you ride either down a ski slope or take on an all-day trail ride.
CN: You're seeing a lot of demand for this all-mountain format?
EA: A lot of demand. The Santa Cruz Nomad is a hugely popular bike for us. And it's not because we (the retailers) drove the format. Consumer demand is changing. The information that's available on the web gets to the consumer before we ever get organized enough as a business group to showcase it. People knew about things that were at Interbike before I went to the show. For example, someone came in on Wednesday and said: "yeah, I saw the Niner (29-inch singlespeed boutique bike) online already."
CN: What has happened to the traditional mountain bike?
EA: Everything has moved up a class. The three-inch travel race bike almost doesn't exist any more; the race bike is now a four-inch travel bike. Specialized took the Epic from three to four inches. Kona on their race bike went from three to four. So now the four-inch bike, which kind of used to be the all mountain category, is considered cross country.
CN: You had a bike design of your own at the show (The Slippery Pig One-2, a two-niner with dual drivetrains)?
EA: It was popular. Because of the uniqueness of the drivetrain - whether they figured it was functional or not - everyone seemed at least curious about it.
CN: Why two drivetrains?
EA: The double chain is like a four wheel drive on a truck. It slightly engages forward progress a little more positively. It's a little stiffer. There's the mechanical advantage that if you broke a chain, you'd still be pedaling with the other side. You reduce frame flex because the frame is boxed out by the two chains, crankset and rear hub. The bike is symmetrical so it balances equally on both sides; when you let go of the handelbars, you don't have to countersteer to compensate for the weight of the drivetrain. The novelty of it is what catches people's eye though.
CN: Are you offering it to the mass market?
EA: Through the shop, I want to offer the drivetrain setup; the hub, two chains and the tandem cranks. A buyer will be able to choose the gear ratio they want and install it on any bicycle that has horizontal dropouts or an eccentric bottom bracket.
Cyclingnews' coverage of Interbike:
| | | | |
| --- | --- | --- | --- |
| | Date | Details | Coverage |
| Part 1 | September 30 | 2006 Giant Anthem | |
| Part 2 | September 28 | MTB coverage, Day 1: Outdoor Demo | |
| Part 3 | September 29 | Singlespeeds and 29ers for 2006 | |
| Part 4 | September 30 | MTB coverage, Day 2: trade show floor | |
| Part 5 | September 30 | Road coverage, Day 1: Outdoor Demo | |
| Part 6 | September 30 | Road coverage, Day 1: trade show floor | |
| Part 7 | September 30 | Capoforma, Bergamo, DMT, Cannondale | |
| Part 8 | October 1 | Celebrities, Look, Orbea | |
| Part 9 | October 1 | GT/Mongoose/Schwinn, Fizik, Jagwire | |
| Part 10 | October 2 | Foot Fitting, Rocket 7, Argon 18, Carbon Sports, Speedplay | |
| Part 11 | October 3 | MTB coverage, Day 3: trade show floor | |
| Part 12 | October 4 | Road coverage, Day 3: trade show floor | |
| Part 13 | October 4 | FSA, Camelbak, Smith Optics, BMC, Sheila Moon | |
| Part 14 | October 5 | Sinclari Imports party | |
| Part 15 | October 6 | Bianchi, Titus, Wilier, ITM, Cannondale, Fizi:k, Nike, Trek, LeMond | |
| Part 16 | October 7 | Bell, Castelli, Blackburn, Sportful, Bontrager | |
6 Haro mountain bikes stolen at Interbike
When Haro's employees returned to the Sands Convention Center on Saturday morning to start packing up their Interbike trade show booth, they discovered their locked cables had been cut and 6 mountain bikes had been stolen at some point during the night.
"These bikes have a lot of non rideable parts on them and some frames are not heat treated. They are photo samples only and are not safe to be ridden. In fact, they could be downright dangerous," said Wayne Doran, Haro's Quality Control Specialist. "Bike shops should keep an eye out for anyone who brings them in for service or warranty, and consumers should be wary of private individuals trying to sell them a 2006 Haro mountain bike."
The bikes that were stolen include:
.357 Magnum downhill bike in metallic gold, size medium
Werx 5 VL120 cross country bike in metallic gold, 18" (may be dirty since it was displayed at Dirt Demo)
Sonic VL120s cross country bike in dark grey, 18"
Shift R3 cross country bike in royal blue, 18"
Shift R5 cross country bike in red, 18"
Extreme X6 freeride bike in semi-gloss pewter, 16"
These bikes should be easy to identify since these particular models are not available in shops and will not be available for purchase for several months. Anyone with any information about these missing bikes is encouraged to contact Haro Bikes immediately at 800-289-4276 or e-mail Jill Hamilton, Haro Marketing Manager at jillh@harobikes.com.
MONT 24hr this weekend
The MONT 24hr Australian Mountain Bike Championships, kicks off at 12 noon this Saturday, October 8. 2,450 riders will be competing over the tight singletrack course in the Australian Capital Territory including 176 solo riders (a number equal to the complete field of the 1999 original race).
With two return tickets to the World Solo champs on offer, more riders have been challenged to go the solo option. The field is wide open with many of the top Solo riders recently returned from their efforts at the Adrenaline World Champs in Canada. Solo Males contenders include Saul Britton, trying to come back after a major back injury, Graeme Allbon, 17th at the World Solos, adventure racer Matt DeBelin and first time 24hr rider Johnny Waddell. One of the favorites is young rider, James Williamson.
The female Solo category is a close field of some of the most extreme endurance sportswomen in Australia. The field includes Freya Scollay, 4th in the World Solos, Olympian Carla Zijlstra-Evans, Adventure Racer and MONT Solo winner Rosi King, and our own Katrina Roper.
The over 40s field is equally strong with Neil Dall fresh from his Canadian experience. Single Speeders are also well represented.
With over $70,000 in prizes, air fares and prize money the race offers opportunities for all riders to take home some Schwag
More information: www.corc.asn.au.
The Gunn-Rita Dahle diary
Exciting days in China
Our week in China has been action-packed, extremely enjoyable, and very educational. We got to experience the enthusiasm of Chinese cyclists through the Great Wall Bicycle Festival, arranged by Nordic Ways; we got to know our Merida family in China; we got a taste of cultural history dating back to the old kingdom of the Chinese Czar; and we got to taste the utterly fantastic Asian cuisine.
Wednesday, September 21
After a substantial plane trip from Stavanger to Beijing, we arrived in the metropolis of Beijing in the afternoon, local time. We were met by representatives from the Norwegian-Swedish organisation Nordic Ways, and were driven to our hotel. Nordic Ways has its offices in the centre of Beijing, where three Norwegian and 17 Chinese employees work full-time, organising and arranging huge sports venues within the country - e.g - cycling, orienteering and cross country skiing.
We were invited to China by Nordic Ways to take part in the Great Wall Bicycle Festival, which was in its second year. The whole event takes two days, and on Saturday there's road racing, while mountain biking takes place on the second day. A good 1300 locals took part, three times as many as last year.
This year Merida China was the main sponsor for the day of mountain biking, and this gave us a great opportunity to meet our Merida friends in the country. Merida will be putting a lot of focus on cycling in large areas of Asia in the years leading up to the Olympics in Beijing. In other words, we will probably be travelling to this part of the world again in the years to come.
We checked into a nice hotel about 5-6 kilometres from the centre of Beijing, and had a short hour of exercise to get our circulation going again. In the evening we went for a walk in the surrounding area and then enjoyed a quick supper. We're feeling somewhat comatose after a long day of travelling and entering a new timezone. Our first impressions are of a place with a lot of dust in the air, many cyclists and pedestrians everywhere, and lots of noise. We're really looking forward to tomorrow.
Read the rest of Gunn-Rita's latest entry here.
Sam Hill resigns with Iron Horse
Iron Horse Bicycles resigned Australian downhiller Sam Hill this week. Hill is fresh off another successful World Cup race season (two UCI World Cup wins, 2nd overall UCI World Cup Series, UCI World Championship Silver Medalist, and U.S. Open Champion) and will continue with the U.S. bike maker through the 2008 race season.
Said Hill: "I'm really excited to be riding Iron Horse Bikes, happy to continue working with people who care about me, my future, and about the products they make. It's going to be awesome to help develop bikes that give cyclists the confidence to ride any terrain they choose."
Hill's focus will be on the U.S. Open, UCI World Cup Series, UCI World Championships, and select North American and Australian National events.
Garmin Ltd. acquires MotionBased Technologies
Garmin Ltd. (Nasdaq: GRMN), announced this week that it has acquired MotionBased Technologies, LLC; a privately-held developer of Web based applications for GPS devices that operates www.motionbased.com. MotionBased Technologies will continue operations as a division of Garmin International, Inc., a subsidiary of Garmin Ltd.
"We are very pleased with this acquisition because it complements our strategy to penetrate the fitness market," said Dr. Min Kao, Garmin's chairman and CEO. "The MotionBased web application is popular with Garmin customers. Since MotionBased.com was launched in 2004, over 11,000 GPS users have registered for access, and they have logged approximately 140,000 individual outdoor activities to the site."
MotionBased Technologies, headquartered in Sausalito, California, is recognized for processing GPS and other data (e.g., heart rate) for performance analysis and online mapping for athletes and outdoor enthusiasts. This web-based subscription service complements Garmin's fitness and outdoor devices, such as the Forerunner 201 and 301, Edge 205 and 305, Foretrex, and eTrex. Following an outdoor activity using a Garmin GPS unit, customers connect their device to a computer and upload the data to MotionBased where they personalize and categorize each activity.
The MotionBased service is used by customers to analyze the data to calculate time, distance, speed, elevation, and heart rate. MotionBased displays this information through charts, illustrations, reports, and a variety of map representations including street, photo, topographic, and elevation maps as well as the popular Google Earth service to visualize their activity. Users can replay their workout using media controls as they watch themselves move along the mapped route coupled with an elevation profile. Each activity stored in a personal online digest is also added to the TrailNetwork - a growing database of routes created by the MotionBased community. Members use the TrailNetwork to seek out new activities in their region, to find popular routes while traveling, or to engage in "virtual races" with other MotionBased users.
"We are elated to join forces with Garmin and integrate the MotionBased web application into Garmin's core fitness and outdoor product lines," said Aaron Roller, MotionBased's co-founder and CTO. "By working together as a team and sharing technologies, MotionBased and Garmin will further expand the way athletes prepare, participate, analyze and share their outdoor activities using GPS and the Internet."
$30,000 on offer at Wigwam/Ultimax Mountain Bike Challenge
The 2005 version of the Wigwam/Ultimax Mountain Bike Challenge, hosted by the Sheboygan FAT KATS (www.fatkats.org) will be held on October 9th (XC) in Sheboygan, Wis.
For 2005, sponsors have delivered a total cash and merchandise purse greater than $30,000! The Pro purse will be no less than $5,000 in cash with Men receiving $1,700 for first place, $900 for second, $500 for third, $300 for fourth, and $150 for fifth place overall. Regular payouts for the remaining top 20 are based off of WORS standard payout schedules. The Women's Pro division will be receiving $500 for first place, $250 for second, $125 for third, $100 for fourth and $75 for fifth. Again, regular payouts for the remaining top 10 will be based off of WORS standard payout schedules.
Also worth mentioning are some intriguing sections on the racecourse that offer additional cash rewards for riders, such as: 1) Bicycle Works Hole Shot Prime - Top three overall from the start will receive cash at the end of a 500 yard sprint (all classes); 2) Equalizer Hill Climb Prime by Wigwam - Each time you climb this 50-yard headwall without dabbing, you are handed $5 at the top; 3) All overall winners will receive custom awards courtesy of Industrial Graphics; and 4) All registered racers will receive a pair of Ultimax Cycling Socks.
The amount of the racer raffle prize list has also increased. This year there will be a chance to win the use of a Hyundai automobile from Van Horn Hyundai, TREK bikes, Oakley glasses and clothing, Chippewa Falls Water, Wigwam Socks, PCW Cycling gear, Saris Racks from Bike 'n' Ski, Crank Brothers pedals, Bontrager Equipment, and many more items. Fun stuff and great times await the 900 plus riders yearly and we welcome your involvement to make this event even more memorable.
A bike for a village Golden Dahle bike auction ends
The "A Bike for a Village" charity auction, in which the wining bidder took home a customer gold-colored Gunn-Rita Dahle signature Merida mountain bike, came to a close this week.
Belgian Valerie Custers too possession of her bike at the Grand Prix Roel Paulissen in her home country, in turn handing over $2,550US to the "Village of of Friendship". "Riding Gunn-Rita's bike is like a dream come true," Custers raved in Genk. She called herself a huge fan of the Norwegian pro rider, whose Olympic victory inspired the building of the bike.
"We are very happy about the financial support but also about the publicity brought about by the campaign. 30 years after the end of the Vietnam War it's hard to raise awareness, even though the people there are still suffering from the effects," said charity chairperson Rosi Höhn-Mizo. The money for the bike will be spent on the equipment at a wing of the clinic in the Village of Friendship in Vietnam. The plan is to buy a dental x-ray machine. "We can move a lot with 2500 dollar. Another option would be to hire a special education teacher for two years," explained Rosemarie Höhn-Mizo at the handing over of bike by Merida team manager Andi Rottler.
2005 Croc Trophy
It's back! The wild country of Far North Queensland will once again play host to the 11th Crocodile Trophy (October 18th to 30th).
The 2005 Crocodile Trophy will feature teams from Italy, Belgium, The Netherlands, Spain, Germany, Austria, Denmark and Australia, along with the perennially competitive and truly international Gatorade / Coopers Dream team, which is rumored to be featuring some yet to be revealed big name riders.
2004 winner Adam Hansen, the first Australian to ever claim the coveted Croc Trophy will make the journey from his new European training base to defend the title, but faces tough opposition from international rivals including Italy's Mauro Bettin and Czech Sibl Radoslav, among many others in the seventy rider field.
In contrast to last year's event which snaked its way from Darwin to Cairns across the Top End, the 2005 Crocodile Trophy will focus exclusively on the magnificent backdrop of Far North Queensland, from the rainforest to the remote outback. "There is no question, last year's Crocodile Trophy was the toughest on record, but that's not saying this year will be necessarilly any easier," Said Crocodile Trophy founder Gerhard Schoenbacher.
"Our focus is always on making this the world's most difficult off-road cycle race, which is why we have included more mountainous stages, along with the iconic outback country."
The 2005 Croc Trophy kicks off on October 18th with a prologue stage in Australia's Tropical Capital of Townsville, before heading bush via the spectacular mountain country of Paluma, Blencoe Falls and Ravenshoe.
Then it's on into the dusty dry outback country of lower Cape York - via Chillagoe, Mount Mulligan and Laura - until the riders reach the coast at Cooktown. The penultimate stage, arguably the most iconic of the race, will take competitors through the Daintree Rainforest along the legendary CREB track. At the end of 1400 brutal kilometres 'The Croc' as it has become known, will reach its conclusion in what can only be described as a tropical paradise, the place where presidents go to play, Four Mile Beach in ritzy Port Douglas!
"From the perspective of the European cyclists who come here for this event, I can assure you the Crocodile Trophy is like nothing they have ever before experienced," said race promoter Gerhard Schoenbacher. "The Danish team for example will come from 10 below zero in Copenhagen, then all of a sudden be racing in 35 to 40 degree heat, in some of the most rugged country on the planet... It is tough." The 'Pedal Tarvisiano' team from deep in Italy's mountainous north is among those returning in 2005, leaving behind the ski season to give its ace rider Paolo Salvatore Albano the support he needs for a tilt at the elusive Croc Trophy title.
The iconic television images of 'The Croc' will feature in a half-hour documentary that will go to air on European television immediately following the race, while in recent years the event has attracted an audience of millions via the Internet.
Naturally, Cyclingnews will join the race caravan, following the stories of heartbreak, despair, utter exhaustion and triumph which each year form the fabric of what is unquestionably one of cycling's most unique and iconic events.
Sponsors: Red Bull, Cratoni Helmets, The Lakes Resort Cairns and Quicksilver Barrier Reef Cruises.
Stage 1 - Tuesday, October 18: Townsville - Townsville, 70km
Stage 2 - Wednesday, October 19: Kirkland Downs - Paluma Dam, 112 km
Stage 3 - Thursday, October 20: Paluma Dam - Lake Lucy, 148 km
Stage 4 - Friday, October 21: Lake Lucy - Blancoe Falls, 134 km
Stage 5 - Saturday, October 22: Blancoe Fall - Koombooloomba, 104 km
Stage 6 - Sunday, October 23: Koombooloomba - Irvinebank, 98 km
Stage 7 - Monday, October 24: Irvinebank - Chillagoe, 115 km
Stage 8 - Tuesday, October 25: Chillagoe time trial, 30 km
Stage 9 - Wednesday, October 26: Chillagoe - Mt. Mulgrave, 125 km
Stage 10 - Thursday, October 27: Mt. Mulgrave - Laura, 138 km
Stage 11 - Friday, October 28: Laura - Cooktown, 142 km
Stage 12 - Saturday, October 29: Cooktown - Daintree, 139 km
Stage 13 - Sunday, October 30: Port Douglas - Port Douglas, 45 km
Total distance: 1,400 km
IMBA picks their 2005 Epic Rides
Epic rides are why we love mountain biking. They create classic memories and inspire us to save the trails. To fuel this passion, IMBA has selected five outstanding routes as 2005 IMBA Epic Rides, adding to the 32 great rides we've picked since '99.
2005 IMBA Epic selections:
Left and Right Trails, Tsali, North Carolina
Syllamo Trails, Syllamo, Arkansas
Loon Lake Trail, McCall, Idaho
Tahoe Meadows, Lake Tahoe, Nevada
Seven Summits Trail, Rossland, British Columbia
View the 2005 Epics online: http://www.imba.com/epics/
The "Epic" designation is an honor given through a competitive application process. IMBA Epics are at the top of many mountain bikers' "must-ride" lists, and for that reason, IMBA provides information about the rides and local attractions on its website to facilitate off-road adventures.
Nominate your trail for next year's IMBA Epic Ride designation at: www.imba.com/epics/nominate_epic.html
In the past, IMBA has promoted celebratory events when designating Epics. This year, to reduce the strain on local organizers, we will not promote IMBA-sponsored events.
(All rights reserved/Copyright Knapp Communications Pty Limited 2005)