Interbike show
Las Vegas, USA, September 26-30, 2005
Main Page Previous Part Next Part
Part 3
Is bigger better, or less really more?
One of the most pervasive themes in the mountain bike scene at this year's Outdoor Demo is the proliferation of singlespeed bikes and the 29" wheel concept (which are increasingly found paired together). Both of these ideas were practically regarded as circus sideshows in the not-so-distant past but have recently matured into legitimate subsegments of the market with an increasing number of bicycle and component manufacturers embracing the ideas and offering products to meet the demand. Cyclingnews' James Huang found out what they are and why they matter.
Niner founder Chris Sugai proudly presents
Photo ©: James Huang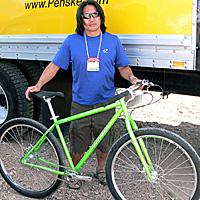 Well, the concept of singlespeed bikes is pretty self explanatory - 'ummm…they have one gear.' For those who are unfamiliar with the whole 29er thing, though, the idea is pretty straightforward: enlarge a mountain bike tyre to fit on a standard 700c rim and the result is a gargantuan wheel that stands roughly 3" taller than the standard 26" setup. Ok, so what?
Singlespeeding is usually not the easiest thing to push on someone who's used to having a billion gear ratios on hand at any given moment. Yep, you pretty much are almost always in either too big or too small of a gear, and the riders generally suffer plenty. But the rigs are typically super simple (and, thus, more reliable) and they're usually lighter than geared equivalents. More importantly, they seem to restore some sense of purity about riding bikes in general. With no gears, you just pedal. Need to go faster? Pedal faster. Climb getting tough? Pedal harder. Pretty simple, eh? Still, it sounds asinine to many, but most who have tried it (including me) almost never go back. A singlespeed may not end up being the only bike in the stable, but it's almost always a fun one.
As compared to the idea that one gear is plenty, the 29er concept is a somewhat easier one to pitch. The bigger wheels carry speed more efficiently, have a much larger contact patch for better cornering and climbing traction, and roll over rough terrain more effectively due to their monster truck-like size scale. Okay, more efficient rolling, more traction, Bigfoot-like, car-crushing ability. That seems like an easy one. However, those big wheels are noticeably heavier than the 26" standard, and well, they're big, so they can be a handful in tight situations at times. Regardless, though, devotees swear by the standard with an enthusiasm akin to diehard NASCAR fans.
I've been a long-time fan of singlespeeds, but having yet to experience the 29er revolution for myself, I checked out a Salsa Dos Niner softail at the Outdoor Demo to see what all the fuss was about. In all seriousness, all of the advertised benefits of the huge wheels were apparent after just one short lap (after which I felt obliged to continue in the name of "scientific research"). Cornering and climbing were outstanding, and you really do roll over stuff like crazy. Oddly enough, the 29er wheels didn't really feel much heavier on my test ride even though I knew in my head that they were. Maybe this was due to their much improved rolling efficiency, but it's hard to say for sure with my limited riding time.
Orbea may not have done a great job of telling consumers
Photo ©: James Huang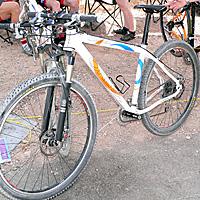 So was I a convert after one ride? No, but it certainly was an eye opener and the idea definitely deserves some further investigation. Component choices, particularly at the high end, are also still quite limited and proper sizing becomes more difficult as you start to dip down below "medium" sized frames since the 29er wheels are just so massive. Finally, the heavier wheels just don't leap out of corners the way a smaller 26" one can. Still, like most things, 29" wheels seem like they would be fantastic on certain trails, and I, for one, can think of a slew of local trails where this sort of thing would be just about perfect.
One interesting side effect of these growing sub-genres is the effect that they are having on the bicycle industry as a whole. While the ideas have earned mainstream support from bigger companies like Gary Fisher and Salsa, they have also spawned a boutique frame builder renaissance of sorts that is largely offsetting their near-extinction that came with the suspension and techno-boom of the late 90's. For whatever reason, singlespeeders and 29er riders often shun a certain level of technological advances in bike design and componentry. It seems to me that the vast majority of this new generation of bikes are steel, and they often have fully rigid forks. Smaller operations such as Dekerf and Sycip are experiencing sales upswings as a result of fresh demand for their unique abilities to create truly distinct rides, and once-defunct companies such as Ibis are rising out of the ashes in hopes of harnessing some of the momentum.
One of the newer players on the scene is Niner Bikes, founded by Chris Sugai. Niner proudly embraces old-school values such as good design and quality craftsmanship without wholly ignoring high-tech advances in frame tube alloys and intricate machining work. Their S.I.R. 9 ("Steel is Real") uses custom spec'ed double-butted Reynolds 853 tubing, while their ONE 9 uses an Easton GX2 Scandium ultralight tubeset. Their eccentric bottom bracket is an in-house design and is radically machined for a final weight of only 110g. One nice touch is the stainless steel headtube badge that is screwed on to every head tube. Good stuff.
Believe me, I'm all for technological advances in this and that, but the singlespeed and 29er subcultures are fueling a refreshing reminder that craftsmanship and aesthetics along with attention to detail and just plain solid design are equally important in defining the final product. Without the marketing technobabble hype of having the latest and greatest shifting setup or suspension design, old-world artisan craftsmanship is once again valuable in the mainstream (hear, hear) and I'm glad to see that bikes are retaining some sense of personality. Maybe someday soon the masses will actually relearn what fillet brazing is! Ah, to dream…
Photography
For a thumbnail gallery of these images, click here
Images by James Huang/Cyclingnews.com