Interbike show
Las Vegas, USA, September 26-30, 2005
Main Page Previous Part Next Part
Part 2: MTB coverage, Day 1: Outdoor Demo
Bootleg Canyon, Boulder City, Nevada, September 26-28
By Steve Medcroft
Industry insiders lined up
Photo ©: Steve Medcroft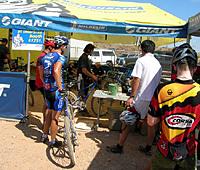 We visited the Interbike Trade Show Outdoor Demo expo at Bootleg Canyon in Boulder City, Nevada Tuesday. On hand were road and mountain bike manufacturers, as well as component manufacturers with demo, test, giveaway and sweet-deal products for the couple-thousand distributors, reps, bike shop owners, employees, mechanics and media.
The platform for all this tire-kicking was a road test course, cross-country trails and a shuttled downhill course. Riders lined up at booths, tents and trail-heads to put new technologies to the test. With about a hundred companies with something to show, a few stories stood out.
The Giant MTB demo crew
One of the most impressive things about Outdoor Demo days at Interbike is the sheer volume of bikes being demo'd and tested. At the 1,200-foot Giant MTB demo tent, for example, riders waited 10-deep for one of the 50-plus demo bikes to come back in off the trails.
On hand to coordinate the action of the 12-member crew was Jake Orness, Development Manager/Dealer Services for Giant's Newbury Park, California headquarters. "The MTB demo unit was one of two Giant had at Outdoor Demo," Orness said at the event. "Each one is a unique setup for Interbike. We pre-order bikes with the new spec, color and graphics just for the show," he added. "We build them once they come to our office in California then bring them up here."
Orness said the logistics or organizing Giant's participation in Outdoor demo is a challenge. "Before we get here, we figure out how we're going to get the bikes here, how things are going to be setup, the flow of the booth, how we're going to check bikes in and out. Logistically, it's very difficult. We worry about taking care of the dealers while at the same time making sure media and our sales guys get what they need."
Giant brought their latest MTB technology to Outdoor Demo. "We brought all the Maestro bikes this year but the main bike we brought was the Anthem," Orness said. Giant's new 3" cross country race bike was a hit [see separate story: 2006 Giant Anthem]. "Early in the day - when the getting was good and people could take the bike they wanted - they asked for Anthems." But the popular full-suspension model, developed throughout 2005 with the help of Giant pro cross-country riders Adam Craig and Carl Decker, went fast. "At a certain point, about the middle of each day, they started taking whatever they could get, even if the size didn't fit."
After Outdoor Demo, the whole setup, barring a few bikes that will be displayed on the indoor trade show floor the rest of the week, goes into a trailer to be shipped back to Newbury Park on Saturday.
Hustlin' with Hestler
Rocky Mountain pro Andreas Hesteler
Photo ©: Steve Medcroft

Another impressive element to Outdoor Demo is the inclusion of pro MTB racers. Tara Llanes was walking the lot saying hi and chatting to friends. Geoff Kabush was building his new Turner cyclocross bike at the Team Maxxis trailer. Newly-crowned Marathon world champion Thomas Frischkecht was sitting against the Scott demo trailer chatting with company front man Scott Montgomery.
Hardest-working and most accessible of all was Rocky Mountain/Business Objects pro Andreas Hestler. We caught up with him as he was adjusting the suspension on a demo bike for a bike shop owner to take out onto the cross-country course and asked him what he was getting out of Outdoor Demo. "Last year was my first year coming to the show and I'm having a great time," said Hestler. "I really enjoy being with people from the industry. I mean, people don't realize that when you're on a race team you just race, race , race. You don't get a true sense of the entire bicycling industry. Racing is just the tip of the iceberg."
Beneath that tip, Hestler added, is an incredible collection of people passionate about the sport. "Industry and product is what's below the surface. After being in the industry for 15 years, you don't realize how many people you get to know, how many friends you make. Interbike is a place where you really see that. It's neat to walk around the show shaking hands."
At Outdoor Demo, Hestler was helping with demo chores. "This year we're showing off our new Slayer platform." The Slayer bikes have six inches of front and rear travel. "It's an all-mountain freeride bike," described Hestler. He had a chance to try the approximately 30-pound bike at Whistler a couple of months ago. "We climbed up and did a gnarly two-hour descent," he remembers. "You could pedal on the way up and I was comfortable the whole way down. It's a beautiful platform."
Surly Pugsly
Surly's Pugsly,
Photo ©: Steve Medcroft

Outdoor demo is always a showcase for unusual and cutting edge designs and technology and 2005 was no exception. James Huang, Cyclingnews' tech writer, was impressed with the resources put into 29-inch wheeled bikes in 2005 after looking over almost half a dozen models from different manufacturers. But the award for attracting the most attention in the off-the-beaten-path bike category has to go to Surly for their Pugsly.
A newly-released geared hardtail built around four-inch (yes, four-inch) tires, the Pugsly is something completely different. One of Surly's product development crew, Nick Sande, said the inspiration for the large-format tire came during rides in and around Surly's home base in Minneapolis, Minnesota. Simply put, they wanted a bike that offered "the ability to ride places you can't on any other bike."
Sold with a rigid fork, the purple Pugsly delivers this versatility in an out-of-the-box way. "The tires are the suspension," Sande says. "They eat up just about everything. It's basically an air spring. Once you get used to it, you can just flow over stuff."
Sande said that in test rides, the Surly crew has found that they can run extremely low tire pressures without putting themselves in pinch flat territory. "There is so much volume in the tire, it's a long way for a rock to travel to hit the rim so they're really hard to pinch. I've ridden mine as low as 5 PSI." He says he typically runs 12-15 PSI around town, though.
The Pugsly setup appears heavy but, "the tires are just under three pounds," Sande says. "The rear wheel is 11 to 12 hundred grams, depending on which one you buy. There are two different rims, cross country and downhill. The 20-inch frame is just over five pounds by itself."
Will the unusual-looking Pugsly catch on? Only time in the market will tell.
Moots Zirkel
The Zirkel
Photo ©: Steve Medcroft

In the next booth over from Surly's unusual Pugsley, Jon Cariveau, Sales Manager for Moots, was showing off the Zirkel, the cross-country race bike that's replacing the popular Smoothie. "In 2006, we'll no longer be producing the Smoothie," Cariveau said. "The Zirkel is our three-inch travel cross-country bike now." The new bike still uses a pivot less dropout but, Cariveau adds, "now we're using a rear end made by Sapa [based in Portland, Oregon] especially for Moots."
The basic difference between the two bikes is in the configuration of the rear end. "We don't have to rely on the downtube for shock placement any more," Cariveau said about the movement of the connection point of the rear shock from the downtube. "We moved it all to the seat tube, which makes for a cleaner build in our production process." The other major difference is that Moots is using an extruded yoke system instead of a straight chainstay. "We get better tire clearance and a better chain line. Another difference is that the Smoothie seat stays came in at a much lower angle than the new Zirkel, which gives us a wider, more laterally stiff rear triangle."
The Zirkel will ship as a titanium front end with the aluminum rear triangle, with no plans to make an aluminum version to replace the discontinued Smoothie Al.
Dahon's 26" break-away travel bike
Dahon makes a steel-framed 26" hardtail
Photo ©: Steve Medcroft

Taiwanese folding-bike manufacturer Dahon had a pretty big setup at Outdoor Demo as well. Mixed in among the tiny-wheeled freaks that are folding bikes was an interesting-looking traditional hardtail mountain bike. Joshua Hon, Vice President of Sales and Marketing for Dahon, said that his company licensed Ritchey's break-away system and created a 26-inch hardtail that can be broken apart to fit into airline-compatible luggage.
"Ritchey uses the technology on a road and cross bike," Hon said. "We worked with Joe Murray [mountain bike hall of famer and two-time NORBA national champion] to develop a lightweight but durable cross-country mountain bike." Using a Reynolds steel frame that resembles a Vodoo, the whole bike weighs approximately 22 pounds. "Only 98 grams of that total weight comes from the break-away system," claimed Hon
As for whether folding bikes have a solid market in America, Hon said: "They're still new here. It's going to take a bit of time because Dahon is not known as a mountain-bike brand. There's a period of people saying: "What, Dahon makes something like this?" It will just take time."
Hutchinson 2005 "get it on" tire change competition
Hutchinson held a mechanics competition
Photo ©: Steve Medcroft

In a lighter moment, tire manufacturer Hutchinson set up a row of truing stands and held their "get it on" tire change competitions. Working their way through heats, industry insiders from all walks went head-to-head until the final round was set. Les Welch from Harrisonburg, Virginia won the final.
Photography
For a thumbnail gallery of these images, click here
Images by Cyclingnews/Steve Medcroft