Interbike show
Las Vegas, USA, September 26-30, 2005
Part 1: 2006 Giant Anthem
Giant throws their Maestro multi-link suspension technology at the short-travel cross-country set for 2006.
Here's one we prepared earlier...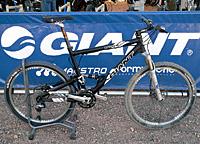 Last year saw the introduction of Maestro, Giant's take on virtual-pivot rear suspension technology. They applied the new system to the trailbike/enduro crowd last year but have finally replaced their ubiquitous NRS rear suspension system with Maestro technology - the introduction of their Anthem line of short-travel cross-country specific mountain bikes is the result. Cyclingnews' James Huang took a look at what Giant's done for dualies in '06.
Radically hydroformed tubes

Production lower link

Anthem uses a pair of short links

Like other Maestro platforms, Anthem uses a pair of short links to connect the rear subframe to the main frame in an effort to create a lightweight, efficient, and fully active rear suspension design that still pedals and brakes well. Rear wheel travel is limited to just 85mm and production bikes are fitted with XC-specific 80mm travel forks. Manitou suspension with SPV stable platform technology is featured heavily on the Anthem line at both front and rear ends for a balanced feel. Giant officials, however, are quick to report that the rear suspension design is allegedly good enough on its own that little to no platform pressure is required out back for good pedaling performance.
Pro racers Adam Craig and Rune Hoydahl were instrumental in Anthem's development as a "short, steep, fast race bike." Frame geometry is XC racing all the way. Super short chainstays maximise climbing traction while a long top tube stretches the cockpit out for better breathing and power transfer. A steep head tube angle offsets the stabilising effects of the long top tube somewhat to speed up the handling. If this all sounds a little XC-nervous to you, then you're right on the money. If you're seeking a bike that's a little more stable and forgiving on nasty descents, Giant isn't afraid of telling you to look elsewhere. Anthem was designed as a race bike, pure and simple.
In addition to being short, steep, and fast, Giant also sought ultralight weight using radically hydroformed aluminum tubes, carefully engineered links and fittings, and a smattering of titanium and aluminum hardware. Anthem frame weights are reported to be comparable to last year's NRS Composite frames with complete Anthem bikes weighing well under 25lbs complete with dual hydraulic disc brakes.
A hearty test ride on a few select trails out at Bootleg Canyon (with Adam Craig serving as our guide) largely backed up Giant's claims. Climbing was remarkably efficient with little to no perceptible energy loss and no noticeable bobbing. Rear suspension performance was admirable in the rocky terrain, particularly given the relatively small amount of wheel travel. The steep and fast geometry, coupled with the low centre of gravity, made for an agile bike but also a somewhat expectedly nervous-handling bike. Half-asleep racers need not apply here but alert ones will clearly be rewarded with razor-sharp, point-and-shoot handling characteristics.
All in all, it seems that Giant satisfied its design goals with the Anthem. A long-travel trail bike it ain't, but it'll likely be one heck of a cross-country race rig. Watch for a more in-depth review in the coming months here on Cyclingnews.
Photography
For a thumbnail gallery of these images, click here
Images by James Huang