Interbike show
Las Vegas, USA, September 26-30, 2005
Main Page Previous Part Next Part
Part 4
Interbike MTB coverage Day 2 - trade show floor
Sands Convention Centre, Las Vegas, Nevada, September 28
By Steve Medcroft
Canadian manufacturer Louis Garneau
Photo ©: Steve Medcroft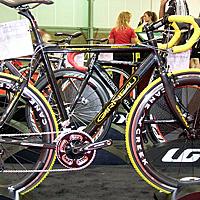 At 9am Wednesday morning, the Sands Convention Centre exhibition hall doors opened and Interbike - the hallowed gathering of all that is cycling - began. More than 21,000 visitors cruised 1,000-plus booths over 306,000 feet of convention floor space. While we work on bringing you an overview of what the mountain-bike industry has in store for 2006, a handful of vendors at the show stood out in the first day.
Louis Garneau enters the cyclocross market with a new frame and sponsorship deals with Lynne Bessette and Tim Johnson
Louis Garneau raced bikes professionally for 13 years; a career that included seven stints on the Canadian National team, three World Championships appearances and culminated with an appearance in the 1984 Los Angeles Olympic Games. Since retirement from active racing, he formed Louis Garneau Sports, Inc. Originally, the company offered a line of clothing but expanded into European-geometry inspired road bike frame manufacturing six years ago.
Garneau's frame business has steadily grown, and in 2006 the company plans to expand further by entering the cyclocross market. Their new aluminum Steeple X frame features a flat-bottomed top tube for easy carrying, larger clearance in the rear stays for 'mud management' and carbon fork with aluminum steerer.
Product Manager Patrick Leclerc says one particular area of the frame the design team focused on was the bottom bracket junction. "A 'cross bike needs to handle terrain differently from our road bikes so we wanted to build something tough; something that would absorb a little more shock," he said at the show. The frame also has a higher bottom bracket (66mm drop from hub height) and is less steep (72.5 degrees) in the front end than their standard road frames.
To help launch the product, Leclerc says Louis Garneau is just now signing husband and wife Tim Johnson and Lynne Bessette to race 'cross on the frame this season. Johnson, who won a bronze medal at the 1999 Under 23 World Cyclocross Championships and has effectively been out of pro cyclocross since 2000, announced recently that he'll make his debut return at Star Crossed in Seattle this weekend.
A Spot-on option for traveling with bike
Looking for a bike you can travel with?
Photo ©: Steve Medcroft

During Tuesday's Outdoor Demo, we noticed a nice 26" steel-framed mountain bike from Dahon that licensed Ritchey's break-away system to solve the problem of traveling with a bicycle. When we cruised the Interbike floor on Wednesday, a pretty pink bike on display at the Spot booth stood out for its approach to the same problem.
Available as an option on any of Spot's frames, two S&S couplings separated the top tube and down tube so the bike can fold into a 10 x 26 x 26 luggage case (which is provided with the $495 option). Northern California based S&S sells the coupling system to a number of boutique frame manufacturers.
The bike on display belonged to Spot's Jessica Stein. Besides the S&S joint option, she set up the custom-painted pink frame with Chris King's Pretty and Strong Pink headset and hubs, a SID World Cup fork, Avid Juicy mechanical disc brakes and a smashing pink sheepskin seat cover.
Singlespeed 24 Hour World Champ pimping the CO2
Genuine Innovations minimalist inflation device
Photo ©: Steve Medcroft

Tucson based CO2 inflation manufacturer Genuine Innovations had a Ross Perot-style pedestal display in front of their booth, detailing the travels of roving spokesperson Dejay Birtch. In 2005, the company sent Birch on the road in a recreational vehicle to demo the product line to existing and potential dealers and customers. Birtch's travels took him through fifteen states. Along the way, Birtch raced his singlespeed to win the US NORBA National Solo 24 Hour and 24 Hours of Adrenalin Solo singlespeed World Championships.
Birtch was on-hand at Interbike to show shop employees and distributors the genuine Innovations 2006 product line; with a focus on two core products. Their Air Chuck SL is a minimalists dream. Weighing only 21 grams, the one-piece inflation nozzle requires a threaded CO2 cartridge and actuates like the air chuck on most commercial air compressors (you press the tip of a Schrader or Presta valve into the nozzle and depress it to release CO2).
The 16oz cartridge will fill a road tire to 12lbs. In contrast, Genuine Innovations' Big Air canister, popular among cross country pros, fills two 26" mountain bike tyres to forty pounds each.
Foes 2:1 suspension philosophy
Foes was on hand at Interbike
Photo ©: Steve Medcroft

A half dozen guys in the Foes (downhill frame manufacturer) booth sported plain black tee shirts with white lettering that said 2:1 on the front. The hook was a draw for attendee's to ask about the company's suspension ratio philosophy for 2006. 2:1 refers to two inches of travel in the rear wheel for every one inch of travel in the shock.
Foes picked up the philosophy for their 2006 bikes by adopting the Cornutt XTD rear suspension on their downhill and freeride bikes (Downhill, Trail Bike and 4X). 2:1 is a lower ratio than traditional rear suspension formulas and Foes says it allows a big-hit rider to use a lighter spring in the rear shock to soften the stress impact of suspension hits on the frame and extend the life of both parts.
Felt's Cruiser distraction
For every ten people who walked past the Felt booth
Photo ©: Steve Medcroft

It seemed that for every ten people that passed the Felt booth at Interbike, two stopped to take a picture of one bike in Felt's display racks. And no, it wasn't some out-of-this-world full-suspension mountain bike design or a two-pound road bike; it was the Felt Fuller - an aero concept cruiser built as a show piece by hot-rod designer Bryan Fuller.
Although it looks like a piece of sculpture, Felt says the bike is actually rideable. Fuller supposedly drew inspiration for the design from the Triumph Bonneville motorcycle. The aluminum cruiser frame is hidden under an aerodynamic brushed aluminum fuselage. The rear shock (yes, its full-suspension) is hung between the top tube and seat post. The bike features a carbon bucket seat, extended wheel base, slick 24 by 3.0 street tires and a gearing combination to allow its rider to run the bike up to speed.
The Felt Fuller is not for sale. But the rest of Felt's Cruiser line is.
Cure your disease with cowbells
In the words of Christopher Walken
Photo ©: Steve Medcroft

If you've ever seen the episode of Saturday Night Live on which it originally ran, or own a copy of the 'Best of Will Ferrell' SNL DVD, you are no doubt familiar with the 'cowbell' sketch. In the scene, five or so SNL regulars play the members of Blue Oyster Cult in a recording session of the band's biggest hit, 'Don't Fear the Reaper.' Guest host Christopher Walken plays the producer of the record and Will Ferrell plays the band's cowbell ringer; an instrument that is prominently featured in the song.
In the scene, Walken keeps calling for Ferrell to up the intensity on the ubiquitous and annoying cowbell with the famous line "I've got a fever, and the only prescription is … more cowbell!" The scene is hilarious and especially endearing to the mountain bike world because the cowbell is symbolic with MTB spectators.
To tie this to Interbike; buried in the 'New Products' corner of the show floor, we found a spunky advocate for the cowbell. Selling promotional cowbells, Elisabeth Halvorson says she started in the cowbell game ten years ago as a marketing buyer for the Norwegian government; a role in which she secured cowbell souvenirs to sell in the 1994 Lillehammer Winter Olympic Games. Seeing how successful the item was, she managed to secure the contract to provide cowbells to the 2002 Salt Lake Games. That souvenir bell was the second-best seller at the Games and a business was born.
The total cowbell.com crew is now Halvorson along with nine contractors. They provide custom-printed bells in various shapes, patterns and materials (to affect different sounds - some soft, some harsh) from less than two dollars a piece. The company has only marketed to the cycling world for the past two years but promotional bells have appeared at NORBA events in 2004 and 2005.
The bells are usually bought to be given away but Halvorson says she has provided bells as gold, silver and bronze awards at cycling events, as souvenirs for race promoters and bicycling companies and as a fundraising tool for the Lance Armstrong Foundation. She even offers a cowbell-inspired line of jewelry fine enough to make Christopher Walken proud.
Photography
For a thumbnail gallery of these images, click here
Images by Cyclingnews/Steve Medcroft