MTB index page for all MTB content
National Mountain Bike Series #4 (NMBS) - 1
Deer Valley, Park City, Utah, June 27-29, 2008
Schedule
A weekend for opportunists
By Dave McElwaine in Park City, Utah
Deer Valley is gorgeous in the summer.
Photo ©: Dave McElwaine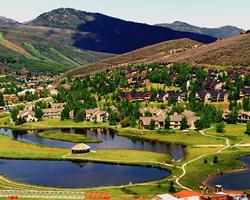 Mountain biking action in America's National Mountain Biking Series (NMBS) resumes this weekend in scenic Deer Valley, Utah. With the World Championships just completed in Val di Sole, Italy and the BC Bike Race about to kick off, this may be a weekend for some up-and-coming talent to find their way onto an NMBS podium.
That is exactly what happened earlier this season at the Sea Otter Classic while all the top racers were at a World Cup in Houffalize, Belgium. Most of the NMBS series leaders will be in attendance at Deer Valley, but podium spots will be up for grabs.
Racing at Deer Valley is normally quite taxing, as racers face altitudes from 7,500 - 9,000 feet. With the weather forecast in the 85 to 90 degree (Fahrenheit) range, this weekend's event could shape up to be a suffer-fest.
At the last stop on the NMBS circuit in Santa Ynez, California, racers faced temperatures in excess of 100 degrees for three straight days. Women's cross-country series leader Georgia Gould (Luna Women's MTB Team) succumbed to heat stroke and was taken to a hospital to recover.
Cross Country
Geoff Kabush (Maxxis) leads both the
Photo ©: Dave McElwaine

Men's series leader Geoff Kabush (Team Maxxis) has a commanding 70 point margin over Barry Wicks (Kona). With Wicks absent this weekend, the likely challenger will be Jeremy Horgan-Kobelski (Subaru/Gary Fisher), who won last year's event here. With big doses of climbing, the course plays right to JHK's main strength.
Both Kabush and JHK will have just flown back from the World Championships so they should be on an equal footing.
"It'll be nice to regroup [in Deer Valley] and then head out east," said Kabush, after racing in the World Championships with a bad cold.
Last year Jeremiah Bishop (Trek / VW) provided the primary competition for Horgan-Kobelski at Deer Valley. Bishop often seems to get faster around this time of year and uses his considerable descending skills to his advantage at ski area venues like Deer Valley.
Former US National Champion Ryan Trebon (Kona) will be making an appearance at Deer Valley. Trebon's main focus this year has been a mix of mountain and road events to prepare for cyclo-cross season. "I feel good and am looking for a good result at Deer Valley," said Trebon.
Ryan Trebon (Kona) returns to NMBS
Photo ©: Dave McElwaine

Trebon certainly has the horsepower to ride with anybody. The question will be how the Ventura, California resident handles the altitude and the huge climbs.
Sam Schultz (Subaru/Gary Fisher), Carl Decker (Giant) and Ross Schnell (Trek/VW) will all be looking for strong rides this weekend.
The women's event will be an exciting Luna shootout. Luna has been the top women's team at every World Cup this year, and at the World Championships Catherine Pendrel, Georgia Gould, and Czech National Champion Katerina Nash finished an amazing sixth, ninth, and 12th respectively.
Both the US's Gould and Canada's Pendrel will be representing their countries at the Olympics in Beijing. Nash narrowly missed out securing a spot for the Czech Republic, due to an untimely knee injury sustained at the NMBS race in Fountain Hills, Arizona.
Georgia Gould (Luna Womens MTB) rode alone to win
Photo ©: Dave McElwaine

Last year at Deer Valley, Gould immediately went off the front and rode one of her typical time trial to victory. Team-mate Shonny Vanlandingham, who finished second last year, has turned her attention exclusively to X-Terra and will not be racing at Deer Valley.
While Pendrel has beaten Gould on more than one occasion this season, Gould's confidence at home, plus her experience on the Deer Valley course, will make it a difficult task. While team-mate Katerina Nash currently leads the cross country series, the NMBS series rule that allows racers to drop one race result will still give Gould a shot at repeating as series champion.
Never to be counted out are the Subaru/Gary Fisher duo of Heather Irmiger and Willow Koerber. They finished 29th and 40th respectively at Worlds and are likely Deer Valley podium candidates. Irmiger, a good climber, finished fourth there last year.
Finally, keep an eye on two other Canadian women. Nineteen year-old Emily Batty (Trek Bicycle Store) finished sixth in the Under-23 category at the World Championships, which follow two victories in the Canada Cup Series and an NMBS podium this season. Mical Dyck (Trek/VW) has also won on the Canadian Cup circuit, and has gained valuable experience racing at the World Cups this season.
Short Track
Katerina Nash (Luna Womens MTB) currently leads
Photo ©: Dave McElwaine

Katerina Nash, the reigning NMBS defending champion, holds a commanding 99 point lead over a consistent Mical Dyck in the women's category. The only other person to have won a short track this year is Nash's team-mate Georgia Gould.
Gould and Nash were forced to work together at last year's Deer Valley round as the Gary Fisher women, Irmiger and Koerber, worked together not far back to catch them. Nash's ability to accelerate, along with her willingness to suffer, propelled her to victory.
A powerful Dyck, who already has two podiums this year, should be well suited to the Deer Valley short track. With the absence of Wendy Simms (Kona), who has been a main challenger for the Luna women, Dyck needs to avoid the pitfall of dragging Nash and Gould around the course.
The men's series is led by Geoff Kabush, who has two wins, with Barry Wicks just one point behind. But with Wicks racing in British Columbia this weekend, the main challenge will again come from Jeremy Horgan-Kobelski, who is currently third in the series. At last year's Deer Valley race, Kabush went off the front halfway through the race and never looked back.
The Deer Valley short track course is shorter than average, which makes it very spectator friendly. Most of the decisive moves are made on the uphill section of the course. A nasty 180 degree turn just prior to the start/finish has played a tactical role in many of the races.
Whoever gets around that turn first on the run-in to the finish generally wins the race. Drafting played a key role in the races last year, as speeds were quite high and riders attempted to save something for the finish.
Super D
Jermey Horgan-Kobelski winning the
Photo ©: Dave McElwaine

Two years ago they used the sport category downhill course at Deer Valley for Super D. That proved a bit too challenging for many of the Super D racers, particulary those who only had a hardtail bike to race on.
Last year the course was changed to include more fire roads. Every race start is somewhat different, but generally includes a Le Mans (running) start. Race organizer Tom Spiegel, also the inventor of Super D, sometimes has racers lie on their backs for the start, or they have to push the bike for a distance before the real racing begins. This all is an attempt to spread the racers out a bit so there is less of a log jam when they hit the trails.
Taking the Deer Valley chair lift up
Photo ©: Dave McElwaine

The Super D races this weekend are totally up for grabs. Barry Wicks and Sue Butler, the Super D series leaders, will not compete at Deer Valley. Nor will Giant's super D specialists Kelli Emmett and US National Champion Adam Craig.
The burden will fall on Giant's Decker to bring home the gold. However, Geoff Kabush jumped into the Super D at the Firestone race and won it. Not particularly known for his descending, it just further proved that Kabush is a great all-around bike racer.
A dark horse will be newly crowned Texas champion Bryan Fawley (Texas Tough) who has been consistently fast on the Deer Valley course.
On the women's side, the competition will be between US National Champion Rachael Lloyd, Emily Van Meter (Sobe/Cannondale), who currently sits in third place, Kathy Sherwin (SoBe/Cannondale), and downhill star Melissa Buhl (KHS) - if she decides to give the Super D race a shot.
Gravity events
World 4X Champion Melissa Buhl (KHS)
Photo ©: Dave McElwaine

Deer Valley will feature both downhill and dual slalom races this weekend. Newly crowned 4X World Champion Melissa Buhl will be making the trip to Utah from Italy to defend her series lead.
"All I think of when I think of Deer Valley is dry, followed by smiles!" said Buhl, who has enjoyed a wet campaign in Europe. "I really like racing there."
Buhl's competition in the downhill event will come from Kathy Pruitt (Jamis), who beat Buhl at the world championship. Series contenders Darien Harvey (Sobe/Cannondale) and Sondra Williamson (Specialized/SRAM) are in with a shot, while Lisa Myklak (Spyder/Fox) has been second to Buhl on two occasions.
Buhl is also undefeated in dual slalom. The main competitors - Darian Harvey, Joel Leyva (Santa Cruz), and Leigh Donovan (GT/ Pacific Bikes) - may have to duke it out for second place.
The men's downhill series is led by Jonathaon Buckell (Sobe/Cannondale), Ryan Cornilsen (SWD Fox), and Casey Coffman (Northstar/Giant). What is unusual, however, is that none of the leaders have actually won a race. There appear to be at least ten racers who have been competitive this year. Race winners so far have been Daniel Braggs, Sam Benedict (Specialized), and Jess Peterson.
Jake Kinney (Advent) has a commanding 165 point lead in the Dual Slolom over Daniel Cortina (Cortina Bicycles).
Photography
For a thumbnail gallery of these images, click here
Images by Dave McElwaine/www.trailwatch.net