MTB index page for all MTB content
National Mountain Bike Series #4 (NMBS) - 1
Deer Valley, Park City, Utah, June 27-29, 2008
Main Page Results Previous Race Next Race
Race 6 - June 28: Elite Men Cross Country
Trebon wins the hard way
By Dave McElwaine in Park City, Utah
Ryan Trebon (Kona) wins his first
Photo ©: Dave McElwaine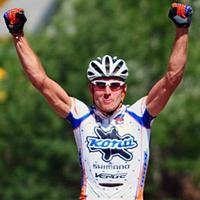 It appeared that Ryan Trebon (Kona) was going backwards as a surging Jeremiah Bishop (Trek/VW) passed him on the second lap. But Trebon, a former US National cross country champion, came back and won the race with superior climbing ability.
"I'd take time on Jeremiah on the climbs and then he'd catch me on the descents," said Trebon. "I feel really comfortable on this bike [a 29er] so I don't have as big a deficit on the descents. But Jeremiah still was definitely going downhill faster."
Trebon's victory at Deer Valley was the first time a 29inch wheeled bike has won a NMBS cross country race. There have been two previous wins by Jeremy Horgan-Kobelski (Subaru/Gary Fisher) in short track and a time trial.
Jeremiah Bishop (Trek/VW) won the
Photo ©: Dave McElwaine

Bishop, finishing second, raced his best race of the year, but in the end could not hold off Trebon on the long climbs. Geoff Kabush (Maxxis), who just returned from a good European racing campaign, was third but never a factor in challenging for the win.
"I definitely stepped up to full gas," said Bishop. "I'm back and celebrated when I crossed the line because I went for the win. I kind of just followed my instincts and I attacked a little earlier than I thought I would [on the second lap].
"I started to cramp on lap three and really felt it on the last lap," he added. "[Trebon] won the race on the virtue of a steady, strong race."
As exciting as it was to watch the leaders duke it out, another enthralling battle was developing behind between brothers Sam (Subaru/Gary Fisher) and Andy Schultz (Kenda/Titus). The two competed for fifth and sixth place for much of the race, before older brother Andy put a move on Ross Schnell (Trek/VW) to finish fourth - his best ever NMBS finish.
How it unfolded
Jeremy Horgan-Kobelski descending
Photo ©: Dave McElwaine

After a somewhat disappointing World Cup season, Bishop seemed like a man on a mission as he took the lead from the start. Trebon made a move on the climb and by the end of the first lap Bishop trailed by 10 seconds.
Trebon had increased his lead to 30 seconds by the top of the climb on the second lap. Bishop, Kabush, and Horgan-Kobelski trailed closely together. But in the next half lap, Bishop not only caught Trebon but opened a 15 second gap.
Behind the leaders Kabush was nearly a minute down after two laps, followed by Schnell and Andy Schultz. Further back was Sam Schultz being chased closely by Carl Decker (Giant), who would later pass Schnell to take the last spot on the podium.
Podium (L-R): Carl Decker (Giant), Geoff Kabush (Maxxis), Ryan Trebon (Kona),
Photo ©: Dave McElwaine

Horgan-Kobelski continued his streak of bad luck, first with a flat tire that lost him at least eight positions. He recovered well and was moving up when he broke a chain, which forced the rider to run his bike to the finish and ride home in eighth place.
With one lap to go, Trebon and Bishop came through the start/finish together.
The Schultz brothers were ecstatic with their races. Andy claimed fourth place after a late move up the leader board while Sam held out for sixth position.
"It was my best race ever," said Andy. "On the third lap Ross and I had a gap. I thought that if I could pass Ross it would give me one more spot. Those guys were out-descending me so I had to climb as hard as I could."
"I was suffering the whole time but I guess that was normal with the altitude," added Sam. "It was right up there with one of my best national races ever."
Men's cross country action continues on Sunday with the short track.
Photography
For a thumbnail gallery of these images, click here
Images by Dave McElwaine/www.trailwatch.net
Results
1 Ryan Trebon (USA) Kona                                   2.08.42
2 Jeremiah Bishop (USA) Trek/VW                               0.44
3 Geoff Kabush (Can) Team Maxxis                              1.29
4 Andy Schultz (USA) Kenda Titus Hayes                        3.12
5 Carl Decker (USA) Giant MTB Team                            3.24
6 Sam Schultz (USA) Subaru-Gary Fisher                        4.19
7 Ross Schnell (USA) Trek/VW                                  4.51
8 Jeremy Horgan-Kobelski (USA) Subaru-Gary Fisher             6.52
9 Cody Peterson (USA) Scott Bicycles                          8.39
10 Samuel Koerber (USA) Gary Fisher 29Er Crew                 9.04
11 Alex Grant (USA) Rocky Mountain Bicycles                   9.27
12 Ignacio Torres (Mex) Turbo Bikes                           9.35
13 Charles Pendry (USA) Inland - BTD                          9.52
14 Adam Morka (Can) 3 Rox Cycling                            10.34
15 Tad Elliott (USA) U23 National Team                       10.35
16 Colin Cares (USA) U23 National Team                       12.58
17 Spencer Paxson (USA) Middlebury College                   13.22
18 Dana Weber (USA) Trek VW/Westcoast                        13.22
19 Troy Wells (USA) Tokyo Joes                               14.23
20 Mitchell Hoke (USA) Tokyo Joes                            14.31
21 Mcconnell Franklin (USA) Team Devo                        14.50
22 Mike Phillips (USA) Adventure 212/Specialized             17.15
23 Robert Marion (USA) Kenda Titus                           18.02
24 Adam Snyder (USA) 3-D Racing                              18.46
25 Ken Burt (USA) Jamis Hayes Sun Ringle G-13                18.52
26 Chris Peariso (USA) Adventure 212 /Titus                  18.58
27 Blake Zumbrunnen (USA) Revolution/Crank Bros              20.04
28 Tim Olson (USA) Trek/Vw Westcoast                         20.25
29 Colin Osborn (USA) Team Bikeparts.Com                     20.34
30 Kevin Bradford Parish (USA) Redline                       21.15
31 Keith Hickerson (USA) Tamarack                            21.15
32 Matt Rotroff (USA) Btd/Inland Construction                22.14
33 Dylan Stucki (USA) Mafia Racing                           24.13
34 Christian Ball (USA) Mafia                                24.14
35 Kirk Turner (USA) Bikeman.Com                             24.49
36 Yuki Saito (USA) Fuentes Design/Walt Works                26.09
37 Bryan Alders (USA) Mona-Vie/Cannondale                    26.11
38 Dustin Wanstrath (USA) Tamarack Resort/ Scott Bikes       27.21
39 Nathan Ringquist (USA)                                    27.56
40 Stephen Ettinger (USA) Black Diamond Sports Therapy       29.19
41 Shannon Boffeli (USA) Revolution MTN Sports/Crank Bros    31.26
42 Duncan Meyers (USA) Norcal Bike Sport                     36.31
43 Brett Morgan (USA) Sobe/Cannondale                        42.56

Behind one lap

44 Scott Keller (USA) Schampa/Tribe                               
45 Dallas Morris (Can) H&R Block                                  
46 Trevor Downing (USA) Devo                                      
47 Drew Edsall (USA) Endurancefactor.Com/Scott                    
48 Chris Peterson (USA) Devo                                      

Behind two laps

49 Aroussen Laflamme (Can) Webcor-Alto-Velo                       
DNF Matthew Okeefe (USA) Ccb/Cannondale                           
DNF Nathan Wyatt (USA) Carolina Fatz/Evil Bikes                   
DNF Ryan Iddings (USA) Lapierre