2008 Cyclo-cross World Championships - CM
Treviso, Italy, January 26-27, 2008
Italy hosts battle for 'cross supremacy
By Brecht Decaluwé
Returning World Champion Erwin Vervecken
Photo ©: Isosport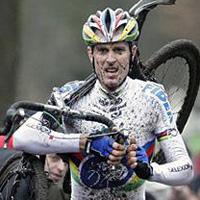 The men's race in Treviso will attract the biggest crowds, and the organisers expect some 20000 (non-paying) spectators along the Le Bandie course. They will mainly support local hero Enrico Franzoi, UCI leader Sven Nys, popular Bart Wellens, young ace Lars Boom and returning champion Erwin Vervecken.
To host the World Championships an organiser needs to host a World Cup event first, and last year that event was won by a French man who combines road cycling at the highest level with cyclo-cross, Francis Mourey. The Française des Jeuxrider is one of the favourites for the win on Sunday in the men's race, where Belgian veteran Erwin Vervecken is defending the title he has captured in 2001, 2006 and 2007.
The big favourite for the win in the men's was UCI leader Sven Nys. Despite winning four out of eight World Cup races, and despite leading all the regularity competitions, the Belgian will not be top favourite. The Belgian has been bugged by an exhausted body, mainly caused by racing too many races at 100 percent and his poor form during the last two World Cup races in Liévin and Hoogerheide has thrown around affairs for the Belgian 'cannibal.'
The 31 year-old often failed to turn his favourite role into a win at the World Championships in the past, capturing 'only' one title in 2005. This time the Belgian might take profit from his role as an outsider, as the pressure of being the top favourite is not on his shoulders anymore.
Does Lars Boom have the arrogance?
Photo ©: Isosport

Nys' young team-mate Lars Boom has shown himself well this season, and the Dutchman seems to have the arrogance and the guts to capture the world title in his first year among the professional's. The 23 year-old has won three World Cup races this season, with the last two being among them. The reigning Under 23 Cyclo-cross World Champion is – just like Adrie Van Der Poel – successful on the road where he won the recent time trial worlds in Stuttgart.
If Nys and Boom should fail to storm to the world title, then Bart Wellens should be close to the rainbow jersey. The popular Belgian has been on the podium in the World Cup races for no less than five times, although he never managed to grab the win this season. He has the experience and the age which could be needed to go for glory in Treviso, as the 29 year-old was the World Champion in 2003 and 2004.
On Cyclingnews' list of favourites are also local hero Enrico Franzoi, although the Italian his preparation has been spoiled by a severe ankle injury he received in Koksijde right after the start of the World Cup race in November.
Nys dominated all year but now seems to lack the edge
Photo ©: Isosport

On a given day most of the Belgian participants could win the sport that has been dominated by the small country for decades. Sven Nys, Erwin Vervecken and Bart Wellens lead the eight-man selection, but Sven Vanthourenhout and Klaas Vantornout will be hoping for their day of glory if the big guns can't fire. The Czech Republic has some very talented young riders with Radomir Simunek Jr. and Zdenek Stybar, although the latter had a fever last week.
Runner-up at the 2007 World Championships, Jonathan Page, is again leading the four-man USA-team. He had a poor start of the season, but once the 31 year-old and his Belgian professional team agreed on how they would work – or avoid working – together; his performances got better every race. It remains to be seen if he can come close to repeat his extra-ordinary performance from 2007, but a top-10 result is the least we can expect from him.
Jonathan Page leads USA
Photo ©: Gregor Brown / Cyclingnews

USA champion Tim Johnson will give all he has, but catching a cold within two weeks of the championships will not help him to get a good result. Ryan Trebon crashed hard at the nationals in Kansas, and he has struggled with a back injury. The tall 26 year-old hasn't finished well in a race since returning to Europe, and one doesn't expect that to change suddenly. Jeremy Powers rode a good early part of the season in the USA, and had some pretty good races in Europe as well. The 24 year-old is going to the World Championships in good form and will gain valuable experience for future participations.
Can an outsider win the World Championships? Last year, we saw that nothing is impossible. There should be a good battle between the old-school riders who come to the Worlds with at least 20 top-race wins like Nys, Wellens and Vervecken, and the invisible men like Mourey, Franzoi and Boom, who opted to select thoroughly in their calendar to mainly prepare for the most important race of the season. Let's just hope that the big guns don't get knocked out of the race like last year in Belgium when Nys and Wellens were bowled down by an all-terrain vehicle that touched a plastic cone, which allowed Vervecken and Page to storm forward.
Elite women's race wide open
By Laura Weislo
Katie Compton (Spike Shooter)
Photo ©: Mark Legg

If the World Championships had been held a month ago, it would have been a clear two-up battle for the win between UCI #1 ranked Dutch woman Daphny Van Den Brand and American Katie Compton. The two riders began the season so far clear of the rest of the field in UCI points that it seemed no one would touch them this year.
Both reigning World Champion Maryline Salvetat and former champion Hanka Kupfernagel were noticeably absent throughout the first six weeks of the season, but all that changed at the start of the new year - fortunes have changed, and the French and German riders have made huge leaps in form while Compton and Van Den Brand have begun to struggle.
Daphny Vanden Brand (ZZPR.nl) warming up
Photo ©: Mark Legg

Van Den Brand took the first World Cup in Kalmthout, with Compton just seconds behind, and then it appeared as if the four-time American champion would storm away with the 'cross season when she took the victory in Pijnacker by nearly a minute over the Dutch woman. She then went on to nab a win in Gavere over Salvetat before heading stateside to defend her US title.
The duel switched back into Van Den Brand's favour in Koksijde, however, as Compton struggled in the sand, only making a late-race rush to finish second by seven seconds over Salvetat. Van Den Brand continued her domination in Milan ahead of a rapidly improving Helen Wyman.
Things began to change quickly during the holiday season, with Salvetat coming to form just in time for the Hofstade World Cup, marking her first win in the rainbow jersey. With the new year, Van Den Brand and Compton seemed to falter as Kupfernagel and Salvetat began ascending in the ranks.
Maryline Salvetat (VSLL Castres)
Photo ©: Mark Legg

Van Den Brand failed to defend her Dutch championship, handing over the jersey she had held seven times in eight years over to Mirjam Melchers-Van Poppel. She then missed the World Cup in Liévin, opening the door to a two-woman battle between Salvetat and Kupfernagel.
Hanka Kupfernagel (Focus)
Photo ©: Mark Legg

With the World Championships closing in, Kupfernagel signaled her return to form with a convincing victory in Hoogerheide, where once more it was only Salvetat who could come close. Wyman took her second podium of the series, confirming her status as a top contender in Treviso.
The course in Treviso is relatively non-selective, and this means team tactics could end up playing a role. That would fall nicely into the hands of Salvetat, whose team-mate Laurence Laboucher is quite capable of staying with the leaders, as she demonstrated at last year's World Championships. Kupfernagel will have the rising star Stephanie Pohl at her side, while Van Den Brand will have Melchers and her trade team-mate Reza Hormes-Ravenstijn, giving the Dutch a trio of powerful legs.
With Compton suffering a mystery muscular ailment and Van Den Brand having allergy problems, the race in Treviso remains a wide-open affair, as the fast parcours could prove to be less selective than the last World Cup rounds and end up in a bunch sprint like the dress rehearsal World Cup in 2006 did. There, Kupfernagel, Salvetat and Wyman were all in the lead group when they were out-sprinted by Marianne Vos. But Compton, should she recover in time, could well be the strongest sprinter in the women's field.
Now or never for Albert in the U23 men's race
By Brecht Decaluwé in Treviso
Neils Albert at World Cup #8 in Liévin
Photo ©: Isosport

Not much excitement is expected on Saturday afternoon when the U23 riders will battle for the rainbow jersey. Belgian Niels Albert is the favourite and faces no obvious threat this time around. He has previously suffered defeat at the worlds by Lars Boom and Zdenek Stybar who have already moved up a level.
Albert would like to copy the winning ways of Radomir Simunek who managed to earn world championship titles in every category, but this is the last chance for the 21 year-old who will move up to being a full time elite rider next year.
This season Albert has successfully competed against the elite men. Nevertheless he is aware his victory is not a given. "I'm afraid to become sick, or to be confronted with a flat tyre, or a broken chain during the race. It's been a while now since I've had a problem with my derailleur, but with those stones in Treviso, it wouldn't be a surprise if it would happen. Cyclo-cross is a mechanical sport and you've got to deal with it," said Albert, summing up his fears to Cyclingnews.
When asked who would finish behind him if he wins, Albert thought for awhile. "I expect [Philipp] Walsleben to finish shortly after me, and then [Aurelien] Duval. Aurelien is a big talent, but I was battling for the victory as well when I was his age." Albert compared himself with the French champion.
"Following Albert is barely impossible and finishing as runner-up in the World Cup behind him is already fantastic, if you know most of the riders are in their fourth year in this category," Duval said when asked how he felt about Albert. "Still, at the world championship everything can happen."
"About six or seven riders can hope for the podium and maybe we can do something with the French team against Albert. [Jonathan] Lopez is good as well, but cyclo-cross remains mainly an individual sport," said Duval of his hope for glory in Treviso.
Locals may be hard pressed to find a favorite to cheer at the front. The Italians have no top rider in this category. Marco Ponta is likely to be the best rider in the Italian selection.
Others to keep watch for are Jonathan Lopez, Paul Voss, Philipp Walsleben, Jempy Drucker and Julien Taramarcaz.
Juniors ready for open race
By Brecht Decaluwé in Treviso
Predicting who will line up on the podium after the junior race in Treviso is a hard thing to do. There are some interesting juniors to watch though, with Sean De Bie one of the well known names in the cyclo-cross world. The Belgian's father is the former world champion Danny De Bie – who currently works for the Fidea team - and the 17 year-old managed to finish on the podium a couple of times this season.
Czech rider Lubomir Petrus, Belgian Stef Boden and especially French rider Arnaud Jouffroy showed some strong performances this season and are all favourites, too. Jouffroy won the World Cup this by winning most of the events, but he's certainly not dominating with competition. Elia Silvestri will be the local favourite, and riding on home soil could boost his performance on Saturday morning.