World Championships - CM
Stuttgart, Germany, September 26-30, 2007
Main Page Results Overall standings Race Details Live report Next Race
Race 1 - September 26: Under 23 men's time trial - 2 laps, 38.1km
Holland's Boom takes Under 23 title after two-man fight
Russia's Ignatiev finished a close second
By Gregor Brown in Stuttgart, with additional reporting by Bjorn Haake
Lars Boom (Netherlands)
Photo ©: Roberto Bettini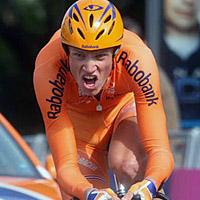 Lars Boom of the Netherlands's took the gold medal in the Under 23 World Championships Time Trial after a hard-fought two-man duel with Russia's Mikhail Ignatiev. The 21 year-old, current Under 23 Cyclo-Cross Champion, came back from an eight-second deficit at the first time check to better his Russian rival by eight seconds, with a time of 48'57" (46.86 km/h). France's Jerome Coppel won bronze with a time of 49'43".
"I worked all year towards this race," Boom said at the finish of the 38.1-kilometre test. "Especially in light of my bad results last year." He had finished 26th in Salzburg. "I went out on the first lap with a high cadence, and I was able to keep it up. I never dreamed I would win the world title."
The Russian/Dutch battle started at 11:02 when Boom left the start house in western Stuttgart. He posted the quickest times through all the checks (14'18" at km 11.7, 23'28" at 19.3 and 39'29" at 31.1), but he was forced to sit down and wait as Ignatiev and others tried to better his time. The rider to come closest was 22 year-old Ignatiev, who has ridden this year with Tinkoff Credit Systems.
Ignatiev left the start house just over one minute after Boom rolled through the finish line. The first time check must have scared the new World Champion as he was watching on television; Ignatiev was eight seconds up. But the Russian could not hold, and he faded by six and ten seconds at the following two checks (km 19.3 and 31.1). He had made up two more seconds by the finish, but that was not enough to stop the current Under 23 Cyclo-Cross Champion from adding another title.
Boom took victory last January in Belgium ahead of Niels Albert in his favoured discipline of cyclo-cross. "I want to continue to focus myself on the Cyclo-cross Worlds to come... Racing more cyclo-cross is good, and to do a little less on the road, but bigger races maybe. I also want to be world champ in the elite level of the cyclo-cross, and that is my aim in the next few years."
He noted how the two disciplines complement one another. "Cyclo-cross is always in the high revs, one hour at full speed. This is similar to time trialing, with high speeds; uphill and downhills." In the future, he believes the experience will allow for him to race on the road full time. "I think it also easier to go from a cyclo-cross rider to a road rider, than the other way around."
In his last year as an Under 23 rider, he will completely focus on being at the top of his category rather than vying for a spot on the Dutch 2008 Olympic team. "I will not compete in Beijing. It will be my last year as an Under 23; maybe in four years, in London."
2005 Under 23 Champ, Ignatiev, was in good spirits despite missing out on a second world title. "There was only a small gap between us the entire time," he noted. "I had a problem with my leg; a part of my muscle. Nonetheless, second place is a good result for me."
"I did not expect to be nine seconds faster than him," Boom added. "He is a very good time trial rider. He was already world champion in this category."
Ignatiev will compete in the 2008 Olympics. "I will focus on the track," he continued. "The problem is I have little chance on the road. I have a big opportunity on the track. So, I will focus my energies on the track."
Coppel finished just as he did in 2006, third behind Ignatiev. The 21 year-old was impressed with is run, but noted the great divide from third to first and second. "It is true that I came here to win," said Coppel. "The gap was very impressive; both of them were too strong for me. I knew them from last year, but both of them have been professional in this year, and they had the chance to race at a higher level."
He has signed to race at the top level in 2008. "I will race for Française Des Jeux next year. I have signed for two years, during the Tour de l'Avenir. In three to four years I hope to be a good stage racer, in races of one to two weeks long."
How it unfolded
The U23 men's podium:
Photo ©: Roberto Bettini
At 9:00 in the morning local time the 2007 World Championships were kicked off with the start of Pavel Zitta, from the Czech Republic. Despite the bleak weather forecast the roads stayed dry and conditions were good.
The first starting group was comprised of 19 riders and the first two riders to raise eyebrows were Peter Velits (Slovakia) and Roman Kireyev (Kazakhstan), who put in strong rides that would eventually get them to 14th and 15th, with Kireyev being one second faster than Velits.
In the second start group the Estonian Tanel Kangert was the strongest and led through the intermediate times, as well as at the finish. His time of 50'11" propelled him into the hot seat, where the current leaders in the time trials are now placed. This is a new requirement in an attempt to leave no chance at all for the riders to do anything illegal between the end of their race and the doping control.
Seven minutes before eleven, the cheers were a little louder, as local rider Marcel Kittel, who won the Worlds title twice in the junior ranks, got underway. His red and black jersey matched the red and black Giant bike perfectly.
A few minutes later, at 11:02, it was Lars Boom who took off. He went out very fast and looked smooth as he quickly stormed to a new best intermediate time at kilometre 11.5 with 14'19". He was 22 seconds faster than the previous leader from Estonia.
Boom continued his storm and quickly gobbled up Michael Faerk Christensen (Denmark), who had started one minute earlier. Christensen appeared to be riding strongly, too, so Boom's ride seemed even faster.
Lars Boom with the gold
Photo ©: Cyclingnews.com

In the mean time Kittel was riding along the barriers in Feuerbach, where a few spectators had come out to encourage the riders. Kittel also started passing people. Over 30 minutes into the race he passed Marco Coledan (Italy).
Boom continued flying down the road and picked up Azizbek Abdvrahimov (Uzbekistan), who had started a full four minutes ahead of him.
At 11:50 it was Norwegian Edvald Boasson Hagen, the new young star who will be riding for T-Mobile next year, who took the start. He looked impressive on his machine and managed to get the second fastest time at the first check. But shortly behind him was brewing a storm.
Mikhail Ignatiev, the Russian who rides for the Tinkoff Credit Systems and recently won the time trial in the Regio Tour, came out quickly and was eight seconds ahead of Boom at the first time check and 19 seconds faster than Hagen. But it looked like he came out too fast as he was losing time at every check. At the second time check the gap was six seconds.
The next to last rider was Jerome Coppel of France, who had intentions of winning. And he did a good ride, staying close to the top be in third on all but the first time check (where he was fourth).
European champion Maxim Belkov (Russia) was the last to start. But he would quickly realize it wasn't his course. At the first check he was already 44 seconds down.
Ignatiev started a tag race with Adriano Malori (Italy) and the two passed each other several times. Boom was the first one to beat 40 minutes at the last time check and continued on to get a 48'58" at the finish and climb on top of the leader board.
Coppel finished strong up the last little rise and got third, while Belkov faded to 30th, almost three minutes back
Ignatiev had lost ten seconds at the third check and Boom could celebrate bringing the first gold medal of the 2007 Worlds to the Netherlands.
Photography
For a thumbnail gallery of these images, click here
Images by Roberto Bettini/www.bettiniphoto.net
Images by Cyclingnews.com
Images by Fotoreporter Sirotti
Images by Cyclingnews.com
Images by Mareike Engelbrecht/www.cycling-pics.com
Results
1 Lars Boom (Netherlands)                          48.58 (46.86 km/h)
2 Mikhail Ignatiev (Russia)                         0.09
3 Jerome Coppel (France)                            0.46
4 Michael Faerk Christensen (Denmark)               1.10
5 Adriano Malori (Italy)                            1.12
6 Edvald Boasson Hagen (Norway)                     1.13
7 Tanel Kangert (Estonia)                           1.14
8 Alexandr Pliuschin (Moldavia)                     1.17
9 Branislau Samoilau (Belarus)                      1.28
10 Francis De Greef (Belgium)                       1.30
11 Dmitry Sokolov (Russia)                          1.35
12 Ignatas Konovalovas (Lithuania)                  1.42
13 Jos Van Emden (Netherlands)                      1.42
14 Roman Kireyev (Kazakhstan)                       1.46
15 Peter Velits (Slovakia)                          1.47
16 Rein Taaramae (Estonia)                          1.50
17 Rafael Serrano Fernandez (Spain)                 1.59
18 Marcel Kittel (Germany)                          2.06
19 Grega Bole (Slovenia)                            2.12
20 Tony Gallopin (France)                           2.18
21 Dmitriy Gruzdev (Kazakhstan)                     2.24
22 André Steensen (Denmark)                         2.26
23 Rafai Chtioui (Tunisia)                          2.30
24 Stefan Schäfer (Germany)                         2.34
25 Martin Kohler (Switzerland)                      2.35
26 Rui Costa (Portugal)                             2.37
27 Kristjan Koren (Slovenia)                        2.38
28 Mathieu Deschenaux (Switzerland)                 2.45
29 Oleg Chuzhda (Ukraine)                           2.51
30 Maxim Belkov (Russia)                            2.52
31 Martin Velits (Slovakia)                         2.54
32 Sergiu Cioban (Moldavia)                         2.55
33 Jaroslaw Marycz (Poland)                         3.00
34 David Veilleux (Canada)                          3.04
35 Sam Bewley (New Zealand)                         3.05
36 Ian Stannard (Great Britain)                     3.08
37 Evaldas Siskevicius (Lithuania)                  3.09
38 Tejay Van Garderen (United States of America)    3.24
39 Gatis Smukulis (Latvia)                          3.25
40 José Mendes (Portugal)                           3.25
41 Christopher Froome (Kenya)                       3.31
42 Jacqu. Janse Van Rensburg (South Africa)         3.37
43 Siarhei Papok (Belarus)                          3.41
44 Zakkari Dempster (Australia)                     3.45
45 Frantisek Kloucek (Czech Republic)               4.00
46 Emanuel Saldano (Argentina)                      4.00
47 Marco Coledan (Italy)                            4.01
48 Christian Meier (Canada)                         4.03
49 Pavel Zitta (Czech Republic)                     4.14
50 Clinton Robert Avery (New Zealand)               4.15
51 Krisztian Lovassy (Hungary)                      4.30
52 Wilson A. Marentes Torres (Colombia)             4.34
53 Martins Trautmanis (Latvia)                      4.42
54 Darwin Luis Urrea Vergara (Venezuela)            4.48
55 Abdelkader Belmokhtar (Algeria)                  4.51
56 Hossein Nateghi (Iran)                           4.57
57 Nick Frey (United States of America)             5.06
58 Andriy Suralyov (Ukraine)                        5.15
59 Sergio Dominguez Munoz (Spain)                   5.20
60 Dimitri Jiriakov (Liechtenstein)                 5.21
61 Frederik Krogh-Larsen (Norway)                   5.41
62 Esad Hasanovic SRB                               5.49
63 Federico Pagani (Argentina)                      5.59
64 Azizbek Abdvrahimov (Uzbekistan)                 6.09
65 Victor Moreno (Venezuela)                        6.26
66 Mohd Fauzan Ahmad Lutfi (Malaysia)               6.28
67 Mohammad Rajablou (Iran)                         6.57
68 Yong Li Ng (Malaysia)                            7.39
69 Konstantin Kalinin (Uzbekistan)                  8.12
70 Sandor Koczka (Hungary)                          8.21

Intermediate timing

Check 1: 11.58 km

1 Mikhail Ignatiev (Russia)                    14.10
2 Lars Boom (Netherlands)                       0.09
3 Edvald Boasson Hagen (Norway)                 0.19
4 Jerome Coppel (France)                        0.24
5 Ignatas Konovalovas (Lithuania)               0.26
6 Jos Van Emden (Netherlands)                   0.31
7 Alexandr Pliuschin (Moldavia)                 0.31
8 Peter Velits (Slovakia)                           
9 Adriano Malori (Italy)                        0.36
10 Tony Gallopin (France)                       0.39
11 Francis De Greef (Belgium)                   0.41
12 Kristjan Koren (Slovenia)                    0.41
13 Maxim Belkov (Russia)                        0.44
14 Dmitry Sokolov (Russia)                      0.45
15 Branislau Samoilau (Belarus)                 0.46
16 Rafai Chtioui (Tunisia)                      0.48
17 Roman Kireyev (Kazakhstan)                   0.50
18 André Steensen (Denmark)                     0.51
19 Marcel Kittel (Germany)                      0.52
20 Tanel Kangert (Estonia)                      0.53
21 Oleg Chuzhda (Ukraine)                       0.55
22 Michael Faerk Christensen (Denmark)          0.55
23 Marco Coledan (Italy)                        0.56
24 Rein Taaramae (Estonia)                      0.57
25 Stefan Schäfer (Germany)                     0.59
26 Martin Velits (Slovakia)                     1.04
27 Jaroslaw Marycz (Poland)                     1.04
28 Zakkari Dempster (Australia)                 1.05
29 Martin Kohler (Switzerland)                  1.05
30 Rafael Serrano Fernandez (Spain)             1.06
31 Christopher Froome (Kenya)                   1.07
32 Sam Bewley (New Zealand)                     1.07
33 Tejay Van Garderen (United States of America)    
34 David Veilleux (Canada)                      1.09
35 Gatis Smukulis (Latvia)                      1.10
36 Rui Costa (Portugal)                         1.12
37 Mathieu Deschenaux (Switzerland)             1.12
38 Sergiu Cioban (Moldavia)                     1.14
39 Grega Bole (Slovenia)                        1.14
40 Dmitriy Gruzdev (Kazakhstan)                 1.15
41 José Mendes (Portugal)                       1.17
42 Ian Stannard (Great Britain)                 1.17
43 Jacqu. Janse Van Rensburg (South Africa)     1.18
44 Clinton Robert Avery (New Zealand)           1.19
45 Frantisek Kloucek (Czech Republic)           1.22
46 Siarhei Papok (Belarus)                      1.23
47 Wilson A. Marentes Torres (Colombia)         1.23
48 Evaldas Siskevicius (Lithuania)              1.27
49 Emanuel Saldano (Argentina)                  1.28
50 Pavel Zitta (Czech Republic)                 1.34
51 Abdelkader Belmokhtar (Algeria)              1.40
52 Sergio Dominguez Munoz (Spain)               1.42
53 Nick Frey (United States of America)         1.42
54 Martins Trautmanis (Latvia)                  1.43
55 Christian Meier (Canada)                     1.45
56 Andriy Suralyov (Ukraine)                    1.46
57 Krisztian Lovassy (Hungary)                  1.50
58 Victor Moreno (Venezuela)                    1.50
59 Federico Pagani (Argentina)                  1.52
60 Hossein Nateghi (Iran)                       1.53
61 Darwin Luis Urrea Vergara (Venezuela)        1.56
62 Esad Hasanovic SRB                           2.00
63 Frederik Krogh-Larsen (Norway)               2.03
64 Dimitri Jiriakov (Liechtenstein)             2.09
65 Azizbek Abdvrahimov (Uzbekistan)             2.11
66 Mohd Fauzan Ahmad Lutfi (Malaysia)           2.19
67 Sandor Koczka (Hungary)                      2.33
68 Konstantin Kalinin (Uzbekistan)              2.39
69 Yong Li Ng (Malaysia)                        2.50
70 Mohammad Rajablou (Iran)                     3.03

Check 2: 18.84 km

1 Lars Boom (Netherlands)                          23.29
2 Mikhail Ignatiev (Russia)                         0.06
3 Jerome Coppel (France)                            0.41
4 Edvald Boasson Hagen (Norway)                     0.46
5 Peter Velits (Slovakia)                           0.46
6 Alexandr Pliuschin (Moldavia)                     0.49
7 Ignatas Konovalovas (Lithuania)                   0.53
8 Jos Van Emden (Netherlands)                       0.55
9 Tanel Kangert (Estonia)                               
10 Adriano Malori (Italy)                           0.58
11 Roman Kireyev (Kazakhstan)                       1.02
12 Michael Faerk Christensen (Denmark)              1.08
13 Francis De Greef (Belgium)                       1.08
14 Dmitry Sokolov (Russia)                          1.09
15 Tony Gallopin (France)                           1.09
16 Branislau Samoilau (Belarus)                     1.12
17 Rein Taaramae (Estonia)                          1.13
18 Kristjan Koren (Slovenia)                        1.14
19 Rafai Chtioui (Tunisia)                          1.15
20 Maxim Belkov (Russia)                            1.21
21 Marcel Kittel (Germany)                          1.21
22 André Steensen (Denmark)                         1.23
23 Marco Coledan (Italy)                            1.27
24 Jaroslaw Marycz (Poland)                         1.29
25 Mathieu Deschenaux (Switzerland)                 1.30
26 David Veilleux (Canada)                          1.32
27 Stefan Schäfer (Germany)                         1.33
28 Oleg Chuzhda (Ukraine)                           1.34
29 Rafael Serrano Fernandez (Spain)                 1.34
30 Dmitriy Gruzdev (Kazakhstan)                     1.35
31 Martin Velits (Slovakia)                         1.38
32 Martin Kohler (Switzerland)                          
33 Sergiu Cioban (Moldavia)                         1.41
34 Sam Bewley (New Zealand)                         1.42
35 Christopher Froome (Kenya)                       1.43
36 Rui Costa (Portugal)                             1.45
37 Tejay Van Garderen (United States of America)    1.47
38 Jacqu. Janse Van Rensburg (South Africa)         1.48
39 Grega Bole (Slovenia)                            1.50
40 Ian Stannard (Great Britain)                     1.50
41 José Mendes (Portugal)                           1.56
42 Siarhei Papok (Belarus)                          2.00
43 Zakkari Dempster (Australia)                     2.01
44 Evaldas Siskevicius (Lithuania)                  2.02
45 Frantisek Kloucek (Czech Republic)               2.05
46 Gatis Smukulis (Latvia)                          2.07
47 Clinton Robert Avery (New Zealand)               2.07
48 Pavel Zitta (Czech Republic)                     2.08
49 Wilson A. Marentes Torres (Colombia)             2.12
50 Emanuel Saldano (Argentina)                      2.12
51 Christian Meier (Canada)                         2.31
52 Martins Trautmanis (Latvia)                      2.34
53 Nick Frey (United States of America)             2.37
54 Sergio Dominguez Munoz (Spain)                   2.38
55 Andriy Suralyov (Ukraine)                        2.40
56 Krisztian Lovassy (Hungary)                      2.42
57 Darwin Luis Urrea Vergara (Venezuela)            2.44
58 Abdelkader Belmokhtar (Algeria)                  2.45
59 Esad Hasanovic SRB                               2.51
60 Victor Moreno (Venezuela)                        2.52
61 Hossein Nateghi (Iran)                           2.53
62 Frederik Krogh-Larsen (Norway)                   2.55
63 Dimitri Jiriakov (Liechtenstein)                 3.03
64 Federico Pagani (Argentina)                      3.03
65 Azizbek Abdvrahimov (Uzbekistan)                 3.22
66 Mohd Fauzan Ahmad Lutfi (Malaysia)               3.31
67 Sandor Koczka (Hungary)                          4.01
68 Konstantin Kalinin (Uzbekistan)                  4.10
69 Mohammad Rajablou (Iran)                         4.13
70 Yong Li Ng (Malaysia)                            4.23

Check 3: 31.12 km

1 Lars Boom (Netherlands)                          39.29
2 Mikhail Ignatiev (Russia)                         0.10
3 Jerome Coppel (France)                            0.49
4 Edvald Boasson Hagen (Norway)                     1.08
5 Adriano Malori (Italy)                            1.12
6 Alexandr Pliuschin (Moldavia)                     1.13
7 Tanel Kangert (Estonia)                           1.17
8 Michael Faerk Christensen (Denmark)               1.18
9 Francis De Greef (Belgium)                        1.23
10 Branislau Samoilau (Belarus)                     1.29
11 Jos Van Emden (Netherlands)                      1.30
12 Ignatas Konovalovas (Lithuania)                  1.30
13 Peter Velits (Slovakia)                          1.39
14 Dmitry Sokolov (Russia)                          1.39
15 Roman Kireyev (Kazakhstan)                       1.42
16 Rein Taaramae (Estonia)                          1.47
17 Marcel Kittel (Germany)                          1.52
18 Tony Gallopin (France)                           2.02
19 Rafael Serrano Fernandez (Spain)                 2.04
20 Kristjan Koren (Slovenia)                        2.10
21 Rafai Chtioui (Tunisia)                          2.11
22 Stefan Schäfer (Germany)                         2.17
23 Maxim Belkov (Russia)                            2.18
24 André Steensen (Denmark)                         2.18
25 Martin Kohler (Switzerland)                      2.19
26 Grega Bole (Slovenia)                            2.22
27 Mathieu Deschenaux (Switzerland)                 2.25
28 Martin Velits (Slovakia)                         2.25
29 Dmitriy Gruzdev (Kazakhstan)                     2.29
30 Rui Costa (Portugal)                             2.32
31 Oleg Chuzhda (Ukraine)                           2.34
32 Jaroslaw Marycz (Poland)                         2.41
33 Sergiu Cioban (Moldavia)                         2.42
34 Ian Stannard (Great Britain)                     2.44
35 David Veilleux (Canada)                          2.50
36 Sam Bewley (New Zealand)                         2.51
37 Christopher Froome (Kenya)                       2.52
38 Tejay Van Garderen (United States of America)    3.05
39 Evaldas Siskevicius (Lithuania)                  3.05
40 José Mendes (Portugal)                           3.07
41 Gatis Smukulis (Latvia)                          3.12
42 Marco Coledan (Italy)                            3.15
43 Jacqu. Janse Van Rensburg (South Africa)         3.17
44 Zakkari Dempster (Australia)                     3.19
45 Siarhei Papok (Belarus)                          3.21
46 Frantisek Kloucek (Czech Republic)               3.29
47 Clinton Robert Avery (New Zealand)               3.35
48 Pavel Zitta (Czech Republic)                     3.38
49 Christian Meier (Canada)                         3.43
50 Emanuel Saldano (Argentina)                      3.50
51 Wilson A. Marentes Torres (Colombia)             4.01
52 Krisztian Lovassy (Hungary)                      4.02
53 Abdelkader Belmokhtar (Algeria)                  4.03
54 Martins Trautmanis (Latvia)                      4.09
55 Darwin Luis Urrea Vergara (Venezuela)            4.19
56 Hossein Nateghi (Iran)                               
57 Sergio Dominguez Munoz (Spain)                   4.25
58 Andriy Suralyov (Ukraine)                        4.33
59 Nick Frey (United States of America)             4.35
60 Dimitri Jiriakov (Liechtenstein)                 4.42
61 Esad Hasanovic SRB                               4.50
62 Frederik Krogh-Larsen (Norway)                   4.56
63 Federico Pagani (Argentina)                      5.05
64 Azizbek Abdvrahimov (Uzbekistan)                 5.06
65 Victor Moreno (Venezuela)                        5.20
66 Mohd Fauzan Ahmad Lutfi (Malaysia)               5.30
67 Mohammad Rajablou (Iran)                         6.12
68 Yong Li Ng (Malaysia)                            6.42
69 Konstantin Kalinin (Uzbekistan)                  6.43
70 Sandor Koczka (Hungary)                          6.59