Cyclo-cross news & racing roundup for January 10
Edited by Laura Weislo
Welcome to our regular roundup of what's happening in cyclo-cross. Feel free to send feedback, news and releases to mtb@cyclingnews.com.
Cyclo-cross most popular sport in Flanders
By Brecht Decaluwé
Nys always has plenty of fans on hand in Flanders
Photo ©: Isosport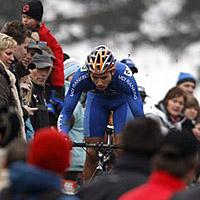 In the cyclo-cross hotbed of Belgium, and more particular the Flanders region, television ratings are telling a strange story. Football used to be the Belgian national sport, but cyclo-cross has now surpassed it as the top rated sport on television in Flanders, an area of six million people living in the small region North of Brussels. Just across the border in the Netherlands, however, the story is vastly different.
Even though top dogs Sven Nys and Bart Wellens crashed out of contention last January, more than 1.25 million viewers tuned in to watch the finish of the 2007 World Championships. With the race being held in Flanders, a record 60,000 spectators packed themselves inside the Hooglede-Gits parcours and saw Erwin Vervecken take his third title.
Even the lesser races draw a sizeable audience in Belgium; the U23 men's world championship race was watched by 300,000 viewers, while the World Cup and Superprestige races, televised on Sporza, and the Gazet van Antwerpen series, televised by VT4, drew upwards of twice that number. Audiences are increasingly in the 15-44 age bracket (32%) and nearly one-third female, which makes the 'cross viewers highly desirable to advertisers.
While the popularity of the sport is increasing in Flanders, television stations across the border in the Netherlands are virtually ignoring it. Former World Champion Richard Groenendaal explains that the lack of televised coverage is hurting races in terms of spectators. "There were 2,500 people in Sint-Michielsgestel ['06 Superprestige round in the Netherlands] and 17,000 on the Koppenberg [Superprestige round in Flanders], that's because of the TV. The Netherlands stay behind and that's really sad," Groenendaal said.
Boom deserves better than crowds one deep
Photo ©: Isosport

Rather than televise the exploits of the young Dutch 'cross champion Lars Boom, the public channel NOS shows mainly ice skating on winter weekends, which is not Groenendaal's cup of tea. "They hyper-inflate the ice skating scene. Every fart is on TV, even events which are completely uninteresting. It's on TV all weekend long, and still people keep tuning in," Groenendaal complained bitterly.
Back in Belgium, cyclo-cross has become a big money maker for race promoters, with thousands withstanding the unpleasant winter weather to attend races in person, not minding the 10 euro entrance fee. Those 60,000 who came to Hooglede-Gits far eclipsed the previous year's attendance in Zeddam, The Netherlands, where 28,000 people were on hand. Still, the disparity in television coverage far outpaces the difference in spectators, and despite the fact that he rides for the Dutch Rabobank team, one has to wonder what the case would be if Sven Nys were Dutch and not Belgian.
Across the Atlantic, the Americans are beginning to discover the value of 'cross, with the new event 'Cross Vegas (albeit with a captive audience) drawing more than 5,000 spectators and in 'Flanders West', Portland, Oregon, the half-serious Singlespeed 'world championships' nearly equalling that number, the next horizons for 'cross viewership may be far west of the heart of 'cross, Flanders.
World championship Hooglede-Gits 2007: 60,000 on site, 1.25 million viewers (Sporza)
World championship Zeddam 2006: 28,000 / 798,000 (Sporza)
World Cup Hofstade: 20,000 / 505,971 (Sporza)
GvA Koppenbergcross Oudenaarde: 17,500 / 491,000 (Sporza)
SuperPrestige Diegem: 15,000 / 546,457 (VT4)
GvA Loenhout: 13,000 / 442,000 (Sporza)
GvA Baal: 9000 – 760380 (Sporza)
Singlespeed Oregon & Cross Vegas (USA): 5,000
SP Eerde-Veghel (Netherlands): 5,000 / 433,894 (VT4)
Sint-Michielsgestel (Netherlands): 2,500
UCI rankings steady
The latest round of the UCI's cyclo-cross rankings was little changed after a weekend of National Championships. Sven Nys extended his lead in the men's rankings, and now leads by a whopping 605 points over the deposed Belgian champion Bart Wellens. Klaas Vantornout remains in third, just 86 points ahead of Dutch Champion Lars Boom. Zdenek Stybar, the new Czech Champion, is in fifth with 1315 points.
In the women's rankings, Dutch woman Daphny van den Brand remained in first despite being beaten out for the Dutch Championship by Mirjam Melchers van Poppel. Van den Brand leads by a large margin, 595 points ahead of American Katie Compton. Van den Brand's teammate Reza Hormes-Ravenstijn is sitting in a close third, just four points clear of reigning World Champion Maryline Salvetat.
Elite men
1 Sven Nys (Bel) Rabobank                                                 2260 pts
2 Bart Wellens (Bel) Fidea Cycling Team                                   1665
3 Klaas Vantornout (Bel) Fidea Cycling Team                               1460
4 Lars Boom (Ned) Rabobank                                                1374
5 Zdenek Stybar (Cze) Fidea Cycling Team                                  1315
6 Erwin Vervecken (Bel) Fidea Cycling Team                                1210
7 Richard Groenendaal (Ned) AA Sports Drinks                               995
8 Christian Heule (Swi) Stevens Racing Team                                993
9 Sven Vanthourenhout (Bel) Sunweb-Pro Job                                 959
10 Francis Mourey (Fra) Française des Jeux                                 941
11 Bart Aernouts (Bel) Rabobank                                            872
12 Thijs Al (Ned) BeOne-Chain Reaction Cycles                              693
13 Gerben de Knegt (Ned) Rabobank                                          679
14 Wilant Van Gils (Ned) ZZPR.nl-Destil-Merida                             675
15 Niels Albert (Bel) Palmans-Cras                                         663
16 Kevin Pauwels (Bel) Fidea Cycling Team                                  660
17 Radomír Simunek (Cze) Palmans-Cras                                      658
18 Jonathan Page (USA) Sunweb-Pro Job                                      510
19 Timothy Johnson (USA) Leer/Cannondale/Cyclocrossworld.com               458
20 Simon Zahner (Swi) Bürgis Cycling Team                                  455
Elite women
1 Daphny Van Den Brand (Ned) ZZPR.nl-Destil-Merida                  1745 pts
2 Katie Compton (USA) Spike Shooter                                 1150
3 Reza Hormes-Ravenstijn (Ned) ZZPR.nl                              1029
4 Maryline Salvetat (Fra) VSLL Castres                              1025
5 Helen Wyman (GBr) Global Racing Team                              1009
6 Christelle Ferrier-Bruneau (Fra) Les Pruneaux D'Agen               858
7 Pavla Havlikova (Cze) KC Kooperativa SG Jablonec n.N               780
8 Sanne Cant (Bel) ASD Selle Italia Guerciotti                       705
9 Nadia Triquet-Claude (Fra) UC Bassin Houiller                      559
10 Stephanie Pohl (Ger) Team Getränke-Hoffmann                       557
11 Arenda Grimberg (Ned) Team Ton van Bemmelen Sports - OdySis       548
12 Sanne Van Paassen (Ned) Team DSB Bank                             545
13 Laurence Leboucher (Fra) Sarthe-Gasseau                           525
14 Veerle Ingels (Bel) AVB/USspa Cycling Team                        504
15 Linda Van Rijen (Ned) Team DSB Bank                               459
16 Birgit Hollmann (Ger) Team Getränke-Hoffmann                      398
17 Mirjam Melchers-Van Poppel (Ned) Team Flexpoint                   397
18 Kevin Pauwels (Bel) Fidea Cycling Team                            396
19 Hanka Kupfernagel (Ger)                                           375
20 Gabriella Day (GBr) Global Racing Team                            374
Nys gets his stripes back
By Brecht Decaluwé in Hofstade
Nys was uncharacteristically joyous
Photo ©: AFP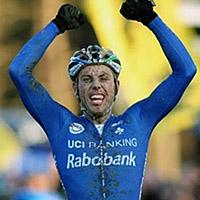 Billed as an unpredictable race where the form guide can be thrown out the window, this year's Belgian championship produced another thrilling spectacle, but in the end Sven Nys was simply too strong and captured his fifth national title. Unleashing an explosive attack in the final kilometre, Nys blasted away from defending champion Bart Wellens, youngster Niels Albert and a surprising Erwin Vervecken, who just missed out on the podium today.
"It was a thrilling race," Nys admitted, needing some time to catch his breath after digging deep to distance Wellens. "My start was disastrous as Klaas Vantornout left before I heard the start gun. I thought they would call back those who started but then it turned out that I was the fool who was still standing there," he said, lamenting the decision of the UCI officials.
Ten days ago Nys won the World Cup race on the same course, but felt today was a different race altogether. "The sand section was frozen last week and that was to my advantage," he explained. "This time we had to run more as it was not possible to ride there; that was a disadvantage for me."
Nevertheless the UCI-leader managed to drop everybody on the last lap, as if playing a game of cat and mouse with the opposition. "I played poker and rode away where I wanted," he agreed. "In the last lap I felt that I still had an attack in my legs. Vervecken was leading the group to bring down the tempo. There was a battle for good position in the first sand section, but then I knew I had to jump away in the next section, that was the tactic."
See the full report and results here.
Hammond takes High Road's first win
The first win for High Road
Photo ©: Chris Lee Photography

Roger Hammond took Team High Road's first ever victory when he won the British 'cross championship Sunday. He also debuted the team's new black kit when he beat mountain biker Liam Killeen. Hammond also beat Killeen in the championships on the same course in 2006.
Paul Oldham took the early lead, but Hammond moved up to the front by the middle of the second lap. Killeen stayed with him and by the fourth lap, the two were on their own. The mountain biker was counting on his expertise in the technical sections, and in fact took over the lead, threatening to drop Hammond. However, Hammond was never in serious danger of being dropped.
On the last lap, Hammond took over the lead again and was able to with the sprint for his record-breaking fourth title. Killen was second, and Oldham finished third, less than 20 seconds down.
Lucky seven for Kupfernagel
Hanka Kupfernagel continued to build up her collection of titles on Sunday, winning the title of German women's 'cross champion for the seventh time in her career. The World Time Trial champion has now won the German title every year since 2001, with the exception of 2003.
Hours of rain left the course in Herford deep in mud. "The conditions today were very questionable," the 33-year old told the dpa. "I was a little nervous in the first few laps and had to work my way up from fifth place. But then it went optimally. That was a good technical training today. I have seldom ridden such a muddy course."
Shortly after the start of the race, Kupfernagel, Birgit Hollman, Stephanie Pohl and Susanne Juranek were able to break away from the field. The defending champion was able to come from fifth place to the lead and escape from the others, a lead she held until the end. Second place went to the 20 year-old Pohl, 1'50 down, with Hollmann third, at 2'10.
Fontana pushes towards Worlds with Italian Championships' win
Fontana dominates the Italian Championships
Photo ©: Riccardo Scanferla
Marco Aurelio Fontana dominated the Italian Cyclo-cross Championships yesterday in Scorzè to add to his Under 23 national title of 2006. The 23 year-old from Giussano (Monza) lived up to the promises on the eve of the event, benefiting from the absence of last year's champion, Enrico Franzoi.
The duel between Fontana and Franzoi, who is out this year due to an ankle injury, ended in a heated finale during the 2007 championships in Lucca. Franzoi then got the better of the younger rider to stake claim to elite title number three. The absence of the defending champion this year left the door open for Fontana to shine in the mud near Venice – beating Cristian Cominelli by 1'54". The 19 year-old rider from Brescia, student of Felice Gimondi, went home as Under 23 champion for his efforts.
"This was mine to win or lose, therefore I gave it a lot of grit." said Fontana after the race to La Gazzetta dello Sport. "Is this revenge for 2006 and Franzoi? No, the event in Lucca is forgotten. Now I need to honour the jersey at the Worlds."
Fontana and Franzoi will lead the squadra azzurra at the World Championships in Treviso on January 27. The newly crowned Italian Champion finished 13th in 2007.
"I don't want to make a bad impression in front of my tifosi. I want to demonstrate that I am the Italian champion."
Fontana started with road racing before switching over to cyclo-cross, and he now wants to shift his focus to mountain biking to race the Olympics this summer. "Thanks to Vito [Di Tano] I have improved on my techniques," he noted of the directeur of Selle Italia-Guerciotti.
Elia Silvestri, a team-mate of Fontana, took the junior title.
For Cyclingnews' full coverage of National championship cyclo-cross events, go here.
Urban wins German cyclo-cross title
By Susan Westemeyer
Malte Urban of the Team RC Endspurt Herford put his familiarity with the German cyclo-cross national championship course in Herford to good use, winning the title for the third time. The 33 year-old won by 100 metres over Johannes Sickmüller and defending champion Rene Birkenfeld.
"I've ridden so often here in training that I know every tree root by name," he told rad-net.de.
Birkenfeld got off to an early lead, but Urban caught him with three laps to go. A crash threw him back and allowed Birkenfeld and Sickmüller to take over the lead. Urban gave chase and caught the two on the last round, passing them to take the win.
Presslauer takes Austrian 'cross title
Team Volksbank took two of the top three places at the Austrian Nationals 'cross championships over the weekend, as Peter Presslauer won the title and Gerrit Glomser finished third. It was "a victory, that we dedicate entirely to Andreas Matzbacher," said team manager Thomas Kofler. Matzbacher died in an auto crash on Christmas Eve.
Presslauer, who only recently signed with the Austrian team, defended his title from last year for his eighth all together. Steady rain made the course more difficult, but the 'cross specialist had not problem with the slippery conditions, finishing nearly two minutes ahead of his nearest rival, Hannes Metzler of Giant Swiss Team.
For Cyclingnews' full coverage of National championship cyclo-cross events, go here.
Canadian 'cross team seeks friends
For the second year in a row, the Friends of Canadian Cyclo-cross Racers is asking the cycling community to visit their page and help send the men and women who represent Canada to the World Cyclo-cross Championships.
As Cyclo-cross is not an Olympic sport, the Canadian Cycling Association doesn't provide any funding for the National Cyclo-cross Team, meaning riders must cover their own airfare, accommodations, meals, equipment expenses and even their national team jerseys. The Friends have seen the commitment that it has taken for these riders to qualify and get there and we want to help them along by taking some of the financial burden off of their shoulders, allowing them to focus on their racing and representing Canada at 'Cross Worlds in Treviso.
To make a donation or get more information about other ways to help, visit http://www.cyclocrossontario.com/fccr
CrossVegas to return
After the success of the inaugural race in 2007 which attracted 5,000 spectators, CrossVegas will back on the Interbike schedule for 2008. Boulder-based organizers, CrossVegas LLC, announced the event will be Wednesday September 24, once again capping off the show's opening day.
The second year will once again feature top domestic 'cross racers under the lights at Desert Breeze Soccer Complex, a short distance from the Strip and Interbike. Canadian Lyne Bessette won the women's event while then-U.S. national champion, Ryan Trebon, took the men's title.
In addition to elite men's and women's races, CrossVegas co-promoter Brook Watts announced that a race for tradeshow attendees will be one of the new additions for year two. "There's obviously a lot of folks in the industry who race cyclo-cross and we've heard many pleas for a "Wheelers and Dealers" race to start the evening. We're ironing out details but expect full information by late spring."
Cyclingnews reader poll - Best 'cross racers
The results have been tallied up, and with more than 10,000 votes cast, this year's poll is one of the biggest ever! Check out the Best Male and Female Cyclo-crossers of the year.
Thank you to all who voted, and look for the winner of the Zipp carbon fibre goodies: the 570g VumaQuad crankset, the SLC2 handlebars and Zipp's 145 stem, to be announced at the week's end.
Upcoming UCI Cyclo-cross races
January 12: Cyclo Cross Grand Prix Lille Métropole, Roubaix (Fra) C1
January 13: Coupe du Monde UCI / UCI World Cup, Liévin (Fra) CDM
January 13: Cyclo-cross international de la Ville de Luxembourg, Luxembourg (Lux) C2
January 13: National Trophy Series 5, Derby (GBr) C2
(All rights reserved/Copyright Future Publishing Limited 2007)