Belgian Cyclo-cross Championships - CN
Hofstade, Belgium, January 5-6, 2008
2007 Results Results Past winners
Day 2 - January 6: Elite/U23 Men, Elite Women, Junior Women, Masters A, Amateurs
Nys wins a thriller for fifth Belgian title
By Brecht Decaluwé in Hofstade
Nys was uncharacteristically joyous
Photo ©: AFP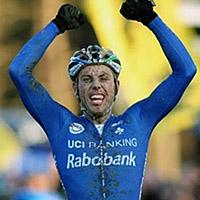 Billed as an unpredictable race where the form guide can be thrown out the window, this year's Belgian championship produced another thrilling spectacle, but in the end Sven Nys was simply too strong and captured his fifth national title. Unleashing an explosive attack in the final kilometre, Nys blasted away from defending champion Bart Wellens, youngster Niels Albert and a surprising Erwin Vervecken, who just missed out on the podium today.
"It was a thrilling race," Nys admitted, needing some time to catch his breath after digging deep to distance Wellens. "My start was disastrous as Klaas Vantornout left before I heard the start gun. I thought they would call back those who started but then it turned out that I was the fool who was still standing there," he said, lamenting the decision of the UCI officials.
Ten days ago Nys won the World Cup race on the same course, but felt today was a different race altogether. "The sand section was frozen last week and that was to my advantage," he explained. "This time we had to run more as it was not possible to ride there; that was a disadvantage for me."
Nevertheless the UCI-leader managed to drop everybody on the last lap, as if playing a game of cat and mouse with the opposition. "I played poker and rode away where I wanted," he agreed. "In the last lap I felt that I still had an attack in my legs. Vervecken was leading the group to bring down the tempo. There was a battle for good position in the first sand section, but then I knew I had to jump away in the next section, that was the tactic."
In the past Nys has had trouble with the pressure during the Belgian championships, but this time he permitted himself to gamble on a last lap attack. "During the last couple of days I was occupied in my mind with the worst case scenario; that featured riders on my wheel in the last lap. During the championships the other riders are able to ride a little better."
Defending champion Bart Wellens didn't start in Baal and Sint-Niklaas a couple of days ago because he was out with a fever, but no signs of bad form were visible today. "I was most amazed that I had my best legs of the season," he said. "I felt that Nys wouldn't drop me anywhere today. When my tubular curled a little off the rim when coming back on the asphalt, I realised I wouldn't be able to make up for that before the finish. It's a bit shitty, but it's the reality," a disappointed Wellens admitted.
Despite being ill last week, Wellens was not searching for any excuses today. "No, not at all," he replied, when asked if the illness had weakened him. "For me it would've been OK if there were two more laps. I've been beaten by the strongest rider today. We were riding on top of our toes in the last 500 metres. Maybe I should've changed bikes in the last pit, but I didn't dare to do it."
A man with a lot of experience who did change bikes was world champion Erwin Vervecken. "I did it to ride on slicks in the sprint, but it turned out to be a bad decision because there was a tough section before the road," Vervecken explained. "Maybe I was the least strong rider in front, but I came very close so I'm disappointed. I made a lot of technical mistakes, but on the tough sections I wasn't inferior to the three others."
Usually Vervecken is the man to beat if he's still in the leading group when the bell goes for the last lap, not this time though. "In the past I would've played my role in the last lap, but it wasn't really a sprint. If you see that I'm fourth at only two seconds from the winner, then I should be disappointed."
Despite a good performance today Vervecken knows that he's had a disastrous season with only six podium finishes, of which two were wins in races without tough Belgian opposition. "My season remains bad, even if I would've won here it would've remained bad. Hopefully I can make up for it a little at the Worlds, but the overall balance will always remain bad," he admitted.
World championships remain his cup of tea, but Vervecken played down his hopes for a fourth world title. "Today I found a course that suited me perfectly and I couldn't finish it off as I wanted. I can only hope for another tactical race in Treviso, just like today."
How it unfolded
With Klaas Vantornout taking a flying start - and being fortunate not to be disqualified - the chase for the Belgian title was on. The man from West-Flanders catapulted off the line and into a solo lead and was later joined by world champion Erwin Vervecken and Bart Aernouts on lap one. Sven Nys didn't start well and rode in 10th position with Niels Albert, 10" down on the Vantornout group.
During the second lap Nys closed the gap to the leaders with Wellens, Sven Vanthourenhout and Albert glued to his wheel. Ben Berden came close to bridging across, but eventually dropped back and was joined by Rob Peeters.
Early on in the third lap Nys slid over in the mud before a climb, but managed rejoined the leaders. Vervecken kept leading the eight-man group through the sand around Hofstade's lake where Albert began using his running skills to move forward. The U23 rider received some harsh words from Wellens when he ran past him, but the young Belgian didn't look back and took the lead. Only four men were able to follow Albert, who clearly felt better after being sick last week. Klaas Vantornout was quickly dropped as well.
During the fourth lap Albert's hopes for the title took a blow when he punctured just before the paved road, far away from the pit. At the finish line Albert was 9" behind the leaders. Sven Vanthourenhout, Klaas Vantornout and Aernouts were chasing at 19".
Nys didn't fancy a battle with the two Fidea riders and jumped away. Only Wellens was able to follow as Vervecken had to let go. Meanwhile Albert was passed by the first chasing group and still hadn't reached the pit. Nys kept pulling in front, as the gap to Vervecken stretched to 5".
Albert quickly bounced back from his bad luck and tried to come back to the lead. His new team-mate Dieter Vanthourenhout started pulling, ironically putting cousin Sven Vanthourenhout into difficulty. In front there was another comeback happening as Vervecken rejoined the leaders.
After Dieter Vanthourenhout had finished his work for his team captain, Albert continued the chase on his own. The only man able to join him was Bart Aernouts, and with three laps to go they were within reach of the leaders.
Just as Albert rejoined, Nys unleashed his forces again, and again only Wellens could follow. The defending champ was suffering on Nys' wheel and by the end of this lap Nys was soft pedalling so Albert could come back. For Vervecken the gap turned out to be too big and he narrowly missed the move. Aernouts was now in fifth, 20" behind the leaders.
With two laps to go Wellens accelerated for the first time. As expected, Albert was suffering after his earlier efforts, but eventually came back. Behind, Vervecken did all he could to keep the leaders in sight. In the background, Jan Verstraeten crashed in the same corner where Nys slipped away earlier this race. The amateur had serious pain in his left wrist and abandoned the race.
Albert took the initiative on the penultimate lap, but couldn't keep the pace high enough and after the running section in the sand Vervecken rejoined once more.
Heading into the final lap there was a cease-fire of sorts, but as the bell sounded Vervecken pounded forward as if he could smell the title. Wellens made a mistake on a short climb but remained in contention. The four leaders were now led by Vervecken, with Nys on his wheel, then Wellens and Albert.
Through the beach section Albert tried to take over from Vervecken but Nys was ready for his attack and countered. Just before the end of the sand Wellens accelerated and took the lead. He was still leading in the second sand section before Nys attacked on the running section as Vervecken changed bikes.
Nys didn't drop the tempo and powered away from the others. Wellens did all he could to close the small gap but Nys made no mistakes and sprinted the final 500m for his fifth Belgian title. Wellens was a very close runner-up ahead of Albert and Vervecken.
Jan Soetens took the amateur title despite a poor start, beating Tim Van Nuffel and Ben Berden.
Photography
For a thumbnail gallery of these images, click here
Images by AFP Photo
Results
Elite Men
 
1 Sven Nys (Rabobank)                                          1.04.15
2 Bart Wellens (Fidea Cycling Team)                               0.02
3 Niels Albert (Palmans-Cras)                                     0.04
4 Erwin Vervecken (Fidea Cycling Team)                                
5 Bart Aernouts (Rabobank)                                        0.25
6 Klaas Vantornout (Fidea Cycling Team)                           0.53
7 Dieter Vanthourenhout (Palmans-Cras)                            0.57
8 Kevin Pauwels (Fidea Cycling Team)                              1.38
9 Sven Vanthourenhout (Sunweb-Pro Job)                            1.52
10 Jan Soetens *                                                  1.54
11 Tim Van Nuffel *                                               2.10
12 Rob Peeters (Landbouwkrediet - Tönissteiner)                   2.40
13 Ben Berden *                                                   3.00
14 Arne Daelmans *                                                3.30
15 Nico Berckmans *                                                   
16 Tom Van den Bosch *                                            3.40
17 Wim Jacobs *                                                   4.15
18 Stijn Penne *                                                      
19 Mike Thielemans *                                              4.55
20 Kay Van den Brande *                                           5.28
21 Davy Coenen *                                                  5.40
22 Nico Clarysse *                                                    
23 Tom De Kort *                                                      
24 Geert Wellens *                                                6.12
25 Jorn Van der Veken *                                           6.30
26 Pedro Baelen *                                                 6.40
27 Geert Van Crombruggen *                                        7.00
28 Patrick Bassez *                                                   
29 Evert Verbist                                                  8.10
30 Jimmy Tielens *                                                    
 
One lap behind
 
31 Steven De Caluwe *                                                 
32 Kris Lapere *                                                      
 
Two laps behind
 
33 Sten Raeymakers *                                                  
34 Steve Gruwier *                                                    
35 Steven Sluyts *                                                    
36 Ken Smets *                                                        
37 Yoeri Beyens *                                                     
38 Kristof Boelens *                                                  
39 Jo Naert *                                                         
 
Three laps behind
 
40 Wim Maes *                                                         
41 Steven Lapere *                                                    
42 Gert De Vos *                                                      
43 Steven De Schoesitter *                                            
44 Michel Barojek *                                                   
45 Kevin Bossaerts *    
                                              
* Elite without contract
 
U23
 
1 Tom Meeusen (Fidea Cycling Team)                               46.08
2 Wim Leemans (AWS Cycling Team Kasterlee)                        0.14
3 Stijn Huys (Palmans-Cras)                                       0.21
4 Joeri Adams (Rabobank)                                              
5 Kenneth Van Compernolle (Sunweb-Pro Job)                            
6 Quentin Bertholet (Fidea Cycling Team)                              
7 Jan Van Dael (Sunweb-Pro Job)                                   0.54
8 Giovanni Denolf (Palmans-Cras)                                  0.59
9 Jim Aernouts (Edegem BC)                                        1.04
10 Dave De Cleyn (Scott USA Cycling Team)                         1.15
11 Kevin Eeckhout (Sunweb-Pro Job)                                    
12 Kevin Cant (AWS Cycling Team Kasterlee)                            
13 Sven Verboven (Wielerclub Galmaarden Sportief)                 1.52
14 Björn De Decker                                                2.00
15 Bart Verschueren (Revor Cycling Team)                          2.04
16 Kristof Zegers (WSC Jonge Renners - Booischot)                 2.13
17 Jan Van Zeebroeck (WK Noord-West Brabant)                      2.29
18 Kristof Cop (AWS Cycling Team Kasterlee)                       2.35
19 Vincent Baestaens (Fidea Cycling Team)                             
20 Matthias Onghena (VZW Wielerclub Onder Ons Parike)                 
21 Brecht Lippens (Asfra Racing Team)                             3.32
22 Quincy Vens                                                    3.39
23 Bart Bruyndonckx                                               3.46
24 Kenneth Verdickt (Scott USA Cycling Team)                      4.12
25 Jens Gys                                                       4.24
26 Thomas Boeckx (Edegem BC)                                          
27 Bart Hermans (Balen BC)                                        4.42
28 Kenneth De Kerf                                                4.56
29 Hans Van Den Bogaert (Rupelspurters Boom)                      5.08
30 Nick De Proost (DCM-GB Vorselaar Cycling Team vzw)                 
31 Dries Pauwels                                                  5.40
32 Greg Franckaert (Asfra Racing Team)                            5.45
33 Nivard Van Acker (Wielersportverening Artevelde VZW - Gent)    6.28
34 Dennis Verhoeven (AWS Cycling Team Kasterlee)                  6.39
35 Kristof Scheirs (Isorex Cycling Team)                          7.12
36 Kjell Van Driessche (Rijschool Ah - Gentse VS)                 7.40
37 Steven Schol (KSW De Demerspurters Haacht-Betekom)             8.11
38 Koen Boelens (VC De Lievespurters - Zomergem)                  9.00
 
One lap behind
 
39 Vincent Van Hooste (Asfra Racing Team)                             
40 Kim Goethals (Velosport Reigerlo Beernem)                          
41 Wim Thijs (Edegem BC)                                              
42 Michael De Maeyer                                                  
 
Elite Women 

1 Loes Sels (Gierle)                                             36.36
2 Veerle Ingels (AVB/USspa Cycling Team)                          0.41
3 Kevin Pauwels (Fidea Cycling Team)                              0.55
4 Joyce Vanderbeken (Lingier - Versluys MTB Team)                 2.33
5 Katrien Aerts (Benelux Team)                                    2.36
6 Ludivine Henrion                                                3.44
7 Anne Arnouts (Koninklijke Hoboken W.A.C. V.Z.W.)                3.57
8 Anja Nobus (Wielerclub Oostende Noordzee)                       4.14
9 Laure Werner                                                    4.37
10 Katrien Van Looy (Vlaanderen - Capri Sonne - T Interim)        5.26
11 Gertie Willems (Wielerpromotieclub Jeugdteam)                  5.55
12 Kristien Nelen                                                 6.06
13 Nancy Bober (Granville-Morgan Blue Cycling Team)               6.30
14 Kathy Ingels                                                   7.52
15 Katrien Vermeiren (Emversport International Cycling Team)      8.21
16 Kim Van Renterghem (Asfra Racing Team)                        11.41
 
One lap behind
 
17 Jo Blanchaert (A.T.B. De Mountain-Freaks Oudenaarde)               
18 Latoya Brulee                                                      
19 Sandie Verriest (Asfra Racing Team)                                
20 Nicole De Bie-Leijten                                              
 
Junior Women
 
1 Sanne Cant (Lille)                                             29.02
2 Karen Verhestraeten                                             4.01
3 Ilse Vandekinderen (Goeman Scott Cycling)                       5.04
4 Katia Verstraete                                                6.08
5 Lisa Bogaert                                                    7.10
6 Sarah Vloemans                                                  8.15
7 Sarah Liekens                                                  12.44
8 Dorien Raeymaekers                                             13.04
9 Cynthia Bielen                                                 14.08
10 Larisa Jaspart                                                14.28
 
One lap behind
 
11 Lore De Backer                                                     
12 Maaike Lanssens                                                    
13 Caitlyn La Haye                                                    
 
Amateurs 
 
1 Kendric Van Grembergen (Herzele)                               42.39
2 Koen Diels                                                      0.10
3 Kevin Strijbos                                                  1.30
4 Bart Van Asten                                                  2.00
5 Jan Gevers                                                          
6 Tom Wilmsen                                                     2.45
7 Tomas Ingels                                                        
8 Nico Van Assche                                                     
9 Wim Degryse                                                     3.30
10 Tim Goris                                                      4.05
11 Bert Van Elsen                                                     
12 Christophe Vanrokeghem                                         4.35
13 Peter Goeman                                                   5.25
14 Kenny Van Campenhout                                               
15 Rob Reynaerts                                                      
16 Laurent Dehaze                                                 5.50
17 Jurgen Van Wambeke                                             6.15
18 Ruben Verhees                                                      
19 Kurt Verelst                                                       
20 Sven Driesen                                                   7.10
21 Kenneth Speltincx                                              8.25
 
One lap behind
 
22 Jimmy Pierloot                                                     
23 Wouter Backers                                                     
24 Mike Van de Walle                                                  
25 Nico De Coninck                                                    
26 Stijn Van Thielen                                                  
27 Kenny Pierloot                                                     
28 Davy De Taeye                                                      
 
Masters A 
 
1 Wim Jansen                                                     43.14
2 Bert Vervecken                                                  0.42
3 Luc Van Looveren                                                1.15
4 Nico Schroyen                                                   1.30
5 Benny Van Staeyen                                                   
6 Sten Raeymakers (Cycling Team Oost-West)                        1.50
7 Lino Colombo                                                    2.07
8 Axel Naessens                                                   2.15
9 Nico Bogaert                                                    2.25
10 Steven Alliet                                                      
11 Ivan Smet                                                      3.00
12 Luc Verheijen                                                      
13 Kris Ceulemans                                                 3.35
14 Marnik Snoeck                                                  4.05
15 Kristof Vanderheyden                                               
16 Kris De Nys                                                    4.25
17 Benny De Busser                                                    
18 Jelle Vets                                                         
19 Jurgen Standaert                                               4.55
20 Rob Van den Muysenbergh                                            
21 Bart Schollen                                                      
22 Francis Penders                                                    
23 Wim De Witte                                                       
24 Ward Huybrechts                                                    
25 Bert Mellaerts                                                     
26 Gunther Helsen                                                 5.20
27 Stefaan Van Gaever                                             5.55
28 Gerrit Segers                                                      
29 Barry Vissers                                                  6.20
30 Kris Maes                                                          
31 Joachim Michels                                                    
32 Danny Serron                                                       
33 Erwin Lemmens                                                  6.40
34 Davy Paeshuyse                                                     
35 Koen De Nys                                                    7.35
36 Dirk Veldeman                                                      
37 Patrick Van den Eynde                                          7.45
38 Jos Van Looy                                                       
39 Ronny Heremans                                                     
40 Bart Uytterhoeven                                                  
41 Glenn Boeckx                                                       
42 Bart Langmans                                                      
43 Fredericq Dobbels                                                  
 
One lap behind
 
44 Gregory Cool                                                       
45 Joris Vanden Berghe                                                
46 Serge Van Gelder                                                   
47 Sven Bolijn                                                        
48 Stijn Desmet                                                       
49 Bert Nijs                                                          

Day 1 - January 5: Juniors, Novices, Masters B & C
Juniors
 
1 Stef Boden (Kalmthout)        40.14
2 Sean De Bie                    0.18
3 Matthias Bossuyt               0.54
4 Simon Geets                    0.57
5 Michiel Dieleman               1.03
6 Wietse Bosmans                 1.29
7 Gerry Druyts                   1.48
8 Guillaume Van Keirsbulck       1.57
9 Angelo De Clercq               2.10
10 Sven Beelen
11 Ruben Veestraeten
12 Dany Lacroix
13 Niels Wytinck                 2.45
14 Vinnie Braet
15 Jonathan Bervoets             2.55
16 Jeffrey Depuydt               3.00
17 Robby Cobbaert                3.10
18 Yannick Pauwels               3.18
19 Valentijn Van de Velde
20 Ruben Scheire                 3.37
21 Sylvester Sioen               3.53
22 Mike Vreys
23 Thomas Gysbrechts             4.25
24 Kenny Maes
25 Robin Poelvoorde
26 Ritchie Denolf
27 Niels Koyen                   4.35
28 Zeb Willems                   4.45
29 Laudelino Lammens             5.16
30 Pieter-Jan Pirotte            5.30
31 Karl Peeters                  5.37
32 James Laureys                 5.45
33 Zeb Veestraeten
34 Arnaud Van den Abeele
35 Raf Risbourg                  6.00
36 Jonas De Boey                 6.12
37 Andy Wagemans                 6.22
38 Stijn Van Driessche           6.25
39 Sem Lambrechts
40 Jens Joosen                   6.30
41 Gert-Jansomer                 7.00
42 Rinze De Proost               7.15
43 Michaël Peeters               7.35
44 Kevin Callebaut
45 Maxim Danckers
46 Dimi Diels                    7.41
47 Robin Laureyns                7.46
48 Bert Vermeiren                8.20
49 Bert Noterman                 8.25
50 Kristof Van den Eynde         8.36
51 Dennis Coenen                 8.42
52 Clint Van DEroogenbroeck
53 Lennerd Van den Bleeken       9.15
54 Nick Vermunicht               9.30
55 Wim Allary                    9.50
56 Matthias Botterman
57 Jonas Plasschaert            10.30
58 Kenneth Goossens             10.40

One lap behind

59 Jordan Becquet
60 Olivier Vernaet
61 Ken Van Crombruggen
62 Rutger La Haye
63 Joachim Janssens
 
Novices
 
1 Bart De Vocht                 33.31
2 Laurens Sweeck                 0.05
3 Frederik Geerts                0.30
4 Mike De Bie                    0.44
5 Xandro Meurisse                0.46
6 Jesper Beelen
7 Kenzie Boutté                  1.09
8 Jens Vandekinderen             1.16
9 Hendrik Sweeck                 1.27
10 Jens Adams
11 Joeri Hofman                  2.14
12 Jorne Carolus                 2.19
13 Diether Sweeck
14 Gianni Vermeersch             2.57
15 Yoshi Deldulle                3.04
16 Tim Merlier                   3.10
17 Jelle Cant
18 Robin Van Goethem             3.48
19 Maxim Panis
20 Niels Van den Driessche
21 Christophe Ysenbaardt         4.16
22 Gregory Vandaele              4.17
23 Kenny Bultynck                4.27
24 Tijs Van Aert                 4.32
25 Jeroen Eyskens
26 Simon Lapeire                 4.50
27 Timo Verschueren              4.58
28 Jorn Claes                    5.04
29 Axel De Corte
30 Jordy Van Staeyen             5.20
31 Dylan Desruelle               5.25
32 Leander Bertels
33 Daan Myngheer                 5.36
34 Michaël Vanthourenhout
35 Jasper Baert                  5.44
36 Arno Sinnaeve
37 Daniël Peeters                6.00
38 Stijn Heyse
39 Rob Leemans
40 Dylan Theuns                  6.20
41 Wannes Cauwenbergh            6.26
42 Jens Saey                     6.35
43 Martijn Masselis
44 Lorenzo Pepermans
45 Tim Deceuninck
46 Robin Delanghe                6.50
47 Yoeri Bertels
48 Aloïs Mus
49 Mathias Couckuyt              7.55
50 Lorenzo Vanderschueren
51 Jeffrey Mellemans             8.06
52 Joeri Vermeiren
53 Seppe Kopecky                 8.09
54 Kris Vermeir                  8.12
55 Mike Mutsaerts
56 Matthias Ballet               8.35
57 Jellen Schiettecatte          9.00
58 Toni Geeraerts                9.55
59 Joshuan Omez                 10.04

One lap behind

60 Charles-Etienne Lambert
 
Masters B
 
1 Jan Van Donink (Herentals)    41.20
2 Mario Lammens                  0.21
3 Dirk Mertens                   0.43
4 Erik Teck                      0.59
5 Marc Druyts                    1.13
6 Wim Krieckemans                1.37
7 Danny Verhestraeten            1.42
8 Mark Verloo
9 Eric Gys                       1.58
10 Johan Vanderaerden            4.07
11 Luc Verheyen                  4.13
12 Ludwig Gladines
13 René Swinnen                  4.48
14 Marc Coolen                   5.02
15 André Panis
16 Hans Kyndt
17 Jeff Verbraeken               5.19
18 Michel Bastijns
19 Dominic Rosé                  5.23
20 Patrick Goor                  6.00
21 Laurence Boutté               6.50
22 Mark Meys                     7.59
23 Jos Verdeyen                  9.20
24 Johan Meeus                  10.08
25 Luc Joos                     11.12
26 Eric Laforge                  1.00
27 Mario Pauwels
28 Luc Depoorter
29 Marc Boeckx
30 Paul Reijnders
31 Eric De Graef                 2.00
32 Pascal Dysserinck
33 Leopold Vermeiren
34 Patrick Wagemans
35 Ronny Goethals
36 Jean-Marc Lambert
37 Thierry Laurez
38 Erik Van der Sande
39 Wim Callay
 
Masters C
 
1 Rudy Sels (Gierle)            44.10
2 Ronald De Scheemaeker          0.15
3 Rudy Bloemmen                  0.38
4 Daniël Van Oosterwijck         0.54
5 Alex Weytens                   1.12
6 José De Clercq                 1.50
7 François Voets                 1.56
8 Alfons Schutters               2.00
9 Ludo Van Tichelt               2.02
10 Jan Guido Geuens              2.15
11 François Mertens              2.17
12 Jean-Luc Rossignol            2.27
13 Ivan Coopman                  2.35
14 Pierrot Potargent             2.50
15 Dirk Van Sinay                3.01
16 Ludo Van den Buys             3.20
17 Eric Van Steerteghem          3.28
18 Jozef Sas                     3.47
19 Luc Vanwesenbeeck
20 Edward Lievens                4.04
21 Chris Geerts                  4.19
22 Lucien Van Wambeke            4.52
23 Martin De Cock
24 Roger Van Tichelt             5.40
25 Romaan Boelens                6.20
26 André Clemmen                 6.35
27 Leo De Busser                 6.44
28 Alex Spruyt                   7.16
29 Etienne Van de Velde          7.41
30 William Govaert               7.48
31 Guy Ceuppens                  7.54
32 Laurent De Vos                9.08
33 Romain Tuteleers             10.00
34 Philipe Deheegher            10.22
35 Jackie De Meester            11.10
36 Johan Govaerts               11.25

One lap behind

37 Marcel Geerts
38 Eric Dhondt
39 Wilfried Buysse
40 Adrien De Cnuydt
41 Albert Bertels
42 Roland Hurtecant
43 Wilfried Maes
 
Past winners
Men

2007 Bart Wellens (Fidea)
2006 Sven Nys (Rabobankk)
2005 Sven Nys (Rabobank)
2004 Bart Wellens (Spaar Select)
2003 Sven Nys (Rabobank)
2002 Mario De Clercq (Domo-Farm Frites)
2001 Mario De Clercq (Domo-Farm Frites)
2000 Sven Nys (Rabobank)

Espoirs/U23

2007 Niels Albert (Palmans-Sapim-Collstrop)
2006 Niels Albert (Palmans-Sapim-Collstrop)
2005 Jan Soetens
2004 Wesley Van der Linden
2003 Wesley Van der Linden (Brakel)
2002 Wim Jacobs
2001 Sven Vanthourenhout

Women

2007 Loes Sels
2006 Hilde Quintens
2005 Veerle Ingels (Vlaanderen - Capri Sonne - T Interim)
2004 Anja Nobus
2003 Hilde Quintens (Lummen)
2002 Anja Nobus
2001 Kathleen Vermeiren

Juniors

2007 Jim Aernouts
2006 Dennis Vanendert
2005 Pieter Vanspeybroeck (Ruiselede)
2004 Niels Albert
2003 Dieter Vanthourenhout (Wingene)
2002 Kevin Pauwels
2001 Geert Wellens

Novices

2007 Sean De Bie
2005 Joeri Adams (Minderhout)
2004 Tom Meeusen
2003 Pieter Vanspeybrouck (Ruiselede)
2002 Niels Albert

Past winners by Mario Stiehl, www.world-of-cycling.com